Army enlistment day for Shin Dong-wook
Annnnnnnd another one is off for his two-year military service. This time it's Shin Dong-wook (Soulmate, Wish Upon a Star), who reported for duty on the afternoon of July 20 for four weeks of basic training, after which he will serve his 20 months of active duty.
His management rep said about his departure, "Shin Dong-wook received his draft notice at the end of June. In recent days he has been putting his affairs in order and says he will come back healthy and well."
(They all look so young so plainly dressed and with their hair shorn short, don't they?)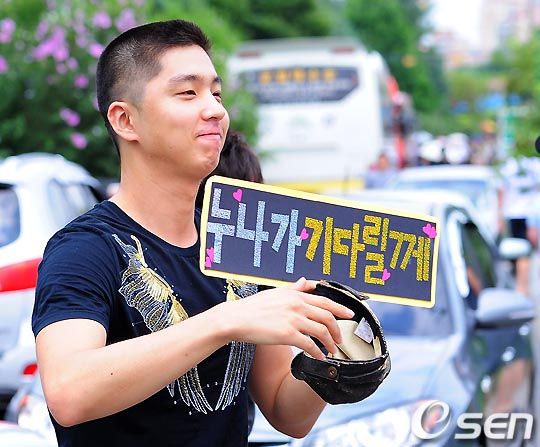 Sign reads: "Noona will wait for you"
Yes, I w— uh, she will!
Shin Dong-wook has been acting since he graduated from university as a theater and film major, and was accepted in an open recruitment for KBS in 2003. His big breakout was with the (awesome and awesomely funny!) 2006 romantic comedy series Soulmate, which had middling ratings but was a hit with younger viewers with its sharp wit and humor. He followed that with roles in dramas Cloud Stairs, War of Money, and most recently, SBS's Wish Upon a Star this year.
To be honest, he hasn't had the career I thought he would, and although he has acted fairly steadily, I don't think he's really managed to break through to the next level. Hopefully he'll get that chance once he returns to civilian life in 2012.
Via Now News
RELATED POSTS
Tags: army duty, Shin Dong-wook