Bad Guy: Episode 11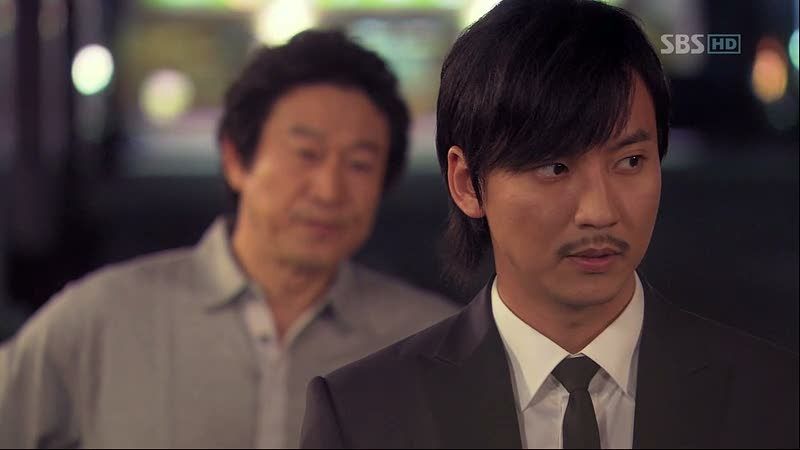 Episodes 10 and 11 were a pretty good pair, weren't they?
I think girlfriday is right on in ruling Bad Guy much more of a melodrama than a revenge piece or a thriller, which has been one of my frustrations with it. Now because it was misclassified, but because in my mind, it would be a much better revenge thriller than it is a melodrama, but it's choosing to stick with the less-interesting half of its story foundation.
But for the first time, we get to see Gun-wook sweat a little bit. Oh, he doesn't get nailed by the cops (who alternately jump to conclusions and miss big clues), but chinks are beginning to appear in his slick mastermind persona, and that's a good thing.
SONG OF THE DAY
Bad Guy OST – "혼잣말" (Talking to myself) by Jung Yeob [ Download ]
Audio clip: Adobe Flash Player (version 9 or above) is required to play this audio clip. Download the latest version here. You also need to have JavaScript enabled in your browser.

EPISODE 11 RECAP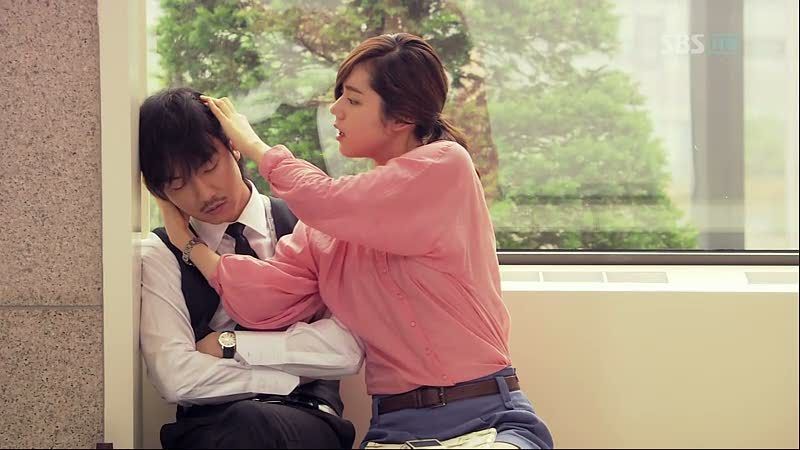 Jae-in lets Gun-wook sleep on her shoulder for a few minutes until she is called back to work. She gently leans him in the other direction to sleep against the wall, which is something he'd done for her in a previous episode. (He'd placed a tissue between her head and the wall, and I have to admit I'm a little disappointed that Jae-in didn't do the same here, which would have been a nice — unconscious — echo.)
I'm willing to admit this may be reading too much into it, but it does seem an apt time to reverse the scenario. This episode (and the previous one) is where Gun-wook starts to become more vulnerable, particularly where Jae-in is concerned, so it's a little flip in their dynamic, which deepens as this episode progresses.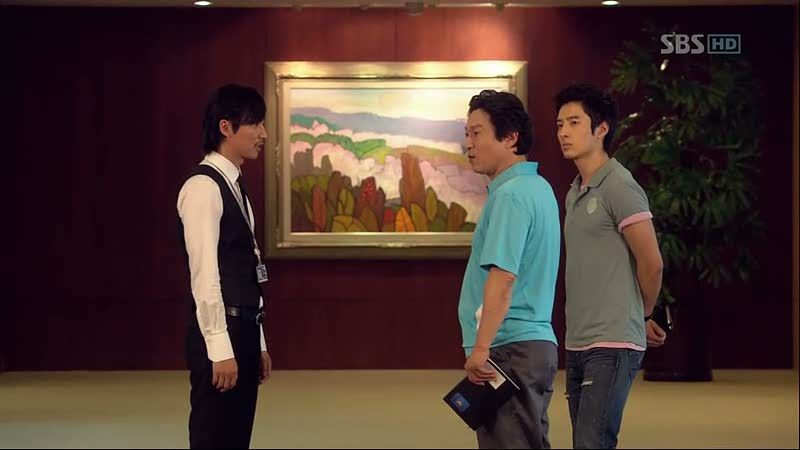 The two cops track down Gun-wook at work to ask for his alibi on the night of Sun-young's death. He answers that he was with his action school, and answers their questions without betraying any suspicion. His guard goes up when they ask whether he has a scar on his back, and he answers that he doesn't.
Jae-in, however, walks by to catch the exchange, and his denial puzzles her because she had just seen the scar. Her obtuseness about his scar is one of those things we'll just have to accept, although it makes me grit my teeth — Jae-in is alternately sharp and dull, depending on how she is needed by the plot, which is frustrating. Because you would think that a direct lie about his back scar would make her put two and two together, but she doesn't. She's more like, huh? Two… and two? Like in math?
The denial doesn't convince the cops, because their convenient eyewitness — the petty thief at the police station — said Gun-wook looked familiar. For now they let this go.
But neither Gun-wook nor Jae-in can shake this encounter off entirely, and both are disturbed by it. He mulls over their pointed questions, while she thinks back to Gun-wook asking whether she trusts him.
Tae-sung lurks around the gallery, here to see Jae-in but keeping a watchful eye out for the hateful Madam Shin. Thankfully, she's out and he can take this opportunity to bond with Jae-in over a painting. She explains the significance of one in particular (after giving up painting, she hadn't wanted anything to do with art for a while, but she saw this painting one day and it brought her comfort).
Jae-in's gallery co-worker spies the handhold and is excited for her friend's progress in winning over the gajillionaire.
Mo-nae angrily confronts her sister about the events that may or may not have occurred during her overnight stay at the family villa, having heard from the caretaker that Tae-ra and Gun-wook were both there. Tae-ra plays innocent, saying that nothing happened — Gun-wook left after seeing that Mo-nae had gone, and Tae-ra slept the night there due to her cold.
But that suspicious overheard conversation still burns in Mo-nae's mind, and she doesn't believe the explanation. She tells her sister that she heard the conversation in Tae-sung's office (where Tae-ra called "that day" a "mistake"), and demands to know what she was talking about. What happened between the two of them?
Tae-ra remains infuriatingly calm, which irks Mo-nae further, and Little Sister storms out in a dark mood when the conversation is interrupted by the arrival of Tae-ra's husband.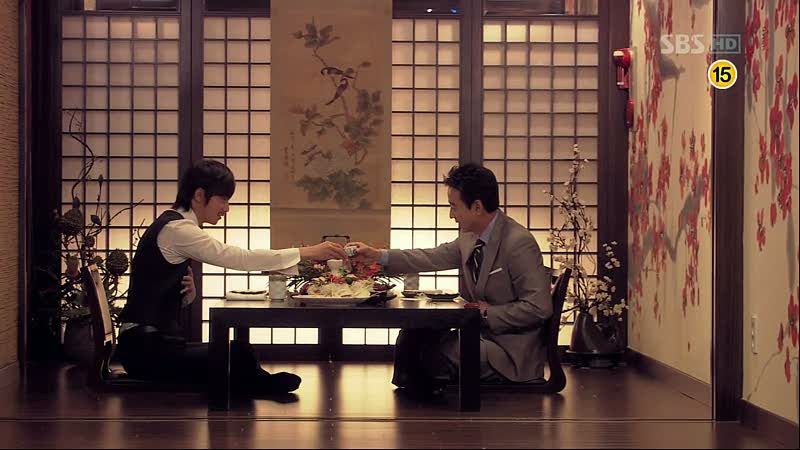 Gun-wook has dinner with his investor contact (President Kang), and strategically drops information designed to put Kang on alert. Acting as though he has no idea that Kang and the elder Haeshin son (Tae-kyun?) are in a secret deal together, he badmouths Tae-kyun's investment projects. Gun-wook relates how an imaginary sunbae trusted Tae-kyun, but was the guy singled out to take the fall when one deal went south. In the end, he lost millions and committed suicide.
Kang doesn't say anything to Gun-wook, but the latter is satisfied that he has planted enough seeds of doubt to shake up their secret deal.
A river meeting! And you know what that means: clandestine deal-making galore! (Here are two more examples — talk about falling back on old faithful, down to the exact shot.) A commenter once posted (sorry, I forget who) that one day they'd like to watch a scene where characters walked by this location, only to show a secret deal happening in the background. I'd like to see a drama being shot where you zoom back to reveal a whole slew of secret meetings taking place along the riverside. Seriously, Korea, maybe it's time for new shorthand in your dramas. I hear you're surrounded by ocean on three sides.
Also, if you were a cop, wouldn't this be the first place you'd check out for suspicious criminal behavior? Corporate espionage! Gangster dealings! Illegal stock manipulations! It's all at the river.
Anyway. Tae-kyun tells Kang that he got a document delivery at home, which both agreed was a bad idea. They're both insinuating that the other is at fault, and ignoring that HUGE RED FLAG of: Gee, well then who else would have sent it? And if they know about the deal, aren't we majorly borked?
Tae-kyun gives Kang the directions for completing their scheme, like being ready to transfer funds at the signal.
Tae-sung drops by the art gallery again (WTF with the manly violet suit, dude?), feeling happy at the thought of seeing Jae-in. But who should be inside but her ex, who is being given the icy treatment by the gallery assistant, who (rightfully) gives him attitude for even asking after Jae-in. In her bid to put the ex in his place, the assistant brags about Jae-in's new conquest, Haeshin heir Hong Tae-sung.
That alone doesn't upset Tae-sung, but she goes on to announce that Jae-in's scheme to seduce him has worked perfectly, essentially calling her a gold-digger as though that's something to be proud of. Now this is a shock, and Tae-sung flashes back to all his encounters with Jae-in, wondering if everything was a calculated move designed to win him over. He sees everything through this new filter, and his initial reaction — crushed, upset — turns to anger.
Tae-kyun is chewed out by Dad, who is none too happy with the recent leaked reports of stock shenanigans by the "H" chaebol son. That not-so-blind news item means that scrutiny will increase on the Haeshin Group, so he tells Tae-kyun to put all that money back and quit while he can. Tae-kyun makes a feeble attempt to assert himself, but is smacked down.
There's an interesting beat when Tae-kyun and Gun-wook are both at the elevators. Gun-wook is on the phone as he says "Hyung," but he looks directly at Tae-kyun, as though directing his words to him instead. And for a second, Tae-kyun's attention is caught, puzzled and curious as these once-brothers now stare at each other.
Tae-ra and Gun-wook cross paths in the lobby, and Tae-ra asks for a moment in private with Gun-wook. He leads her to an empty auditorium, assuring her that he "knows how to open locked doors." The double entendre is clear, since he's already shown us he can get through to Tae-ra's tightly locked-up feelings.
Tae-ra tells him Mo-nae heard their conversation and says they have to stop meeting. He hardly reacts, just looks at her with a small smile playing on his lips, so she repeats herself. Gun-wook assures her that he'll take care of it and talk to Mo-nae.
Noise at the door sends them scuttling for cover, and they hide behind a pillar as a security guard peers inside. They… sure do this a lot. (I suppose once a guy knows what pushes a girl's buttons, he's bound to try to replicate the scenario.) The guard wonders how the door is open, flicks off the lights and leaves.
Gun-wook heads toward the door to lead them out, only now they're locked. And he can't open them. I thought you were good at this, Mr. I Can Open Locked Doors, and Tae-ra says as much. Sheepishly, he replies that he can from the outside.
You know Tae-ra's growing more fond of Gun-wook because she laughs at that.
And then, Gun-wook takes advantage of that pause that hangs between them, moving in for a hug. You've got to give the guy credit for knowing exactly how far to push things with Tae-ra — he uses her newfound softness toward him but doesn't go so far that she gets skittish.
They can't call for help because that would lead to rumors when they are found, but on the other hand, they might be stuck here for a while. Gun-wook suggests they wait it out until someone comes by, with the attitude of What else have you got planned anyway?.
To pass the time, Gun-wook suggests that they pretend they came here to watch a movie, and tells her to imagine that the most memorable moment of her life is playing onscreen. He tells her to close her eyes and imagine it, and Tae-ra is taken back to her youth.
The scene nicely blends this movie motif with the flashback, because as they sit, a projector flicks on behind them, representing Tae-ra's memory. In it, she's in junior high school and managed a rare day away from the watchful eyes of her ever-present escort/driver. She, like Mo-nae now, had felt restricted by having her life micro-managed, and had enjoyed the common pleasure of eating ddukkbokki with her friends and sneaking in to watch a movie.
It was Dirty Dancing, and Tae-ra had connected with the story of a rich family's daughter who learned to dance and fell in love. As Tae-ra relates this story, a tear falls from her eye as she confesses, "I wondered, would that kind of love ever happen to me?"
Gun-wook gently turns her face towards his, and kisses her lightly.
I wonder if Gun-wook is purely being manipulative here. The Gun-wook of the first 9 or 10 episodes would suggest that he is, but just as Jae-in's feelings are getting entangled in Operation Seduce Tae-sung, I'd like to see some emotional breakthrough with Gun-wook. I don't believe he feels anything romantic for Tae-ra, but he ought be able to relate to her story of loneliness and hope and despair.
Now disillusioned about Jae-in's motives, Tae-sung picks her up and takes her shopping, testing her with expensive gifts like a designer bag. She declines the burdensome gift, but he pushes her to accept, saying that that's the point of having a rich boyfriend, and orders the shopgirl to ring it up. Jae-in smiles to herself, happy to have gotten the bag while appearing unsuperficial, but Tae-sung is closely monitoring her reaction, which confirms his suspicion.
It pisses him off, and by the time he takes them to a fancy restaurant — having reserved the whole building for the night — he is pretty close to a destructive outburst. He's going through the motions of the romantic suitor, but his behavior is imbued with this resentment that makes him frankly frightening to watch.
The Slowest Cops Ever find Director Jang, who is moving out of his apartment with his stuntmen crew. They ask general questions, trying not to tip their hand about the investigation. But as soon as they ask about Gun-wook's whereabouts (and mention of a scar), Jang sticks to his line that Gun-wook's a good kid and offers no helpful info.
However, the cops see an opportunity in another stuntman. They back off until they can isolate him, and the guy is thankfully kinda dumb — "thankfully" because these cops are the worst interrogators ever, just blundering their way through these questions without finesse. He confirms Gun-wook has a scar before he catches himself and stammers that he knows nothing.
By evening, Tae-ra and Gun-wook have fallen asleep in the theater, her head leaning on his shoulder. Her driver finds them together, and he levels a disapproving look at Tae-ra, who understands that he doesn't like what he sees. No doubt he's been privy to a lot of the family's misdeeds and he starts to say, "That man…"
Tae-ra hurries to tell him that nothing happened, which he doesn't believe.
As Gun-wook leaves, the Old Cop comes to ask more questions. Gun-wook ignores him and walks away, but Old Cop yells after him loudly, "Hong Tae-sung!" That stops Gun-wook, and for the first time we see unease flicker across his face as Old Cop recites all the things he has found out about him — the adoption, the un-adoption, etc. (Seriously, this guy is seriously lacking in interrogating techniques. Way to show your hand up front, dude.)
The cop tells Gun-wook that his alibi for the night of Sun-young's death doesn't check out, and that there's a witness who saw their argument that night. Gun-wook slaps a smile on his face as the cop requests to take him in to the station to ask a few questions.
Tae-sung takes Jae-in to a hotel (one of his family's holdings), his mood starting to get downright ugly as he says he borrowed a suite room, "So let's go upstairs and sleep together."
Slap! Jae-in takes issue with his proposition, but he accuses her of being a gold digger and sneers, "Didn't you think of this when you schemed to pursue me?" He asks if everything she did was calculated, and presents this like some antiquated lord-and-mistress arrangement wherein he gives her money and she gives him sex.
I give Jae-in credit for not trying to wriggle out of this one or even defending her motives. She says frankly that she pretended to like him because he was rich, but even so, "This isn't right."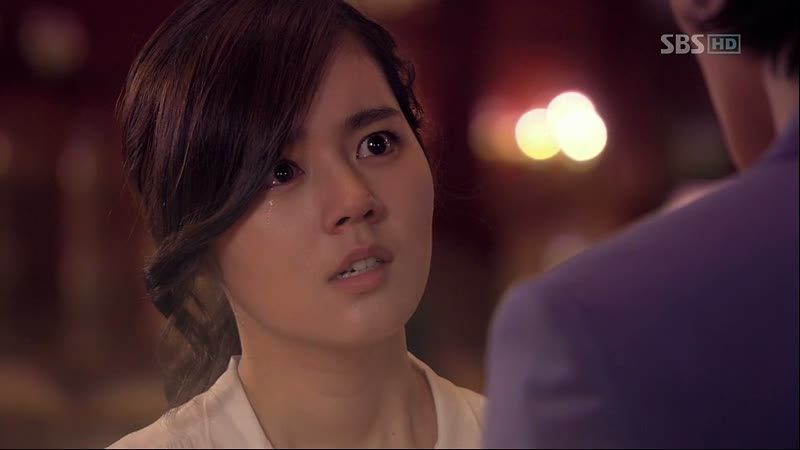 Ah, Tae-sung smirks — then she must be angling after a ring on her finger. Fine, he agrees, he'll take her home to the family tomorrow, so for tonight he tells her to go upstairs.
Jae-in thinks about it, then challenges, "If I do, can I become the Haeshin Group daughter-in-law?" He answers, "Yes. I'll make it happen." And Jae-in replies coolly, "Fine. Let's give it a try. But you'd better keep your promise. If I thought I'd just be a one-night stand, I wouldn't have started this."
There's something really creepy about the way he orders her around when sex is the issue — it would be creepy no matter what he was asking, but it's heightened in this scenario. The sexual element reduces her to practically non-person status, just an object to fulfill his whims. This would take Tae-sung past redeemable for me if not for the hints that he doesn't really believe what he's saying, or at least he doesn't want this to be true. I'm not making excuses for his behavior here because he's being pretty disgusting, but it's worth pointing out that it's like Tae-sung wants to push Jae-in over the edge in hopes that she will prove him wrong. When she goes along with it, it pisses him off even more.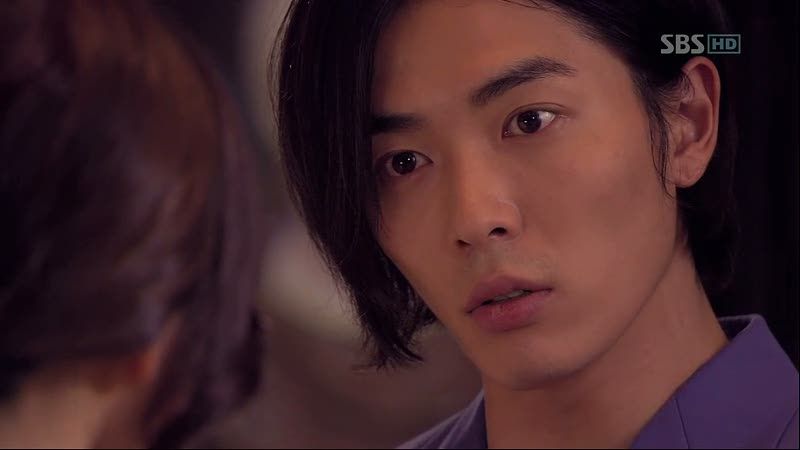 In the suite room, she tells him to get it over quickly and starts to unbutton her shirt. He undoes his jacket buttons, and it's like a game of chicken, seeing who will flinch first.
Jae-in's phone rings, and she tells Won-in that she's busy working. Tae-sung says sarcastically that she's a good liar — or maybe she sees this as her job. Again, the prostitution angle.
But I think Tae-sung doesn't really have it in him, and he tells her she's no fun, calling an end to this game. He starts to walk off, but Jae-in calls him back and tells him to stay: "When it's over, I'll be the one to call it quits."
Tae-sung asks when it started, when she discovered who he was. Was it when she left Japan and gave him that note? Or maybe she went to Japan in the first place to find him? He snarls that this is why Madam Shin told him not to associate with his lessers.
Now that gets Jae-in mad: "Lessers? You're absurd. Do you have the right to say those words? … All you've got is money. You're just an illegitimate son who causes trouble and can't get his family's approval. But you still want to act like you're so great."
He grabs her and pushes her against the wall, saying they can give each other what they want. But he's got her riled up and she's not going to back down now. She calls him pitiful, whereas the world is full of rich men she can go after: "But you — how many women are there who would accept you without the name of Haeshin Group?"
She envied his lifestyle, wanting to live like Mo-nae or Tae-ra, "But that isn't the only reason I came this far. The start may have been a lie, like you said, but…"
That statement is telling, and Tae-sung clings to it like it's his only fragile hope, asking her to continue the thought. She tells him to forget it: "I don't want to see the likes of you anymore."
She exits, and Tae-sung is left with his own misery.
On her way out, Jae-in gets a a call from the police calling her in for one last round of questions. The cops have put Gun-wook in an interrogation room with a one-way mirror, and when she arrives, they ask her to confirm whether this is the man she saw. They raise the blinds only halfway to show Gun-wook's back, and she starts to confirm the sight.
However, NOW she remembers walking in on Gun-wook's bathroom (what selective memory she's got, huh?). Alarmed, she grabs the blinds and raises them to see Gun-wook standing there.
She doesn't have the story put together yet but she does understand that Gun-wook is a suspect, and after a brief internal debate, she tells the cops that this isn't the man after all. It was dark, she couldn't see well, she's not sure — no, she can't confirm it.
She confirms with Young Cop that this means Gun-wook may have killed a person. She's further shocked to hear that the dead woman was Tae-sung's ex.
Old Cop is frustrated by his stalled interrogation, mostly because Gun-wook makes faces like that one. When presented with a photo of Sun-young, Gun-wook says casually that she's pretty — too bad she died.
Old Cop demonstrates some more clumsy questioning skills by confronting him directly (like he's trying to push him into a "You can't handle the truth!" type confession). He states that Gun-wook probably couldn't let his noona date the Tae-sung who took his place, trying to show him that he's on to his motives. Is that why he killed her?
Gun-wook reminds him to consider that if this so-called Abandoned Tae-sung's noona died, who would he have left? Why would he have killed the only loved one in his life?
Losing patience, the cop yells at him, and Gun-wook answers, "Fine. Sure, I killed her." He's being sarcastic, because they'll keep asking until he answers they way they want.
Gun-wook even loses his patience and hisses back at the cop, but then he collects himself again. He tells the cop to provide evidence, not just insist that he's Tae-sung. He's free to go, right?
However, Gun-wook pauses at the door and for a moment lets his mask slip as he asks, in all seriousness: "Don't you have anybody you'd like to protect? Don't you have family? If I were that man, I would have wanted to save her somehow, because she's family."
He says that last bit with tears in his eyes.
Jae-in is waiting by his door when he gets home, but he ignores her and heads inside. She follows him in, finding him in a heavy mood, back turned away from her.
Earnestly, Jae-in tells him, "I trust you, Gun-wook. So you can tell me." She urges him, wanting to know the truth but afraid of it at the same time, "They say that Hong Tae-sung loved someone. She doesn't have anything to do with you, does she? Tell me. Why were you there that night? What happened? I went to the police station today. I saw your scar. You couldn't see me, but the person on the other side of the glass was me."
Now he looks at her, surprised. She clutches his hand and continues:
Jae-in: "You might say it wasn't you, but I know it was. The night Tae-sung's girlfriend died, you were there. You remember that I hit you with the car, don't you? That was me."
Gun-wook: "You saw me?"
Jae-in: "So tell me. You don't have anything to do with her, right? I just hit you by coincidence that night, right?"
Gun-wook: "What do you want me to say?"
Jae-in: "Gun-wook."
Gun-wook: "I killed her. So go home."
What can she say to that? Surprised, her hand falls from his and she gets up slowly, and leaves without a word.
Now Gun-wook clenches his hands into each other, then into the couch, as he struggles with the weight of his memories. And now we finally see the whole story of what happened that night:
Gun-wook had pleaded with Sun-young not to do this, outstretching his hand to her beseechingly. When Sun-young stepped off the ledge, he lurched forward and grabbed her wrist.
So there she was, dangling on the side of the building, asking him, "Let me go." Gun-wook had refused, but she looked up with him, almost peacefully, and said, "Tae-sung-ah."
Maybe it's the shock of the moment, or maybe it was his grip slipping anyway, or a realization that she wanted him to let go. But in the end, her hand had slipped out of his, and she had fallen.
Gun-wook struggles with his guilt and grief, and Jae-in appears at the doorway again. Like the time she had gotten over her anger to return and cook him dinner, once again she comes back without a word, her presence alone announcing her faith in Gun-wook.
He tries to avoid her but she steps in front of him. She holds him to her, and he weeps.

COMMENTS
Good episode, although I'm still wondering what's up with the plot. We're on Episodes 10 and 11 and the targets don't even know they're targets yet. What's the revenge?
The only guy who's suffering from Gun-wook's plans is the eldest brother and we hardly care about him because he's such a late addition and hasn't gotten any screen time. You can argue that he's playing with his victims first, and I'd agree. But shouldn't we get a flash of cruelty, or a hint that he's got a reason for all this toying around? At this point it's like he's messing with Tae-ra just for the hell of it, not because there's a goal at the end of his game. Which goes for Mo-nae as well. And same with Tae-sung — he's enjoying seeing Tae-sung being manipulated by Jae-in, and if he should come to emotional pain because of it, fine and dandy. But he's not doing anything himself, which makes his revenge still hazy and unformed.
I'm not complaining that the drama is slow, per se, because I haven't felt frustrated with the pacing. There's enough interesting stuff here and good acting to keep me engaged. It's just that they're missing out on golden opportunities for great plot movements, and I feel that by the end of this series, I will feel bummed for all the great stuff they could have explored but didn't.
We don't need to see the plan launched into motion, but at this point, we should really be getting an idea of what it is, right?
RELATED POSTS
Tags: Bad Guy, Han Ga-in, Kim Jae-wook, Kim Nam-gil, Oh Yeon-soo