Bad Guy: Episode 13
These two should have their own show. They could have conversations about nothing and it would be funny. I'd watch that, seriously.
Thirteen episodes in and I'm still marveling at the gorgeous look of this drama. There's no doubt that the director puts as much care into the look of the show as he does the story — well, probably more since the story remains the weak link. But the plot is ramping up and I hope that even with its flaws, this momentum will carry us through the end.
SONG OF THE DAY
Vanila City – "Coma" [ Download ]
Audio clip: Adobe Flash Player (version 9 or above) is required to play this audio clip. Download the latest version here. You also need to have JavaScript enabled in your browser.

EPISODE 13 RECAP
The kiss is witnessed by the two people these participants most would like NOT to have seen it — for Tae-ra it's Mo-nae, and for Gun-wook it's Jae-in. Tae-ra is stricken, turning away in guiltily, and Gun-wook looks just as chagrined as Jae-in leaves the scene. He runs out, shouting her name in frustration, but she's gone by the time he makes it out.
Mo-nae hasn't fully processed this scene, her shock so strong that she doesn't even have the space to be angry. Yet. She follows Gun-wook out to the front of the house, stopping him a short distance behind the wall where Jae-in stands, unseen.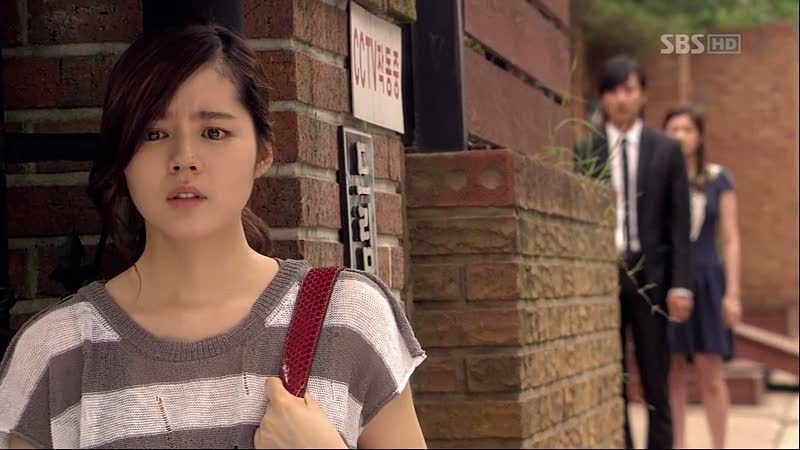 Mo-nae understands that Gun-wook didn't profess love for her: "I hate to admit it, but I knew you never looked at me as a woman." However, she found encouragement in the knowledge that he chose to be with her over anyone else, and thought that when she grew up, he'd be able to see her in a romantic light. But is Tae-ra who he really wants?
He doesn't respond, and Mo-nae starts to beat his chest in a futile gesture, saying that he never should have showed interest in her in that case. I don't think Gun-wook feels terribly bummed about Mo-nae witnessing the scene — it's Jae-in he cares about — and he says in a censuring tone that it's not the case that everyone must love her. He isn't a doll that she can have whenever she wants to.
It's true, but it's also a deflection of her point, and Mo-nae doesn't accept that as an explanation. She wishes him — and her sister — dead. And while she IS a spoiled princess, there's something unsettling about the determined way she vows this. I have the feeling that she's not someone you'd want to cross, no matter how benign she seems when she's happy. Girl is her mother's daughter.
Her argument with Gun-wook is witnessed by Tae-ra's husband and daughter, who assume it's a lovers' quarrel and pass by quietly, toward the house. When Mo-nae rejoins the family, she levels a death glare at Tae-ra and tells her brother-in-law in a hard voice to keep her sister in line.
Madam Shin, meanwhile, is still grieving for the loss of her favorite child and wonders whether their family is cursed. Clearly that's the only reason for this misfortune; I'm guessing she isn't a big believer in karma. She asks self-pityingly, "How could this happen to me? What crime have I committed to deserve this?" Literal crimes, perhaps no. Crimes against decency, well…
Gun-wook heads toward Jae-in's apartment while trying to get through on the phone, which goes ignored. Jae-in cries in a taxi and asks the driver to take her to "Gun-wook's house," so mired in her emotional crisis that she doesn't identify where that is.
While Gun-wook searches in vain for Jae-in, sister Won-in browses in a clothing boutique. She doesn't see another teenager rolling up a blouse and stuffing it in Won-in's bag to retrieve later — but the store owner does. He assumes that the two girls are in it together and accuses Won-in of shoplifting, producing the stolen shirt as proof.
Won-in is completely shocked since she knows nothing of this, but the man hardly believes her denials. Their mutual insistence escalates with him trying to drag her off to the police station, resulting in a third person's intervention — Gun-wook.
Off to the police station they go. The officer finds this alleged crime petty enough to urge the shopowner to let it go, but the man isn't budging. Gun-wook steps in and takes Won-in's side, then offers money to the owner to settle the offense.
Two negative reactions greet this gesture: The offended shopowner argues that money isn't the issue, and an already hurt Jae-in is further insulted that he's overstepping his bounds. She shoves her cash at the shopowner — Gun-wook has no business paying for her sister — and orders Won-in to go. Little Sis doesn't understand that Jae-in's about to fall apart at the seams here and insists that the civil thing to do is to thank Gun-wook for helping her out.
Instead, Jae-in tells the policeman to lock him up, saying bitterly that he has committed crimes, including a possible murder. However, she doesn't explain the basis of these claims so everyone else thinks she's being hysterical — aside from Gun-wook, that is, who understands that these words indicate a loss of faith in him.
The cop protests that this is the man who helped her sister, but she insists that he's a bad person and harasses the officer to shackle Gun-wook, fumbling around for handcuffs. Which is when Gun-wook grabs her tightly so that she can't move, silently holding her to himself while she cries.
Jae-in breaks free of his grasp and asks if he loves Tae-ra. She pleads with him to tell her she misunderstood: "Why do you ask me to trust you and then shove me away? Do I mean so little to you?"
Desperately, Jae-in cries that if they won't lock him up, then put her away instead — what does she have to do to be jailed? Hit the cop? No, Gun-wook deserves to be hit more. So she shoves him with her palms, but in a half-hearted gesture as she keeps sobbing.
Now that she's had time to let this sink in, Mo-nae turns her ire on her sister, and demands an explanation. She accuses her sister of acting high and mighty and keeping a tight rein on Mo-nae while going after her boyfriend: "You're truly dirty."
Tae-ra doesn't offer up a defense or an explanation; she sits quietly while Mo-nae fumes. Furiously, Little Sister vows, "I won't forgive you, ever. I won't let either of you get away with this."
Tae-ra grabs Mo-nae's hand to keep her from leaving and says beseechingly, "I can't control my feelings. I don't know what to do." Mo-nae flings off the hand and tells her to do whatever she wants: "I have no sister anymore." All the while, Tae-ra's observant husband watches the exchange from the window.
When Won-in invites Gun-wook into the apartment, Jae-in glares and orders him out, but her sister declares this her home and her guest. So Jae-in leaves the room, though not so far that she can't hear everything they say.
Gun-wook and Won-in talk lightly for a while, and Won-in declares that she likes him better than her sister's boyfriend. She asks about his family life, and although he answers casually, his answers stir sympathy — not just from Won-in but from Jae-in as well, who listens to him explain that he's an orphan with no family.
Won-in presents him with a lie detector application on her phone and tells him to give it a try, so he jokes that Jae-in is ugly. There's a hilarious moment when Jae-in finally steps out and glowers down at them, and both duck their heads like chastened children. But she's not at all in a joking mood, so Gun-wook's mood grows serious to match hers and Won-in leaves to give them privacy.
She cuts to the chase to ask what he was doing with Mo-nae. What is he after, what does he want? She reminds him that Tae-ra is married and has a family, and wonders what his deal is with the Hong family — did he decide to make them his enemies? He forces a laugh there since she's treading close to the truth, but she points out how frequently he has been involved with the Hongs. When she asks if he knows what he's doing, he answers firmly, "I know."
Jae-in asks if he's going to date Tae-ra. He turns the question around and asks if she's going to keep seeing Tae-sung, adding, "Don't bother with who I date, since I won't care about you either."
Her phone rings; it's Tae-sung, calling at a most inconvenient moment. Gun-wook he tells her to answer, "Since I know you want to," and turns to leave. But Jae-in grabs his hand — there's a lot of hand-grabbing in this episode, for various reasons — and confesses, "I like you."
Such a blatant admission startles Gun-wook, who freezes. Jae-in fights her tears as she tells him, "I'd like the guy I like to not be a bad person. Will you hold onto me?" She doesn't mean to hold her physically, but in an emotional sense.
Gun-wook's eyes redden with unexpressed emotion, but he keeps his face turned away from hers. When he turns to face her, his tone is calm as he says seriously, "You said you trust me. Then trust me through the end, no matter what." (I'm not sure what he's getting at with this, but I'll get into more detail below.)
That sounds like he's extending a hand to her, and Jae-in nods. She offers to forget his kiss with Tae-ra, and pleads for him to make up an excuse — it's like she needs to cling to something even if it's a lie. He tells her, "I'm not as good a person as you think."
Handing her the phone, Gun-wook tells her that Tae-sung is in a lot of pain, and that she should comfort him. It seems to me like he's handing her off to Tae-sung for now, and they've struck some tacit understanding that they are leaving the door open for themselves somewhere down the line.
Tae-sung hangs up right away, but Jae-in can hear his crying and finds him at home, nursing some wine. He's in a vulnerable place, assailed with grief and fear and perhaps some guilt over how he fought with his brother before his death.
He draws her to himself for comfort, and Jae-in allows this although the expression on her face indicates that she's not comfortable. She has finally admitted her feelings for Gun-wook, but Tae-sung needs her so she can't bring herself to push him away. She stays with him until he's asleep, then leaves quietly.
With the eldest Hong brother gone, Tae-ra and Tae-sung are both promoted within the conglomerate. Tae-ra's got her hand in the department store, while Tae-sung is now executive director of the construction company.
The president orders his secretary, Mr. Kim, to find out who leaked the info that ultimately led to Tae-kyun's death. He makes the veiled threat that whoever dared to mess with the Hongs will be in for a world of hurt.
Secretary Kim's contact has located Kang (the guy who ran off and withdrew his money from Tae-kyun's venture). Kim instructs him to proceed cautiously, earn Kang's trust, then ask about Shim Gun-wook.
Secretary Kim believes that the culprit wouldn't have been foolish enough to use his own name (which conveniently removes the real Gun-wook from his suspicions). This hunch is confirmed when he calls the number on the card, which is answered by Gun-wook's guy, who passes himself off as Gun-wook.
Next in the Haeshin Revenge Plan is to find out about the Haeshin slush funds — once they can find out more details, they can leak that info too.
At work, Tae-sung asks to meet Jae-in (side note: how are denim cutoff shorts work-appropriate?) and asks her bashfully if she will accept his apology for the hotel incident. She replies in kind, asking if Tae-sung would forgive her dating him for his money.
That encourages him and he takes her hand, ignoring her protests that they'll be seen. He admits that after Sun-young died, he had thought that nothing mattered — but now he wants to try standing on his own feet. He lacks confidence and wishes he had someone standing by him to help him — will she be that person?
He moves to put a watch on her wrist, but she pulls back. He misinterprets, thinking it's because she still feels sorry for her gold-diggery ways. In truth she's feeling conflicted over leading him on, although I think it's fair to say she's developed feelings for Tae-sung too, even if they're not the same as her feelings for Gun-wook.
Tae-sung assures her that when she's wearing the watch, he'll take that to mean that she's ready to share the same time. It's a really lovely thought, actually. With a new attitude, he even takes interest in his work as his team starts planning that robot theme park.
Mo-nae requests a meeting with her brother-in-law, and she asks if he'd be okay without Tae-ra. Does he love her? The question has an uneasy ring to it, but Mo-nae explains that she wants to "borrow" her sister for a few months, to take a trip through Europe. Tae-ra's early marriage means the sisters didn't get a good chance to bond.
Dear Husband has been harboring growing suspicions, however, and he sees Mo-nae's request in a different light. Remembering Gun-wook and Tae-ra's closeness, he wonders if his wife is having an affair.
He thinks this over in the company of his girlfriend, and he makes an interesting word choice as he says that Tae-ra's "finally becoming a woman." This is a woman with a marriage and a child, so the comment is really about her finally tapping into her sexuality.
Gun-wook hears about Dear Husband's woman on the side — she was his first love from college, which suggests that they probably couldn't marry out of family opposition. (I'm thinking a Camilla Parker Bowles scenario.) Gun-wook's partner finds this situation amusing and makes a passing dig at the situation, but Gun-wook replies tersely and reminds his partner that he's in charge. This is our first moment of tension between the two — is the cold mastermind letting his emotions cloud his judgment? Hmm….
Gun-wook turns his attention to the picture of So-dam, Tae-ra's daughter and possible next target? But as he contemplates his plan, he hears Jae-in's words in his head — it's like his desire to deserve her trust is blocking his desire for revenge — and this has him so frustrated that he throws a glass against the wall.
Similarly, Jae-in broods about Tae-sung's watch. Won-in asks why her sister and Gun-wook are both lying to each other when it's clear they like each other, and produces the lamest proof ever: her cell phone's lie detector program. Are they really making this a plot point? Wow, I guess they are.
Won-in's phone had recorded their conversation, and now she plays back Gun-wook's words for Jae-in. When he tells her that he's not a good person and pushes her toward Tae-sung, the phone registers it as a lie.
The housekeeper reports to Madam Shin that she was able to find out what happened to the discarded Tae-sung, who didn't die but was adopted to the States. However, they can't get any information beyond that from the Korean side.
The housekeeper is trying to resolve her own hunch and asks if Shim Gun-wook has parents, but Madam Shin misses the connection. The housekeeper knows what a hard woman Madam Shin is, so she tests the waters by asking what'll happen to Tae-sung the First when they find him. The answer is not encouraging: Madam Shin won't care if he's minding his own business, but if he's somehow close to the family in an undesirable way, they'll have to "take care of him" before he becomes a bigger problem. And we know what Madam Shin's idea of caring is.
To confirm that that statement is as ominous as it seems, Gun-wook has another flashback/dream in which his younger self is being strangled, and this time we see the face of his attacker. I'm not sure if this is a nightmare (as in, imagined) or a real flashback, but in either case Mme Shin looks damn freaky. It's no wonder Gun-wook jerks awake, feeling spooked.
He moves on to the next part of his master plan, which involves the plans for the Haeshin New Town construction project. It's still in the secret stages of development, but as an employee he can access the files, which he copies from the office network.
Jae-in's ex confronts her at the gallery regarding rumors that he's going to get appointed to a regional office. Did she pull strings now that she's Tae-sung's girlfriend? It's likely that Tae-sung took this upon himself, but Jae-in doesn't know about it, nor does she care, and she dismisses the ex coolly.
Except… just around the corner, Madam Shin has overheard the exchange. Eeeeeek.
She calls Jae-in in to nip this thing in the bud, and is relieved when Jae-in says that they're not exactly "going steady" yet. As we know, Madam Shin has no love for Tae-sung but she's got quite a lot of love for her social position, and she won't tolerate an upstart daring to aspire to her own level.
Madam Shin badmouths Tae-sung as a heedless womanizer and says she pegged Jae-in as smarter than that. Jae-in answers that they seem to be talking about different Tae-sungs — and regardless of her dating status, it's a shame that the older woman doesn't know her son better. With perfect calm, Jae-in says, "I was very happy working at this gallery. And I respected you."
Madam Shin retorts, "How arrogant. I'll be the one to fire you. Who are you to dare quit first?" Jae-in answers, "What I'm most disappointed in after working here is knowing that the director I so admired and respected was really just wearing a mask of elegance." Brava! She makes a polite goodbye and exits.
This is so unexpected that even though she's insulted, Madam Shin also has to laugh in disbelief.
Tae-ra meets Gun-wook at a cafe, greeting him with a shy little smile. She admits that she's avoiding Mo-nae these days, and has heard of the European trip idea. They both know that it's Mo-nae's attempt to keep Tae-ra and Gun-wook apart.
Tae-ra starts talking about her family, and how Mo-nae is acting this way to keep it intact, which sounds like she's winding up for a breakup. Gun-wook plays the part of the gallant, thoughtful lover, saying how she shouldn't worry about his feelings because he'll be fine. But to the contrary, she says she doesn't want to end it.
She has decided to take what she can, while she can. After hurting Mo-nae so badly, she can't just walk away like it was for nothing. She has tried to persuade herself to end it, but she can't, "So I want to give it a try."
Gun-wook asks if she feels confident in this decision, and she answers no, "But I want to try anyway." Again this episode gives us a handclasp as he holds his hand out to her, and she takes it. When he says sorry, she asks what for. He replies, "For loving you."
Okay, despite the supreme cheesiness of that line, I dig how this whole relationship mess is getting more and more tangled. Finally, some action beyond innuendo and suggestion!
As they leave the cafe, they don't see that Tae-ra's husband watches the scene, confirming his suspicions of the affair.
After packing up her workstation, Jae-in waits at a bus stop as she flashes back to all her encounters with Gun-wook. A montage carries us through their relationship, and at the end of her reverie, Jae-in notices a couple sharing an ice cream cone, and smiles at the mundane moment.
She heads to Gun-wook's apartment, opening with the excuse that she didn't want to go home and tell Won-in she was fired. She tells him that she received a "proposal" from Tae-sung — not one for marriage, but to continue seeing each other. Gun-wook offers up the empty words that this is good for her.
She explains that she's jobless now, and Madam Shin is powerful enough to mess up her career. On the other hand, now she's conflicted between the desire for happiness in a grand life (i.e., Tae-sung) and a simpler kind of happiness (Gun-wook):
Jae-in: "On the way here, I saw a couple eating a 700 won ice cream cone, and I was really envious. What's so great about that? But I wondered if that might be happiness. Am I thinking wrongly? Isn't it natural for someone to feel greedy when seeing nice things? If I hadn't known anything from the start, I wouldn't have gotten ambitious."
Madam Shin asks Secretary Kim to find what happened to Tae-sung the First after he was adopted. She also wants Gun-wook fired, now that Mo-nae has decided to forget all about him.
She doesn't link those two people together until later that day, when she sees a trio in the gallery signing to each other. As she remembers that the first Tae-sung knew how to sign — as does Gun-wook — the puzzle pieces start to fall into place.
Secretary Kim gets a faxed drawing of the man who had met with President Kang, Tae-kyun's investor — and the face is of Gun-wook.
Kim calls Gun-wook to request a meeting — there's something he'd like to confirm before making his report to President Hong. And despite the vague wording, Gun-wook understands that there's loaded (ominous?) meaning under those words.

COMMENTS
First, the relationship shifts:
Jae-in's immediate reaction to the kiss is to wonder why it had to be Tae-ra and not Mo-nae. Although she has been a little jealous of Gun-wook's relationship with Mo-nae, his kiss with Tae-ra devastates her, which suggests that she didn't see Mo-nae as a real threat. You can't blame her, when Mo-nae thought the same thing.
Jae-in confesses her feelings and throws Gun-wook for a loop. In return Gun-wook asks her to trust him, which is a significant step forward because previously he'd told her not to, and she'd said she trusted him anyway. The reason this muddies things up is because in asking that of her, he's conceding some kind of possibility for them later — that even if things look bad now, that if she trusts him through it all, then they can come back at some point in the future.
Gun-wook has treated the revenge as his priority, and is planning to take his punishment later. But now that he's come to this understanding with Jae-in, does that throw his revenge off-course? And how? Will he now have to pull back and preserve his soul to be worthy of her when everything is all over? Because I don't see him asking her to trust him (which is like asking her to wait for him), and then not being available at the end of the tunnel.
I'm confused by this, but not necessarily in a bad way. I guess I'm trusting in the story to work out in the end, although if it doesn't I will be mighty peeved.

THEORIES & SPECULATION
I was intrigued by the scene where Gun-wook's temper flares at his partner, because his feelings are starting to intrude on his master plan. Jae-in is the obvious complication, but the comment that sent Gun-wook snapping was actually about Tae-ra, and that's another moment that confused me. I might see him developing some kind of understanding of her character, but I don't see a deep sympathy there — certainly not the kind that would threaten to derail his plan. I still think he's playing her with everything he's got, particularly when he lets loose that "I love you" confession. (So. Cheesy.)
Previously I'd considered Gun-wook's partner a mere info-dropping character, but it's starting to seem like he may be more important than he first seemed. When Gun-wook was wooing that investor Kang away from Tae-kyun, he dropped a story that I assumed was fake, regarding a sunbae who was screwed over and committed suicide. But in a conversation in the previous episode, Gun-wook's partner makes mention of his sunbae's death, which suggests that the story was real, if borrowed. That gives the partner a much stronger basis for helping Gun-wook — it's a shared revenge, not just an employee carrying out his boss's orders.
Unfortunately, I don't think the story will actually do much with this, which seems like a missed opportunity.
As for Madam Shin… murderous bitch, or just bitch? Gun-wook's nightmare clearly reveals that Madam Shin is his strangler, and I'm thinking of instances where this might have actually happened. But there's always the option that he's dreaming in metaphors, and that it signifies that his true enemy now becomes Madam Shin, rather than, say, the Hong family in general. That isn't so far-fetched once we consider that he has a rapport with Tae-ra, sees Mo-nae as a nonentity, respects President Hong, and in the last episode started to see Tae-sung in a more sympathetic light.
RELATED POSTS
Tags: Bad Guy, Han Ga-in, Jung So-min, Kim Jae-wook, Kim Nam-gil, Oh Yeon-soo