Coffee House: Page 10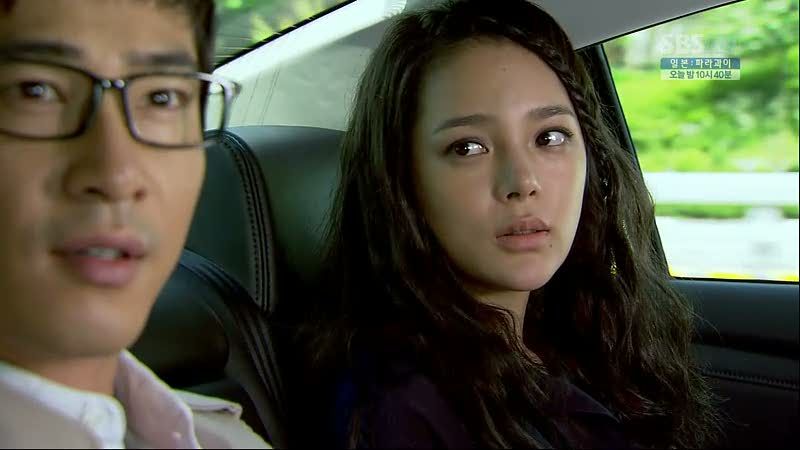 I've read a lot of comments maligning Jin-soo, but I've got to say, I LOVE him — as a character. As a person, he's frustrating and selfish and infuriating, but as a character? Rich, complex, and intriguing.
He's showing a lot more depth than we could have guessed at the start, when he was all smiles and politeness and pure facade. And I love dramas where relationships continue to evolve, as they do here.
SONG OF THE DAY
Hotclip – "Due" feat. Miri [ Download ]
Audio clip: Adobe Flash Player (version 9 or above) is required to play this audio clip. Download the latest version here. You also need to have JavaScript enabled in your browser.

PAGE 10 RECAP
After Jin-soo collapses in his studio, he's able to muster enough strength to jot down a few notes to Seung-yeon, directing her to fill his prescriptions. In a panic, Seung-yeon races to the hospital to find his doctor, fills the sleep-aid prescriptions, and dashes back to the studio.
(I've been trying to let it slide, but it's getting a little out of hand, so: Good lord that girl runs like an idiot. I'm sorry to say it like that, but there's no better way to put it. I've defended Ham Eun-jung's acting in this drama and found it perfectly serviceable, but she's been slipping in recent episodes. That exaggerated run does her no favors, either; it's like Mi-nam's Kindergartner Run in You're Beautiful, but even more exaggerated.)
But back to the point. She brings the pharmaceuticals to Jin-soo, who gets to work injecting himself with an IV. Seung-yeon is startled at his facility with drug self-administration, until he reminds her to give his profile a closer read. (She recalls that he went to medical school.)
We're not told exactly what Jin-soo's condition is, but since he's using an IV and he seems fatigued, I presume that he's suffering exhaustion, exacerbated by skipped meals, dehydration, and extreme stress.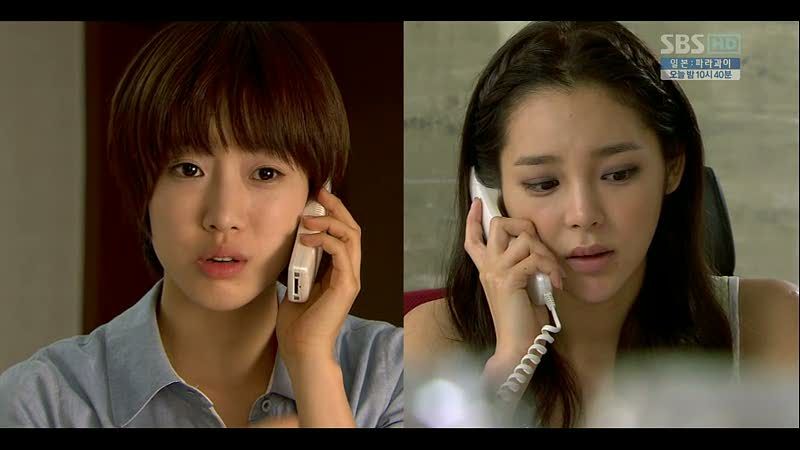 When Eun-young calls, Jin-soo doesn't want to answer, so Seung-yeon makes an excuse for him. I don't know if Eun-young really believes that he's not home, but she accepts this response with a little disappointment.
Jin-soo dismisses Seung-yeon for the day, which worries her because she doesn't like the idea of leaving him alone in his condition. By now she knows that he won't stand for protest, so instead she thinks up an alternate idea: She sends Grandma over to tend to him.
It's a pretty good idea, too, and shows us that she's getting to know him pretty well. As she later explains to Dong-wook, Jin-soo is fundamentally unable to be rude to strangers. Therefore, Seung-yeon could try her utmost to tend him and urge him to eat, but he'd just lose his temper and kick her out. He isn't on familiar terms with her grandmother, however, and therefore will feel enough social pressure to reluctantly do as she tells him.
When Jin-soo finds himself with one pushy granny on his hands insisting that he eat, he calls Seung-yeon, who feigns a bad phone connection in order to ignore his outburst. She hangs up feeling pretty proud of herself and not the least bit sorry to have acted counter to Jin-soo's wishes to be left alone.
Seung-yeon explains this as she waits downstairs in the book cafe, sharing a dessert with Dong-wook, who is adorably smitten with her. In fact, the other employees note that Dong-wook thinks he's being Mr. Smooth in keeping his relationship under the radar, when in fact he's about as understated as a Korean grandma bargaining for discounts.
Sadly for those of us who find Dong-wook the cutest thing ever, this scene encapsulates their relationship in a nutshell: Seung-yeon talks about her job, her mind still fixated on Jin-soo and his illness, while Dong-wook listens with half an ear, more preoccupied with doing little things to win Seung-yeon over. Like giving her a piece of dduk (rice cake) and pumping his fist in victory (surreptitiously, of course) when she notes that he's observant to notice she likes dduk.
True to Seung-yeon's predictions, Jin-soo is unable to order Grandma to leave, and sits down at the table to grudgingly eat the spread she has laid out. While he tries to get this over with quickly, Granny asks questions about his life, all the while adding kimchi to his spoon with her fingers. At first, Jin-soo looks at the kimchi in disgust, and reluctantly eats it — but as she continues to pile on the kimchi, he starts to like the taste. It's hilarious (and a little touching) how this has the effect of retrieving his appetite, and by the end of the conversation he's scraping the bottom of his bowl and holding out his spoon to Grandma for filling.
Meanwhile, she chatters on, asking questions that he answers in brief replies. For instance, this apartment isn't really his, although he lives here while writing. In fact, he doesn't have a home of his own. His parents died when he was in university, so he spends all his time wandering from place to place.
Grandma clucks over that, but she doesn't treat him with pity; she nags him about getting married, saying that it's not good to be alone all the time. It's the kind of thing your own grandmother says to you, nagging over how she thinks you ought to live your life, with the best intentions.
Grandma leaves after assuring Seung-yeon that Jin-soo ate lunch properly and is now resting. When Seung-yeon checks on him, he's grumpy and accuses her of being crazy to thwart him so blatantly. However, he's too tired to be angry properly and lies back in fatigue.
Seung-yeon isn't fazed, knowing that she did everything for his own good, and asks him to call her whenever he's sick or bored. Perhaps she understands now that he cuts himself off from everyone, not because he wants to but because even if he didn't, he would still have nobody to turn to. Cutting people off first makes his loneliness his choice, and may be easier to deal with than wanting that company but not having it.
I doubt Seung-yeon understands all that in such clear terms, but she's encroaching on that understanding, just a teeny bit. Jin-soo calls Seung-yeon arrogant for thinking she knows everything and says dryly that she's grown up, but her offer to be there for him does make an impression on him.
That evening, Eun-young wraps up work and calls Jin-soo, wanting to drop by for a few minutes to talk. Jin-soo turns her down, acting normal and using the excuse that he's busy, but she overrides him and says it'll only be a moment.
Jin-soo doesn't want her to know he's sick — if she knew, it would clue her into his worry over her disappearance, and Jin-soo can't let himself be that vulnerable, no way. So he pulls himself out of bed and cracks open the door to talk to Eun-young over the threshold, not letting her inside, citing work as his reason.
Eun-young takes this in stride, but admits that she felt bad to hear that he had been worried over her weekend disappearance. However, now she sees from his casual behavior that he hadn't worried after all, and wonders, "I'm the one who was embarrassed and hurt — why are you avoiding me? That's silly."
Jin-soo blusters that he's not avoiding her, then gets rid of Eun-young quickly before Seung-yeon arrives, carrying his prescriptions. He has ordered her to keep his condition a secret from Eun-young, so Seung-yeon hides the medication behind her back when she runs across Eun-young.
Ji-won has done some serious thinking of his own, and calls Eun-young to — finally! — offer her his apology for hurting her two years ago. It's a little ridiculous that he hasn't realized what he'd done until now, but now that he has, he's sincerely regretful and tells her solemnly that he's sorry. He even accepts 70% of the responsibility for their breakup, which he increases to 80%, then 90%, at her incredulous reaction.
Naturally, Eun-young finds him a little absurd, and cuts him off just as he starts to bring up her relationship with Jin-soo. Flatly, she tells him it was all a show to make him let go, and that Jin-soo's going to leave soon. She's going to start dating again (she uses the word mat-seon, which is a blind date undertaken with the intention of marriage). Bluntly, she tells Ji-won that in any case, he is forever out of her life, and hangs up.
I admire Eun-young's professionalism and her mature personality, because rather than moping over Jin-soo or trying to force her way — hitherto the only two options to the kdrama heroine — she takes action. It's not vindictive, or angry, but practical.
To that end, she contacts her lawyer and has him draw up a document canceling her contract with Jin-soo. Not only does this release him from her company, it is effective immediately, meaning that she exerts no claim over this book. Her employees are stunned, because to them, this has come out of left field and without explanation. But even though Jin-soo does understand her reason, he's just as shocked to be handed the papers.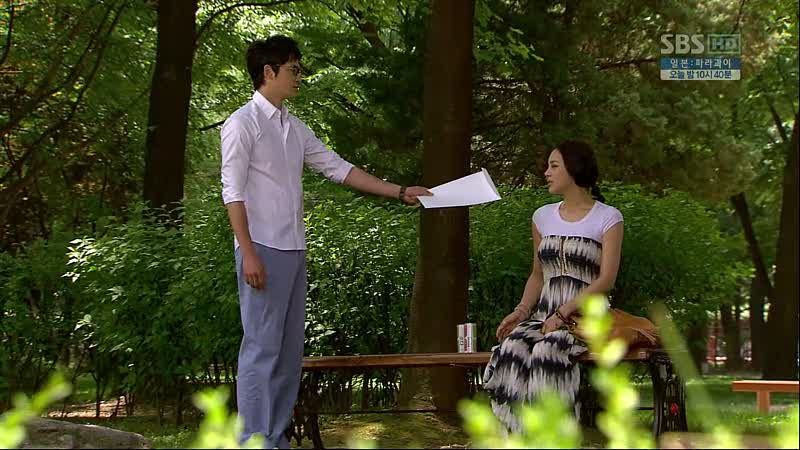 Jin-soo confronts Eun-young wearing a serious — dare I say a little stricken? — expression, and asks what this is all about. This is not welcome news to him, even though it puts him in a better situation than it does Eun-young, whose company would lose a lot more than he would at the loss of the contract.
Eun-young talks to Jin-soo wearing a serene expression, explaining that she has realized that his reason for writing is to repay his old debt to her. She doesn't want to make money off that. She'd like to dissolve this contract to enable them to return to the way they were when they first met, and reminds him that Jin-soo had been the one to say that she's a pro at returning to her original state (he means that she's cool in the face of disruptions and struggles).
She reminds him of how they used to be before they'd become friends or business partners — back when they were acquaintances who conversed well and had fun when they found themselves in each other's company. He had stuck to that line all these years — that line keeping them only friends — while she hadn't, and now she wants to go back.
But this isn't what Jin-soo wanted, or meant, and it's written all over his face.
Eun-young continues her explanation, saying that it would be nice to go back to their closer friendship, to how they were before his birthday — and the kiss — but they can't do that. She says that although Jin-soo would like her to be cool in moving on after it, she can't, so this is the best she can do. (It's one thing to reboot entirely, but it's a lot harder to undo a big move like that and pretend it didn't happen.) She regrets that, but what can you do?
Eun-young keeps that pleasant smile on her face as she parts ways with Jin-soo, but as she walks on, her face grows grimmer and grimmer and she becomes lost in thought, even missing the light for the crosswalk.
Jin-soo, trailing behind Eun-young, catches up to her at the intersection, where he asks in a subdued voice, "If you dump me, what will I write for? Why would I write?"
Eun-young's gaze grows troubled, but she keeps her tone light as she jokes that he must be awfully content with his success to talk like that, and walks on.
When Jin-soo gets back to his studio, Eun-young's employee hands him an invitation to a formal event, the International Peace Seoul Awards, asking if he will be in attendance. He figures that Jin-soo won't want to go accept his award, but hesitantly requests a definite answer — they can't deal with him agreeing to go and then skipping out again.
Of all the scenes in this episode, this is the one that gives me the most hope for Jin-soo, even though it's the most mundane, uninteresting one. It's a purely expository scene to set up the award, but Jin-soo's response is telling — he looks at the invitation and wonders if going to the event will keep Eun-young from nulling their contract. He jokes that he doesn't want to be "fired" by her.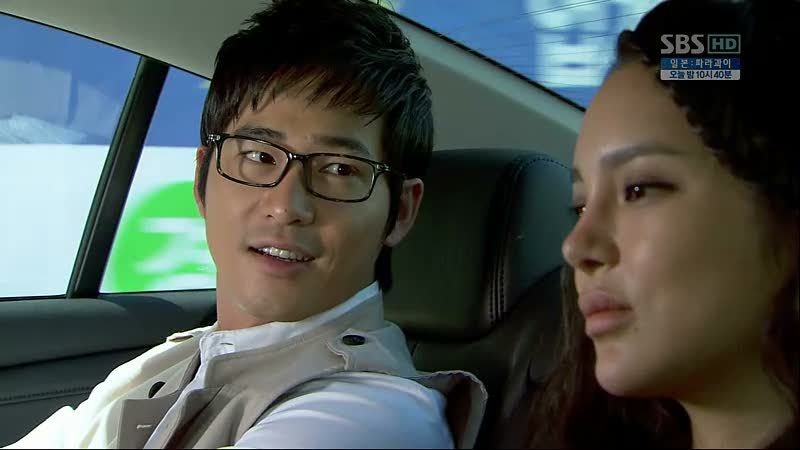 Eun-young is surprised when Jin-soo joins her on the car ride to the award ceremony, and he keeps his tone casual as he says that he doesn't want to get kicked out of his nice workshop: "Can't we just continue like this? With a bit of awkwardness? Or is that being greedy?"
Jin-soo has spent most of the drama being the one in control, as I noted in the previous recap, so I love seeing him in the vulnerable position for once. It shows us that he does have feelings, even if he's deathly afraid of them for the most part, and that some things — namely, Eun-young — are worth making a little effort over.
(At least, for now.)
Seung-yeon doesn't know about the contract cancellation until the car ride over to the award ceremony. Hyun-joo fills her in, then wonders if something happened on Jin-soo's birthday — up until then, everything had been going fine. Things started to get strange afterward, and Hyun-joo asks if Seung-yeon knows anything.
Seung-yeon does — she doesn't know the full story, but she did witness the rooftop conversation — but isn't in the place to divulge, so she deflects the question. Once at the venue, the team gets to work prepping Jin-soo and Eun-young for their parts in the ceremony.
Seung-yeon hesitantly broaches the topic of the contract cancellation with Jin-soo, but he shuts her down. She doesn't press with him but can't shake the feeling that this isn't right, so she next seeks out Eun-young in her dressing room. Jin-soo briefly sees the two women talking on his way out, but doesn't make much of it.
Seung-yeon tells Eun-young how much Jin-soo worried over her and how he'd taken a lot of sleeping pills. She can see that Jin-soo really cares for her, and worries that this contract cancellation is the product of a misunderstanding.
Eun-young's eyes fill with tears at this revelation, and the proof that Jin-soo had been lying to her with his flippant remarks and blasé attitude. Both relieved at the truth and frustrated with Jin-soo's mulishness, Eun-young sighs that Jin-soo's always covering up the truth, and she'd never have been able to see the truth without Seung-yeon. She murmurs, half to herself, "Were things always a mess with us because we didn't have a secretary?"
Eun-young thanks Seung-yeon earnestly for her help. Seung-yeon walks out feeling that she did the right thing, that she fulfilled her job as a good secretary, tamping down her personal disappointment (over the imminent reconciliation).
As Jin-soo waits just offstage in the wings, Eun-young comes up to him, now wearing a much softer expression. She grasps his hand — to his surprise — and tells him to do a good job.
When she pulls away, he finds a note in his hand. He opens it to read: "Let's look for the answer together. Don't struggle alone, please. I'm sorry for giving you a hard time without knowing you were sick."
He's puzzled, but Seung-yeon pops into view and gives him a "fighting" sign, for good luck. Now he starts to piece things together, and realizes that Seung-yeon told Eun-young the truth.
His sight starts to grow out of focus — his surroundings start to merge together in a blur, and the stage lights are blinding — while Jin-soo's face hardens.
But we won't know what he's thinking for a few moments, and I like that the director keeps us at a distance — both physically and emotionally. As he walks onstage to accept his award, fading into the white wash of stage lights, we see him as Eun-young and Seung-yeon do — wanting to know what he's thinking but only able to see the back of him.
For a moment I wondered if he'd run away again, but he gets through the entire night with nary a hitch, and afterward Seung-yeon gives him a cheery thumbs-up, bubbling over with happiness and excitement.
They've all been invited to a party afterward, but Jin-soo tells Seung-yeon to go home instead. When she asks why, he tells her plainly, "You're fired."
That wipes the smile off her face immediately, and she's confused and uncomprehending. She asks why, and he rattles off his reasons in a barrage of matter-of-factness: She revealed something he entrusted her to keep secret, she meddled in his life with "delusions of grandeur," she acted out of "childish pity," she broke the trust that he could entrust her with any future secrets, and lastly, she smashed his hope that she might turn out to be a decent secretary after all.
He says all this without malice or even anger, but I suspect his detachment is what makes it even harder to comprehend. He leaves Seung-yeon in a daze and joins Eun-young in the limo as they head to the party.
Eun-young believes things are on the mend, so she's startled to hear that he has just fired his secretary. He explains that he can't have a secretary who lies, then clarifies that everything Seung-yeon just told Eun-young was a total, utter lie: "Don't believe any of it."
Frankly methinks he doth protest too much and I'm hoping Eun-young picks up on that, but for now she's too stunned to have any reaction at all.
She looks a little lost as Jin-soo pulls out the documents and now agrees that she was right in wanting to sever their ties: "We've gone far enough, and I don't think any good will come of us continuing to be linked together." He'll agree to her conditions.
With a return of his maddening smile, Jin-soo signs the papers, then requests that the limo driver pull over.
Telling Eun-young to have fun at the party, he gets out, leaving two very shell-shocked women in his wake.

COMMENTS
Despite some frustrating behavior by Jin-soo in this episode, I kind of love it. I love that Jin-soo is such a mess of contradictions, but with every layer that gets unpeeled, his complexities and neuroses all feel consistent with his character — they form a maddening but realistic person, and that's one thing this drama does so well.
In the first half of this episode, I was thinking how very much Jin-soo needs this rude awakening — he needed to realize that you don't know what you've got till you've lost it. When Eun-young is the one who wants to cut their relationship, he's not quite desperate but he is very keen on restoring things. It's like a prankster who pulls one joke too many and then hurries to explain, "I didn't mean it! Really!"
But then the tables turn again, and he's the recipient of Eun-young's understanding — but worse, her pity. At first I wasn't quite sure why he had such a violent reaction to this change in her behavior, because even if it's a little embarrassing to be found out, you'd think he'd be happy to have a good thing on his side. But I believe that the primary operating force in this is his reaction to losing control. In fact, not only has he lost it, it's been stolen from him secretly by his secretary, and he's like this big ol' contrarian who feels cornered and manipulated when things are out of his control.
I have this feeling that Jin-soo is so scarred from his ex-wife's death that he no longer wants responsibility over ANYTHING in his life at all, which is why he rejects relationships, intimacy, and even a physical home. Autonomy is the only thing he's got left, and he reacts like a feral animal when someone takes it away.
Plus, this is a recurring theme for Seung-yeon, so I'm frankly not surprised that he fired her. I was expecting it. Let's be honest, she's not a good secretary. She's a decent person, but a pretty lousy secretary. Think of all those dramas with that evil mastermind (East of Eden, Cinderella's Sister) — and think of his evil henchman. That secretary is the Evil Boss's secretary because he does every single thing his master requires, and he does it efficiently and without moral posturing. That's why they're the best.
Seung-yeon, on the other hand? She's like the secretary you would send to your enemy — the MVP for the opposing team, if you will. She has been getting a bit big for her britches — for instance, the scene when she hangs up on Jin-soo by faking a bad connection — and pride, as they say, cometh before a fall.
RELATED POSTS
Tags: Coffee House, Ham Eun-jung, Kang Ji-hwan, Park Shi-yeon