Coffee House: Page 11
I suspect that there'll be a lot of fan love for this episode for the most obvious reason, but I really enjoyed this episode because it finally pushes Jin-soo out of his stubborn emotional denial phase and into self-awareness. Finally, we get to see him being honest — not just with Eun-young, but also with himself. It's also gratifying to see that He Who Always Thinks He's Right realizes that maybe he's not so right after all — and that his silly, hapless secretary is the one who sets him straight.
SONG OF THE DAY
CN BLUE – "Sweet Holiday" [ Download ]
Audio clip: Adobe Flash Player (version 9 or above) is required to play this audio clip. Download the latest version here. You also need to have JavaScript enabled in your browser.

PAGE 11 RECAP
After being fired, Seung-yeon cries at the award venue, sitting on the steps long after the event has ended. Finally, she gets up and leaves, so that when Eun-young returns to check on her in concern, the place is empty.
Everyone assumes that Jin-soo has immediately skipped town for another of his years-long jaunts abroad, so when he calls the office the next morning, all the employees breathe a collective sigh of relief to hear he's still in Seoul. He is going to drop by to see Eun-young, and the employees tense up at this, because they've got one last chance to change his mind before he officially dissolves their partnership.
While Jin-soo heads toward the book cafe, Eun-young talks business with her grandfather about expansion and new plans for the company. To her surprise, she has a visitor for lunch, invited by Grandpa the Matchmaker, who has purposely sprung this as a surprise.
The guy is a lawyer named Hyun-seok, with whom Eun-young was once set up. He's still interested, but she hadn't called him back and now makes the excuse that she was busy. But we know better.
Spotting this scene is a jealous Ji-won, who grabs Jin-soo on his way to the cafe and forces him to crouch around the corner stealthily. Ever one to misinterpret a scenario, Ji-won jumps to the conclusion that Eun-young had a new guy lined up, which is why she was so quick to kick him aside. Yep, that's the only reason she'd ditch Ji-wan, suuure.
Burning up with indignation, Ji-won calls Hyun-seok a "jajangmyun-like guy" — he's dark and greasy. HAHAHA. It's not even much of an insult, but what makes it hilarious is that Ji-won thinks it is. Furthermore, he's not just any ol' jajang, but that cheap dollar-jajang they sold near school. Jin-soo feels uncomfortable being dragged into this, and points out that he's hardly on Ji-won's "side" either, but Ji-won retorts, "I hate you, but you're better than him."
Ji-won sends Jin-soo to find out more, and Jin-soo makes his perfunctory greeting, telling Eun-young that he'll be waiting in her office. However, it turns out that Hyun-seok is a huge fan of Jin-soo's and excitedly introduces himself, even going so far as to cling to Jin-soo's hand awkwardly.
Forcing politeness, Jin-soo extricates himself and heads to Eun-young's office. When she follows a few minutes later, her employees all plead with her to take this last chance to grab onto him and keep their contract.
They're back to their default setting, which is polite tones, friendly words, and that veneer of lightheartedness that belies that there's anything darker or murkier going on beneath the surface. Eun-young says that she had assumed he had left the country by now, to which he says that he had initially thought to give up on this manuscript, but changed his mind because he's so close to finishing. He's done with the first draft and needs another month to complete the book.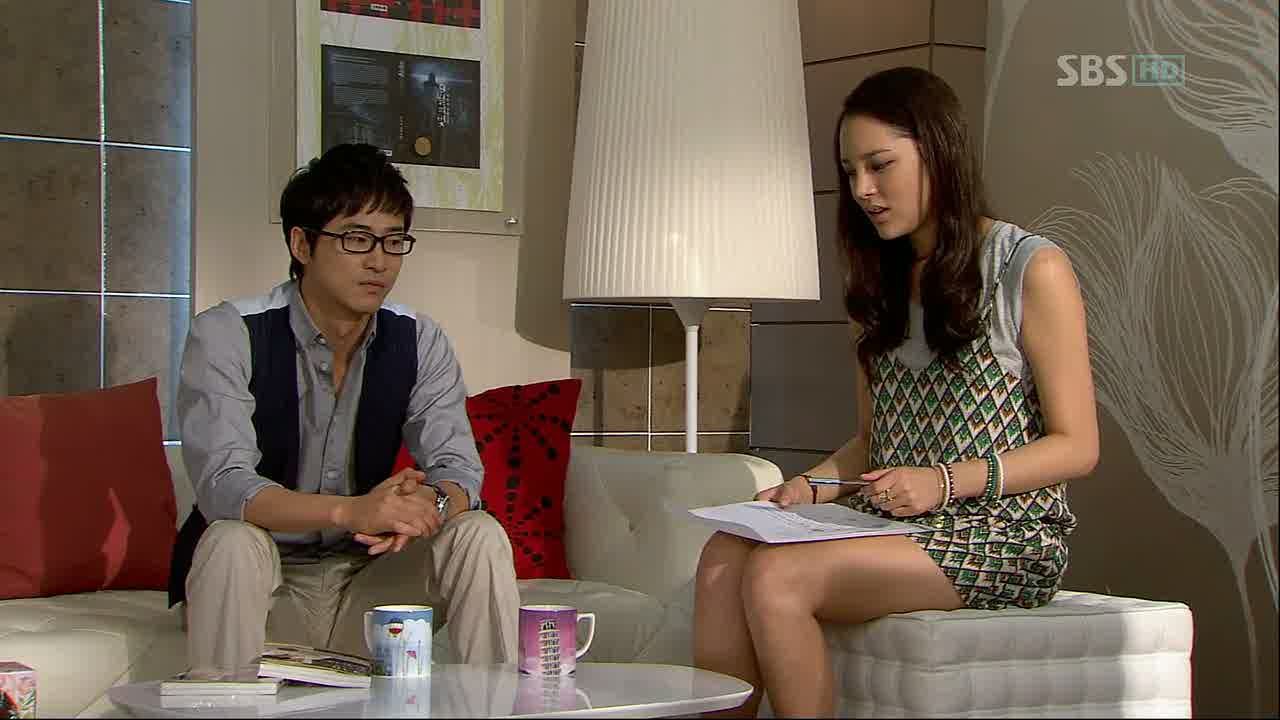 Eun-young mentions Seung-yeon, but Jin-soo shuts her down firmly, stating that there's no reason for Eun-young to concern herself with her. Seung-yeon crossed the line, and that's that. At those familiar words, Eun-young muses, "Why are there so many women who foolishly cross the line with you?"
Understanding that Jin-soo's here to finalize their contract termination, she grabs the paper and readies herself to sign. The mood grows tense as she contemplates this move, and she acknowledges that the moment she signs, she loses several billions of won (millions of dollars). With a shaking voice, she holds her coffee cup over the papers, joking-but-not-really-joking about whether she ought to just spill it over the documents.
But no, Jin-soo takes the cup from her grasp, and she starts to sign. As her hand poises over the paper, a tear drops on it, and Jin-soo looks at her face to see more tears falling. Her signature smears on the page.
Jin-soo wipes the tear away with a tissue, and one falls on his hand, too. Trying to make light of the moment, Eun-young jokes that she must really love money, based on her reaction. As she gets up to make copies, Jin-soo contemplates the tears on his hand.
Regaining her composure, Eun-young extends a hand to him, saying that they may as well shake on what was a pretty successful partnership.
Jin-soo agrees to clear out the studio by the end of the week, as he has found a new office and will complete his work there. It's the office of a university professor friend who won't be using it for the next semester.
Jin-soo gives her an awkward little wave goodbye, and even tries to make a joke as he leaves, warning her teasingly to make sure that her date is actually straight, since it seemed he was much more interested in him than her. After his exit, Eun-young sighs heavily, her composure slipping just a bit.
Jin-soo packs up his belongings upstairs and hands back his key, only to realize that the second key is still in Seung-yeon's possession. A bit hesitantly, he asks whether she has been by, but the employee (Dong-min) doesn't know.
While Jin-soo settles into his new office, Dong-min contacts Seung-yeon to ask about the second key.
She has returned to working her father's coffee shop. Hearing from a customer that her coffee is much better than her father's, she wonders if this means she learned a thing or two after all.
Dong-wook is also at the cafe, playing Go-Stop with Seung-yeon's father and grandmother. Seung-yeon asks if it's really okay for him to be here, which isn't a rude question but is hardly something you'd ask if you wanted him to stay.
When Dong-min calls about the key, Seung-yeon perks up mightily to hear that Jin-soo has not yet left the country. Insistent that she has to meet him, she asks for his new address. Her interest in Jin-soo's whereabouts isn't romantic, but still I can't help but feel sorry for Dong-wook because it's clear (to us) that her heart isn't in their relationship.
Seung-yeon shows up at the professor's office, pleading for a chance to say her piece. In an emotionless voice, Jin-soo cuts her off, telling her that he knows what she's going to say, so let's skip the part where they waste time and just cut to the chase. He gives her the answer she'd get even if he listened to her speech, which is that the book will come out without her, and he neither has the room nor the need to re-hire his secretary.
Jin-soo advises her to spend her time looking for a new job, and reminds her that his decision to cut her loose wasn't made in the heat of the moment. Therefore she has no hope of changing his mind through tears or pleas.
Dismissing her coolly, he shuts the door before Seung-yeon can even say anything.
Still, she isn't about to give up, and sits down outside the door to wait in the school hallway. When Jin-soo emerges to go on an errand, she tries to talk to him again. Contrary to his expectation, she's not here to ask him for her job back — all she wants is a moment of his time. He's a little mollified to hear that she's not here to beg for him to take her back, and grants her 30 seconds.
This catches Seung-yeon off-guard and she protests that 30 seconds isn't enough time. Jin-soo replies that if she can't figure out how to state her case in 30 seconds, then having 30 minutes won't be any better. Furthermore, she'd do well to note that opportunities are not given to suit our preferences.
He rides off on his bike, and after a moment, Seung-yeon chases. When he pulls up to a building (library?), she catches up to him, gasping for breath and sweating from exertion. She requests the 30 seconds again, but this time he only gives her 20. Go!
Spurred by the (literal) ticking clock, Seung-yeon blurts out in a flurry of words:
Seung-yeon: "I'm sorry. As a secretary I overstepped my bounds. At first I felt wronged, but after a few days I realized you were right. I'm not professional and I'm a bad secretary. I'm really sorry. I hope you can remember that I am sorry. I was really depressed at the thought that you already left to go abroad and I'd never get to tell you this. I'm glad that I have the chance to apologize."
Ding! She wraps up just as her 20 seconds end. Jin-soo's surprised at the content of her speech, not understanding her purpose. Why did she chase him down all this way just to say that, when she knows it won't change a thing? What's the difference between saying those words and not saying those words?
Seung-yeon answers, "Even if the situation doesn't change, feelings do. There's a difference between you knowing and not knowing how I feel, that I'm sorry instead of upset and feeling wronged. I think there's a huge difference."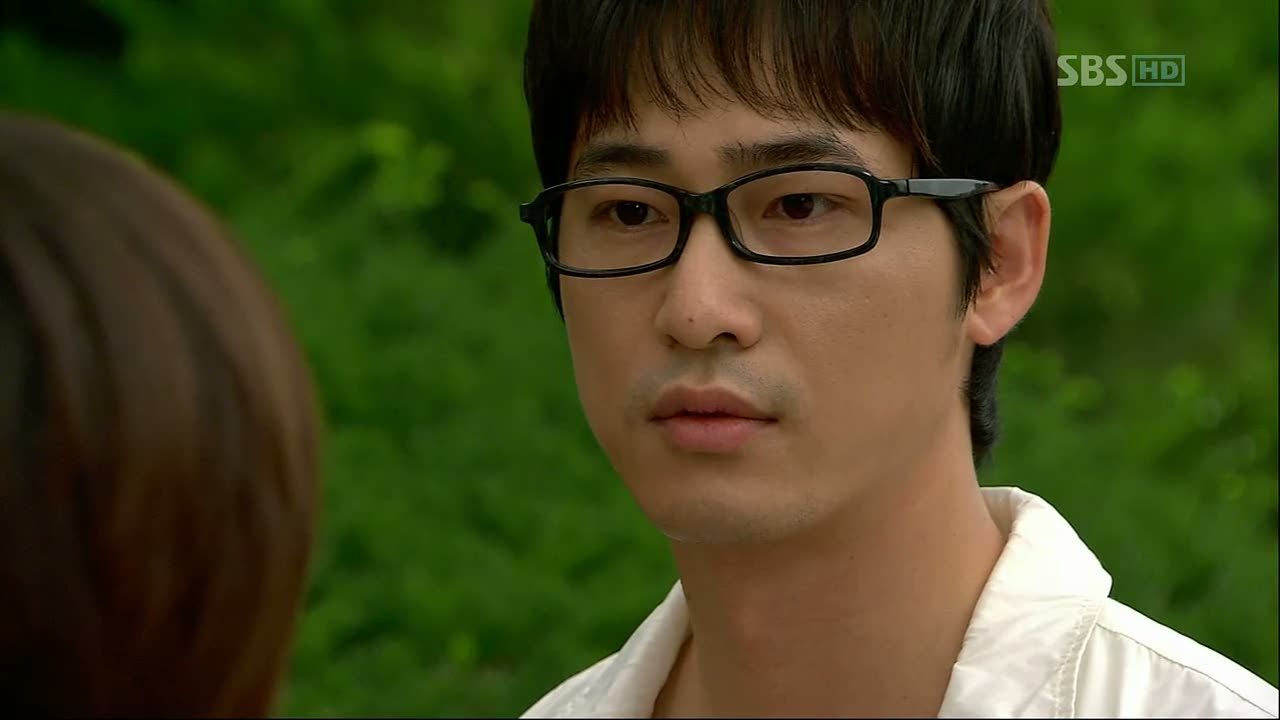 Those words bring him up short — her way of thinking directly counters his way of thinking, but her words make a certain sense and have an impact on him. So when Seung-yeon says that the end part of her speech got shortened (she'd been prepping for 30 seconds as she ran), he grants her an additional 10 seconds to finish what she'd intended.
Seung-yeon: "I'm disappointed that I had to quit without properly learning the three things you gave me to do. I only managed the pencils but not the coffee or the fossil book and I'm really sorry about that, too."
Since she has now said everything she wanted to say, Jin-soo sends her off. As he heads into the building, he wears a conflicted expression, like he doesn't quite know what to make of her. He even pauses on his way in, looking back at her, but he hardly knows what to say. (Seung-yeon, meanwhile, is pleased to have successfully gotten that off her chest.)
Working late that night, however, he thinks back to her words — in particular the comment about the fossil book. He doesn't know what she's talking about, and he has to think for a few minutes before he even remembers that fool's errand he sent her on when he first hired her — to summarize and translate the entire reference book on fossils.
Jin-soo scoffs, incredulous that she still remembered his request, but even as he dismisses it as foolishness, I'm betting he's just a bit impressed.
When he grabs a drink from the fridge, his mind turns to more troubling thoughts as the drink spills on his hand, reminding him of Eun-young's spilled tears.
Eun-young has a meeting with Dong-wook to discuss changes to the cafe. The scene isn't very important in this episode, but I suspect it'll be a bigger point later so I'm including it: she plans to expand the book part and cut back on the kitchen. This idea meets with resistance from Dong-wook, who insists that despite being a book cafe, the cafe part comes first.
This meeting is interrupted by the reappearance of Mr. Jajangmyun, aka Hyun-seok the lawyer. His arrival is a surprise, but with Grandpa's approval he has come to take Eun-young to lunch — a move which she agrees to reluctantly.
I love how the three cafe baristas huddle together to judge the new complication (you get the sense that they enjoy their boss's drama as a source of entertainment). They find Hyun-seok even sleazier than Ji-won, deciding, "He's sleazy in a different way."
Aware of these lunch plans, Ji-won accosts Jin-soo at school and drags him along so they can crash the couple's lunch date. Jin-soo protests, but Ji-won overrides his reluctance and urges him along: "Jajangmyun seemed to like you. Let's join them."
Eun-young knows right away that this is no coincidence, but Hyun-seok accepts their "We just happened to be here and saw you guys" excuse and agrees to join parties. In fact, he's eager to sit down with Jin-soo, and fawns all over him.
The mood gets awkward as Ji-won behaves blatantly rudely to Hyun-seok, goading him with thinly veiled insults and grasping at straws to put him down. For instance, he laughs at Hyun-seok's "comical" name, which is like laughing at "John Smith" for being unusual.
Hyun-seok has no idea why he's being attacked, but he ignores Ji-won as he continues to praise Jin-soo's novels, calling him a genius.
All the while, Jin-soo accepts the praise uneasily, just hoping for a quick end to this lunch from hell. Eun-young also scrambles for an excuse to leave; she slips away from the table to call Hyun-joo, begging an emergency rescue.
When Hyun-seok steps aside for a phone call, Jin-soo tells Ji-won to cut it out. Ji-won argues that he doesn't like him, either — can he stand that guy dating Eun-young? As friends, they can't allow this to happen.
Another reconfiguring of the lunch table leaves Jin-soo and Eun-young alone for a moment, and Jin-soo takes the opportunity to apologize to Eun-young for the intrusion.
Eun-young, on the other hand, asks why Jin-soo had introduced her to Ji-won all those years ago. He must have seen good points about Ji-won to have set them up together, so what were they? Jin-soo doesn't have a good answer (I suspect because he's not ready to confront it), and jokes that Ji-won's audaciousness is one such trait.
Eun-young asks, "Do you know why I dated him? Because he's the person you introduced me to. I trusted you." She figured at the time that Ji-won must have been a good guy. However, the thought occurred later that Jin-soo had just foisted him on her without a thought. Isn't that right? She sighs, "Starting back then, I mistook you for being as sincere as I was."
Ji-won's dick-waving contest gets literal when he finds Hyun-seok in the bathroom, standing at a urinal. He makes a deliberate show of looking over and laughing, and finally Hyun-seok can't keep up his polite front and calls him out: "What's your deal?"
Ji-won is just the sort of ridiculous guy who would get offended at being addressed so impolitely when he's actually being much worse, and he bristles, getting all up in Hyun-seok's face. The argument escalates until Jin-soo arrives at the doorway and steps in to pull the men apart.
Ji-won assumes that Jin-soo's here on his side, but instead Jin-soo punches him and yells at him to cut it out. And that screencap below? It's worth it just for the ridiculous expression on Hyun-seok's face. HA!
Affronted, Ji-won sputters that he's the sunbae (and therefore deserves respect), but Jin-soo yells, "You have to act like a sunbae to be a sunbae!"
Now the hostilities switch to Jin-soo and Ji-won, who take the brawl out of the bathroom and out of doors. In a weird twist, now Hyun-seok is the one shouting at them to calm down and stop fighting. This leaves Eun-young sitting alone at their table, and she learns from a phone call with Hyun-seok that the other two are brawling like idiots.
However, the aforementioned idiots hear enough to realize that Hyun-seok is about to direct Eun-young to their whereabouts, and Jin-soo leaps at him to snatch away the phone before he can do that. Eun-young wants to drive around the neighborhood, but Hyun-joo vetoes this idea, as she is running late for a business appointment.
Eventually Hyun-seok leaves, and the two men continue going at each other with all they've got. It makes sense that Ji-won the ex-boxer is "winning," although both are in pretty rough shape by the end of it.
All the while, they continue to yell back and forth. Jin-soo growls all sorts of things at Ji-won — that he's inconsiderate, selfish, crazy. He demands, "Do you know how much I regretted introducing Eun-young to you?"
Finally, they collapse in exhaustion, at which point Ji-won wonders, "Hey, where did that punk Jajangmyun go?"
Jin-soo, on the other hand, thinks back to Seung-yeon's words about explaining herself despite there being no hope of changing her circumstances. He also recalls Eun-young's remark about his lack of sincerity.
Suddenly, these words click in his brain — until now they'd been niggling at him, as though asserting their importance but not revealing exactly WHY they're important. Now they crystallize into coherence, and Jin-soo is suddenly energized. Staggering to his feet, he walks on, then breaks into a run.
His destination is the book cafe, where the employees all gasp to see his disheveled appearance. He ignores their concern and beelines for the bookshelf, finding the fossil book that he'd assigned to Seung-yeon. Only now, the book is practically bursting at the seams, because the pages have been padded with Post-it notes and memos.
Stunned and a little amazed at the extent of her thoroughness, Jin-soo calls Seung-yeon and takes a gruff tone with her, asking why she wasted her time continuing with an obviously pointless exercise. Is she that dense? Did she actually think this project was meant to help his manuscript?
But he can't argue with her answer: "But you never told me not to." She knew that he wouldn't need it, but he never told her to stop the work.
Jin-soo has to laugh — how absurd, how unexpected, how crazy of her. Referring to the seven reasons he outlined for firing her, he orders her to come up with a rebuttal — i.e., reasons not to be fired.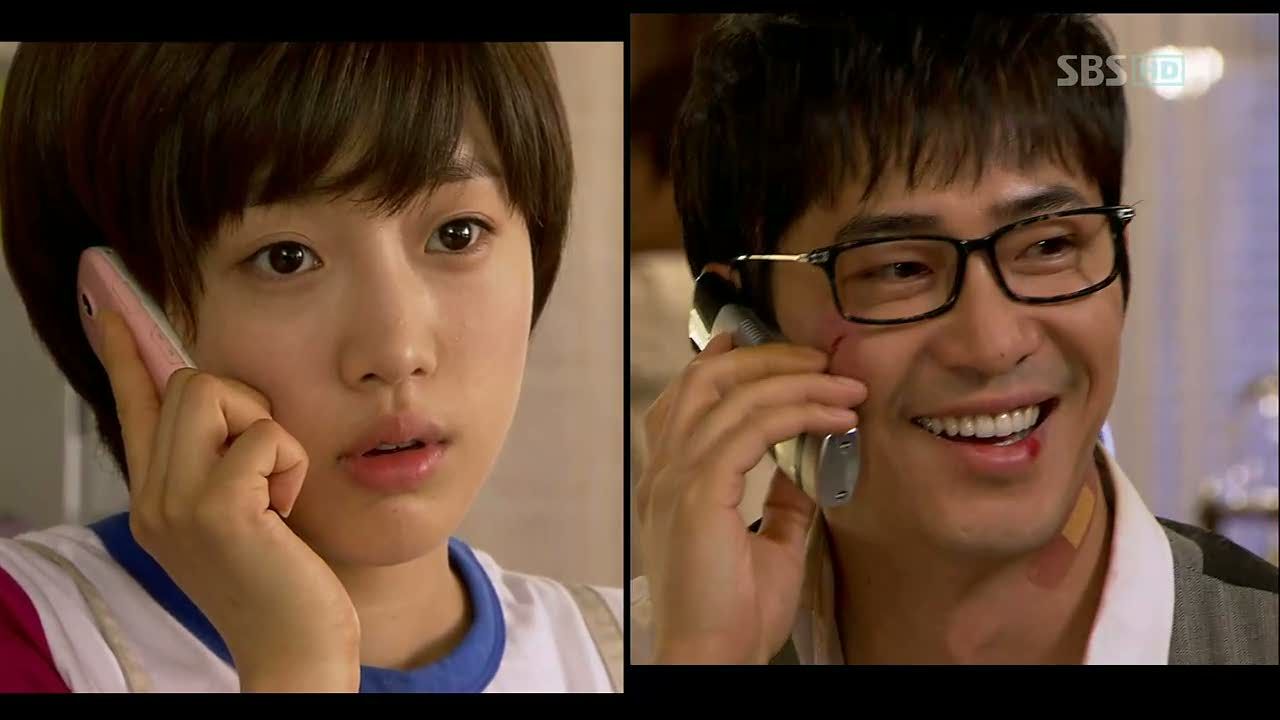 In a stern voice, he admonishes her for not distinguishing between what's real and what's not, and says that a pro must be able to reason with the other person to make him understand.
When Seung-yeon says she doesn't know if she can come up with those reasons, he barks, "Then make them up. Didn't you learn how to lie from me?"
Next, Jin-soo heads up to the office to look for Eun-young, only to hear that she just left on a business trip. Just as she is about to board the train with her team, she answers her phone. Jin-soo pants, out of breath from running, "Are you on the train?"
Eun-young starts to ask him about his lunchtime fight, but Jin-soo cuts her off, saying urgently, "I have something to tell you. I've told you a lot of lies before, but I think I have to tell you about this."
Jin-soo: "It wasn't because of a man's instinct, but because you're Seo Eun-young that I kissed you. I lied to you that day. I'm sorry. But, even considering that, I have to leave you — so forget me forever. I can't erase Hee-soo and see only you. I don't think it will work even if I try. To me, seeing you forever means having her by my side forever, too. This is a disease. I know that, but I can't help it."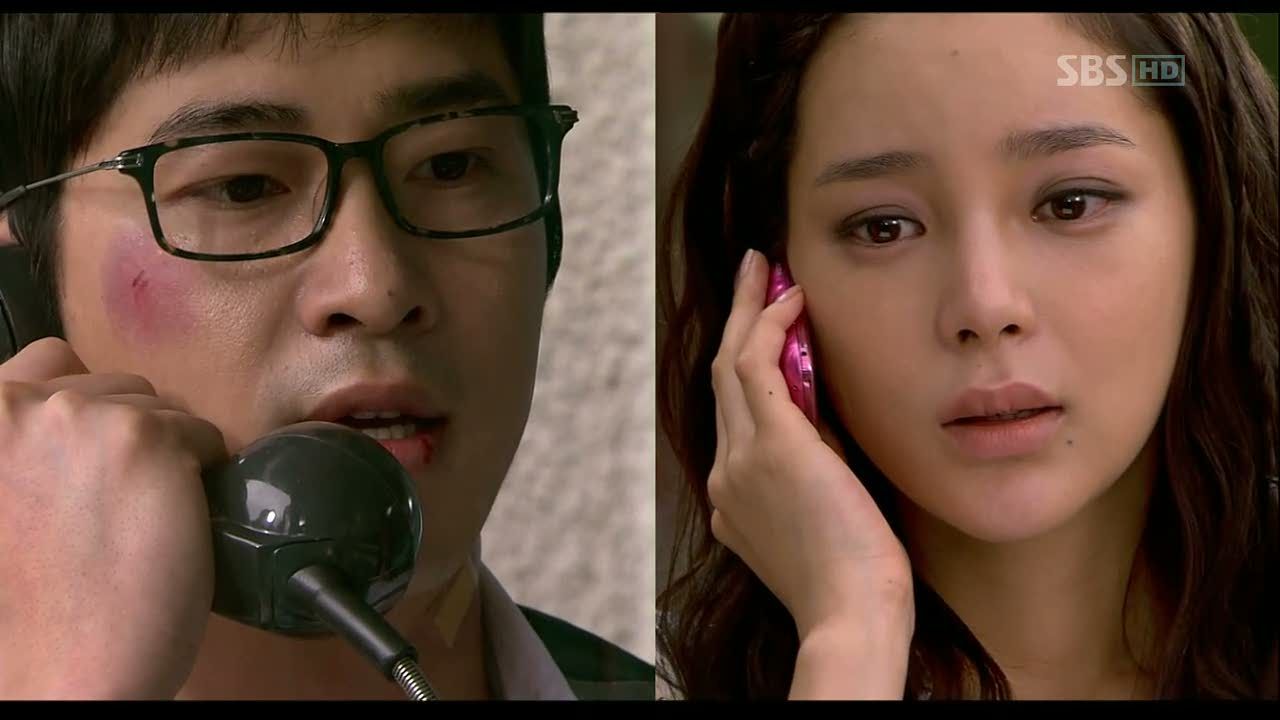 She says, "If you leave me entirely, that means you can leave Hee-soo behind, then." He answers, "That thought came to me suddenly, so that's why I called you."
With a rueful smile, Eun-young says, "You should have told me earlier. Don't you know I'm on your side? What do you take me for?" Jin-soo tells her that that he'll give this book to her: "That's yours."
Eun-young replies that that sounds like the words of a guy who's indebted to her. They banter a bit, and she teases him that all his words sound like they actually mean other things to her — because he has gone so long concealing his true feelings, now everything he says sounds like it lacks sincerity.
Jin-soo: "I mean it."
Eun-young: "Not 100%. I wonder if I'll be able to see Lee Jin-soo being 100% sincere before I die. Just… for even a minute, were you ever 100% sincere with me?"
Those words have an impact on Jin-soo, and there's a moment between them that's pregnant with expectation. However, final boarding call is announced, and Eun-young has to get on the train, so she starts to wrap up the call.
Seizing this moment, Jin-soo tells her intently, "One minute can be bigger than ten years. Will that do?"
She's confused, not getting his meaning. Jin-soo hangs up the phone and starts running — he had been calling from a pay phone at the train station. Now he dashes down the stairs, over the turnstile, and down the platform, just as Eun-young sighs and boards the train.
Jin-soo reaches the open door just a moment later and pulls her back for a kiss.
(And hot damn if that isn't one of the hottest kisses I've ever seen in a kdrama! He's panting from running and out of breath and all urgent with the importance of this moment, and the kiss is loaded with all of that meaning.)
As they pull back, Eun-young asks, "This is 100 percent, isn't it?" He gives her a tiny nod, still breathing hard and looking intensely at her.
Eun-young tells him, "That's enough, then."
Then her train starts to pull away, forcing them to step back. They look out at each other as the train blurs out of focus.

COMMENTS
First off, this episode clears up a few lingering questions. Such as whether Jin-soo had feelings for Eun-young, which is a very clear YES. Eun-young had been more in touch with her feelings for Jin-soo, both recently and (I believe) in the past. The line was clearer for her, I think, because it appears that Jin-soo was married when she knew him — they missed their timing and thereafter he was off-limits to her. When he introduced her to his sunbae, she trusted his judgment, as she tells him this episode — but I think there's even more behind it.
As his single friend, the younger Eun-young has this knowledge that this man cares for her — not in "that way," but enough that he looks out for her happiness. So why not make the best of that and accept that as the most you can take from him, and try to be happy? This line of reasoning is one that feels especially real, and I can say from experiences in my life that I recognize the ring of truth in it.
On the other hand, I think Jin-soo got rid of Eun-young because he couldn't have her, and therefore set her up with Ji-won to neutralize the situation. The sooner she was coupled up with someone else — anyone, it didn't matter — the more at ease he could feel about it. Alas, he didn't realize at the time that she'd forever be linked with his wife in his memory — not because he may have had feelings for her back then but because she was part of the past they shared. I think that's why he also is so insistent that he never wanted to see Ji-won again, either — because Ji-won likewise reminds him of the past. So at that point, his feelings for Eun-young are moot — it didn't matter that they existed because they could never be acted upon.
I wonder if this is also why Jin-soo keeps running away from Seoul — he can't have a normal life being around Eun-young regularly, because it's a sort of self-torture.
This is the first time I really loved Seung-yeon as a character (finally!), because not only does she grow on a personal level, she jolts Jin-soo out of his emotional stasis and provides the catalyst for him to realize that maybe his way of thinking isn't the only (or the right) way. All along he has been thinking that he and Eun-young won't work out, and it doesn't matter WHY it won't work as long as it won't. In his mind, if the end result can't happen, then there's no need to understand the whys and wherefores, or to explain them. What's the point? It's a very male way of thinking, and another aspect that rings very true. He only sees the other side when Seung-yeon explains that even when a situation won't change, how you feel about it matters. And that pushes him to finally show his sincerity to Eun-young.
Great way to tie in the various threads.
RELATED POSTS
Tags: Coffee House, Ham Eun-jung, Jung Woong-in, Kang Ji-hwan, Park Shi-yeon