Coffee House: Page 15
There's only a week left of Coffee House (and three more recaps after this one). What's interesting is that I am really enjoying the episodes, and the acting, and the characters (mostly). And y'all know how much I love Kang Ji-hwan. So it's a curious how this drama has consistently entertained me, but it hasn't taken root in my heart/mind/feelings. I don't even share a lot of the bigger criticisms about the show that many others feel, and have been content to let the plot play out without feeling upset about it. Maybe it's just the season. Or timing. Or something about the show itself that keeps things sort of at a surface level, even despite incorporating some serious emotional beats. Oh well. I'm not beat up about it. (And yet, that's what I find so weird.)
SONG OF THE DAY
Space A – "섹시한 남자" (Sexy Man). I laughed out loud when this song cropped up in this episode, because it's one of those old-school kpop hits from a group that (like so many expendable kpop acts) had a pretty short shelf life. But I seem to recall the song being popular during a trip to Korea, which means for a short while I heard it everywhere. [ Download ]
Audio clip: Adobe Flash Player (version 9 or above) is required to play this audio clip. Download the latest version here. You also need to have JavaScript enabled in your browser.

PAGE 15 RECAP
In the studio, Jin-soo reads Eun-young's text message, which is a essentially a pre-emptive rejection. The radio show staff members cast worried glances at each other because his silence is making things awkward, but he snaps back to the moment and everyone breathes a sigh of relief.
The rest of the interview goes off without a hitch, and the staff is pleased with Jin-soo's performance — he's witty, smart, and funny. They sigh that it's too bad he was only available for this short stint — how about Seung-yeon try to persuade him into a regular guest spot? She tells her sunbae he's overreaching, but she enjoys the praise directed her way over scoring such a prime interview subject.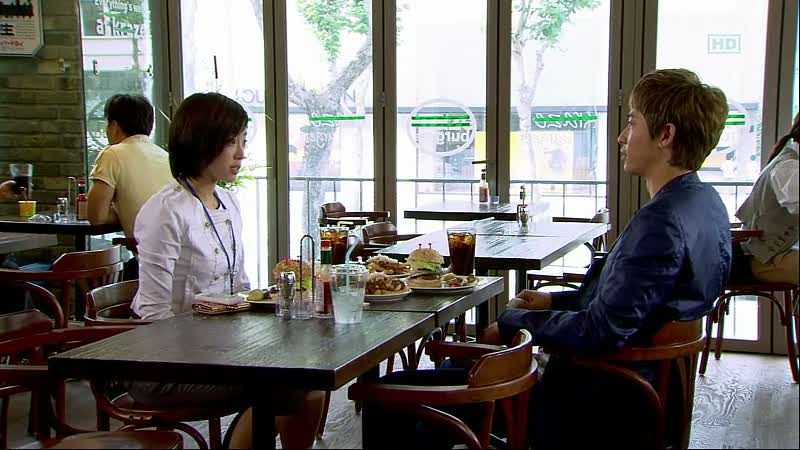 Seung-yeon offers to buy Jin-soo lunch in thanks for the interview, and he accepts the offer. Determined to impress, she buys heaps of food and presents them proudly. She recalls that she's still wearing his ring and starts to return it, but he tells her to keep it for a little longer. He wants her to continue acting as his girlfriend while he's in Korea — to friend gatherings and Eun-young's wedding, for instance.
This time Seung-yeon is quicker on the uptake and thinks of a way to work this to her advantage. With her boss's suggestion to increase Jin-soo's guest participation on the show in mind, she plays coy, and Jin-soo realizes what she's up to. A little impressed with her bold move, he asks, "Are you trying to make a deal with me?"
Seung-yeon names her price: Be a recurring guest on the show, just 30 minutes a week (for a few weeks, until he leaves Korea). In defense of her manipulation, she reminds Jin-soo that he was the one who taught her about being a pro.
His grumbled response makes me laugh: "I taught you a hundred things — how is it the only ones you remembered are the ones that suck?" Still, Jin-soo agrees to the exchange, telling her, "You've grown up."
Seung-yeon further impresses/surprises him by playing this up with her boss — she calls and makes the deal seem extra difficult, so that when she announces that she succeeded, it will seem an even greater accomplishment.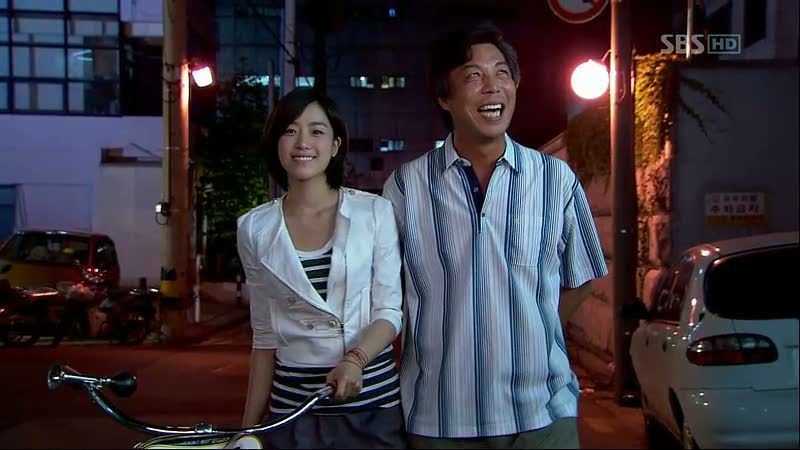 Seung-yeon's father makes his first overture to the pretty lady running the dry-cleaning shop in their neighborhood. It's a pretty paltry move, and one that I suspect will backfire on him, but he's pleased as punch with himself. (He offers her a free coffee, making up some excuse about all his neighbors getting one free drink per day, which is bound to turn out badly, no?)
In any case, that night father and daughter are both in excellent moods over their productive days. This is something I miss from this series — the cute family moments. Seung-yeon's family members never had prominent storylines, and perhaps the drama didn't want to focus too much on them when the story was focusing on the Eun-young angle. But I wish they'd had slightly bigger parts, even if they're just breezy interludes.
Ji-won recruits a bewildered Jin-soo to help him sneak into Eun-young's apartment, as he has misplaced the engagement ring. It disappeared sometime after he showed it to her and got in his car, so he suspects it's still in the house. However, he's afraid of Eun-young's reaction if she found out he lost it, so he begs Jin-soo to help him look. He's only got a short time in which to search, because he sent Eun-young to pick up his parents.
Jin-soo's not comfortable with this task, and he lets Ji-won look while wandering around. He gets a call from Seung-yeon, who wonders what they ought to call each other while acting as a couple. It's a valid question but she also has some extra fun with this, knowing that Jin-soo's not going to like any of her teasing suggestions.
She proposes Jin-soo-sshi, which puts them on equal footing; it's acceptable in a dating relationship despite their former social and professional gap. Jin-soo ajusshi is another option, since he is a bit older than her — ajusshi preserves that age gap, but would have an affectionate ring. Then there's Jin-soo oppa — and we all know what baggage oppa carries. She laughs to herself while Jin-soo balks at each suggestion, and enters him as "Jin-soo oppa~" (with a heart) into her phone.
But Jin-soo cuts short her fun, warning her that she's going to have to write all his parts for the radio segment. Ordinarily her station unni would write the parts, but he insists because he won't risk his image with bad writing — and while he can't correct her co-worker, he sure as hell feels comfortable ripping her writing to shreds. Seung-yeon's enjoyment thus killed, she pouts that Jin-soo can't ever just let someone be happy.
And then, Dong-wook appears outside her family's cafe, all spiffed up and driving his fancy red car. Seung-yeon doesn't even recognize him at first, and when she does, there's no romantic excitement there, just pleasant surprise.
Dong-wook has come into an inheritance, which explains the changed appearance. He is now Eun-young's business partner as the new cafe's investor, and it seems like he's hoping his upgraded image will impress Seung-yeon. Alas, when he asks if she's dating anyone, she answers that she is and shows him her ring.
His reaction to news of a boyfriend is particularly hilarious because he has an "I knew it!" moment, and this confirms all of his old jealousies of Jin-soo — which we know are actually completely unfounded. He growls to himself in frustration, asking what good money is to him now. Poor Dong-wook! He deserves someone much more into him than Seung-yeon.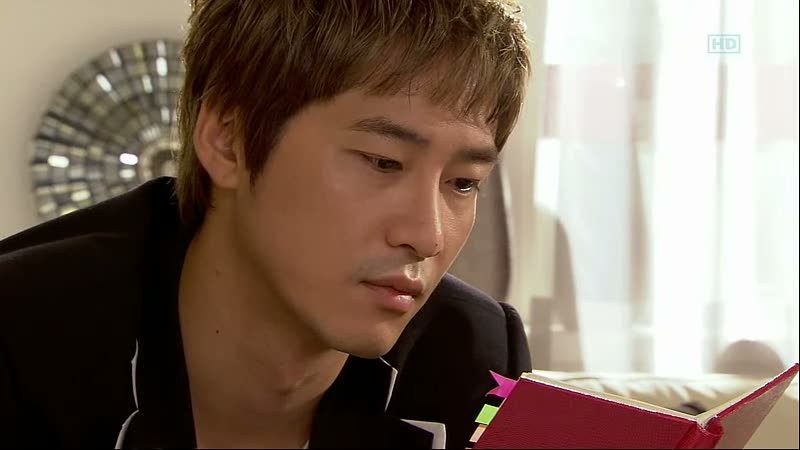 Ji-won has to run out and still hasn't located the ring, so he pleads with Jin-soo to keep looking. Jin-soo doesn't want to, and doesn't actually do any searching after Ji-won leaves. Instead, he spots Eun-young's wedding-related materials and rifles through them. As he registers the bridal magazines and her annotated scrapbook, he starts to see this angle that he hadn't considered before, that Eun-young is looking forward to her wedding.
Just then, voices sound at the door, and he only has a few seconds to dash into the bathroom before Eun-young enters with her in-laws-to-be.
She treats them warmly and attends to them, and it's clear that they have a lot of affection for her as well. In particular Ji-won's father, who promises to beat some sense into Ji-won if he ever acts out of line.
Jin-soo peers out of the bathroom door to see her interacting with them, and starts to see that this is about more than his feelings for her, or even hers for him. Her decision to move on and marry is also about family, commitment, faith, and other relationships.
Jin-soo finds the dropped ring in the bathroom just as he hears Ji-won's father ask to use the bathroom. Panicking, he lurches for the door, locking it just in time to prevent being discovered. He dashes off a quick text message to Eun-young, who gets out her spare keys and lets Dad try the locks while she reads the message.
Her eyes widen in shock at the warning that Jin-soo is in the bathroom, and she leaps in front of the door to prevent Dad from seeing that compromising scenario. She makes a hasty excuse that her underwear is hanging inside, and slips into the bathroom.
Jin-soo explains the ring situation, and they both have to laugh at the absurdity of this situation. He tells her to act surprised when Ji-won gives her the ring, and readies to slip out of the apartment while Eun-young distracts the in-laws.
In a brief pause, Eun-young tells Jin-soo with a sincere tone, "I'm sorry." They both know what she's referring to without addressing it directly, and Jin-soo's answer is also an indirect way of replying to that as he says that her in-laws look like good people.
Eun-young goes out to distract her in-laws by asking them to help her choose what to wear for dinner. When Jin-soo leaves, he briefly makes eye contact with Eun-young and offers her a rueful smile.
Then, as he is about to hand the ring over to Ji-won, he holds it back for a second to tell his sunbae, "Treat her well."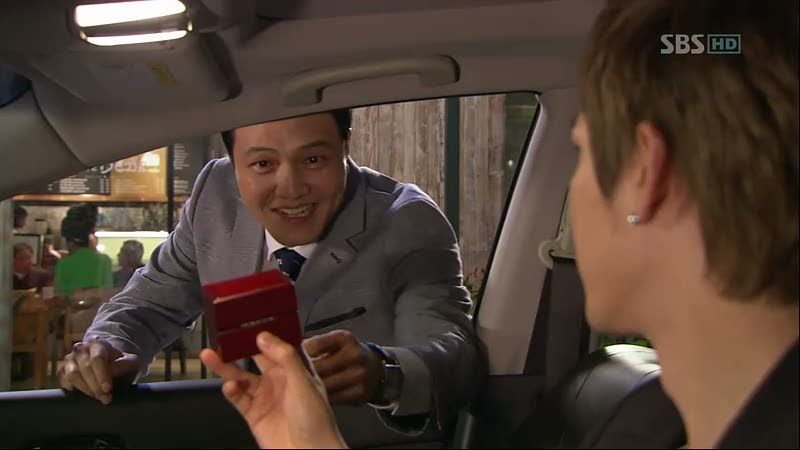 Ji-won has no idea of the significance behind that, but we can see it as Jin-soo relinquishing Eun-young to Ji-won's care.
Later that night, Ji-won heads to the writer's studio to persuade Jin-soo to join him for drinks with some university buddies. Instead, he finds Seung-yeon there alone, who has arrived to run through the radio show ideas with Jin-soo. Taking advantage of this moment, Ji-won pressures Seung-yeon into joining him for drinks, since everyone will be eager to meet Jin-soo's girlfriend.
At the bar, the sunbaes push drink upon drink on Seung-yeon, so by the time Jin-soo hears what happened, she's thoroughly drunk. Thus he's forced to come to the gathering — which was Ji-won's strategy in bringing Seung-yeon along — and is greeted by his "girlfriend" with an enthusiastic and singsong, "Jin-soo oppa~~!" The mood is convivial and as the only one sober, Jin-soo grits his teeth while everyone parties.
While the others are distracted, Jin-soo tries to sneak out with Seung-yeon, but they are stopped by a sunbae. Demands for a song are pressed upon them, and although Jin-soo refuses, Seung-yeon bounds up for a round with the karaoke machine, dancing suggestively as she belts out the lyrics.
Audio clip: Adobe Flash Player (version 9 or above) is required to play this audio clip. Download the latest version here. You also need to have JavaScript enabled in your browser.
The song she picks is the same one that's posted up top (Space A – "섹시한 남자" (Sexy Man)), whose lyrics include a rousing chorus of "You're my sexy man, my handsome man… I'll only love you, why can't you trust me? You're the only one for me until I die…"
Against his better judgment, Jin-soo starts to enjoy himself, finding her amusing and silly.
Things are a little less amusing at the end of the night, when he has to deal with a drunk and unhelpful Seung-yeon. In the morning, Seung-yeon wakes to the ringing of her phone. She answers groggily and finds herself chewed out by an irate Dad, who demands to know what the hell she was doing out all night. Suddenly alert, she hastily lies that she had to come out early to the radio station and hangs up.
Eun-young and Ji-won go to the jeweler's, presumably to take a look at wedding jewelry. As they do, Eun-young scolds Ji-won for dragging Jin-soo and Seung-yeon along to his party, because she knows its' a fake relationship put on for their benefit but can't be the one to spill the beans about it. So instead, she takes out her frustration on Ji-won, telling him to butt out of their relationship. Ji-won protests that Jin-soo had fun last night, and the couple looked really cute together. This surprises Eun-young, who expects Jin-soo to have fully hated the party.
While Eun-young steps aside for a call, Ji-won chats with the store employee and takes this chance to brag about his friendship with Jin-soo. The woman not only knows who Jin-soo is, she was the one who helped him purchase a ring recently. Ji-won assumes that this is where he bought the engagement ring for Seung-yeon, but the saleswoman adds that he'd been worried about the choice, which he was going to give to an old friend.
Ji-won scoffs at that, since his relationship with Seung-yeon hardly qualifies as old… and then another thought pops into his head and wipes the smile from his face. Eun-young joins him, and he looks at her with new eyes… wondering if perhaps… his suspicion is right?
Little snippets of last night trickle back into Seung-yeon's memory, and they're all embarrassing — like Jin-soo carrying her piggyback-style with difficulty. Or refusing to answer when Jin-soo asked for her phone PIN so he can unlock it and call her family. She runs into Jin-soo at the doorway, and rather than face him she dashes out.
And then, even more memories make their way back into her consciousness, each one more mortifying than the last. She'd been jokey and irreverent, which is bad enough, but then she had even taken his face into her hands and planted a big kiss on his lips — twice!
I love the look on Seung-yeon's face below as she recalls this horrible last detail. And then realizes that she has left her cell phone behind in Jin-soo's studio. There's no way around it — she has to head back.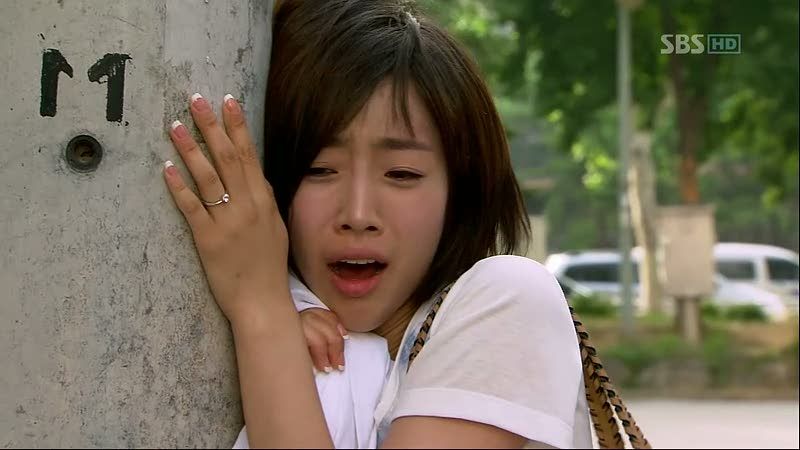 With not a small amount of dread, Seung-yeon returns to the building and cautiously makes her way back… quietly creeping up the stairs… where a pair of shoes enter her field of vision from the level above.
Aaaaand nope. There's just no way getting out of this one.

COMMENTS
Are we heading to a Jin-soo & Seung-yeon pairing after all? I still say no — there just hasn't been enough emotional groundwork for it — but this episode did plant a few seeds in that pot, and more believably than any previous episode has done, in my opinion.
What it does do is set up the possibility for an unconventional ending, i.e., no romantic couples affirming love and heading off into a blissful happily ever after. That was always a possibility, of course, but not one I placed much stock in because the plot didn't justify it. But in this episode, Jin-soo makes the realization that Eun-young's happiness perhaps hinges upon more than he can offer. Before, it was never questioned whether Jin-soo had it in him to make her happy, just whether he was ready for it. Now it appears there's more to the picture, more things that he can't give her.
I'm not referring to tangible things like a mother and father or whatnot, but the sense that his love for Eun-young was selfish, based on himself only. You like me, I like you, therefore we should work, right? Like he said in the previous episode, now he's doing things for her benefit, not his own — and letting go is for her benefit.
Then again, maybe this is the very kind of change he actually needed to make to deserve Eun-young. And he'd never have arrived at this point if she didn't go back to Ji-won and turn him down. Oh, there's all sorts of irony built into that, isn't there?
RELATED POSTS
Tags: Coffee House, Ham Eun-jung, Kang Ji-hwan, Park Shi-yeon