Glossary: Jondaemal

You can learn a lot about Soulmate's main cast
from the way they chose to address one another
Next in the Dramabeans Glossary series is jondaemal, which can be described as "polite speech" or "formal speech." (Jondae means "honorific," while mal is the suffix for "speech.")
Just as oppa and noona are two terms that are closely related, so are jondaemal and its casual counterpart banmal; girlfriday will follow up with the latter term. There will be some necessary overlap in our entries because they're really two sides of the same coin, but I'll focus more on the polite side while girlfriday will explain the familiar side.
Those of us who have been exposed to languages outside of English probably have a passing acquaintance with honorifics — you know, social hierarchies being expressed through grammar and speech patterns. In French and Spanish you've got tu versus vous and usted, for example.
Korean is a little more complicated, because even within the scope of jondaemal, there are differing levels of formality. However, this isn't meant to be a grammar lesson so much as it is a casual exploration of how jondaemal is used in dramas, so I'll try to lay off that cumbersome grammatical nitpickery. (Why, that IS the formal term, why do you ask?)

My Fair Lady's Hae-na chooses to address
the two men in her life in two very different ways
When to use jondaemal?
Here's the most basic way to differentiate between jondaemal and banmal: jondae is what you speak to adults, to strangers, to anybody above you, or to a social peer. Banmal, on the other hand, is used when you get past the slightly distant civility of casual acquaintance — either because of familiarity, intimacy, or even rudeness.
Jondaemal keeps a person at arm's length; banmal brings that person closer.
In fact, a lot of things in Korean culture and language are all about figuring out what that distance is between you and another person. There's no hard and fast rule, so it's a matter of being sensitive to how you feel, how the other person feels, and deciding based on that how to speak to the other person. (Jondae or banmal? Unni or sunbae? Agasshi or ajumma?)
If you're not Korean or around a lot of spoken Korean, perhaps it seems needlessly picky to make the distinction — it is definitely one of those things that is lost in translation, since we don't have that hierarchy in English. But there's a reason girlfriday and I squeal in certain dramas when a guy drops jondaemal and switches to banmal. Or in a different context, the switch might make us suck in our breaths and think, "Oh snap! Someone just got told!"
(Side note: This jondae/banmal distinction is one of the fascinating things I find about translations. When you go from Korean to English, you lose all of that nuance. But even more interesting is when you go from English to Korean, because then the translator is actually introducing social hierarchy when there initially wasn't that distinction.)
When can you drop jondaemal?
If you consider jondaemal the "standard" form of speech — it's what you learn in classes — when do you know when it's okay to drop down to banmal?
Here's your most important rule: When in doubt, use jondaemal. It's better to be a little too polite than a little too impolite.
How will you know when you're allowed to drop it? Thankfully, Koreans are pretty straightforward this way: they'll tell you directly, "Let's lower our speech." Some adults may never lower their speech with each other. Others may feel an instant connection and drop their speech relatively quickly as a sign of closeness.
Also, people often drop the jondae in families, but this can be flexible. I don't use jondae with my parents, but I have friends who do. I feel like using jondae with parents is a bit formal, but others may feel it's more respectful.

The young lovers of Will It Snow For Christmas
Jondae use among minors
Children are waived from some of the rules regarding jondaemal usage. Oh, a child should definitely use jondaemal with adults. But what about with other children?
When two children meet, most often they use banmal. However, the older the child, the more social hierarchies start to manifest. A minor (under the age of 20) may start to use jondae at school when the social ranking is clear. With kids in your class, informal banmal is perfectly appropriate, even if you're not friends. But once you start dealing with students older than you, you might start to use jondae, even if you're only 15.
Example: In Will It Snow For Christmas, young Ji-wan is only a first-year in high school when she meets Kang-jin, but she uses jondae speech with him. Since he's a year older, he uses banmal with her.
Jondae as an extra layer of respect
In Cinderella's sister, teenage Eun-jo speaks quite bluntly and rudely to everyone, regardless of age. Her stepfather Dae-sung is the first to point this out to her, and because she genuinely respects him, she makes the effort to "raise" her speech to jondae.
On the other hand, she isn't about to give Ki-hoon the same courtesy. It's only when he's brought on as her tutor that he has actual power over her, and insists that she use jondae with him. He can't force her to respect him, but he can force her to make that outward show — at least during their lessons — and she reluctantly complies. Outside of classes, however, she drops the jondae.

The ladies of The Woman Who Still Wants To Marry
Jondae used to maintain polite distance
Once you've spoken banmal with a person, you can continue using it even when you grow older.
For instance, in Soulmate Yu-jin (Sa Kang) speaks this really exaggerated, formal Korean with everyone. It's so formal that it's sort of like somebody going around using Shakespearean (or at least Victorian) English — it's unusual and, in her case, very cute. She speaks that stilted formal Korean with boyfriend Dong-wook and work colleague Soo-kyung, whom she meets as adults. However, she uses banmal with her roommate Min-ae and bimbo Joo-hee because she knew them in high school.
Another example is The Woman Who Still Wants To Marry. Shin-young (Park Jin-hee) and Bu-ki (Wang Bit-na) met when they were adults, so they probably started out speaking jondaemal. However, they've been best friends for ten years, so now they speak banmal with each other.
In contrast, Shin-young meets Da-jung (Eom Ji-won) at age 34 and speaks jondaemal with her — until they realize they were high school classmates and then immediately revert to banmal, even though they aren't even friends at that point. Here they drop the jondae not out of friendship but out of history.
However, when Da-jung and Bu-ki are together, they speak jondae with each other, because they're not THAT close yet. There's still a polite distance between them.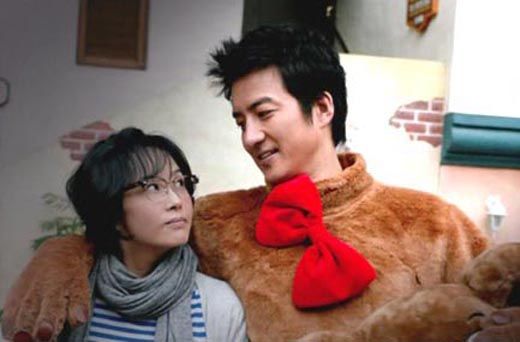 High school sweethearts reconnect in Last Scandal
In Last Scandal of My Life, ordinary Sun-hee and movie star Jae-bin were high school classmates (and sweethearts). They lost touch after graduation and haven't seen each other in twenty years, but when they meet up as 39-year-olds, they immediately drop the jondae with each other.
On the other hand, to the outside world Sun-hee is Jae-bin's housekeeper — his inferior in a professional and social sense — so she has to use jondae when other people are around. In this case, language offers a shield for their "secret."
Conversely:
Take My Fair Lady. If Hae-na (Yoon Eun-hye) were a "normal" and polite young woman, she'd speak jondaemal to all her employees, even if they are her social inferiors. It's the professional thing to do. But no, she's a rude, bitchy heiress, so when Dong-chan (Yoon Sang-hyun) is hired as her personal butler/assistant, she drops the jondae and opts to talk to him quite rudely in banmal. (Banmal can be friendly, but if you haven't earned that closeness, it can be rude.)
However, she wants to impress Tae-yoon (Jung Il-woo), so she uses jondae with him, because it's more polite.

Gun-wook and Tae-ra in Bad Guy
What does this tell me about these relationships?
The reason girlfriday and I point out these things is because language is revealing. The word choices a character makes with another tell us much more than just the face value of the words: it offers hints into the characters' psyches.
When Min-jae (Kim Bum) drops out of jondae in The Woman Who Still Wants To Marry, he's taking an emotional step closer to Shin-young. It's not rude in his case because they've established trust, and respect is therefore implicit in their relationship and doesn't need to be reinforced with their language.
Then, take the tightly wound Tae-ra in Bad Guy. She's battling her sexual attraction to Gun-wook and is very proper around him — stiff, even. She starts to suspect that Gun-wook is out to play her sister and her, but they don't address this head-on, and sort of dance around the topic for a while.
However, in a recent episode she confronts him in the rain and asks what his deal is, and in that moment she drops the jondae. It's partly to be rude, but there's more to it: In speaking bluntly rather than skirting the topic as she usually does, her words have greater force. She drops her speech just as she gets real with him, which gives their rain-soaked moment of connection added impact.
Jae-in lowers her speech with Gun-wook as an expression of non-respect, but it ends up actually bringing them closer later on. When she's chewing him out for lying to her, she drops the jondaemal to be purposely rude. But later on when their relationship takes on friendlier vibes, this lack of formality bridges the gap between them.
There are the fuzzy in-between gray areas, too, and Mo-nae is an example. She generally speaks jondaemal with Gun-wook because he's much older, but she'd like for them to be closer. Every once in a while she'll throw in a banmal sentence, as though she's testing the waters, but then she'll back up again and use jondae, which is "safe."
So, essentially it all boils down to this: Jondaemal indicates respect, but also distance. When deciding which to use, you risk dropping one for the sake of the other. The question is: which is more prominent in your particular relationship?
RELATED POSTS
Tags: Bad Guy, Cinderella's Sister, My Fair Lady, Soulmate, The Woman Who Still Wants to Marry