Lee Min-ho and Sohn Ye-jin re-team for Personal Taste DVD
A month after completing production on the MBC drama Personal Taste, Lee Min-ho and Sohn Ye-jin reunite for a DVD commentary. They're joined by co-stars Jung Sung-hwa (Sang-jun) and Wang Ji-hye (In-hee), in recording commentaries as well as interviews for the upcoming DVD.
Lee Min-ho and Sohn Ye-jin reportedly got right back into the groove, with their good rapport and jokey manner. It's not a surprise; though the drama had its rough spots, the chemistry between the couple was a constant highlight throughout its run, and the actors are both known for their very easygoing demeanor.
Japanese network NHK was also present to grab interviews from the actors, as interest in the drama is growing abroad. Networks throughout Asia and Europe have grabbed rights to air Personal Taste in the coming months, as the producers try to climb aboard and ride that elusive wave: the Hallyu hit.
The DVD will have interviews from the cast and staff, commentaries on episodes, as well as deleted scenes, and is aiming for an August release.
If it comes with a commemorative chainsaw, I'm down for a set.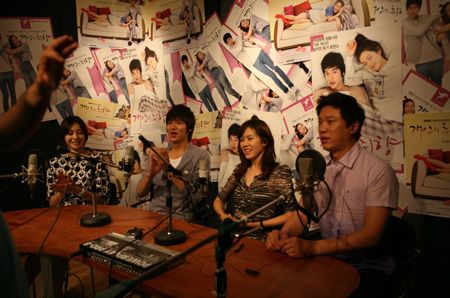 Via Sports Chosun
RELATED POSTS
Tags: Lee Min-ho, Personal Taste, Sohn Ye-jin