The bickering romance begins in Playful Kiss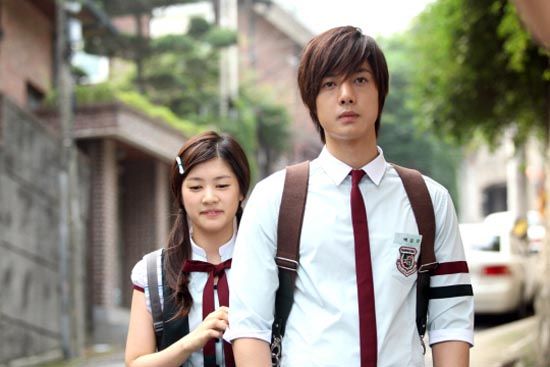 First stills are out of MBC's new trendy drama Playful Kiss, which recently began shooting with its leads, Kim Hyun-joong and Jung So-min.
Although I think he looks a bit old for her, they do look cute together. Kim plays a cold, supercilious student — THE top student, in fact — at their high school, while Jung So-min looks pretty spot-on as the not-so-smart girl who has a crush on him. (Perhaps it's because I really enjoy her spoiled princess act in Bad Guy, but I think she looks adorable even as she pouts sulkily.)
The drama's first shoots took place on July 24 in a neighborhood in Seoul's Seongbukdong. In this scene, the two characters (Seung-jo and Ha-ni) are bickering on their way to school, having already moved into the same house (her family temporarily moves in with his when her house is wrecked). Seung-jo doesn't even want to act like they know each other at school and treats her coldly, to which she responds with sullenness.
Playful Kiss premieres on September 1.
Via Star News
RELATED POSTS
Tags: Jung So-min, Kim Hyun-joong, Playful Kiss