Bad Guy: Episode 14
Episode 14: wherein girlfriday drowns. Seriously. Watch out for the plot holes. I'm sinking in them.

EPISODE 14 RECAP
Gun-wook finds Secretary Kim waiting outside his door, and Gun-wook says he knows who's been visiting his parents' grave. At the same time, Madam Shin meets with her housekeeper, to ask her about her hunch that Tae-sung 1.0 and Gun-wook are one and the same. She recounts her caramel theory, and Madam Shin flips her lid.
Gun-wook has brought Secretary Kim over to his sunbae's apartment, and the two don't beat about the bush concerning his identity. My question is, if Secretary Kim's two pieces of information identified Gun-wook as Gun-wook, how'd he get to Tae-sung Number 1? Gun-wook asks why he took care of his parents' grave all these years, and he responds that they died an unfair death, and there was no one else to do it. Gun-wook stirs at those words. Secretary Kim asks cryptically, "Don't you want to know…how they died?"
Well, that'll surely send him over the edge.
Gun-wook has to ask again whether he's implying that it wasn't an accident, and then wonders if President Hong is behind it. Secretary Kim assures him that the President knows nothing; it was Madam Shin who pulled the strings.
Is anyone surprised?
He says that Madam Shin couldn't accept an illegitimate child and did everything in her power to get rid of said child. Gun-wook seems shocked at this news. Really? For a supposed mastermind, you really missed the big clues. Couldn't you see the giant neon sign above her head that reads: Evil Hagwitch?
Secretary Kim fills us in on the whys and wherefores: Madam Shin didn't want to raise her husband's bastard child from another woman, so she thought that raising a FAKE Tae-sung would somehow be better. Er, what now? So she had Gun-wook brought in and pretended he was Tae-sung, only to have the real Tae-sung found later, which is when Gun-wook got kicked out.
That…is just….Stupid. So rather than raise Tae-sung, which she ended up having to do anyway, she brought in a random kid? What purpose does that serve other than to annoy me? That doesn't even closely resemble logic.
Secretary Kim tells him that Madam Shin had to get rid of any evidence concerning Gun-wook, and so arranged to have his parents killed in a car accident. He adds that they weren't his biological parents either. This changes the timeline of the entire backstory, no? Because if they died on the same night that Gun-wook got kicked out, what would necessitate that, if Madam Shin no longer needed Gun-wook to be the fake Tae-sung? And even if she had it occur that night to keep them from reuniting with their son, why on earth would they have to DIE in order to keep her motives a secret? Who would reach that crazy conclusion anyway?
I really should have known this was going to happen…the plot holes are starting to melt my brain.
Gun-wook thinks so too, as he breaks down at the knowledge that he lost his entire family and his childhood over the illogical choices of a rich madwoman. Secretary Kim announces that as the extent of his knowledge on the matter and leaves. Gun-wook runs screaming, and collapses in a fury of tears and anguish.
He returns home to find Jae-in sitting in his super-secret plotting room. She discovered it by "accident" in his absence, and she asks, even now with hope in her voice, for him to tell her this isn't what she thinks it is. Gun-wook, now more than ever not in the mood to entertain her hopes, says it's just what she thinks.
He grabs her for a tour of the Big Board, where he very creepily goes down the list: Mo-nae has a broken engagement, Tae-ra is due for a divorce, and Tae-gyun (eldest son) was here, but now he's…not. Gun-wook's smile here is totally sadistic and creepy, and it effectively wigs out me and Jae-in both.
Jae-in asks why he's talking like this, like he's got a vendetta against Haeshin. Not so quick on the uptake, are you? Gun-wook asks if he's supposed to be nice to them, like she is. Gun-wook: "Are you already playing the role of daughter-in-law? Or…does it hurt that much that Tae-sung might get wounded?"
Jae-in asks why he's always so concerned with Tae-sung, and why he'll never talk about himself. Gun-wook: "Hong Tae-sung? I want everything of Hong Tae-sung's. I want to take it all. They treat people like bugs because of their pride…those people who wear the shell of Haeshin…I'm going to step on them all."
She decides he's crazy, and hits a nerve when she muses that even if these people had killed his parents (speaking hypothetically, since she knows nothing), this is going too far.
Jae-in: Fine. Let's go. I'm going to do whatever it takes to marry Hong Tae-sung and become a part of that family. Then if you want to step on me too, you do as your heart desires.
Gun-wook: Moon Jae-in, don't delude yourself. Me? I can use you if I need to, then throw you away cruelly. Since when do you think of me? Don't be a hypocrite.
Jae-in's heart shatters, as she accepts the truth. She says she had hoped that he wouldn't end up being this person, but she gets it now, and walks away. She turns back one last time to plead with him for an explanation…just a word…but he gives her nothing. She says, tears streaming down her face, that her heart was swayed because of him, but she can let go and go her own way now. That seems to stir him a little, but not enough to break his resolve.
As she walks out, Gun-wook thinks to himself in voiceover, "Moon Jae-in, it doesn't matter whom you choose. Me, and Haeshin…we're all going to come crashing down."
Tae-ra's husband comes to cuddle up for a little nookie, but Tae-ra rebuffs him. He's like, what's wrong with you? What, a man can reject a woman's sexual advances, but a woman can't reject his? That sound? That's the sound of me sharpening my claws.
It looks like he's just testing her though, to try and get some confirmation of her affair. He angles to try and get Gun-wook's phone number from her, saying that he wants to have a drink with him to talk about Mo-nae, but Tae-ra deflects. He at least seems devastated or angry now because of her affair, whereas he struck me as strangely ambivalent about it before, like it made her more attractive to him, or permitted his own dalliances.
Jae-in arrives at home and vents to her sister that Gun-wook scared her today, and she doesn't know what to believe. Not that it wouldn't be nice of you to stand by your man, but generally speaking, if a guy's got a secret lair where he's plotting the downfall of an empire and a trophy wall to prove it, you should probably run screaming the other way. Or check for heads in freezer. Then run screaming.
The next morning Gun-wook passes off the big corporate slush fund info to his contact, and then meets with Madam Shin. She coyly asks how the search for his family is going, and he replies that they passed away…a regrettable death at someone's hand.
She coolly calls him Choi Tae-sung, and he responds in kind, not a feather unruffled. He says that she must've been surprised, what with him being not dead and all. She tries to play dumb, but they both know the score now.
Gun-wook looks down at her with a breezy smile on his face, toying with her and enjoying it way too much. Madam Shin actually tries to get him to leave the company and stop trying to meet Mo-nae, and of course Gun-wook corrects her that it's actually Mo-nae who likes him, calls him, comes to see him, and that he didn't enter the company because of Mo-nae.
Madam Shin loses her veneer for a moment, letting loose one of her characteristic banshee wails, and Gun-wook doesn't even flinch: "Why are you so afraid of me?" Well-played. She whines on her high horse about him not knowing his place or who she is, but Gun-wook sends her reeling again: "You must be really nervous…that I'll end up your family again."
She flips out one more time at that implication (little does she know he means Tae-ra, not Mo-nae). And then Gun-wook puts the nail in the coffin: "Rather than the real Hong Tae-sung, wouldn't it have been better if you had the nicer me, even if I was fake, trapped in that house? Wouldn't that have been peaceful for everyone…Mother?"
She starts shaking. He asks her one final question to lay it all to rest: who was the one to lie to his parents that he was Hong Tae-sung? He surmises that the only one to tell such a lie would be her. At that, she empties her water in his face.
He smiles…that's all the answer he needed. He threatens her, bald-faced, that he's not going to be chased out in the rain anymore, and that he has nothing to lose now, compared to Mother…who has everything to lose. He dangles Mo-nae, her precious youngest daughter in front of her first, saying that she may be precious to her, but he can throw her away at a moment's notice.
Tae-sung arrives on the scene, splitting up the frivolity. Gun-wook leaves, after leveling his best I-own-your-ass-little-mouse glare at Madam Shin one last time. I think Kim Nam-gil's eyes are on their own show. This episode could be called "The Ten Thousand Glares of Bad Kitty."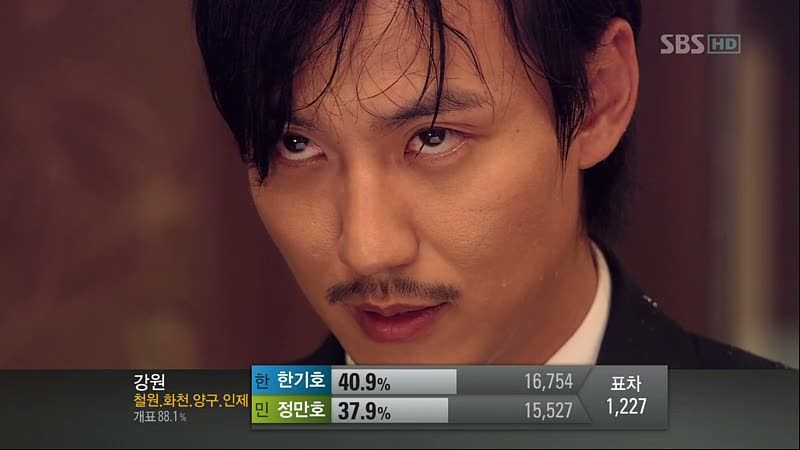 Madam Shin tries to get Tae-sung to fire Gun-wook, since he won't heed her warnings to leave. Tae-sung's having none of that, since he likes Gun-wook (despite punches thrown?), and Madam Shin can't actually state any reasons why she wants him gone. He's mad at her for firing Jae-in too, so he storms out with a "No."
Jae-in thinks back to Gun-wook's words the other night, and decides to wear the watch from Tae-sung. Note that this is a reaction to Gun-wook, and not at all about Tae-sung. But he doesn't know that, as it's the first thing he notices when they meet up. He smiles sheepishly about it, and then offers her a job as a designer for his robot theme park. Oh, THAT's not going to be weird for her, being stuck in meetings between you and Gun-wook. Tae-sung's manner of just handing her a job doesn't sit well with her, but she considers it.
Gun-wook stops by his sunbae's restaurant and finds the cops hanging out there, pretty much daily. He asks when the statute of limitations is for murder (fifteen years), and laments cryptically that he found out too late. Old Cop urges him to abide by the law, while Young Cop offers up another course of action: nab the perpetrator on a different, newer crime.
Meanwhile, Tae-ra gets a call (presumably from Gun-wook's contact) and rushes over to her husband's favorite bar, where she catches him canoodling with his mistress. Well aren't you squirmy when the tables are turned. She pretty much immediately asks for a divorce. He tries to convince her that she can't handle a scandal like that, being the perfectionist Vice President and all. But she doesn't care. Even when he asks if it's because of Gun-wook, she doesn't balk.
He tells her that they'll get over this, and that he forgives her. What now? Tae-ra: "Forgive? FORGIVE?" Hahaha. It's befitting a lifetime adulterer to "forgive" his wife's brief affair while in no way equating it to his own monumental failings. She announces that she'll be raising their daughter, and tells him that she knows now…what it means to be with someone she loves. Oh, crap. That declaration of faith in your boyfriend is so going to bite you in the ass. But hey, either way, your life seems better minus the cheating cold fish husband.
It appears that the Tae-ra move was executed by Gun-wook's partner without his consent. He decided that separating her husband was necessary, because he, being the family's high-powered prosecutor, could get them out of whatever giant financial/legal disaster that they're planning. This way, he's separated and the family is without backup. It's not really the soundest theory, because Haeshin could afford an entire army of high-priced lawyers at a moment's notice, and it's unlikely they'd have only one prosecutor in their pocket. Gun-wook isn't ecstatic about it, but decides to use the situation to his advantage.
Tae-sung convinces Jae-in to take the job, and he starts offering apartments and things that chaebols do, I suppose. But Jae-in finds herself lost in thought about Gun-wook and how little she really knew about him. It's sad to see Tae-sung so happy while Jae-in so clearly doesn't have her heart in it; it sort of takes the punch out of what used to be a dramatic love triangle.
Madam Shin is kept up at night by nightmares of little Tae-sung calling her Mom in a creepy voice. Yeah, karma's a bitch that way.
She marches over to Gun-wook's office the next morning, and tells him one more time to quit. Yeah, we already confirmed that your demand was totally ineffectual the first time. She slaps him across the face for good measure, with Tae-sung and Jae-in watching. That totally took the venom out of your bite, lady, because now all you're doing is throwing tantrums and showing your weaknesses. Gun-wook smirks at having the upper hand.
Tae-sung then does the cutest thing ever. He takes Gun-wook shopping, and then out for ice cream, as an apology for his mother. I see a music video in the works!
He tells Gun-wook that he's like a hyung (older brother) to him. I'd be happy if everyone else died but these two could walk away as friends. Gun-wook takes the opportunity to cut to banmal: "Hong Tae-sung. Tae-sung. Tae-sung-ah."
Tae-sung laughs, "Just because I said you were like a hyung doesn't mean you can cut your words!" Gun-wook keeps at it teasingly, and Tae-sung allows it just until they finish their ice cream. He challenges Gun-wook to play the hyung.
But Gun-wook gets back to his cold self for a moment, saying that he's not going to be anyone's hyung, because we come into his world alone, and we leave alone. Buzzkill. Tae-sung: "You're making fun of me right now, aren't you?" Gun-wook nods silently with his ice cream in his face—it's cuter than six puppies.
He adds one last piece of advice as the hyung: "Don't trust anyone."
The inside trading and shady deals of Haeshin go public, and the press floods President Hong. He asks Secretary Kim what he's found out, and he lies that he's still struggling to get anything concrete. Interesting.
He tries to get Tae-ra's husband on the phone, but he's not answering. At the same time, Tae-ra announces her plans for divorce to Madam Shin, who promptly freaks out, to no avail.
Jae-in tries one more time to get some info out of Old Cop, but he refuses to give her any. That is, until he very loudly laments to Young Cop that Gun-wook is behind the latest Haeshin scandal, while Jae-in is still very clearly within earshot. Jae-in confronts Gun-wook about the story in the paper, but he brushes her off, saying she should congratulate him.
Mo-nae is on her way abroad, and meets with Tae-sung to say goodbye. If this is the actual send-off for her character, I'm disappointed, Show. That's a waste of a great character if that's all there is for her.
Gun-wook decides it's time to toy with his mouse again, so he calls Madam Shin and Tae-ra to his office within minutes of each other. He times it just so, and Madam Shin walks in on this:
He deliberately plays the clueless boyfriend, essentially driving Madam Shin off her rocker.
As Mo-nae leaves, Gun-wook sits in his lair, burning up her picture. Two down. I'm disappointed that there wasn't more fight in Mo-nae, but I suppose it's better for her that Gun-wook didn't damage her further. As far as I'm concerned, she may be a spoiled brat, but she was an innocent in the matter.
Madam Shin starts to show how truly loose her screws are. She tells her housekeeper that when Gun-wook's parents died, no one but Gun-wook was sad. But when HER SON died, the whole family, nay the whole country wept. Oh, really? You are truly delusional, and the scariest kind of sociopath, because you believe in your heart of hearts, that you are in the right.
Tae-sung opens up the letter that Mo-nae left for him, and it asks him to please stop Tae-ra because she's out of her mind—she says she loves Gun-wook and the two are dating.
President Hong walks in on the tail end of Madam Shin's latest rant, and demands to know what's going on. She tells him that Gun-wook is the fake Tae-sung, and that he's out to get the whole family. She even fesses up about the whole fake-child business. She tells him that it wasn't Gun-wook's parents who deceived him; it was her.
He can't believe it. When she uses the excuse that she couldn't bear to raise his illegitimate child, he spits back that HE accepted Tae-ra as his own daughter. Whoa. That's news. So President Hong married into the family (because Madam Shin is the actual bloodline heir to Haeshin) when she had already had a child.
She tells him that it's all his fault, (the original adultery, the bringing in of the child), and lays out the damage that Gun-wook has dealt so far. His anger switches focus to Gun-wook pretty quickly.
He calls Gun-wook to the house, and you think he might rip into him like Madam Shin, but no—here's the twist: that closeness between Dad and Tae-sung Number 1 was indeed the real deal. As soon as Gun-wook walks in the door, he calls out with sadness shaking in his voice, "Tae-sung-ah."
COMMENTS
Why isn't Madam Shin running around and telling her children about Gun-wook? It's not like she feels any remorse or guilt over her part in the mess, as we witnessed. So it serves her no purpose to keep her mouth shut when she knows that he's out to get everyone in the family. It serves to extend the plot, but makes no sense.
That said, I do find her brand of pathology totally twisted and interesting. I don't enjoy her maniacal scenes, mostly because they scare me, but her character is quite riveting.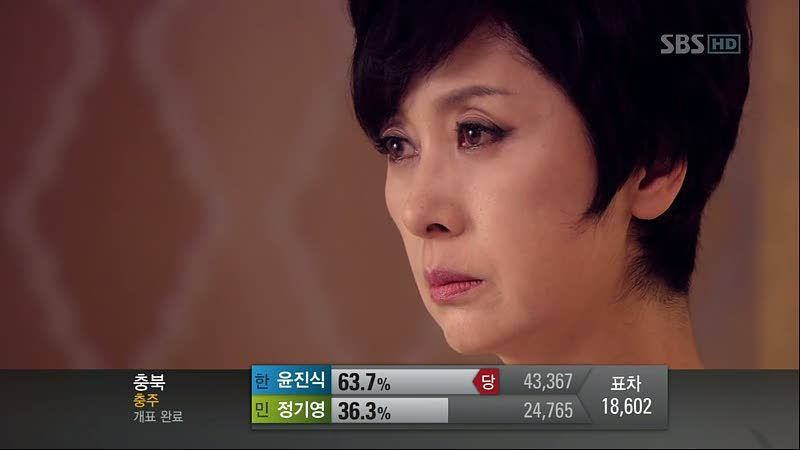 Gun-wook is becoming…less interesting. I don't know what it is. He's definitely playing up the cat-and-mouse angle, but it's getting a little over-the-top, with his knowing glance after knowing glance. He comes off as less of the string-pulling mastermind, and more of an opportunist, which takes away some of the flair. I also think it's a mistake to give him NOTHING to lose…because then we can't be on his side for any reason other than: Gun-wook Bad / Madam Shin Badder.
Things should take an interesting turn now that President Hong knows. I'm hoping that this relationship will actually stir something in Gun-wook and make him falter or question his actions.
And I'd give my left arm for Gun-wook and Tae-sung's bromance to be the OTP. Can they just eat ice cream and shoot the breeze for three more episodes?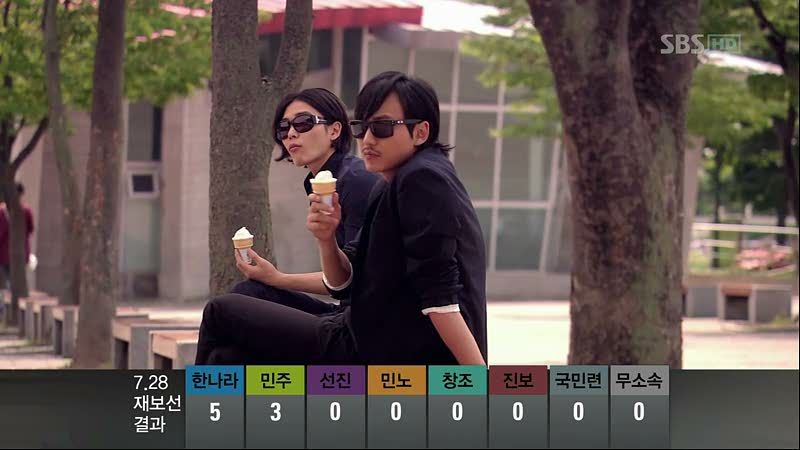 RELATED POSTS
Tags: Bad Guy, Han Ga-in, Jung So-min, Kim Jae-wook, Kim Nam-gil, Oh Yeon-soo