Coffee House: Page 18 (Final)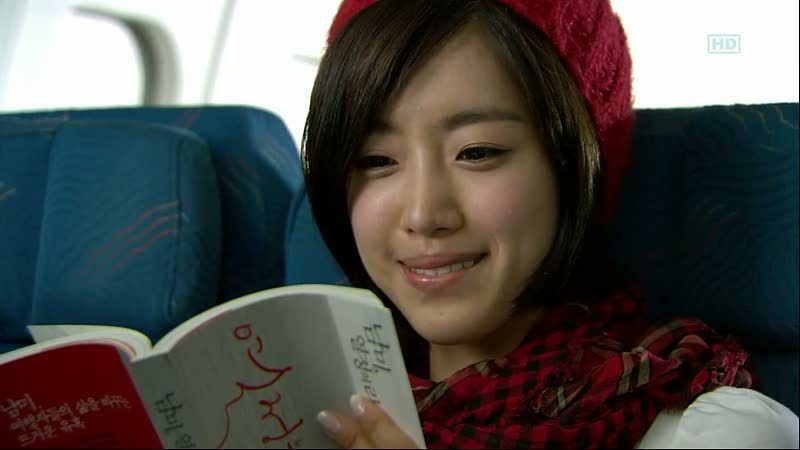 I enjoyed this finale. Finale episodes are tricky things. You have to wrap up the story, but not in such a rushed way that it feels crammed, like the drama ran out of time. We as the audience usually need some time to come down from the emotional climax, and a drama that cuts off too soon after that leaves us feeling shafted. On the other hand, you can't leave so little for the last episode that it feels like an epilogue instead, with random scenes filling out the time after the final conflict is resolved.
This episode settled the major conflicts and gave us some nice character moments, and wrapped things up on an upbeat note. That's pretty good for a finale, I'd say.
SONG OF THE DAY
Lala Sweet – "Good Bye" [ Download ]
Audio clip: Adobe Flash Player (version 9 or above) is required to play this audio clip. Download the latest version here. You also need to have JavaScript enabled in your browser.

LAST PAGE RECAP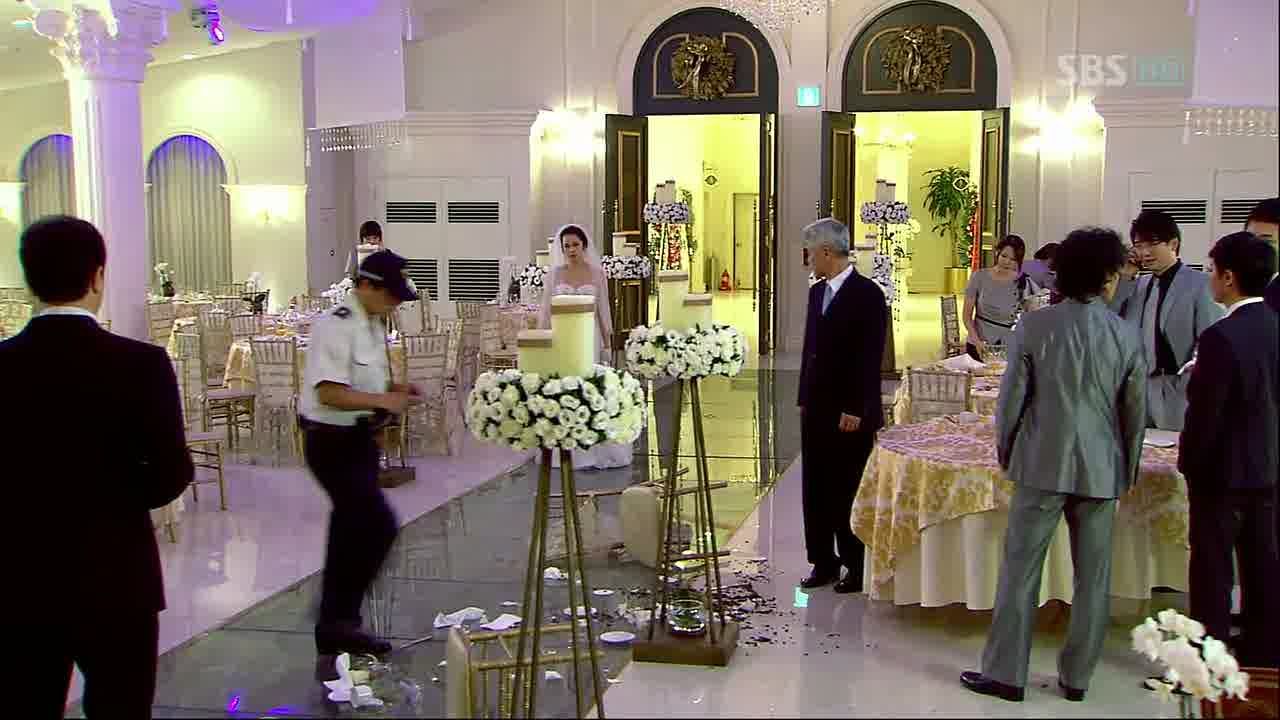 Seung-yeon hears about the wedding fiasco soon afterward; having heeded Jin-soo's request not to go to the wedding, she calls Dong-wook to ask if he could give the cash gift on her behalf, which she'll repay later. (By and large, cash is given at Korean weddings rather than registry items.) Dong-wook tells her that it will be unnecessary, and explains what happened.
At the wedding hall, the scammy publisher (Mr. Yoon) is carried out on a stretcher while police take stock of the mess of a banquet hall. The mothers are in a fit over Jin-soo's behavior, Ji-won is aggravated, and Eun-young looks at the damage in dazed shock. Her employees wonder what to do, guessing that even though they aren't Jin-soo's reps anymore, perhaps they ought to step in.
Finally, Eun-young comes out of her reverie, and her warring emotions solidify into one: anger.
She bursts out in a fury, swearing at Jin-soo, calling him all the names she used to throw at him (bastard, son of a bitch). She storms out of the hall and out the building, but her anger gets pushed aside at the sight of Jin-soo being escorted into a police car in handcuffs.
She rushes up to the car window and looks at him in shock and dismay. Jin-soo has been wearing a grim expression on his face, but when he turns to see her looking in, he gives her his trademark smile. The car pulls away and he's taken to the station, leaving Eun-young (and the wedding party and the swarm of reporters) reeling.
Now Eun-young snaps into action and heads straight to her office to work on handling the aftermath. She scoffs at Jin-soo's promise to find her a way out if she wasn't certain, because as far as she's concerned his solution is hardly better than the problem.
Ji-won also understands Jin-soo's motivation, although he believes that Eun-young doesn't know. He's surprised to find that she has left the wedding hall, and I wonder if this is the moment when the shoe drops for him — that even when her wedding has been ruined, she dives back into work.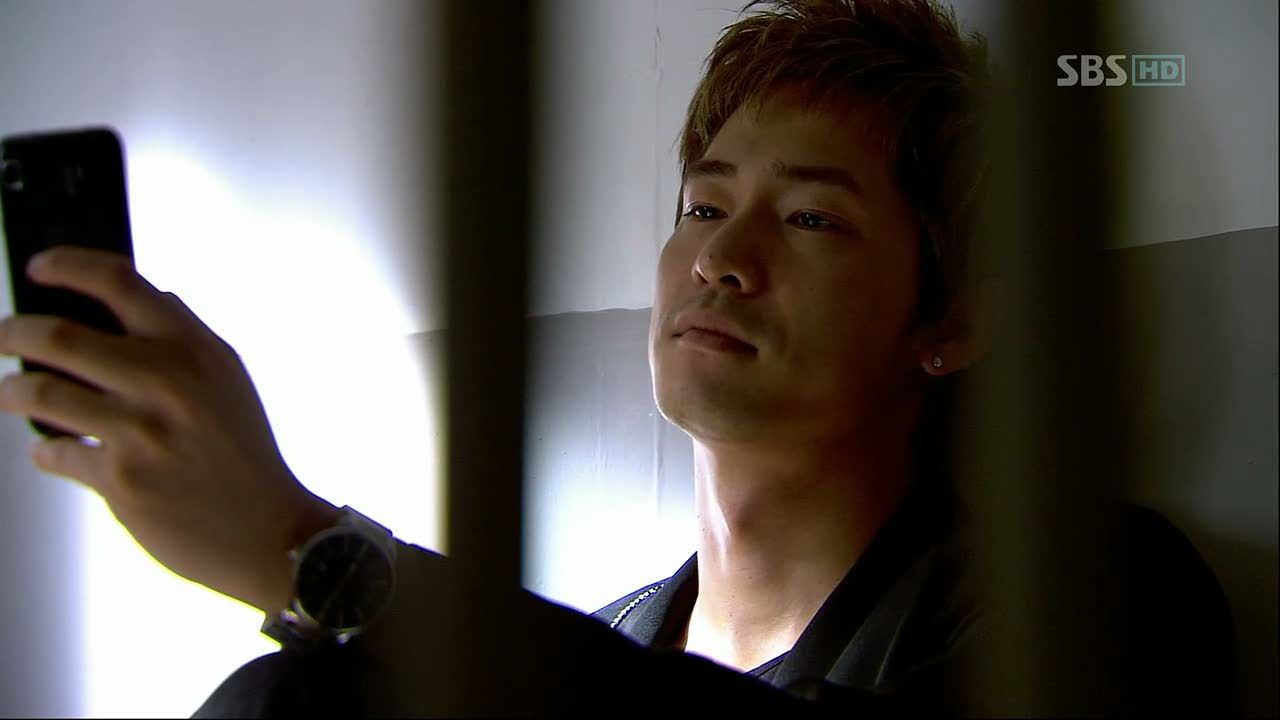 Jin-soo is locked up in jail for the night while a barrage of news stories emerges on the internet and television. He reads the latest reports from his cell phone. Thanks to the wedding cameras, the whole attack is caught on video and from multiple angles.
Seung-yeon arrives at the jail in shock, not understanding why he would have acted so out of character. His image is completely trashed and this could really affect his career. What drove him to it? She has enough faith in his character — bless her heart! — that she knows there must be a greater reason, and strives to make sense of it.
Jin-soo plays his role to the hilt, and goes along with Seung-yeon's assumptions. For instance, she asks if this happened because he needs money — there are rumors that he racked up gambling debts — and that led him to deal with Yoon. Jin-soo sighs, laying it on thick and acting saddened to have lost her respect. He does need money, and he turns into "this kind of person" (as in profligate) when he's not writing.
Seizing upon an idea, he says that there's one way for him to dig himself out of this mess, and that's to write a book. That'll bring him income to pay off his debt and settle with Yoon. Alas, he doesn't have a suitable topic — where to get one? If only he knew a great, refreshing story that he could whip up into a book. Seung-yeon understands what he's getting at — he's hardly being subtle, mumbling things like "Galapagos" — but is loath to give in to his implied request.
Finally, she very reluctantly gives in and tells him he can take her idea… to which he bursts out that she's crazy. Why would he steal her idea? Clearly he was just having a bit of fun at her expense. What else is new?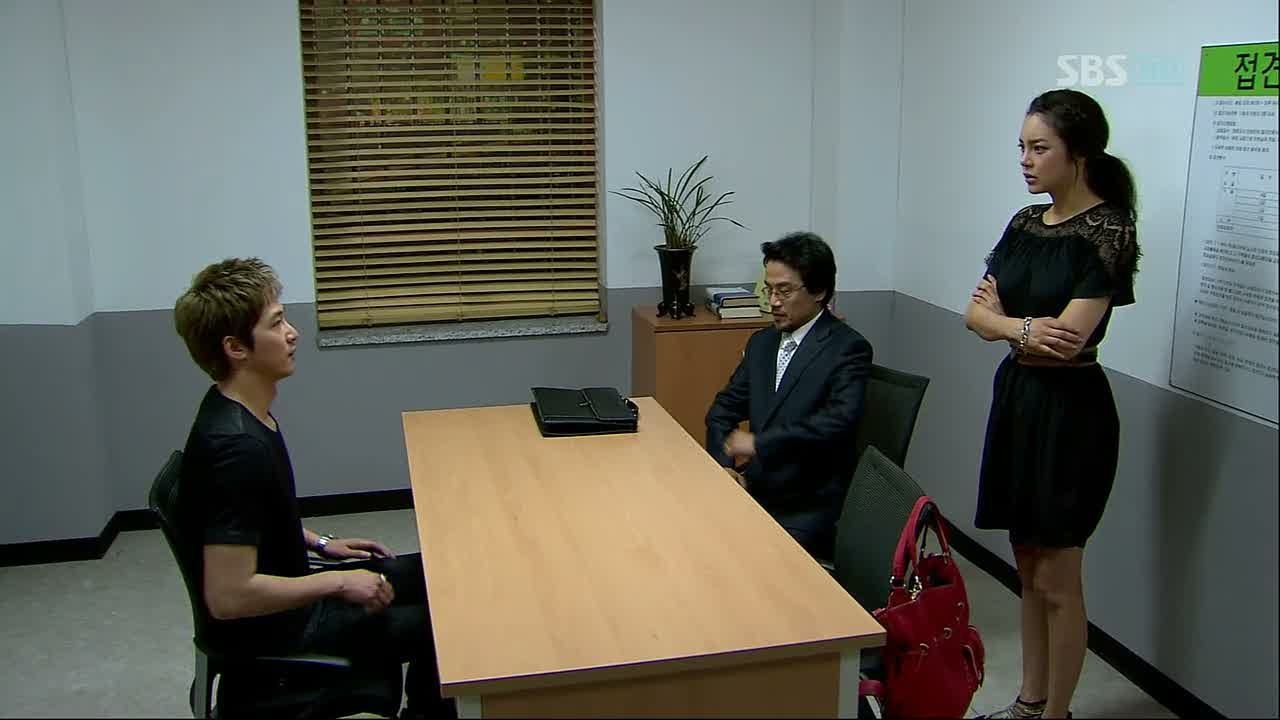 After consulting with her lawyer, Eun-young visits the police station to talk with Jin-soo, who is still in custody. The lawyer takes an optimistic approach to this, but Eun-young is still angry with Jin-soo and gives him the harsh version. His future holds three possibilities: he'll have to face ejection from the literary world, or write pulp novels for Yoon forever, or declare bankruptcy.
Even the attorney finds that excessive, although the issue of his gambling debts IS a problem. At this, Jin-soo finally gets reveals his plan by giving him a card. He says that he has been building up a case against publisher Yoon's mistreatment of new writers, and his lawyer has all the information. Jin-soo requests that the lawyer drag out the case as slowly as possible, since the guy could stand to be mired in legal troubles for a while (and Jin-soo isn't in a desperate rush to clear his own name).
This news stuns the other two — if he was operating on noble motives, then why let his name get tarnished? Why attack the man as he did? Jin-soo looks at Eun-young as he offers up the vague explanation: "I'm a bastard and an asshole."
Eun-young asks for privacy, then tells Jin-soo to explain in plain words. So he does:
(1) He wanted to block a wedding that she wasn't sure about, (2) but he didn't want to turn her into the bad guy, (3) plus he felt he should be responsible for the whole chaos, (4) but it would hurt her if he ruined himself too much, so he found himself an out. (5) Still, if he needed a scapegoat at least it should be someone who deserved it, (6) and because she made him do something he's never once done before, (7) "I love you."
Seung-yeon goes to Eun-young's office, but finds Ji-won there instead. He invites her to sit down with a drink, in a darker mood than usual. Now that the crap has hit the fan, he explains the situation and tells Seung-yeon that he had told Jin-soo to leave. She doesn't understand why he would do that until he clarifies that Jin-soo bought the ring intending to give it to Eun-young.
That's a shock to Seung-yeon, who had guessed nothing of the kind. Ji-won continues talking, more to himself than to her, as he asks if she thinks Eun-young will leave him. He thinks she will. Even though she treated him well, "I was happy, but strangely I felt uneasy."
A family interlude shows us that Dad has now moved his courtship into full gear, and the dry-cleaner ajumma is introduced to the family, as is her daughter. All goes well until Seung-chul comes home, and he's immediately miffed, which cracks me up. Aw, the little boy is acting even littler!
Seung-chul pouts in his room alone with his mobile game console, and balks when the little girl (Min-ji from Oh My Lady, you may recall) joins him. He's not at all inclined to share, until she calls him oppa — and that one word, as we know, holds the power to turn surly attitudes sweet. In no time the two are playing the game together, Seung-chul'd earlier enmity forgotten.
(There's absolutely no romantic hint in the word oppa in this case, but it still has an effect — it turns him into the protector, the man. For Seung-chul, who's always been the baby of the family, this is a role that flatters his vanity. Oh, boys.)
By the time Eun-young returns to her office, Ji-won has finished the entire bottle of wine and has sunk into a depressed mood. He senses that she has something to say, and they don't have to say it in words to know what's coming.
In fact, Eun-young doesn't speak at all while Ji-won breaks down in tears. Tears form in her eyes, too; she feels bad to witness his pain, but she can't tell him he's wrong, either.
The next time Eun-young visits Jin-soo at the police station, he's looking rougher for wear. He brushes it off as a slight fight in the jail, but she knows right away what really happened — Ji-won. Jin-soo tells her that he let himself be pummeled, since he knows he earned it.
Eun-young comes with a contract, which Jin-soo reads through. Two parts are yet undetermined (number of books and date of completion), so he volunteers the information. Should he agree to 30 books? That'll take up the next 60 years. He can have the first book ready on Christmas Eve, which should give them both time to "settle matters."
Jin-soo speaks in terms of their business partnership, but it also serves double-duty for their personal lives. He signs the contract, and then she signs. He says that at the very least, they will have this relationship for the rest of their lives.
But he means that as a minimum, not as the whole: Jin-soo offers his hand for a shake, and when they do, he turns her hand over and slides the ring on. He says this is to commemorate their contract, but since the contract is tied to their relationship, again it has a dual meaning.
He tells Eun-young that he will spend the time until then writing the book. Christmas Eve, then, becomes their new start.
Next, Jin-soo drops by Seung-yeon's family cafe, which stuns her; she hadn't known he'd gotten out of jail. She guesses that his departure is imminent, because she sensed he would drop by once before leaving. He's a little impressed that she knows him so well, and comments that she's gotten more perceptive.
Tears form in her eyes, but she tries to ignore them as she tells him things worked well for him and congratulates him. She adds that like he said, she's more perceptive now, and that lets him know that she's aware of his relationship with Eun-young.
He looks sorry to see her fighting back her tears and says he's sorry, which she tries to laugh off even as the tears start falling in earnest.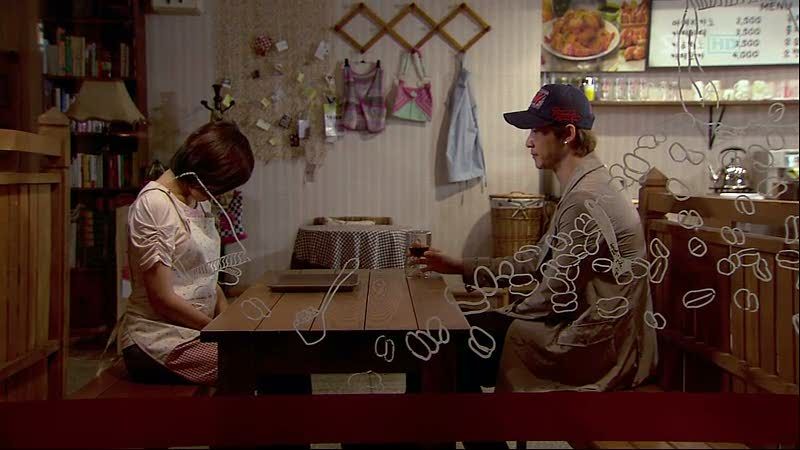 Jin-soo is a little uncertain how to react, so he sits there quietly while Seung-yeon cries. It's a lovely beat, actually, and there are a few other moments in the episode that echo it. I like the idea that there's something important going on here, but that the characters need to just sit there and let it be while the emotion works its way out.
When finally Seung-yeon stops crying, it's an hour later, and she thanks him for sitting with her. Jin-soo remembers that he has something for her, and hands it to her. He jokes that if she's on track to publishing her book at the age of 40, this is to cut five years from the timeline.
It turns out to be an open ticket to the Galapagos Islands, valid for the next year. Jin-soo says, "I'm not telling you to confirm the things you've imagined. When you face reality, another world will open up that is on a different level from what you thought of at your desk. Grab that. Then you can cut out five years."
Seung-yeon is moved, but Jin-soo keeps up his teasing tone as he prods, "What do you think? Don't you respect me? You respect me the most in the whole world, don't you?" She answers simply, "Yes. You did the right thing. You protected what you wanted to protected, and paid the cost. I think you did what was right."
He smiles. "You're the only one who would say I did the right thing." She smiles back, and says with her customary hyperbole, "Aren't I the best secretary of all time?"
Jin-soo answers, "You're right. You're the best ever. Although I've only ever had one."
As Seung-yeon watches Jin-soo drive away, she thinks, "I'll remember that day, that moment, forever. It was when my life turned over its Page One."
The seasons pass until we land in the winter. It's snowing outside, and it's Christmas Eve. At the radio station, Seung-yeon has been promoted to main writer, and she's about to set off on a trip — to the Galapagos.
At the publishing company, Eun-young takes a meeting with some business contacts who have heard she is on her way to meet Jin-soo today. They've heard rumors that Jin-soo's fallen off the wagon, and while they aren't sure if the stories are true, they urge her to get him on his feet and make sure he's not gambling away.
At the Kang home, the dry-cleaner ajumma has become part of the household, as has her daughter. Dong-wook's arrival raises no eyebrows so it appears they're used to seeing him around, although it isn't clear whether he and Seung-yeon have officially resumed dating.
Dong-wook is here to drive Seung-yeon to the airport, and she's scrambling to pack in time to make it in time. Finally, she's off…
…and we pick up in some unnamed tropical locale.
Jin-soo sits in a summery paradise, working on his writing, which is where Eun-young finds him. She wears his ring, and mouths to him, "Merry Christmas."
In the intervening months, Ji-won has grown harder and more irritable, judging from the way he addresses his new colleagues when he transfers to a new office. Being jilted has left him in a perpetual bad mood, and he resents little things like having to go meet his new colleague rather than having the colleague come to him.
That is, until he actually meets her, and finds that she's an attractive blonde woman named Julia.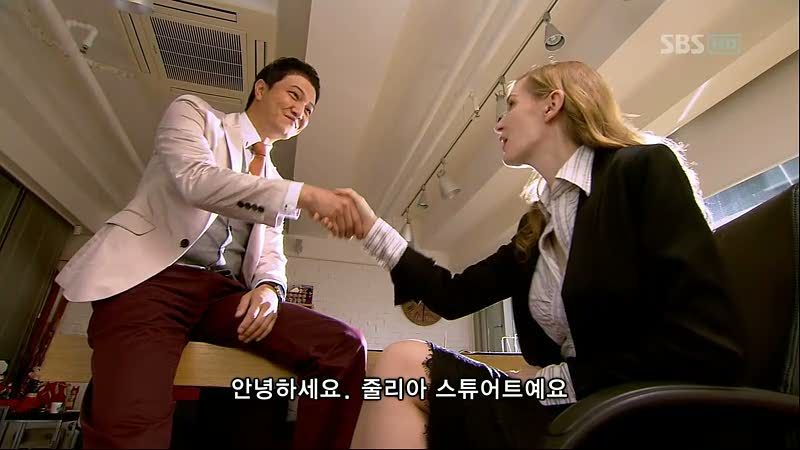 Immediately the old Ji-won is back, cheesy salute and all. He turns on the charm (well, his version of what passes for charm), and when he hears that Julia has no holiday plans — she's new to Korea and hasn't made friends yet — he offers his company. They end up having flirty drinks, to assure us that Eun-young's departure will not be an eternal source of misery for Ji-won.
As Seung-yeon settles into her plane seat, she thinks, "I may not know where you are right now, but I know who you're with. Today is the first day that the lifetime contract for Lee Jin-soo and Seo Eun-young goes into effect, and the two of you will be reuniting right now."
And then she thinks what they're up to "privately": "Today is your wedding anniversary, and this is your honeymoon."
As the episode heads to a close, we're given a bit of closure to the rest of the cast, such as Dong-wook and the cafe family. Dong-wook finally promotes the guy who's been begging to be manager of Page One, and also promotes the other two as co-managers. (Poor fourth employee is left unpromoted, but you can't feel too bad because he's always been scolded for slacking.)
Life goes on for the Kang family, the publishing company, the radio station employees, and the screen fills up with old clips from previous episodes…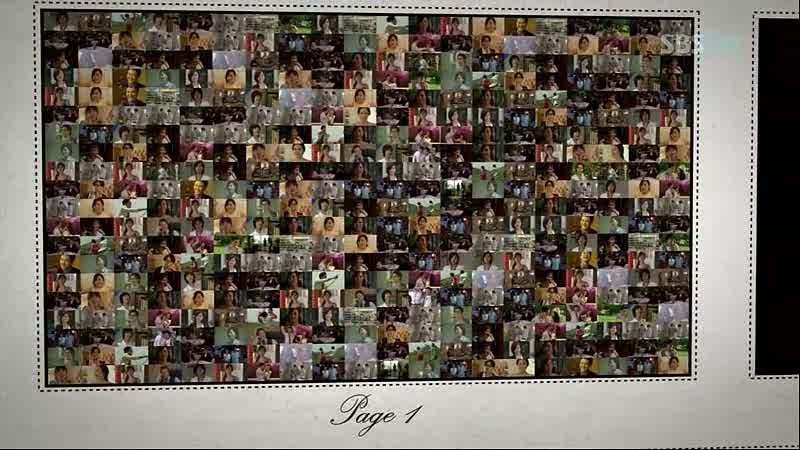 …then pulls back to show us that all this has comprised "Page 1."
The camera slides over from the frame to show us that now it's time to move on to Page 2. And Page 3, and 4, and 5.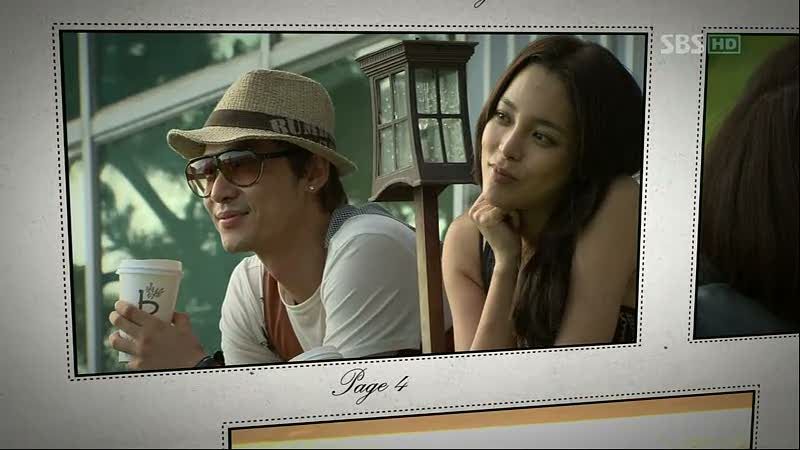 COMMENTS
The Jin-soo/Eun-young relationship resolved pretty neatly and relied on a few fallback devices, but given what they were dealing with I'm generally satisfied with how it worked out. Jin-soo's wacky wedding interruption shows a complete reversal of his character from the beginning of the drama, which is significant. Early on, he has to suffer through undesirable circumstances because he can't stand to have other people thinking badly of him. By the last episode, he doesn't care what the world thinks of him, and actually perpetuates a more negative image than he deserves. The only opinion he cares about is Eun-young's, and it doesn't bother him to be made into a public scandal.
Y'all know how I feel about time-skips in finale episodes — it's a lazy way to resolve tensions because duh, time heals wounds, but what about the ones the DRAMA inflicted upon the characters?. Still, I'm more accepting of them in a drama that has used the time-skip throughout the series, not just in a final episode, as Coffee House has done.
It doesn't work as well for the supporting characters as it does for the main ones (I'll get to them in a minute), however, because those feel tacked on. I don't have any reason to buy that Dong-wook and Seung-yeon are now in a relationship because all drama long, she has been indifferent to him (romantically). I know that it's supposed to be a nice way to give us the warm fuzzies at the end, but it hasn't earned them.
Ji-won's romance at the end is also supposed to soften the blow of losing Eun-young, but it feels like a cop-out because I don't think the drama adequately resolved their relationship. If it was going to be as simple as her leaving him, what was the point of showing the family bits, and having her so torn? You can make some attempts at explanation by saying that ultimately Ji-won hasn't changed and that Eun-young wasn't his end-all, be-all. Or that Eun-young's love for Jin-soo was so strong that it trumped the other things. I just think that if a drama dug this hole for its characters, it should show a plausible way for them to have gotten out of it, rather than fast-forwarding to where the pain is dulled.
But at least the time leap works for our main couple, and that's the one that matters, right? At first I wondered why it was necessary at all, because it seemed like Jin-soo and Eun-young had made their decision at the police station. It also recalled the train station parting two years ago, so why repeat the moment?
The key difference is that Jin-soo never gave Eun-young a bottom line in the past; he told her how he felt and they left the door open for the future, but they both had very different ideas of what that meant. So when Eun-young is facing her wedding to Ji-won, her lament is that Jin-soo never gave her hope before, and she moved on with her life. This time, he gives her a hard date and a promise.
I liked the Affair to Remember vibe of his plan; there's an old-school sort of charm to it. Minus the crippling accident, of course. (The couple falls in love but isn't ready to make a commitment yet, so they agree separate while they get their affairs in order — they're both in relationships — and meet in six months' time.) In this case it gives Eun-young the time to settle her broken engagement, while it gives Jin-soo time to write his book and prepare for their "lifetime contract." Which, by the way, is a cute way to tie the whole business-or-friendship question.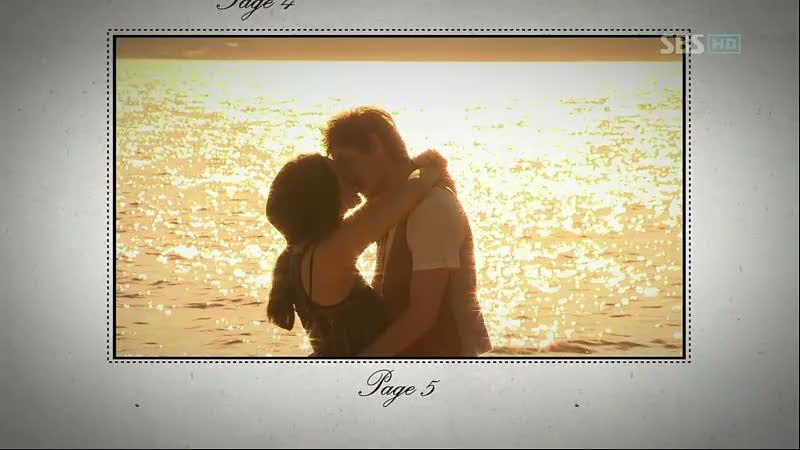 All in all, this was a refreshing drama that flirted with unconventional setups, and I appreciated it for that. I admit to getting a little fatigued toward the end, but I also think that the antagonistic fan wars may have had more to do with that than the drama itself. For some reason this drama set off some short fuses with people, and I hope that in this last post at least, we can remain respectful of those who disagree with our opinions.
Ultimately I'd say that this drama most benefited Park Shi-yeon, who has managed to show that she has improved dramatically over the years. More significantly, this role stretched her range and showed peopel that she doesn't always have to play the femme fatale — which is a character that she fits in appearance but not at all in temperament. I hope she gets a lot more fun dramatic roles in the future that allow her to depart from the sexy, sophisticated image.
It was also a solid platform for Ham Eun-jung, who I had issues with for overacting but I think generally held her own. Kang Ji-hwan has had bigger hits and I daresay he'll be bummed at the lowish ratings, but he's way too talented not to get meatier roles in the future.
Till then!
RELATED POSTS
Tags: Coffee House, Ham Eun-jung, Jung Woong-in, Kang Ji-hwan, Park Shi-yeon