I Am Legend: Episodes 1-2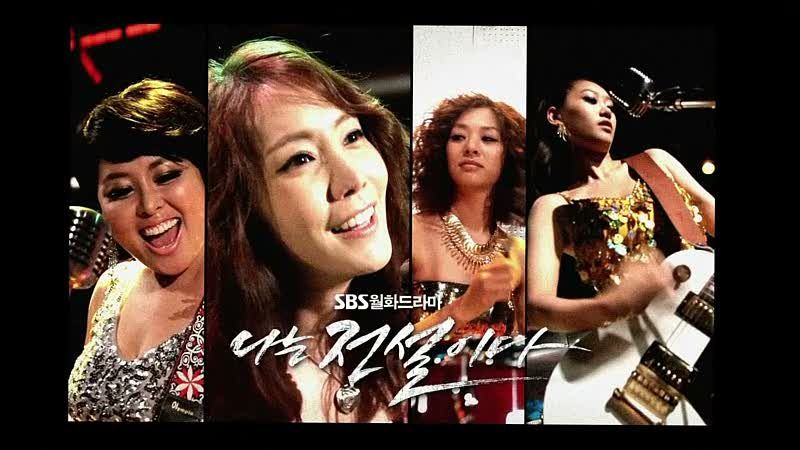 I Am Legend kicked off this week to a fairly good start, both in story and in reception. The first episode had a decent 10.1% rating, which the second episode improved upon it with an 11.7%.
I'd been interested in the premise from the start, back when it starred Kim Sun-ah, and was game for the lead change to Kim Jung-eun. I was hesitant, however, because there's such potential for it to go awry. Thankfully, I think the first two episodes were solid, and I'm still in for the ride as long as they keep up their mix of drama and humor.
SONG OF THE DAY
Bye Bye Sea (안녕바다) – "별 빛이 내린다" (Starlight falls). This band makes an appearance in both episodes, although the song they feature is a different one than this. (I'd already posted that song in a previous recap — it's this one, for the curious.) They're a great up-and-coming rock band. [ Download ]
Audio clip: Adobe Flash Player (version 9 or above) is required to play this audio clip. Download the latest version here. You also need to have JavaScript enabled in your browser.

CHARACTERS & BACKGROUND
JEON SEOL-HEE (Kim Jung-eun) may have been the coolest girl in high school, but these days she is the elegant wife to a fancy lawyer and the eldest daughter-in-law to his highfalutin family. They aren't quite as rich as chaebols, but they are extremely image-conscious folks. Mom-in-law in particular rules the roost with her trademark frosty words and disdainful sneers, and Seol-hee has learned to bow her head respectfully and say, "Yes, Mother" to every decree. Even if it's delivered with a direct insult.
Seol-hee wears designer clothing, goes to high-class spas regularly, and is miserable in her isolating marriage. But she puts on a smile for the benefit of everyone around her, and says firmly that she is happy. She can take the abuse because her life is worth it, and nobody's life is perfect, right?
It's a good thing she has her friends, with whom she plays in the Madonna Band, the group they'd started back in high school. Seol-hee is the guitarist and vocalist, while bassist duty goes to HWA-JA (Hong Ji-min), which Seol-hee pronounces with a dramatic flair as Fa-ja. Or maybe Fa-zhhhhhaaa would be more like it. She's perky, loud, and dramatic, but a dear and loyal friend. SU-IN (Jang Shin-young) is their drummer and a band manager for an up-and-coming rock group (played by the abovementioned Bye Bye Sea).
Their band practices are more of a creative outlet than anything else, since Seol-hee has no intention of playing real venues (despite Hwa-ja's wheedling) — she can't risk her public image or her in-laws' disapproval. But during their practices she can let loose and enjoy herself, whereas her family life requires her to put on a strict mask of serenity at all other times.
Seol-hee is married to CHA JI-WOOK (Kim Seung-soo), a cold, distant attorney who never makes any mistakes. Well, other than marrying her, which he is so kind to tell her to his face. They'd married when Seol-hee was a lowly clerk at his law firm and "ensnared" him — 'cause it's always the woman's sly doing! — and used pregnancy to wrangle a marriage offer. At least that's how the gossips at the office put it. This is why Mom-in-law is always so nervous when someone asks about Seol-hee's past, and always orders her to keep her mouth shut at events.
Ji-wook is having an affair with OH SEUNG-HYE (Jang Young-nam), a sharp divorce lawyer with a killer instinct. She's also a divorced mother to a young boy, who lives with his father. Although Seung-hye takes a cool approach to their relationship, you get the sense that she'd prefer Ji-wook to stop his sham marriage and let them date publicly.
Seol-hee has a rocky relationship with her younger sister Jae-hee, because Jae-hee is angry with her sister for living an empty life. Early on, they get into an argument because her sister's words hurt Seol-hee, who did everything she could to raise her sister after their parents died, and put Jae-hee through medical school. While her sister has a point, the scorn feels unfair. On the other hand, Jae-hee can't stand to see her sister making excuses for her unhappiness.
Last is JANG TAE-HYUN (Lee Jun-hyuk), a guitarist and songwriter who is in a lull in his career and therefore taking jobs as a session man. Thus Su-in makes the attempt to recruit him to help her band improve their music, but Tae-hyun takes one listen and decries their poor skills. This is typical Tae-hyun, who deals with people curtly and has no patience for wasting time. He's quite famous in his own right, although Seol-hee is a little embarrassed to recall that she used to "chase him around" in her youth, as he was her first love. (Though unrequited.)

EPISODES 1-2
The series opens on a live performance, with the Madonna Band rockin' out onstage. Footage is taken from the quartet's real-life festival show and therefore gets a pass on the continuity hiccup regarding the wrong guitarist. (The footage features Juni, but the band has a different guitarist in episodes 1 and 2.)
It turns out to be an imaginary sequence, and the ajummas — Seol-hee, Hwa-ja, Su-in, and Random Guitarist — are really just rocking out in their practice space, albeit with as much enthusiasm as if they were onstage. At least until their lights are cut and the manager of the space reminds them that their time is over.
Seol-hee changes from her casual practice clothes to her chic designer outfit, which is how she always appears to the outside world. She goes to her fancy spa and is given a special presentation, along with ever-present Mother-in-law, of designer gowns to wear that night.
The overarching theme in this mother-daughter-in-law relationship is barely concealed disdain on Mom's part, and quiet obedience on Seol-hee's. For instance, Mom dictates how Seol-hee must behave among husband Ji-wook's crowd, which is mainly to shut up and look pretty.
After losing the pregnancy that precipitated the marriage, Seol-hee hasn't been pregnant again and the Cha family tolerates her only as the mother of the next generation. (Lovely Mom-in-law says this directly to Seol-hee's face, that she's essentially only good for her womb. How sweet.) The truth is that her husband hasn't slept with her in ages, but Ji-wook wouldn't admit this to his family and therefore everyone blames the wife for not conceiving. Now Mommie Dearest has steered Seol-hee toward fertility treatments.
(These treatments are one source of friction between Seol-hee and her sister Jae-hee, who is a doctor. Jae-hee is offended because fertility treatments are for women who truly need them, and shouldn't be wasted just because Big Sis got stuck in a bad marriage.)
It's a big night for Ji-wook, who is being made partner at his firm. He gives a witty speech that includes words of praise for his beautiful wife, which is all for show. As soon as that's over, he mutters for her to stay on the sidelines and make a quiet exit. Seol-hee does as ordered, keeping up appearances of being a gracious wife, but you see that on the inside she's dying a little at the strain of this constant performance.
On her way out, she notices Ji-wook chatting it up with another woman (girlfriend Seung-hye), which strikes her as noteworthy. She escapes to the bathroom for some time alone and overhears office secretaries trading stories about how Seol-hee wormed her way into the marriage by getting herself knocked up. To their shock (and fear), Seol-hee bursts out to confront the gossips… but merely confirms that it's all true. She holds her head up high, affecting a "So what? I have nothing to be ashamed of" attitude, but we can see that it hurts.
She seeks comfort in that age-old Korean remedy: alcohol and karaoke. Hwa-ja joins her in a high-end club, knowing Seol-hee must be feeling depressed despite denials from her friend.
It's with particular interest that they notice the club singer, because she's an old frenemy. RAN-HEE (Go Eun-mi) was a onetime rival of Seol-hee's in high school who became a pop singer, but these days is struggling to remain relevant. She harbors acute jealousy of Seol-hee that the latter doesn't reciprocate, and is mortified to be caught performing here.
Alas, some drunken clubgoers take an interest in the once-famous singer and forcibly drag Ran-hee to their room to have a drink, treating her like a low-rent bar hostess. Seeing that nobody will intervene, Seol-hee hikes up her dress, clenches her fists, and storms in to challenge the creeps. It's here that we see that she's got a lot of spirit, if only when she's out of the orbit of her oppressive in-laws.
The fight lands her and Hwa-ja in jail for the night, and their respective husbands are called to bail them out. Ji-wook is NOT happy about this.
After delivering a set-down for his wife's untoward behavior, Ji-wook heads off to his officetel, which has ostensibly been set up to provide him with a working studio close to his real office but is actually more like an apartment away from home. Thus he can leave the wife alone in the grand mansion with in-laws who hate her, and seek refuge in his own little haven where he can have dates with his girlfriend.
Our drama's inciting incident comes in the form of a sick sister, whom Seol-hee doesn't know is sick until she collapses. Jae-hee has bone cancer and is in need of a marrow transplant. She kept this news to herself, which further hurts Seol-hee's feelings, but Jae-hee answers, "Is that important? The only thing that's important right now is that both of our lives are miserable." Ouch — that's both depressing and true.
Seol-hee delivers this news to Hateful Mom, who at least has the decency to look shocked and express her regrets. However, this decency ends there, because she responds to Seol-hee's wish to get tested for marrow donation with a categorical NO. She's undergoing fertility treatments — how can she compromise her health for the sake of her sister? Seol-hee's body no longer became her own when she married into this family — therefore she will stay out of this and wait for some other donor come forward. End. Of. Story.
Seol-hee begs her husband to persuade his mother, but he also puts his foot down and tells her to abide by his mother's wishes. He won't even listen to her pleas, not even when she points out that he's the reason she isn't pregnant. He says coldly, "Is your sister all that's important? What about my family?" Annnnnd that's him in a nutshell. They're really not going for any sympathy, are they?
This is a blow, because no matter how much abuse she endures at the hands of his family, she thought her husband would see her side. Instead, he points out that she chose this path so she'd better stick with all it entails. Like letting a sister die so she can supposedly increase the fertility that isn't even a real problem.
Audio clip: Adobe Flash Player (version 9 or above) is required to play this audio clip. Download the latest version here. You also need to have JavaScript enabled in your browser.
I like how the drama intersperses musical segments — they serve double-duty as symbolic representations of Seol-hee's feelings, as this lone guitar performance does. As she thinks things over, the song closes with the lyrics, "In the end, the one I hated… was myself."
And so, she makes up her mind. She gets tested anyway and finds that she's a likely match. Recognizing that the Cha family will never change, she addresses her father-in-law (who is the most kind of the bunch), telling him respectfully and regretfully that she is sorry, but "I will divorce."
(These song rips come from the episodes themselves, so they're not perfect. But they give you an idea of the Madonna Band's music. Here's their rendition of Killing Me Softly.)
Audio clip: Adobe Flash Player (version 9 or above) is required to play this audio clip. Download the latest version here. You also need to have JavaScript enabled in your browser.
Seol-hee's announcement is shocking, to say the least, and Dad steps in to take charge. He agrees that Mom was too harsh in preventing the bone marrow transplant and tells Ji-wook to smooth things over with his wife.
Ji-wook doesn't believe she'll actually go through with it and thinks she's being dramatic to get her way. He refuses to let her go — he may not love her, or even like her, but there is NO WAY he will stand for his divorce. It's telling that as he's railing against her, Ji-wook's big complaint is How dare you do this to my pride?
Seol-hee requests an amicable divorce, but if he refuses, she will sue for one instead. He scoffs, because there's no way her lawyers are going to stand up against his, but she insists she doesn't need anyone. She'll represent herself.
Seol-hee moves out and gets to work researching divorce suits. She studies at the library and sits in on a divorce trial, which is (coincidentally) being defended by Seung-hye. As Seol-hee takes notes, she notices her husband dropping in at the last moment and trading a flirty look with Seung-hye, which again pings her adultery radar.
I'm sure this relationship is bound to get messy because — look, what coincidence! — Seung-hye's ex-husband happens to be Tae-hyun. The musician who rejected Su-in's band. Also Seol-hee's unrequited first love.
Tae-hyun has custody of their young son Nuri, because Seung-hye is very busy with her career. However, when Nuri falls ill while in the hands of a babysitter, she threatens to take back custody if he doesn't start caring for him better.
Tae-hyun may be curt with everyone else but he's a doting daddy, and he has a great relationship with his son.
The sisters go through with the marrow transplant, and now that Sister Plot-Device has fulfilled her duty, she is off to the States for recuperation. Normally I'd feel the cancer bit was a big fat cliche but since it's used as the catalyst (and not a big angsty hurdle later), I'm okay letting it slide.
Seol-hee is staying with Jae-hee for the time being, but hasn't told her friends about the divorce. She does, however, gain a new spring in her step — she's well on her way to getting her groove back. She even suggests taking up Hwa-ja's proposal to try a live performance. The others jump at the chance and get ready to rock out.
Their guitarist can't make it so Su-in brings a substitute, which is how we meet AH-REUM (Juni). Ah-reum is not excited to be working with such ajummas and very reluctantly goes along. This is waaaaay uncool for her.
When they get to the venue, to their shock it's full of old people. Here they are wearing their shredded jeans and gold lamé, and they're supposed to perform to grannies in parachute pants? No way. Nuh-uh. Oh hayell no. Like these old folks would even know what to do with rock songs.
Seol-hee decides to make the best of it, and quickly alters a song to be more appropriate for their crowd. When they take the stage, the song they play is a trot tune (popular with the seniors!) rejiggered in their rock sensibility.
Audio clip: Adobe Flash Player (version 9 or above) is required to play this audio clip. Download the latest version here. You also need to have JavaScript enabled in your browser.
The result is part rock, part ska, part old-people-love-it! The crowd enjoys the performance, and so do the ladies — even the young Ah-reum, who can't help getting caught up in the enthusiasm. This may not be on par with the glory of their younger days, but they bask in the moment.
Su-in's band has been given the dictate by Su-in's boss to perform covers of old songs, and this, to them, is a fate worse than death. It's a death of street cred, for sure. The band is still in its pre-debut stages and is playing small gigs, since an official debut requires tons of money and resources — photo shoots, television appearances, recording sessions, all of which they can't afford yet. Su-in hates the idea of forcing the boys to play stuff they hate, but her boss overrules her.
So the boys run away. They go to Tae-hyun and beg him to teach them how to be better, and can I say this scene is worth it purely for the look on little Nuri's face when he exchanges grimaces with a band member. Priceless!
This is devastating for Su-in, who has poured everything into this band and is SOL without them. All the time, effort, and money invested into them all this while has essentially been a waste. When she finally finds out where they ended up, she storms in on their practice space to confront Tae-hyun, whom she regards as a poacher.
The band cowers to be confronted with the manager they betrayed, but Tae-hyun maintains his maddening coolness with Su-in and talks down to her.
Seol-hee — who has proven her inability to stand idly by when someone is being mistreated — steps in. Glaring, she accuses him of ruining someone's livelihood in one fell swoop. He asks who she is, and she declares, "Me? I was the person who was your fan until five minutes ago!" She adds in a mutter, "You're just as arrogant as you were in the past."
Seol-hee turns her indignation to the kids in the band, telling them they ought to learn some loyalty. She assures Su-in that she doesn't need such losers, then storms out. This diatribe piques Tae-hyun's interest, particularly the part where she implies she knew him in the past.
Seol-hee gets to work building her divorce case, having served her husband with the official complaint. She researches on her own, and all the while her husband's people are sneaking around taking photos of her for his case. She's aware of this, and even tells one to stop sneaking behind her back — he ought to do it to her face like a man. Haha!
Ji-wook is now faced with the prospect of going to court, but he is resolute in his refusal to divorce. This may seem needlessly stubborn, but it turns out that he harbors political aspirations, and while a divorce wouldn't be such a setback to a mere lawyer, it becomes a significant obstacle to a politician. He asks Seung-hye for her help and she steps up, although she shrewdly notes that perhaps his attachment to the married condition isn't just about his career, but his pride in the fairy tale he has built for himself. He's noted for having perfected the marriage-love-family balance, and it would be a big blow to his pride to admit he was a failure.
And then, it's court day. The two spouses run into each other in front of the courthouse, and brace themselves before beginning battle.

COMMENTS
Prior to the premiere, the biggest question mark in my mind about I Am Legend was the tone — would it be silly? Light and frothy? Riddled with makjang excess? The plot left it open to go in a number of directions, so I was preparing myself for the possibility that it might go off in ways I might not like.
Instead, it was more dramatic than I had thought, but in a good way. Not dramatic as in Big and Grandiose, but sprinkled with understated little moments where we see into Seol-hee's melancholy and isolation. There's room for humor, but the first two episodes are busy setting up our premise so they center more around Seol-hee's decision to pursue her own life rather than comic beats. I anticipate that the lighthearted feel will grow in upcoming episodes.
The drama has done a solid job of establishing Seol-hee's situation in a sympathetic way — we see that she is partly responsible for entering a marriage with naive expectations, but we feel for this prison she's made of her life. The flashes of personality show that she's got life left in her — the fact that she even keeps up the band is a pretty big clue — and she's never so happy as she is when she's with her friends and being herself.
It's a trite message, but such a true one that many can identify with. Who else has found her(him)self in a life different from early expectations? Who else finds it difficult to break free of the cycle and make big decisions? I think the drama — and Kim Jung-eun — does a good job giving us an underdog to root for. And as her song so keenly notes, Seol-hee doesn't blame others for her miserable life, she hates herself most of all for letting things come to this.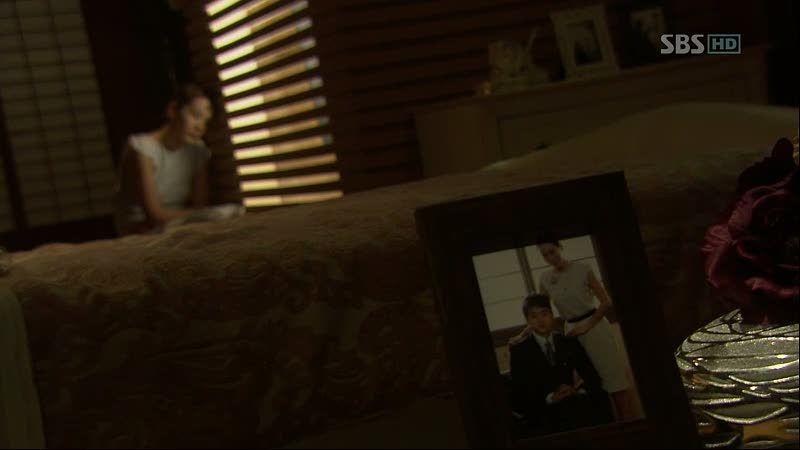 You know, as much as I was excited when Kim Sun-ah was chosen for this role, I think I like Kim Jung-eun as much if not better. Reason being: Kim Sun-ah has such a strong offscreen image that we all know she'd kick ass as the rocker chick. But even with her acting talents, even if she played the part of the submissive daughter-in-law perfectly, I'd always know that she was just itching to burst free and unleash her fierceness on the hated in-laws.
Then take Kim Jung-eun, who I think portrays Seol-hee's vulnerability and insecurity just right. She's always been a great crier, and again displays a lot of range within the tears — there are actresses who should take note, who seem to think that eking out a few tears is a sufficient way to cry onscreen. With Kim Jung-eun, you can believe that she married too fast and got herself in over her head and now feels sorta lost, as though wondering how things ended up like this. She tries to console herself with the perks that come with this persona, but they're not enough to compensate for the reality.
Therefore when she takes life into her own hands and belts out a strong chorus of "Killing Me Softly," it feels like she means it. I love that she sings the song (as pictured below) with tears in her eyes.
After she leaves, we see that Seol-hee gains confidence, which is what she used to be like in high school. There's a running motif that she captures men's attention as the New (er, Old) Seol-hee, and that confidence is also what captures Tae-hyun's attention. It's not purely about looks, but about aura, energy, and charisma. Shrinking Seol-hee doesn't have it, but Singer Seol-hee oozes it.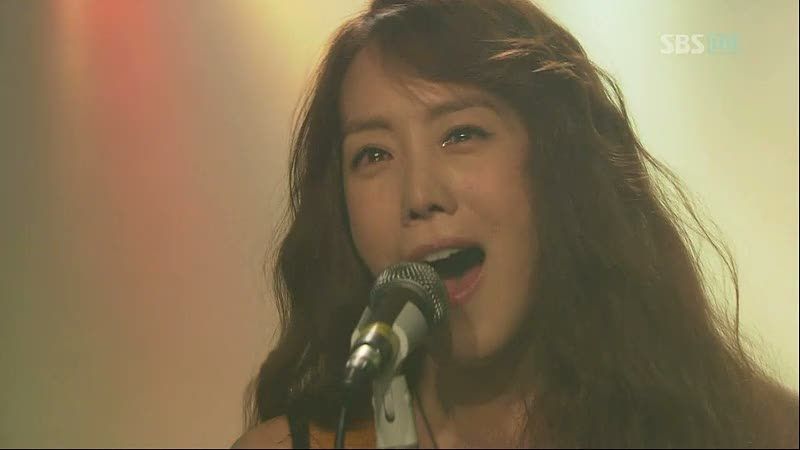 I like that the upbeat feel incorporates humor but isn't driven by jokes (except for the over-the-top Hong Ji-min as Hwa-ja, who is seriously grating. I get that she's the loopy funny one in a group of straight (wo)men, so I cut the drama some slack for giving her the room to be outrageous, but she could dial it down, is all I'm sayin'.)
As for the music… (Here's the song that opens the series.)
Audio clip: Adobe Flash Player (version 9 or above) is required to play this audio clip. Download the latest version here. You also need to have JavaScript enabled in your browser.
The music is okay. None of the songs have been particularly great, although the one that ends Episode 2 did catch my attention. Given how the drama has emphasized that the actresses are performing live, however, I'm fine cutting them some slack for sounding raw, because that fits the story. Kim doesn't have the best singing voice, but I think it suits rock music better than pop, and as the frontwoman, her performance is just as much about energy, charisma, and personality as it is about her voice. (Thankfully, Hong Ji-min and Juni are both strong singers, so they bolster the band.)
Edit: Oops, I forgot to add an explanation of the title, which might be helpful to some. I'd mentioned it in earlier posts but left it out here: The Korean word for "legend" (jeon-seol) sounds similar to the main character's name (Jeon Seol-hee) so it's a way of being cute with the almost-pun. Seol-hee is described as being "legendary" among the youngsters in high school, although we see much of that attitude has been stripped away over the years. She'll regain it, I presume, over the course of the drama.
The verdict?
I liked it. I didn't love it, but I enjoyed it enough to be onboard for more. I won't be recapping any more episodes, but never fear! Kaedejun will be stepping in starting with the next episode, and since she did such a fantastic job with IRIS and Prosecutor Princess, I have no doubts she'll do a fabulous job with I Am Legend.
RELATED POSTS
Tags: first episodes, Hong Ji-min, I Am Legend, Jang Shin-young, Juni, Kim Jung-eun, Kim Seung-soo, Lee Jun-hyuk