Indie band Bye Bye Sea in Playful Kiss
After just finishing a guest spot on I Am Legend, indie band Bye Bye Sea [안녕바다] has been cast in the upcoming drama Playful Kiss, where they will play classmates to Jung So-min and Lee Tae-sung's characters in the third-rate class full of delinquents.
Playful Kiss director Hwang In-roi was working on the music selection for the drama, when an acquaintance introduced him to Bye Bye Sea. He met with them and loved their unique tone and energy so much that he cast them on the spot.

Bye Bye Sea (안녕바다) – "내 맘이 말을 해" (My heart speaks). Both songs are reposted from previous entries. [ Download ]
Audio clip: Adobe Flash Player (version 9 or above) is required to play this audio clip. Download the latest version here. You also need to have JavaScript enabled in your browser.
Bye Bye Sea (안녕바다) – "별 빛이 내린다" (Starlight falls). [ Download ]
Audio clip: Adobe Flash Player (version 9 or above) is required to play this audio clip. Download the latest version here. You also need to have JavaScript enabled in your browser.

Bye Bye Sea has inhabited the indie scene for a few years, but popped onto people's radars with the release of their first mini album in December of last year. They played a great band-in-training on SBS's I Am Legend, but this time they'll get to stretch their acting abilities, playing something other than a version of their own band.
Members Namu (vocal, guitar), Joon-hyuk (drums), Myung-jae (bass), and Dae-hyun (programming, keyboard) will hopefully get to have some fun and give some attitude as the slacker contingent in the high school's last-place classroom.
The unorthodox method of casting turned a lot of heads in the industry, but once the guys got on set for the poster shoot and the drama, everyone praised Director Hwang for finding such untainted actors with fresh charm. Here's hoping that Hwang's deft hand as a director can mold ALL of the cast, and that he makes good use of quirky side characters like these.
Production is full steam ahead on the drama, and it airs September 1 on MBC.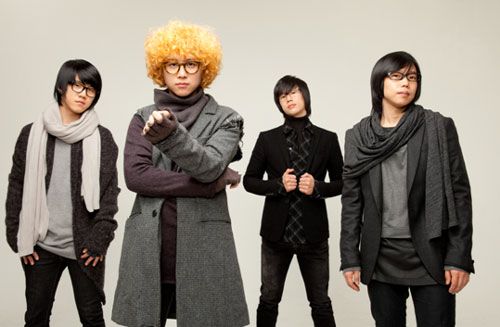 Via Mk.co.kr
RELATED POSTS
Tags: I Am Legend, Playful Kiss