Lee Tae-sung and the boys in Playful Kiss
No guilty panties this time around, but there are some funky hairdos in these latest Playful Kiss promo photos. I know I've poked fun at Lee Tae-sung's coif before, but I'll hand it to him: As long as he's wearing it, at least he's workin' it.
Lee plays Bong Jun-gu, a simple-hearted guy who is loyal to main character Ha-ni (Jung So-min). As he's from the south, he'll employ a saturi accent, which is always a challenging prospect for an actor. Saturi from the Gyeongsang region, which is what his character speaks, is generally considered one of the more difficult types. To get as authentic and natural an accent as possible, Lee sought out actor Hwang Jung-min and Simon D of the group Supreme Team for help. He found it akin to learning a foreign language, but pledged that when Playful Kiss airs in September, he'll be ready.
The character has a free-spirited and sly personality, which differs from Lee's own quiet, calm one. He called his current character work "a new discovery of the Bong Jun-gu inside me."
Playful Kiss premieres on September 1, following Road No. 1.
As for the photo below… let's just say I half-expect the boys to bust out with snaps and twirls, singing, "Just play it cool boy… Crazy! Cool! Go! Go!"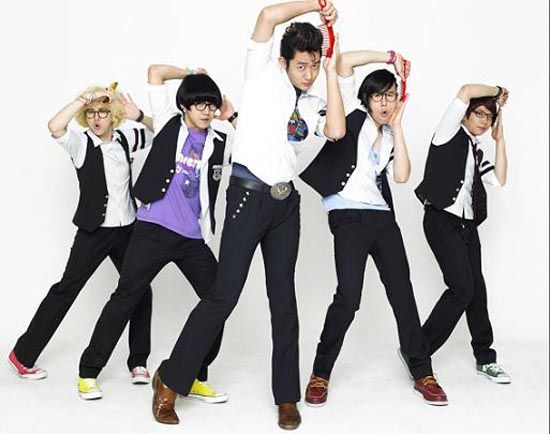 Via Sports Chosun
RELATED POSTS
Tags: Lee Tae-sung, Playful Kiss