My Girlfriend Is a Gumiho: Episode 5
I love a drama that makes use of nice, tight mythology. Even better, I love it when a drama using mythology ups the ante midway through and modifies the rules, keeping us on our toes.
This week brings a couple of familiar faces to My Girlfriend Is a Gumiho, with You're Beautiful alumnae UEE and Park Shin-hye making cameos. UEE's comes in this episode, while Park's is slated for tomorrow's Episode 6.
SONG OF THE DAY
Shin Mina – "Sha la la" from the My Girlfriend Is a Gumiho OST. You may recall that Shin Mina has sung before, such as this collaboration with rock duo Loveholics for "Miracle Blue." [ Download ]
Audio clip: Adobe Flash Player (version 9 or above) is required to play this audio clip. Download the latest version here. You also need to have JavaScript enabled in your browser.

EPISODE 5 RECAP
Dae-woong doesn't immediately realize that Mi-ho is gone for good, thinking that perhaps she's out scavenging from trash cans. But his suspicions grow, particularly upon seeing the beef still untouched.
Slowly his memory trickles back of seeing Mi-ho last night while he was drunk. However, he doesn't remember the part when he asked her to leave. When he drops a heavy bag on his foot, he wonders why it hurts so much if he's got the bead's protection. Does this mean it's gone? Does that mean Mi-ho is gone, too?
He rushes outside to look for Mi-ho, but finds no trace of her. Dae-woong comes back inside with slumped posture, looking disappointed, almost like he's going to burst into tears…
…of joy. He exults, "The gumiho has finally left me!" He basks in his newfound freedom.
Hurriedly, he packs his things — he doesn't want to press his luck in case she decides to come back. In the process, he discovers Mi-ho's hidden stash of chicken coupons, just one short of the 10 needed. He's unexpectedly touched by the gesture, then shakes himself out of it and heads off. He doesn't see Mi-ho watching his departure, noting, "Dae-woong looks thrilled. Tch! Isn't he overly pleased that I'm gone?"
Suddenly, rain falls despite clear skies, and that stops him in his tracks, making him think of Mi-ho… except it's just a man washing his car. HAHA.
Still watching, Mi-ho says, "Woong, goodbye." For a brief moment, more water sprays on Dae-woong, and he turns to complain to the car-washer — but there's nobody there.
Dae-woong can't shake this unsettled feeling, even though he acts like he's perfectly happy. For instance, he tells Grandpa that since Mi-ho left of her own accord, he has done nothing wrong. Grandpa is dismayed at the news, because he credits Mi-ho with turning Dae-woong into a mature adult.
Dae-woong tries to relax in his room, but he's bothered by this unease that he can't quite understand. He describes the feeling as "empty and uncomfortable," but as he's still in denial that he might actually miss Mi-ho, he finds this mighty perplexing.
Hye-in is gratified that Dae-woong comes running when she calls. She advises him not to get involved with Mi-ho even if she returns, and is pleased at his answer that he doesn't know where she went or how to reach her.
However, her smile fades as he continues complaining that it was rude of Mi-ho to leave without saying anything — shrewdly, she asks if he's sad that Mi-ho's gone. He insists that he's thrilled, but somehow he's not quite convincing.
Mi-ho has found her way to the university, where she lurks out of sight of humans and empties the vending machine of cider cans ("cider" is a false cognate, and in Korean it means lemon-lime soda similar to Sprite).
Now that she has her fox bead back, her heightened powers are also back, meaning she can move superfast, glide in the air, and basically terrify the students who come across her in darkened corners of the university like something out of The Ring.
For example, a student (UEE, in a cameo) paints in an art studio, not noticing Mi-ho's darkened figure gliding by in the dark. A plaster bust is knocked to the ground, splattering the ground with red paint and making the students gasp in horror.
The purpose of this visit becomes clear when the students take a snack break and reach for their hamburgers… which are now missing their meat layer. HAHA.
Outside, Mi-ho happily munches on stolen burger patties. Yet when she sees an ominous-looking figure approaching — Dong-joo — she runs away.
He catches up to her, and a well-placed jab knocks her unconscious. Not only that, it propels the fox bead out of her body, and Dong-joo grabs it.
Unaware of all this, Dae-woong goes out for a drink with his friends to celebrate his movie role. However, the smile leaves his face when Byung-soo asks if Mi-ho knows the good news. They urge him to invite her over, so he retorts in frustration, "Even if I wanted to, I can't!"
That night, Dae-woong drops by the action school looking for Mi-ho, carrying some beer, hoping that she might have come back. He tries to convince himself that he's glad she's not here, then sits outside to drink the beer alone while wondering what made her leave.
He starts to sing a song, making up the lyrics as he goes: "Mysterious Mi-ho, Mi-ho, Mi-ho… My friend Mi-ho, the cute — the scary gumiho… Hoi-hoi… The gumiho is my friend…. Hoi-hoi… Mi-ho is my scary friend."
It's so cute and sad.
Dong-joo has taken Mi-ho to his apartment, where he presents her with two vials: her bead in one, his blood in the other. Contrary to her belief, he wasn't out to kill her; he merely wanted to take her bead for safekeeping to prevent her from causing trouble. He points out that she's been terrorizing students and stealing their food — "Aren't you ashamed?"
Dong-joo guesses that Dae-woong rejected her request to help her become human. She admits that she didn't even have a chance to bring it up: "Dae-woong said I was his friend, but he must really have hated me for being a gumiho. He asked me to disappear."
He asks if she has given up on her desire to become human. She hasn't decided yet.
Dong-joo lays out her two options: fox bead versus his blood. Or, put another way, a blue pill vial and a red one. (This cracks me up so hard. Trust the Hong sisters to turn an important plot point into a pop-culture parody moment.)
Drinking from the red vial represents choosing the human path, because his blood has the power to kill her gumiho side. If she takes the blue vial, she's reclaiming her fox bead and must return to her temple. He gives her time to think it over, allowing her to stay in his place for the time being.
Dae-woong signs his film contract, which in turn earns him talent agency interest (via Hye-in's own manager). (Trivia! The agency name — Dodo — was also the name of Uhm Tae-woong's company in Delightful Girl Chun-hyang.)
Riding high on this upswing in events, Dae-woong's already halfway back to his spendthrift ways. He won't be making tons on this movie, but he calls his salary "spending cash" and is confident Dear Grandpa will buy him a new car.
An almost-collision with a motorcyclist sends Dae-woong to the doctor with minor scrapes, but the doctor can tell from his X-rays that he was recently in a huge accident. Although he has healed, he is advised to take it easy for the sake of his weak bones.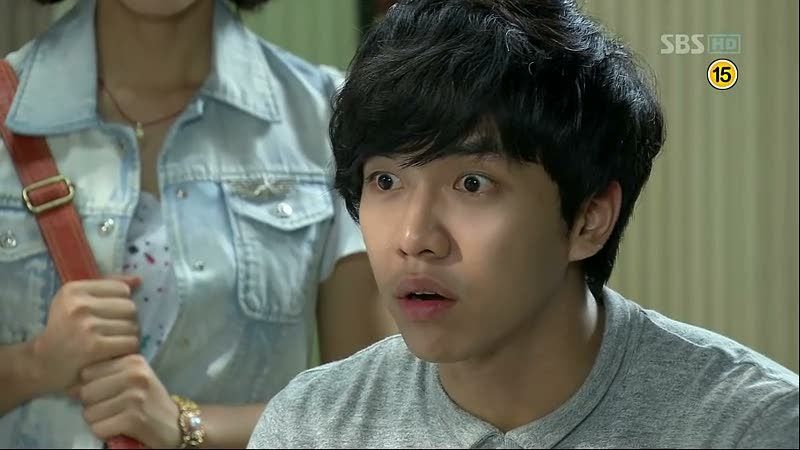 Dae-woong is relieved to be given the okay to film a movie — "unless it's a very demanding action movie." If he injures himself in this condition, he might find himself unable to walk.
Dae-woong wants to protest, but that's a pretty dire prognosis. Loath to give up the movie, Dae-woong mumbles that the bead had previously kept him healthy, and now he realizes, "I need Mi-ho with me."
Dong-joo watches soccer on television, saying that the game explains all about human nature, so Mi-ho settles down to "study" alongside him. He says that when it's World Cup time, the whole world watches that ball being kicked around. To which Mi-ho giggles to herself, exclaiming, "Wow, then it would be such a blast to pop that ball!" Seeing his expression, she adds, "But I won't."
(I LOVE HER.)
TV programming turns into drama hour, and Mi-ho is perplexed by the plot: "Why does that old woman keep yelling at that young woman?" Dong-joo's explanation? "That's a mother- and daughter-in-law. That's just what they do."
When a couple starts getting amorous onscreen, Dong-joo looks over at Mi-ho, waiting for her to ask about it. With a knowing smile, she tells him, "I know what that is. They're mating." He gives a little uncomfortable cough and changes the channel.
The next program — a report from a cattle farm — reminds Mi-ho that she's hungry, and she starts to cast longing looks in Dong-joo's direction. She whines plaintively, "I want to eat meat." Alas, he's immune to her attempt to manipulate him.
She goes out to eat some cow, and packs away ten servings. She doesn't have any money to pay for it, though, and tells the restaurant owner, "Since I ate like a human, I'll cover the cost like a human." Which means… washing the dishes.
She's so fast and thorough that the owner is impressed, and offers her a job. She turns him down, because she's not ready to make connections or "belong" to any affiliation. As a gumiho, she's may get to live in the world, but can't be connected to it.
With her meat craving satisfied, time for some cider! She faces off against a vending machine, and announces, "I could just hit you and make you throw up the bubbly water, but I'm going to settle this like a human." Which to her means lifting up the machine with her superstrength to retrieve the coins underneath.
The catch? She has been seen by two little girls, who stare in amazement. Mi-ho decides she'll have to settle this matter like a human, and hands them one of her coins. She understands enough to know that being human = paying people off. (I love when the Hong sisters get sharply satirical.)
She's proud of herself for pulling off the human act successfully, but as she contemplates the red vial, she says that being truly human would be even better. Looking around at the families and couples at the park, she decides that she'll have someone with her, too (as in, someone to "belong" to): "It would have been nice if it were Dae-woong."
Dae-woong returns to the action school loft to search for clues about Mi-ho's whereabouts, but the only thing he finds are the chicken coupons. Disappointed, he sighs, "Gu Mi-ho, how could you leave like that? After I called you my friend…"
That word — "friend" — finally triggers his memory, and now he remembers his drunken request. With shock, Dae-woong realizes that she left because he asked her to.
Taking a cue from her movie studies, Min-sook tries the femme fatale look and dresses in black leather to invite Doo-hong to lunch. A clumsy step sends her toppling over into a statue… leaving a pink lipstick kiss on the statue's ass. Wildly, she tries to wipe it off, just as Doo-hong comes upon her. Awkward!
She insists she's not some weird pervert who goes around kissing the butts of statues. I do think these aunt-director scenes could veer on tiresome, but the reason I don't mind (thus far) is because I find the twisted gallantry so very amusing. Case in point: Doo-hong sees how embarrassed she is, and offers to solve the problem himself. Removing a medicated patch from his arm, he transfers it to the statue to cover up the stain.
This gives Min-sook the courage to drop some hints, and when she catches wind of Doo-hong's "You're too refined for me" sense of inferiority, she hastens to assure him that she likes rough, unrefined things. She's not an Audrey Hepburn, as he believes, but a tougher Angelina Jolie type.
Screwing up the nerve, she invites him to lunch with her, but Doo-hong resists, still believing her to be married. With a parting metaphor about how Angelina Jolie has Brad Pitt and how he doesn't romance women who are taken, he leaves.
Dae-woong finds him in his office to ask about the filming schedule, trying to figure out if there's a way he can shoot his scenes last so that he doesn't have to quit. Seeing the director's grim reaction, he retracts his request, and is instructed to show up to action school tomorrow for "bone-crushing training sessions."
Doo-hong also sends Dae-woong off to scrub the lipstick from the statue, adding that his aunt may be embarrassed so he'd better keep it a secret from his uncle. At that, Dae-woong is confused, saying he doesn't have an uncle; Aunt Min-sook isn't married.
This gives Doo-hong a jolt, both of hope and of dismay at having mucked things up with his misunderstanding. Meanwhile, Min-sook drives away crying the makeup off her face, hurt at this perceived rejection.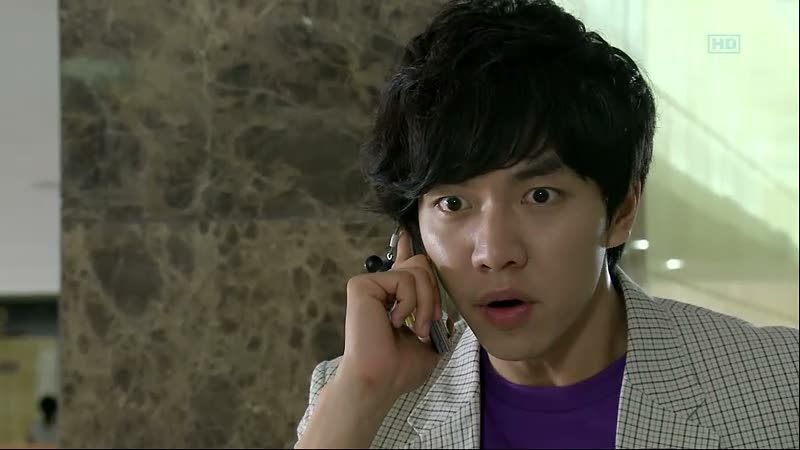 Trying to locate Mi-ho, Dae-woong tries calling the temple to inquire if the missing fox from the painting has shown up. Belatedly, he recalls that Mi-ho once left him a voicemail message, and calls the number. It is answered by the lady who owns the chicken restaurant, with whom Mi-ho had once gotten into a fight over the coupons.
Mi-ho finds a tenth coupon and takes it back to the action school loft, adding it to Dae-woong's stash. Glumly, she figures he won't come back here anymore, and says, "I really, really miss Dae-woong." She thinks to herself, as though addressing him:
Mi-ho: "I can see really far and hear very well, but since I can't see or hear you, you must really be far away. I've been living for so long that I didn't know how time flowed, but after I met you my heart began to tell time. While I was with you, I would think, 'Just a little longer' while the time passed really quickly. But without you, time goes so slowly as I think, 'I miss you.' You know what, Dae-woong? It feels like my heart has been bewitched by you and counts time all on its own."
As she thinks this, Dae-woong races back toward the loft, ostensibly having spoken to the chicken lady. As Dae-woong arrives in the neighborhood and runs toward her, she catches his scent and cheers up, exclaiming, "Dae-woong is coming toward me!"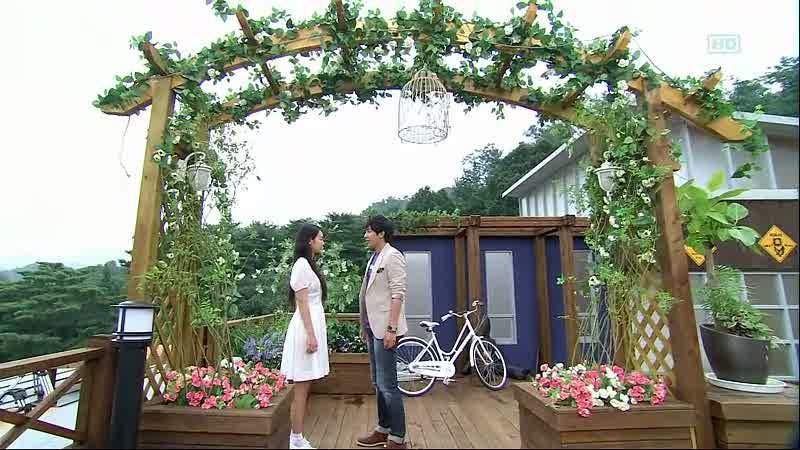 It's really quite adorable how happy both of them look when they finally meet again. Dae-woong in particular — he may make up excuses for himself, but in this moment he's just happy. Mi-ho asks hopefully, "Were you looking for me?" She loves hearing him answer yes.
Dae-woong first says that her departure left him really sad, but she points out that he was really happy when she left. He admits that yes, he was happy at first, "But it was for a really short while." He starts laying it on thick, saying that he felt really empty after she left.
We know he's buttering her up because he needs her bead, but Mi-ho takes him at face value and her face lights up. Even so, it's worth pointing out that everything he's telling her — which he thinks he's saying just for Mi-ho's benefit — was actually stuff he honestly felt.
Plus, it's interesting that he's abashed when she catches on to the fact that he had come here repeatedly looking for her — he can deal with faking affection, it seems, but is uncomfortable confronted with evidence of real affection.
Mi-ho takes this moment to work up the nerve to ask how he'd feel about holding on to her bead for just a little longer. Not knowing that this is exactly the goal he's angling after, Dae-woong eagerly agrees.
I LOVE THIS. She thinks she's tricking him into holding on to the bead so she can become human, and he thinks he's tricking her into letting him have the bead so he can do his movie. They both are using each other, feeling guilty, growing more attached to each other… IT'S FANTASTIC.
The bead is with Dong-joo, so Mi-ho has to retrieve it from his apartment. While she does that, Dae-woong goes back home to pack his things now that he'll be moving back into the loft.
I generally don't feel sorry for the Gumiho Hunter, but there's a moment that hints at greater angst to come when Dong-joo cooks meat for Mi-ho, against his better judgment — he's vegetarian — and notes that it's been an awful long time since he has waited for someone. His smile fades when Mi-ho bursts in excitedly and tells him that Dae-woong came back.
Grandpa is thrilled to have Dae-woong move out, as this is the first time Dae-woong is leaving home with the intention of working hard instead of running away from problems. Grandpa tells Min-sook to take Dae-woong to the action school, but she's nursing her wounded pride (and about a gallon of ice cream) and refuses.
Belatedly, Dae-woong recalls that he has dinner plans with Hye-in, who is looking forward to having his attention firmly fixed back on her. Of course you are, Princess. Before the meeting, he goes shopping for couple rings, eager to clear the air and make his intentions clear with Hye-in.
And how much do I love that on his way out, he's distracted by a huge stuffed toy of an oversized chicken leg? He comments that "It's just Mi-ho's style" and, deciding he's in a generous mood, buys it too.
Hye-in hears from Sun-nyeo about his medical issues and calls in a tizzy. He assures her that things will work out and reaches for the rings to make his big declaration. However, she's too wrapped up in what this means for HER HER HER, and cries that she recommended him to her agency. If he can't act in the movie, she'll be made a fool! She's still a rookie actress and can't afford to have people thinking she lied to her agency on behalf of her boyfriend.
Dae-woong deflates. Disillusionment running through his voice, he tells her that he will make sure she isn't misunderstood about lying on his behalf or him being her boyfriend. He puts the ring box away.
Trudging back home in dejected spirits, he sighs, "I didn't mean to lie to noona. The one I was meaning to lie to was Mi-ho."
At the Gumiho Hunter's lair, Mi-ho has made her decision. She'll choose the red vial: humanity. Dong-joo asks what she'll do if Dae-woong runs to another woman during the 100 days he has to keep her bead, to which Mi-ho answers that she trusts him. Dong-joo tells her that the woman she resembles also answered in that way: "She wanted to become human and loved a man, but in the end she was betrayed by him and disappeared without a trace. Can you die like that, too? Can you really endure death?"
Mi-ho nods.
Dong-joo accepts her decision, but leaves her with one bit of advice: Don't tell Dae-woong she is trying to become human. She'll need to keep a little fear in him to prevent him from running away too readily.
So here are his instructions: When she drinks his blood, she will start to die, gradually. Her gumiho energy will slowly empty away while her bead will live in the human for 100 days and take in his energy. When she reclaims her bead, she will become human.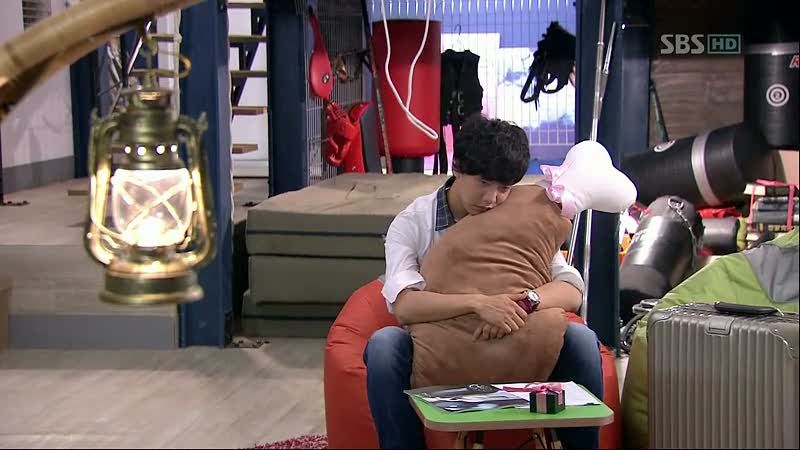 Dae-woong waits up for Mi-ho, hugging his chicken leg. Omg, if the Hong Sisters give it a ridiculously cute name I am their bitch forever. Oh, what am I saying, I already am.
He finds Mi-ho outside, contemplating her vial, and she confirms that he is willing to keep her bead again. He eagerly agrees, but she warns him that while he carries her bead, he can't run far away. He can't share his ki with another woman, and he has to stay with her for 100 days. He can't quit midway through, either.
Now that alarms him; 100 days is too long! She's not even his girlfriend — it'll look weird.
The solution seems simple enough to Mi-ho: "Then I'll be your girlfriend!" There's something very cute and absurd about the way she pouts, "Dae-woong, let me be your girlfriend~~"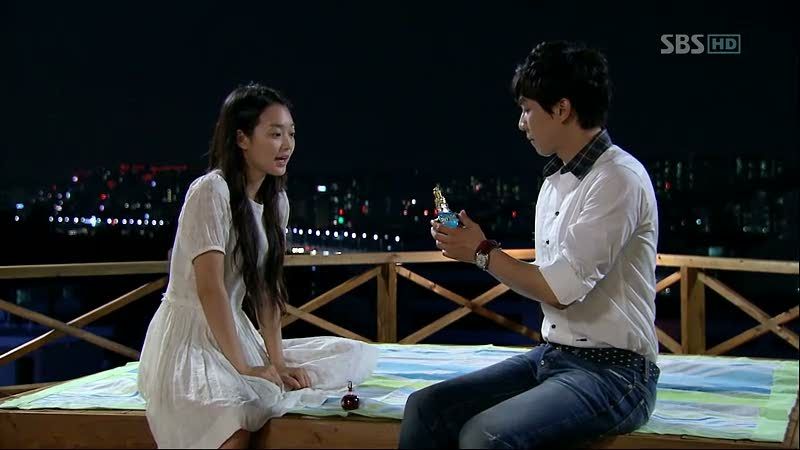 He refuses and storms back inside, freaked out at the thought of being a gumiho's boyfriend.
His reaction tells her he isn't ready, and Mi-ho realizes that he won't do it after all. Mi-ho tells him sadly, "I'll leave. I'll go back to where I used to be. If I leave this time, I won't be able to come out into the world again. I won't come to you anymore."
Faced with the other extreme, Dae-woong feels another pang — that means he won't be able to see her again? And she's leaving now?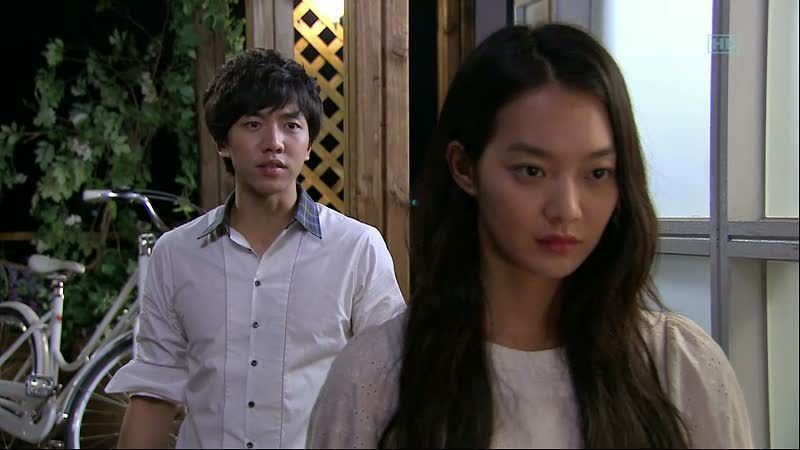 Conflicted, Dae-woong tells her that she misunderstands one thing — he lied to her, and the reason he was looking for her was because of her bead, not her. "Can you still give me your bead?"
Mi-ho nods, but oddly, that doesn't make him feel any better. He prods, "Don't you even feel bad?" She answers that although it would be nicer if he needed her, her bead is still one part of her. Plus, if he needs her bead so much, he won't leave her while he has it.
Half-reluctantly, Dae-woong confirms that it's just for 100 days, and agrees to do it. She asks excitedly, "Then am I your girlfriend now?"
He still feels bad about all this, and says with dissatisfaction that this is all wrong. He heads back into the house, making Mi-ho think he is calling this off. But he isn't backing out, and comes back carrying the ring.
Dae-woong tells her, "Since I'm a human, I'll do this human-style. Gu Mi-ho, please be my girlfriend." And with that, he slides the couple ring on her finger, and she marvels at it happily.
In fact, she's so happy that her nine tails pop out.
However!
Adding an ominous tone to this moment is Dong-joo, who murmurs to himself, "The most painful death to a human isn't his own, but the death of a loved one."
As Dae-woong and Mi-ho take a drink of their respective vials, Dong-joo reveals one last detail that Mi-ho hadn't caught on to: that after the 100 days are over, when the human surrenders the bead back to the gumiho, the death that the newly humanized gumiho must face isn't her own…
It's Dae-woong's.

COMMENTS
One great aspect of this gumiho premise is that Mi-ho gets to fall in love without really understanding it on a cognitive level, so her head doesn't interfere with her feelings. I love the analogy she draws about her heart telling time — and because she's like this alien being who doesn't interpret the signs like we mortals do, we can feel her falling in love. It's palpable, instead of just telling us she's in love without showing it in a real way. (Which happens in so many dramas.)
This is the first episode that I felt anything for the tortured Gumiho Hunter, which is a good sign. I do find Noh Min-woo to be very pretty, but hadn't found anything in his character to connect with on a deeper level, so this is a welcome addition. Frankly, I tend not to connect with second leads in Hong Sisters dramas, no matter how kind and benevolent and beautiful they are.
I hope this character will do justice to a mythology that is set up to be, imo, quite intriguing. I love that he seems to have genuine care for the gumiho, and that he isn't outright malicious about his intentions. However, this latest twist shows that he's got a darker edge. I don't think he's evil, but I like dark and complicated. Bring it on.
And HOW GREAT is this dilemma? It's the whole "one cannot live while the other lives" crisis that, in a romance, is as epic as you can get. If Mi-ho wants to spare him, she has to die. If she wants to live, he has to die. AGHHH! I love it! (Naturally I'm expecting a late-stage twist to Make It Work so that nobody dies, but even with that expectation I love the angst.) It's Buffy and Angel, it's superhero in love with a supervillain, it's Harry and Voldemort (well, without the romance angle).
RELATED POSTS