Pop Culture: The Fairy and the Woodcutter
One of the reasons girlfriday and I wanted to open up the blog to this Pop Culture series is because we'd sometimes like to depart from the norm and muse about stuff. It allows us to take something from pop culture or society at large and run with it. Girlfriday took on the piggyback ride in her first entry, and I thought this would be the perfect occasion to bring up something that's always struck me as odd and fascinating and disturbing: a particular fairy tale.
The catalyst for this post was a song by FT Island called "The Angel and the Woodcutter." I had been listening to a lot of FT Island last year (blame You're Beautiful) and one of their songs caught my attention because it was catchy and fun. But then I checked the title, and all of a sudden I felt conflicted.
You see, The Fairy and the Woodcutter is an old Korean fairy tale that many/most Korean kids grow up hearing, and even back as a child it had bothered me. I didn't realize back then why, I only knew that it seemed really… wrong. But listening to FT Island's song brought back all those early memories, and when I played the song back and listened to the lyrics closely, I remembered all those reasons I'd been so unsettled by the original fairy tale.
SONG OF THE DAY
FT Island – "천사와 나무꾼" (The Angel and the Woodcutter) [ Download ]
Audio clip: Adobe Flash Player (version 9 or above) is required to play this audio clip. Download the latest version here. You also need to have JavaScript enabled in your browser.
"The Angel and The Woodcutter"

You dazzle the eyes because you look like an angel
Your steps are light, like walking on clouds
You've come down from heaven for a short punishment
You've caught my eye, my heart feels it would stop
I want to hold on to you forever
Hiding behind you and secretly stealing glances
I am the woodcutter

You're an angel only for me, a gift from heaven
Let's be happy forever, the two of us
You'll be my only love, I'll always make you smile
I hope you'll forget about heaven

Don't be sad
I feel uneasy that you'll leave
My love must not be enough
If you want, I can do anything
Living only looking at you
I'm the woodcutter

You're an angel only for me, a gift from heaven
Let's be happy forever, the two of us
You'll be my only love, I'll always make you smile
I hope you'll forget about heaven

Even though time goes on, my love never changes
Till the moment I close my eyes, I'll only look at you

You're an angel only for me, my one and only love
I wish that we'll live beautifully and happily, just the two of us
You're my only love, there's nothing to be sad about
Live with me in this place
I love you
I want to hide your winged clothes forever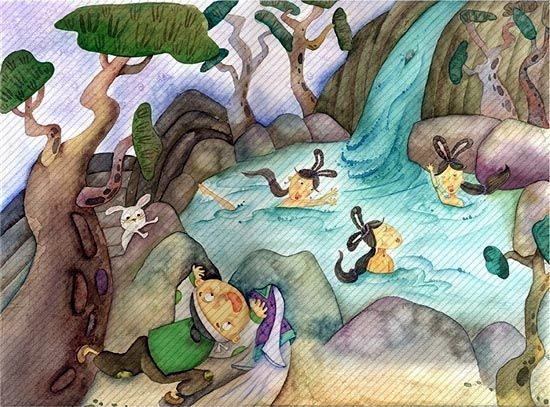 But before I get to the interpreting part, I've got to share with you the actual folk tale. Here's a condensed version. (Note that this is in my own words, so don't go around quoting it as the official story.)
There was once a poor woodcutter who lived in the mountains with his mother. One day he helped a wounded deer escape from a hunter, and in return for his kindness, the deer, who was actually a mountain spirit, granted him a wish. The man wished for a wife.

The deer told the woodcutter a surefire way to get his wish and outlined specific instructions. The woodcutter was to go to a mountain pond where fairies came down from their home in heaven once a month to bathe, aided by magical clothing that allowed them to fly. He was to steal one fairy's clothing, stranding her in the pond, then offer to help her. If he brought her home, she would eventually fall in love with him and become his wife. The woodcutter must not reveal the truth about her clothing until she had borne him at least three children.

As ethics have no place in a love (or possession) story, the woodcutter did as ordered, and everything happened as the deer said. Hiding nearby, he watched as a group of fairies flew down from heaven and bathed, and stole one set of clothes. When it was time to return, one fairy couldn't find her clothing, and her fellow fairies were forced to return to heaven without her.

The pervy woodcutter emerged from hiding to play the hero, offering her regular clothing and shelter. With no way to return home, in time she married him and bore him two children. And the woodcutter was happy. Selfish bastard.
But once a month — on bathing day — his wife would feel homesick and cry for her lost life. And while the woodcutter was a scheming pervy jerk, he wasn't completely heartless and finally decided that he would tell her the truth, figuring that her love for him would be enough, because they were an otherwise happy family. Let's just say some people define happiness differently from others.

When he showed her the hidden clothing, the fairy put them on, took up one child in each arm, and flew up to heaven. And the idiot woodcutter was sad. Boo effin' hoo.

The reason for the deer's instructions now became clear — if he had waited until they had three children, the fairy would not be able to carry all her children up to heaven, nor would she be able to leave any behind. The deer saw that the man was heartbroken and offered him a solution. Thanks to Mr. Woodcutter's security breach, ever since the fairy had been stranded on earth the other fairies had ceased bathing in the mountain pool. Instead, once a month they lowered a bucket to draw up water to heaven. It must not be much of a heaven if they've got no water up there. Just sayin'. The deer advised the man to get into the bucket, which would draw him up and therefore reunite him with his wife.

He did, and the family reunited. And they were happy.

Alas, his poor old mother had been left alone on earth, and after some time the woodcutter felt bad and wanted to see her one last time before she died. His wife appealed to the king of the heavens, because apparently all incompetent men are given three chances to prove their incompetence. The king offered the woodcutter a way to say his last goodbye, lending him a winged horse that would deliver him home. However, he must not get off the horse or he would be left behind.

The woodcutter did, and his old mother was overjoyed to see her son. She wanted to feed him, as all Korean mothers do, but he told her that he wouldn't be able to get off the horse. So she offered to bring the bowl of freshly made gruel to him so that he could eat it here before leaving. However, the idiot woodcutter spilled the hot gruel on the horse's back, and it reared up on its legs, knocking him off its back. The horse returned to heaven and the woodcutter died sad and alone. (And may or may not have turned into a rooster that crows his grief to the skies.)

The end.
The song doesn't have the same punch anymore, does it?
Don't get me wrong, I'm not criticizing FT Island or the song. I like the song (with some reservation). It's cute, and sorta interesting the way it extrapolates the woodcutter's feelings to be a general love story — if you left out the references to the fairy tale, it could read like just another romantic pop song.
Can you see how my 6-year-old self was oddly uncomfortable with what is considered a perfectly ordinary bedtime tale before I even understand the words to describe what I was feeling? Perhaps one might argue that the kidnapping woodcutter died in the end, so it's not like the story is holding him up as a role model. Only I'd disagree, because The Fairy and the Woodcutter isn't told at bedtime as a cautionary tale; it's just a story, like Cinderella. Sometimes the woodcutter is even painted in a sympathetic light — his rescue of the deer is highlighted, and he is described as a tragic victim of bad luck rather than his own stupidity.
Does a story HAVE to come with a morality clause? Perhaps not, but if bad behavior is depicted as the right course of action, the message becomes muddled. I doubt that this single story makes all Korean children grow up believing kidnapping is an effective method of courtship (although some dramas might have you scratching your head), but I think it's problematic for fairy tales to put forth these behaviors and then treat them like there's nothing wrong. It's complicity by omission.
(Also note that I'm not saying Korean people are the only ones with messed-up folktales; there are a lot of Western fairy tales with arguably problematic messages, or at least motifs. It's not a "this culture is better than that one" argument. I once had an English lesson wherein the teacher turned around the story of Jack and the Beanstalk to point out that the actual victim in the tale was the giant, and Jack was the jackass thief who invaded his home, stole his property, then cut down the beanstalk and killed him.)
The Fairy and the Woodcutter glosses over the part where the woodcutter detains the woman against her will by means of subterfuge and deceit. In some versions he is even described as handsome, and a dutiful son. Because he is sanctioned by a heavenly agent (the deer, or mountain spirit), the story condones — approves, even — his methods and justifies the means for the sake of the ends. The story makes it a point to indicate that the wife wasn't really unhappy with her life on earth — husband knows best! — but merely homesick. And that even when she left him to return home, she still loved him and was happy to be reunited with him in heaven.
Some of the same ideas are present in modern dramas — they aren't limited to antiquated storytelling. Possessiveness is seen as bad when the possessive person is not part of the One True Pairing; then s/he is relegated to the role of the troublemaking second lead. But when possessiveness is displayed by the hero, isn't it romantic? Isn't it understandable, acceptable, even admirable when the hero goes to extreme lengths to make his relationship work? We as the audience put up with a lot of crap from heroes (and heroines, to be equal opportunity) when we know that ultimately they're Meant To Be. Gu Jun-pyo, I'm looking at you and your wounded-little-boy charm. (And I say that as someone who totally loved his jealousy and misguided attempts to win Jan-di over in all the wrong ways.)
It's interesting because there are themes in the tale that could actually encourage thoughtful discussion, but typically don't. For instance, in this interspecies coupling, neither spouse is 100% happy despite a supposedly happy marriage with lovely children — the absence of family weighs heavily. This is also a theme we see frequently in dramas.
Now, the song I'd really like to hear is the one from the perspective of the poor manipulated and coerced fairy. Sure the tale says she eventually grew to love her woodcutter, but there's a term for making the best of traumatic kidnapping, and that's Stockholm Syndrome.
RELATED POSTS
Tags: song lyrics