Three Korean movies at Venice film fest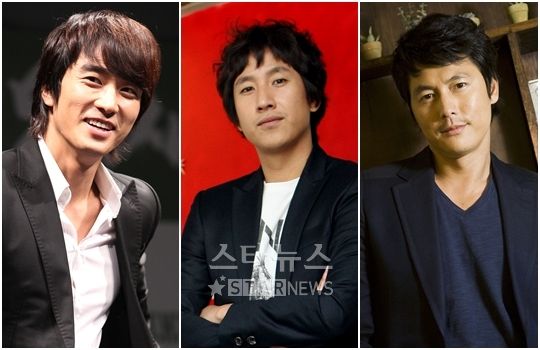 Korea's having a good year in the festival circuit. With Cannes under its belt and sights set on Toronto, Chungmuro takes on Venice, with three films next month.
Invincible, starring Song Seung-heon, Joo Jin-mo, Kim Kang-woo, and Jo Han-seon, will be part of a retrospective, honoring prolific Hong Kong director John Woo (A Better Tomorrow). The four leads are expected to appear for the premiere at the festival.
Jung Woo-sung (Athena) will also be walking the red carpet for his new film Reign of Assassins, (The Swordsman's World) produced by John Woo and co-starring Michelle Yeoh. I don't think this one counts as a Korean film, as it was shot in China, but it's a co-production, so I'll go with it. What with Athena's Italian shoots and the festival, it looks like Jung is Italy-bound for a good part of this summer/fall.
Lee Seon-kyun and Jung Yumi's indie film Oki's Movie will also be a contender, and will be officially competing (whereas the others will be more exhibition-style films). This will be the first time attending Venice for both Lee and Jung.
Looks like the Venetian red carpet will be the place to catch a Korean action star next month. I'd go for the Grand Canal alone, but the possibility of seeing Jung Woo-sung speed by James-Bond-style in a boat? Swoon.
The 67th Venice International Film Festival will run from September 1-11.
Via Star News
RELATED POSTS
Tags: film festivals, Jo Han-seon, Joo Jin-mo, Jung Woo-sung, Jung Yumi, Kim Kang-woo, Lee Seon-kyun, Song Seung-heon