Baker ends on a high; Kiss hits new low
KBS's heavy ratings winner Baker King Kim Tak-gu ended its 30-episode run on Thursday with its series high, stopping just short of 50% with a finale rating of 49.3% and (I don't think it's a spoiler to say) a happy ending. Alas, that meant series lows for both its competitors, who will no doubt be breathing a huge sigh of relief with Baker King out of the game.
The numbers weren't too bad for SBS's fantasy-romantic-comedy My Girlfriend Is a Gumiho with its Episode 12 recording a 8.7%. It's a definite dip, since the drama has been managing double digits thus far, but a single drop on a major competitor's finale date isn't too dire.
It was much worse for Playful Kiss, on the other hand, which keeps dropping with every episode. Its Episode 6 pulled in a disastrous 2.8%, its lowest yet. Furthermore, it is showing a worrying trajectory: 3.5%, 3.7%, 3.5%, 3.4%, 3.0%, 2.8%. Just when you think it couldn't possibly get worse, it drops a little bit more.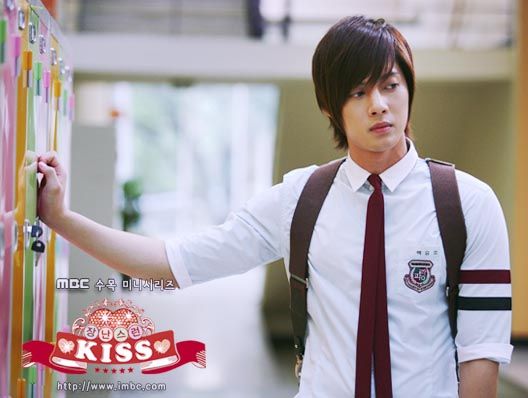 So, what does this mean?
First off, expect to see a LOT more of Baker King's stars, particularly its young male leads Yoon Shi-yoon and Joo-won. (Ladies Lee Young-ah and Eugene will also benefit, but the boys were less known coming into the drama — particularly Joo-won, a virtual unknown — and will feel the effects more.)
Second, there'll be added interest to see if successor drama Runaway will be able to uphold the huge head start given to it by Baker King, though I don't think it's any use trying to correlate their fanbases. I'm more interested in seeing how much the other two dramas improve, because even if Runaway pulls in phenomenal premiere numbers (as in, 20% to 30%), that still leaves a large group of the viewership free to switch the channel.
On the other hand, Playful Kiss is now being touted as a 16-episode drama. I had seen it described as a 20-episode drama earlier, although perhaps it was one of those shows that was always intended to decide the length based on audience response (some dramas don't announce their run length concretely, leaving room to adjust accordingly without going for an outright extension or cut). But in any case, its successor show — Kim Hye-soo's My Happy Home — ha now announced its premiere date as October 27, which is the week after Kiss airs Episode 16. My Happy Home had originally been announced for a November premiere, so looks like it's been pulled up.
RELATED POSTS
Tags: Baker King Kim Tak-gu, drama ratings, My Girlfriend Is a Gumiho, Playful Kiss