Child genius Seo Shin-ae in Drama Special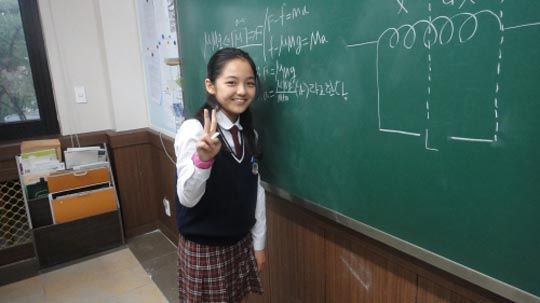 Seo Shin-ae has made her (albeit short) career playing precocious youngsters, so it shouldn't be too much of a stretch for her to play a full-on genius in her upcoming Drama Special episode, titled Boy Meets Girl.
Her character enters high school at the age of 12 and is forced into a rigid life centering around her education by a pushy mother. In these stills, she's busy at the chalkboard working out a complicated problem in her classroom.
There was some confusion in the previous post about the title, because some read "Boy Meets Girl" as automatically romantic. I can assure you that there's no creepy pedo overtones here; the "boy" in question is a bumbling middle-aged man, Hyun-choo, whom she meets and with whom she develops an unlikely friendship as they both mature. While Seo Shin-ae plays a young girl who has the attitude of a grown-up, he's a grown-up with the mindset of a youth. Hyun-choo in turn has a romantic storyline with another (grown-up) woman.
Hyun-choo will be played by Yoon Hee-seok, Seo Shin-ae's co-star from Gumiho: Tale of the Fox's Child, making this their second time working together. He is described as honest and pure, in his late thirties without a job to speak of (he was laid off and remained unemployed for a long time). Thus he appears to other people as incompetent when he's mostly been hapless and unlucky.
Kim Hyo-seo has been cast as his love interest, playing a flight attendant who has never taken an international flight. She loses her confidence in her work and is hurt by a breakup with her boyfriend, but her heart is opened upon meeting the pure Hyun-choo.
Kim is probably best known for her most recent role in Won Bin's thriller Ajusshi, where she played the young girl's mother who worked as a stripper at a low-rent club and dabbled in drugs.
Writing this segment is Park Eun-young, who also penned the well-received Drama Special episode Our Slightly Risqué Relationship starring Lee Seon-kyun and Hwang Woo Seul-hye.
The Drama Special episode airs this weekend, on October 2.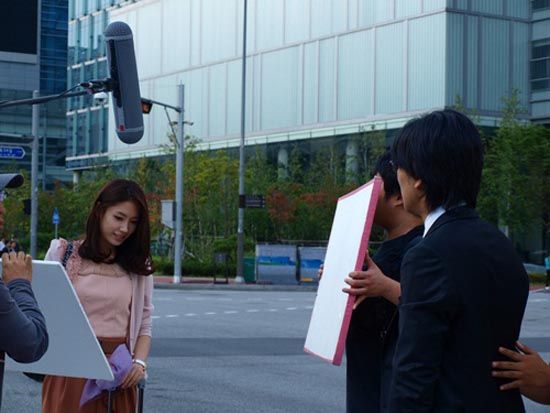 Via Joy News
RELATED POSTS
Tags: Drama Special, Kim Hyo-seo, Seo Shin-ae, Yoon Hee-seok