Continued strike puts pressure on Dong Yi, Kim Suro, Playful Kiss
Tensions seem to be increasing between the Korean Broadcasting, Film, Performing Artists Union and MBC as the two sides continue negotiations regarding the strike that is endangering the futures of several MBC dramas.
The matter centers around unpaid wages to the cast and crew of dramas being made by outside production companies. KBS and SBS came to settlements with the union, which spared their productions the threat of strike by their cast and crew members. However, MBC has yet to come to such an agreement.
After a day of interrupted filming when its cast stood by the union stance and refused to participate, weekend drama Gloria is back to work.
However, Dong Yi's stopped production is going on four days now, and it remains unclear whether they will be able to air any episodes this week. The drama has not completed filming for the episodes scheduled to air on Monday and Tuesday, so it is likely that there will NOT be new episodes, and MBC is scrambling to find a Plan B. This drama has been filming in live-shoot for a while now and has no extra time to spare, so this delay has a pretty immediate effect on the production.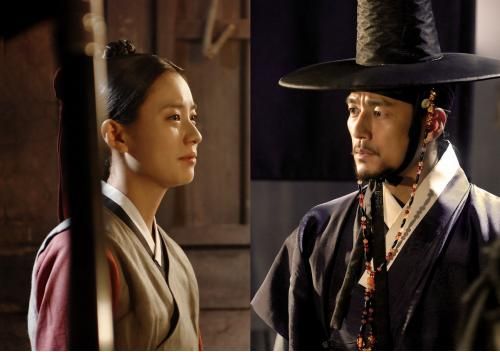 Dong Yi
The union expressed frustration with MBC, whose behavior it has called arrogant, saying that it is finding it difficult to come to an agreement with the broadcaster. Despite working through the weekend to hold talks, the sides are at an impasse and "it's as difficult as ever to negotiate our points of view."
One of the union's reps stated that they have been lenient, and offered to settle if they could at least pay part of Dong Yi's outstanding wages rather than the full amount to date, but MBC is talking in circles and being disingenuous. (Dong Yi alone is responsible for 690 million won in unpaid wages, or almost $590,000.)
On the other hand, a rep from MBC's drama department took a more cautious line (of course), saying that it's not clear whether the broadcast will be delayed, and that they're doing their best to negotiate in order to mitigate any negative effects on the broadcast.
Meanwhile, weekend drama Kim Suro has also stopped filming. The union plans to talk to the cast of Playful Kiss next to get them onboard with the union stance in refusing to film until the unpaid wage issue is solved.
Via Star News, Sports Seoul, Yonhap News
RELATED POSTS
Tags: Dong Yi, drama production, Kim Suro (drama), Playful Kiss