Jung Jun-ho to romance his hyung's wife?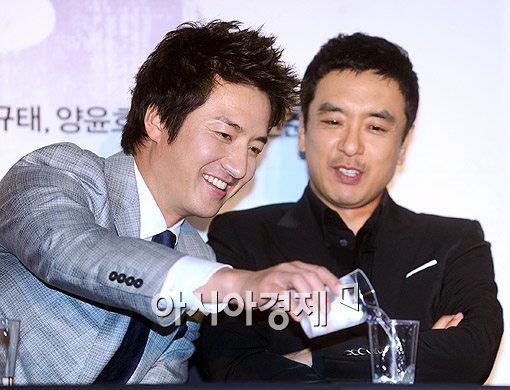 It's funny that I didn't put two and two together, but it turns out that when Jung Jun-ho took the lead in Queen of Reversals, he signed on to romance Kim Nam-joo, who is the wife of his friend and hyung, Kim Seung-woo.
I love it. It's a real-life drama love triangle, complete with beautiful people and the great backdrop of a drama set. Except without the angst, as Jung and Kim are actually really good friends.
Jung Jun-ho and Kim Seung-woo worked together on last year's blockbuster action-drama IRIS, where both actors reestablished their action hero chops and gravitas. I'm a longtime fan of Kim Seung-woo myself. I can't get enough of that guy. He oozes true manly charisma. And his voice. Gah. His voice.
In Queen of Reversals, Jung will play a jilted lover who rebounds with Kim Nam-joo's character, and ends up in a whirlwind romance ending in marriage. Only that's just the beginning of the story. The romantic comedy will center around their immature couple who gets married and attempts to build their relationship after the fact. They find out that it's not so easy to do. Cue hijinks, marital blunders, and cute reconciliations.
Jung describes his character as, "a bad boy you can't help but love." He said of the role, "I'm so happy to meet a script full of laughs. I'm anxiously awaiting the next one. I'm excited about the chemistry with hyungsoo-nim [Kim Nam-joo]." How cute! He calls her hyungsoo-nim, which is what you call your older brother's wife. Adorable.
Seriously, I wasn't that interested in this drama before, but I might have to watch it now.
Queen of Reversals will follow Dong Yi and premieres on MBC on October 18.
Via Osen
RELATED POSTS
Tags: Jung Jun-ho, Kim Nam-joo, Kim Seung-woo, Queen of Reversals