Kim Min-sun's new name and new drama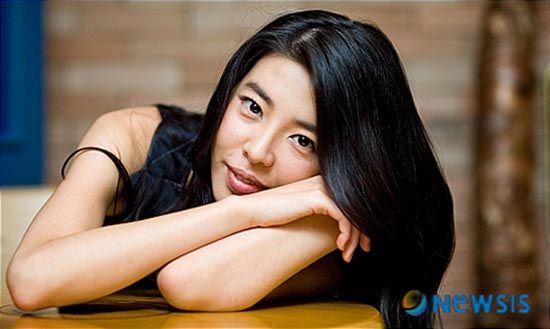 Actress Kim Min-sun was already a decade into her career when she decided to change her name last year — not just a stage name, but her actual real one. Her next project will be the first where she acts under her new name, Kim Gyu-ri.
The reason for her change? Kim explains that Kim Min-sun is her legal name, and it's also the name she is credited under in projects like ero-sageuk Portrait of a Beauty and drama series Loveholic. However, her family has always called her by the name Gyu-ri. Kim is a fourth daughter, and at the time of her birth her parents wanted a son, so they entered the name Min-sun into the official registry. However, they've always called her Gyu-ri, so this change is to make it official.
The funny thing is, there's already another actress with the name Kim Gyu-ri, who happens to be the same age as this one. (She's pictured below, at left. You may recognize "the original Kim Gyu-ri," as some have taken to calling her to avoid confusion, from dramas like I Can't Stop and Lovers. It must chafe the first Kim Gyu-ri to suddenly be thrust into the backseat, since Kim Min-sun is the more famous actor.)
Making things even funnier, Kim Gyu-ri is actually a stage name for the other actress — whose real name is Kim Moon-sun. HAHA.

The two Kim Gyu-ris
This is hardly the only case of two actors sharing names, although usually there are ways to differentiate the two. For instance, there's an 11-year age gap between the Lee Hye-young of Queen of Housewives and the mom from Boys Before Flowers. And 27 years separate the Lee Hyun-woo of Oh! My Lady and the dancer kiddo from God of Study. (Jung Yumi, however, is another case where it can get tricky.)
There are a lot of reasons a star might change his or her name, but it's unusual to do so this late into a career. Kim Nam-gil did it, albeit for different reasons, and he made the change right before he got his big break. He was steered into debuting under a stage name, Lee Han, but as he continued acting under a different name he felt the compulsion to revert to his own. (Stage names are common, and are adopted for a few reasons. A star might have an old-fashioned name and want to get famous with a sexier or more modern styling. Or there might already be a star with the same name, so a switch could be made to avoid confusion.)
On to the drama:
Kim will be returning to television for the first time in five years with a one-act MBC drama called I'll Teach You Love. Her last drama role was in MBC's Young-jae's Golden Days in 2005, after which she stuck to film work.
The drama is a romantic comedy that centers around a woman who's unskilled at dating who seeks advice from a dating consultant. Comic scenes unfold as she is advised by the man she loves. (Seems like Cyrano Dating Agency reversed and with a little twist, doesn't it?) It also stars Yang Jin-woo (Seven Days) and Ki Tae-young (Creating Destiny).
I'll Teach You Love began filming last week and will air in mid-September.
Via Hankook Ilbo, News Hankuk
RELATED POSTS
Tags: Kim Gyu-ri, Kim Min-sun