Lee Min-jung doesn't feel like a star yet (but is)
With Cyrano Dating Agency opening this Thursday, there's been a blitz of promotional activity, as you've no doubt noticed. Following the interview with the film's leading man Uhm Tae-woong, here's one with leading lady Lee Min-jung, who has enjoyed a meteoric rise to fame in the past year and a half.
"I don't feel like I'm a star yet… Cyrano was such fun I was giggling to myself"

Actress Lee Min-jung has increased her popularity this year. Her first leading role in a drama was in SBS's Smile, which began airing last year, which received strong ratings and was extended to finish early this year. After that, she was selected as the main model for the rival brand of the soju Lee Hyori endorses.

She was deluged with all kinds of CF offers, then was suddenly picked to lead the movie Cyrano Dating Agency, which opens this Chuseok season. But it seemed as though she couldn't actually feel all this herself. She walks the streets as freely as ever, and worries about whether her character will be able to draw in audiences effectively like an ordinary actress. She answered all the questions relatively frankly, and smiled broadly with an unexpected charm.
Now you've become a star. Do you feel that it's real?

I don't think I can be called a star yet. I'm so lacking in work experience and projects. I've got a long way to being a top star. I think being a star is being in a place where the public would trust in me to watch a project because of my name. Actually, even now I can walk around the streets.

When did you first receive this project? How did you feel when watching Cyrano?

I saw the screenplay for the first time ten days before finishing Smile, and it was so fun that I read it all in one sitting while giggling to myself. I already knew director Kim Hyun-seok well because he's friends with theater sunbaes.
I remember first seeing you act in the MBC morning drama Treat Me Well While I'm Here [있을때 잘해]. How does it feel to think of that now?

That was my debut. Because it was a daily drama, and thanks to sunbaes Ha Hee-ra and Kim Yoon-seok, I learned a lot. Moreover, I recall that I didn't find the director scary. Anyway, I think that drama allowed me to cultivate adaptability to dramas. Ratings were good too, so it was extended. I really gained a lot through that drama.

Speaking of extensions, Smile was also popular enough to get an extension. Maybe you have good luck with ratings. There's anticipation about this movie, too.

Hahaha. Please don't see it that way. I've had dramas cut short too, although I wasn't the lead. Regardless of box office or television viewership, I think I still have a long way to go. In any case, this is my first leading role in a commercial film. I hope it'll do well.

These days you're the model for a soju brand that is competing with a brand that Lee Hyori endorses. Do you drink soju?

I happened to run into Lee Hyori in a bar and said hello, and later she invited me to have dinner together. I do like soju. My tolerance is about one bottle. I don't like being tired the next day, so when I'm feeling drunk I tend to go home right away and sleep. Who knows, I might have to drink the next night. [Laughs]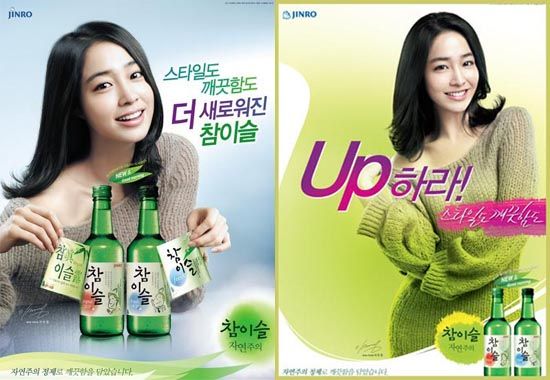 In this movie, you're in a love triangle with Sang-yong (Daniel Choi) and Byung-hoon (Uhm Tae-woong). If you met these two characters in real life, what would happen?

In the movie, my Hee-joong character meets Byung-hoon in her early twenties, then later on falls for Sang-yong. The two are different, and I think I could fall in love with both of them at those respective ages. So in my early twenties I would feel attracted to a man like Byung-hoon, and in my later twenties to Sang-yong. But to be honest, I personally lean toward the pure type like Sang-yong. Of course, if he had good manners like Byung-hoon, that would be good too.

This is a romantic comedy. What did you emphasize in your acting?

First off, I felt that women audiences would have to sympathize with my character. For it to succeed, each of the four leads — me, Uhm Tae-woong, Daniel Choi, Park Shin-hye — has their parts. Everyone's character would have to be sympathetic in their own way. Just like Uhm Tae-woong's Byung-hoon character would have to satisfy the male audiences, I'd consider it a success if women responded well to my Hee-joong.
Via Segye
RELATED POSTS
Tags: interviews, Lee Min-jung