My Girlfriend Is a Gumiho: Episode 10
The recap in which girlfriday dies a thousand deaths. From The Cute.
To everyone's relief, the separation doesn't last very long, and our couple spends the entire episode trying to kill me with their cuteness. They pretty much succeed, and truth be told, I'm not too upset about it.
In this episode we have angst, declarations, makeovers, and a transformation from adorable-pants Dae-woong to awesome-pants Dae-woong.

EPISODE 10 RECAP
Mi-ho calls Dae-woong to tell him that she has to leave his side. The look on Dae-woong's face, angry and brimming with tears…breaks my heart.
Dae-woong: Don't come back! Are you doing this because I didn't say that I missed you? Last time you left without saying a word, and now you're going to make nothing but a phone call and disappear? You…go ahead and TRY to disappear like this. Where are you? … Did you follow me all the way to the hospital for my check-up? And how is someone like that going to disappear from my side? Don't move a muscle and wait right there! I'll come find you.
Eeeeep! I'm a minute in, and I'm already squealing like a pig-rabbit. Gah! Decisive and manly Dae-woong KILLS ME.
Mi-ho worries that she needs to disappear, and tells herself not to cry, otherwise it'll rain. I know it's such a simple metaphor, the tears and the fox rain, but it's so evocative of mood that I love it. She says that she can come back to Dae-woong when she can stand in front of him proudly, as a human being. She starts to walk away, but then, of course, she doesn't want to leave…
Just then, Byung-soo and Sun-nyeo show up, asking why she's there all alone. She's getting ready to leave, but they insist she come with them to eat some beef. You said the magic word! Off they go, to eat.
Mi-ho hurriedly shoves the beef in her mouth, mumbling that she has to disappear. Dae-woong arrives at the hospital and calls her. She answers, and she won't tell him where she is, except that she's eating, and he hears Byung-soo's voice in the background. She quickly eats one last piece and says goodbye. She schleps down the street, wondering where on earth she's going to disappear to. She's fighting with Dong-joo Teacher, so that's out.
And then, another interruption on her road to Disappearance Town—Grandpa and Aunt Min-sook pull up next to her, and Grandpa apologizes for the misunderstanding and tells her to get in the car. They take her home and feed her more beef, which she eats up in two seconds flat. Grandpa dotes on her and feeds her more, asking Min-sook to pack up some food to take back and share with Dae-woong. Aw. Mi-ho doesn't answer Dae-woong's calls, and can't say no to Grandpa or to beef, so she's stuck.
Meanwhile, Dae-woong finds out from Byung-soo and Sun-nyeo that Hye-in orchestrated something shady at the hospital today, and that Mi-ho must be acting this way because of something Hye-in said. Nice. I love that characters are told these sorts of things instead of having people suffer in noble silence. Down with noble silence!
Mi-ho leaves Grandpa's house with bundles of food, so she tells herself dejectedly that she'll just drop these off at home for Dae-woong, and then she'll disappear. On her way, she gets stopped by the chicken shop ajumma, who worries that Mi-ho seems so sad. I sort of love that in her attempt to disappear, Mi-ho gets stopped one by one, by all the human beings who are in her life, who keep her tethered to this world. It's a nice symbolic motif, and a great build-up to Dae-woong finding her.
Dae-woong then does something awesome—he goes straight to Hye-in, to ask her what she said to Mi-ho. She tells him everything, and says that she asked her to disappear, and sighs in relief, thinking that she saved him from some disgusting monster. Dae-woong: "She's not disgusting, or a monster. And Mi-ho, unless somebody forced her, would never leave my side. I have no intention of having her leave me, so don't concern yourself with her, or what she is." Hye-in calls him crazy, and he confirms that he is (yay, feelings!) and insists she just leave them alone.
At home, Mi-ho hugs her chicken leg, pouting to herself that she's out of excuses now. But she doesn't want to leave. She cries like a little girl, "Woong-ah, I don't want to go," as tears fall. It starts to rain, as Dae-woong talks to Hye-in. He turns around to see that it's raining outside, as his heart drops.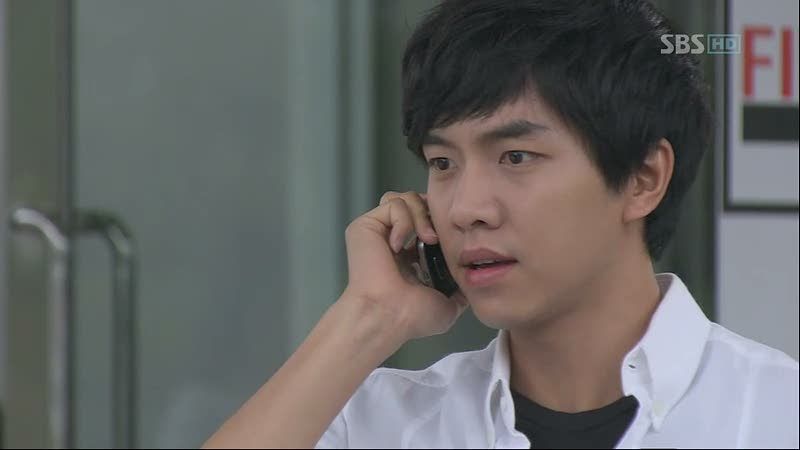 He runs outside, and calls Mi-ho, who finally answers. Dae-woong asks her to stop crying, but she can't stop the tears. Dae-woong: "I don't want to get rained on. You have to stop crying…so I can go to you." Ack! I swear, if he keeps being this awesome, I'm not going to get through this recap.
He realizes there's only one way to stop her from crying. Dae-woong: "I…miss you." She stops crying immediately in shock. Dae-woong: "I miss you like crazy. Stop crying, so I can get to you quickly." He hangs up, and the rain stops. He looks up and smiles at the sky, and takes off running. Best subversion of rain cliché ever.
Shady Emo Hair meets a shady contact, to get new papers for Mi-ho. He asks him to prepare a house in Japan, and tells him that she'll be going to Japan in a few months' time, with this new identity. Oh, we'll just see about that, Dog Teacher.
Mi-ho sits at home and waits, deciding that she can't leave now, when Dae-woong's finally confessed that he missed her. She realizes the only thing to do is to "take care of that woman." She gives an evil look of purpose. Ruh-roh. Hye-in might end up being dinner!
She finds Hye-in in the parking lot and scares her by moving a parked truck with her bare hands. Hye-in tries to run away, thinking that Mi-ho is here to threaten her, but it turns out she's here to…ask for a break. Haha. How cute. She tells her everything (unnecessarily, but whatever) and says that she could've scared her, but she wanted to do the human thing. Hye-in sees yet another opportunity to turn this in her favor, so she asks if Mi-ho will do anything she asks.
She takes her to Director Ban, and introduces Mi-ho as her friend. She sets it up so that Mi-ho will only be the stuntwoman for the lead role, and only if her "friend" Hye-in is cast as the lead. Sneaky. And a solution I'm totally fine with, since I care not about the movie.
Dae-woong shows up to the studio (with a tip-off from Byung-soo) and walks right in between the two girls and grabs Mi-ho's wrist (aargh) and stands between her and Hye-in, demanding to know what Hye-in is doing to her. She gets indignant, asking if he's got it backwards, at which he slides his hand down to hold Mi-ho's hand. Eeek!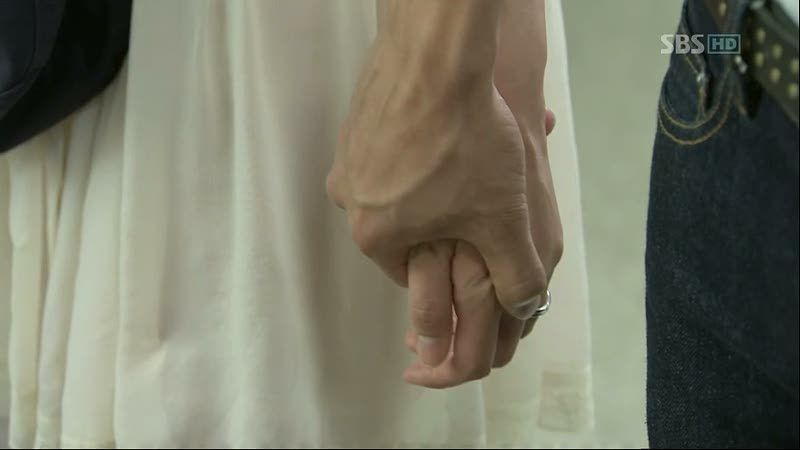 He takes her by the hand and they start to walk away, but Hye-in gets the last word in. She says she's found that Mi-ho is useful after all, and that she'll be using her, just as Dae-woong is. That stings them both, and Hye-in walks away, triumphant.
Dae-woong feels really guilty about it, and apologizes to Mi-ho for using her. She says it's okay—she did threaten to eat him up in return. He says he's really really sorry.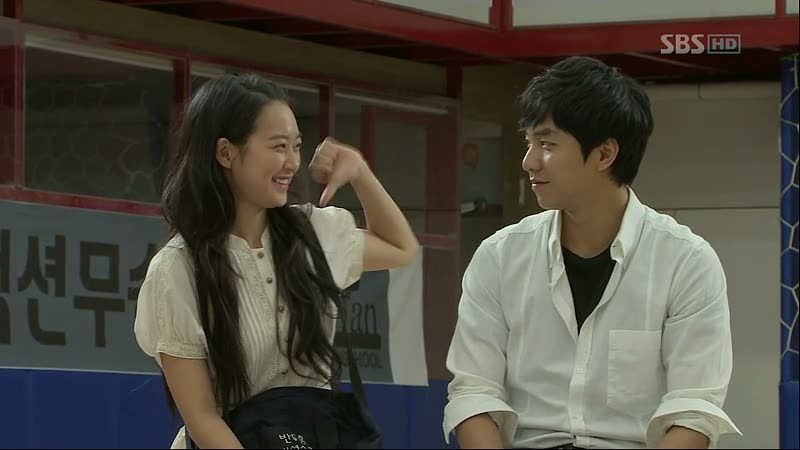 He helps her prep for the movie, and he tells her to always wear wires even if she doesn't need them, and to pretend that she's tired. She fakes being a weak girl, and I love the mockery of that. They go over the script, which is of course a story that mirrors their own—a tragic love story between a woman who gives her heart to a man and disappears, and a man who must endure alone without her.
Mi-ho gets to a point in the script where her character gets undressed in a love scene, and Dae-woong spits out that she's not doing scenes like that! "You're just doing the action scenes! Don't even read that part!" HAHAHA. God, I love his overreaction.
Mi-ho wants to hear him deliver some of the lines in the movie, so he starts to recite: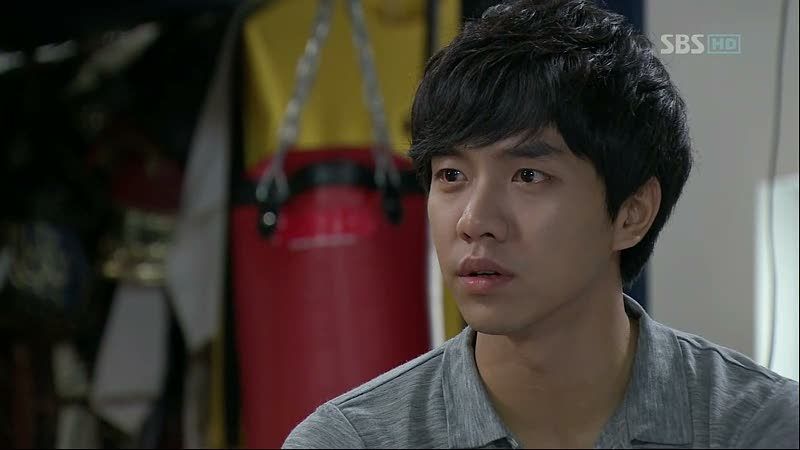 Dae-woong: At first, when my clothes were wet with your tears, I told myself I would just wait until they dried. But then, the clouds grew bigger, the skies darkened, and rain that blocked my path came down. Rain that can't be stopped, can't be avoided, falls down on me…Where do I go? I've lost my way. [He pauses as the words become his own.] Though I try to run far, I keep coming back. I want to protect you, and treat you well. I must've been rained on…and lost my mind.
Mi-ho leans on his shoulder, moved by his words. He shrugs her off, asking what she's doing. She says it's her character's reaction, and when Dae-woong says that's not in the script, she says that his last words weren't in there either. He says, tears still brimming, that he messed up his lines then, and runs away to his bed. Oh, you can't fool us, you Big Softie Chicken Leg, you!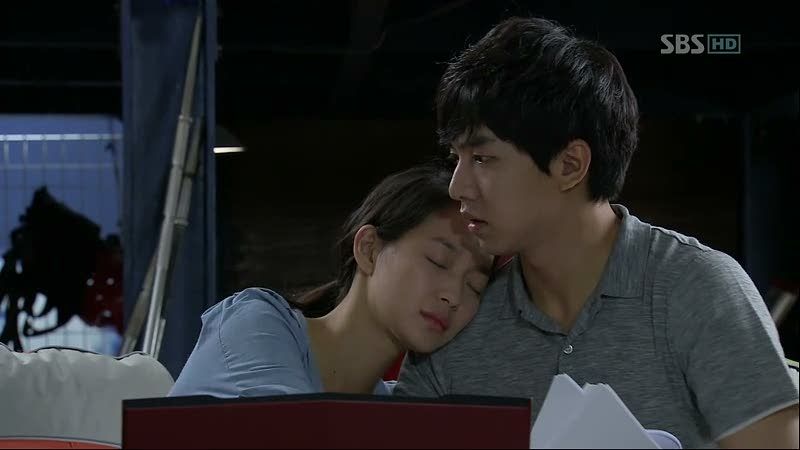 Mi-ho goes to see Dong-joo, who worries about Hye-in knowing her identity. He presents her with all her new papers to start her new life as a human, but warns her that in order to do so, she has to leave Dae-woong and everyone around him, who know her as Mi-ho. She frowns as the words sink in.
At home she looks at all her new official documents, fantasizing about life as Park Sun-joo: driving, graduating university, having lots of money. But she shuts down her own fantasy, saying that none of that matters if Dae-woong isn't next to her. Aw.
Rehearsals begin on the movie, but Director Ban is too engrossed in his own love life to be more than grumpy pants day after day, since Min-sook is refusing his calls after the coffee-on-precious-dvd incident. He finally tries one last grand gesture. He invites her to a ceremony where he's receiving an award, and in preparation, he retires all of his A Better Tomorrow accoutrements, crying dramatically as he says goodbye to Chow Yun-fat. Haha. Oh, the things we do for love.
Hye-in sees Dae-woong and Mi-ho being cute together, and gets all bug-eyed (even more than usual) with jealousy, so she tells Mi-ho not to come to the awards ceremony party. The other stuntmen start paying attention to Mi-ho, trying to bring her drinks to flirt. Dae-woong puts a stop to that right away, with one can of bubbly soda and a flash of his couple ring. Keh, keh.
She asks if he worries about her when she's around other people, and he starts to say, it's because she's so pret—but then catches himself before "pretty." Ha. She tells him to go ahead to the party and that she'll meet him there.
When he accepts his award, not-so-Chow-Yun-fat-Lite-anymore signals Min-sook with his silly head roll, and says that he hopes that "someone" will know his true feelings. Min-sook squeals in delight and starts to cry, as Grandpa laughs.
Mi-ho sits at home, dejected that she can't go to the party, and ends up going out with Dong-joo. She's sad about missing the party, and rejects his offer for her to become Park Sun-joo when she becomes human. He tells her it's because she's never lived life as Sun-joo yet, so he takes her shopping for a new outfit (obligatory makeover scene!) where she picks a brown shirt because it's her favorite color—cow. He then takes her to a university alumni party that she can attend with her new identity.
Meanwhile, Dae-woong wonders what's taking her so long, and Sun-nyeo gets drunk and tells Dae-woong that she's done having feelings for him now, but wants to say goodbye with one last kiss…
She grabs his face and leans in, and Dae-woong has just enough time to grab a neaby squid (HA) to put in front of his lips. He freaks out to Byung-soo to keep Sun-nyeo away, and that she was too close for comfort. Byung-soo thinks he's overreacting, but Dae-woong says that it's not him he's worried about—something very bad will happen to Mi-ho. Hye-in overhears this, and realizes that there's some connection with physical contact with other women, and Mi-ho's fox bead.
Dong-joo buys Mi-ho a purse that goes better with her outfit, and even though she hesitates to give up her bag from Dae-woong because it holds things that are precious to her, he tells her that this new bag completes the look, and hands her a wallet with her ID as Park Sun-joo. She enters the party, giving that name.
Hye-in comes up to Dae-woong, asking if he's still mad at her. Hye-in: "I'm really worried about you. I mean it." He counters, "I'm worried about Mi-ho. I mean it." Oh, snap! He goes to find her, leaving Hye-in huffing.
Mi-ho comes out of her party right away, saying that people treated her like the real Park Sun-joo, and it made her uneasy. She tells Dong-joo that when she's with Dae-woong, who knows the real her, it's so comfortable, but when she's pretending to be someone else, it feels like a lie. Dong-joo gives her a passport, saying that she can go anywhere with this. He tells her to leave on the hundredth day, and that he'll help her.
Director Ban wonders if Min-sook saw him on tv, when she saunters into his office, dressed as Chow Yun-fat Lady. She tells him that she liked everything about him, and that he needn't give this up for her. They embrace, knocking over all his memorabilia. Heh.
Dae-woong comes home and wonders where Mi-ho is, since he tried the chicken shop and she's not answering her phone either. He gets up to go find her, but then she walks in, still dressed to the nines. He stops in his tracks, startled at her purty duds, and asks where she went dressed like that. She realizes that she left her stuff with Dong-joo, who tells her he'll bring them back next time. Dong-joo muses to himself that she needs to forget one thing at a time, just like this. Well that's not the fastest plan ever, but I see where you're going with this.
Dae-woong gets huffy about her being out dressed like this, partying with Dong-joo, and wonders exactly how close they're getting. Mi-ho asks Dae-woong what he's told his friends and family about her. He hasn't said anything yet, but plans to come up with a story soon enough. She apologizes that he has to lie because of her.
Dae-woong looks her up and down again, still annoyed about Dong-joo….and then he realizes a solution. He tells her that just like his sharing his ki with another woman is harmful to her fox bead, he can feel that it has the same effect if she's with another man. HAHAHAHA.
She doesn't think that's right, but he insists he can feel it. Oh my god, I'm dying. This is so funny. He says that particularly when she's with Dong-joo, he can feel something hurting in his chest. Yeah, that would be your HEART, buddy. She totally falls for it, wondering if she's been physically too close to Dong-joo. Dae-woong: "You were CLOSE?! That's why I feel this way! At least 5 meters…no, no…10 meters distance from now on!" You're killing me Show. And I love it.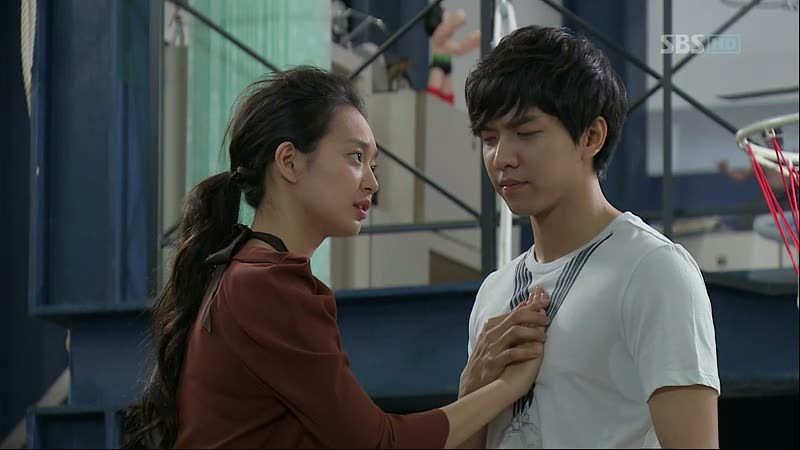 She puts her hand on his chest, wondering why her fox bead is acting up, and he totally loves it. He directs her, "No, I think it's…over here…" reveling in the physical contact. Seriously, how can two people be so CUTE? It defies the laws of the universe!
Later that night, Mi-ho looks over her documents, contemplating the huge decision ahead. In his Emo Lair, Dong-joo looks at Mi-ho's phone, full of calls from Dae-woong. He muses that it's going to be hard to forget like this. The next day he sets out to return Mi-ho's bag.
It's the first day of the movie shoot, and Dae-woong doesn't have any scenes, but he's here to watch Mi-ho. In the dressing room, Hye-in tells Mi-ho to leave her ring behind, and when she does, she tries it on herself. Mi-ho catches her and gets it back, letting it slip that the ring was initially Hye-in's to begin with, which just makes her angrier. Hye-in threatens to harm Dae-woong and the fox bead, in order to harm her.
Mi-ho entrusts her ring to Dae-woong and climbs up on a scaffold to prepare for her first stunt.
Dae-woong gets some bubbly soda for Mi-ho, and when he looks for her, he sees Hye-in from behind in the same costume, and assumes it's Mi-ho. He goes right up to her, which is when Hye-in swings around and grabs him for a kiss. No!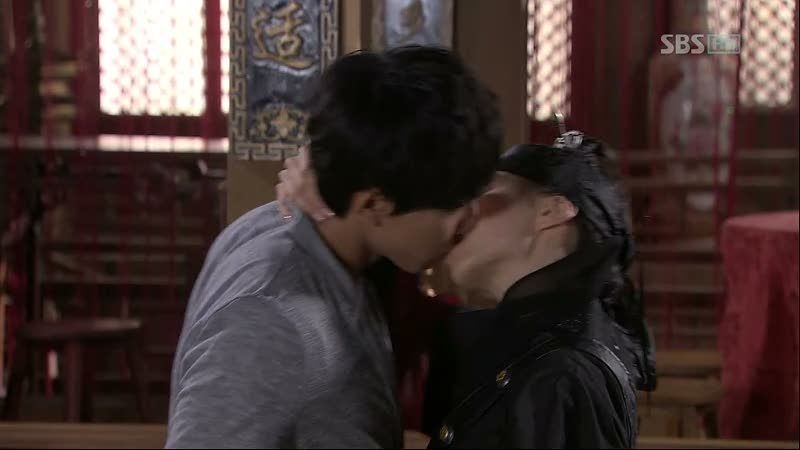 She plants one on him, and he pushes her away, shouting, "What are you doing?" but it's too late. Mi-ho feels the pang from her fox bead, and faints, falling from the scaffold…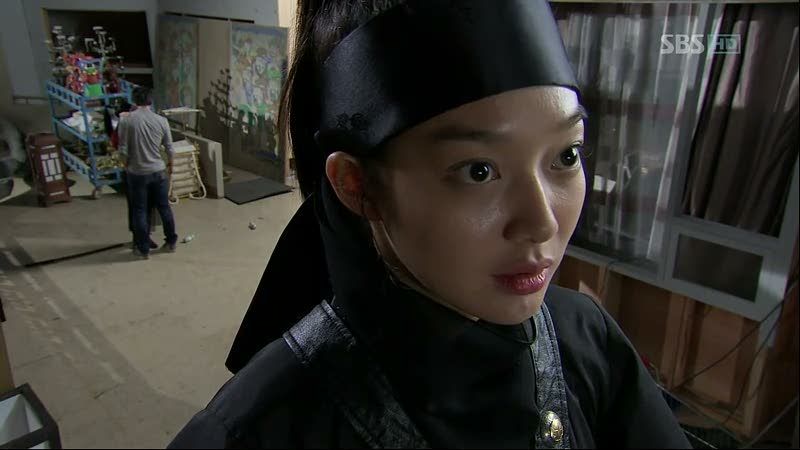 COMMENTS
I love the heightened drama of his kiss with another woman—it's not just a betrayal or fodder for jealousy, but a matter of life and death. When you raise the stakes that high, it shifts the dramatic weight of everything, which I totally dig.
That's not to say that I don't love the jealous bits, because those continue to be my favorite. How awesome is it that Dae-woong is using the fox bead to keep Mi-ho away from other men, just because he's jealous? Adorable. His growing assertiveness is really a sight to behold, since he started out so pathetic and cowardly. It's also great that we're not skipping too far ahead in their relationship, because I like the gradual steps, and seeing them work through all the obstacles. That way, they'll truly earn each other's hearts, once they get there.
Once again, all the forthright declarations make my day, as I don't have to stew over silent noble idiots in this drama. Even that ring, which I thought for sure was going to end up in Hye-in's clutches, was returned right away, which drew a huge sigh of relief from me, since I know how the Hong sisters are with trinkets. That's right, pig-rabbit's hairpin, I'm talking to you. So glad we don't have to go through a round of Find My Precious.
As expected, I continue to be owned, heart and soul, by this drama. I may have to marry you, Show.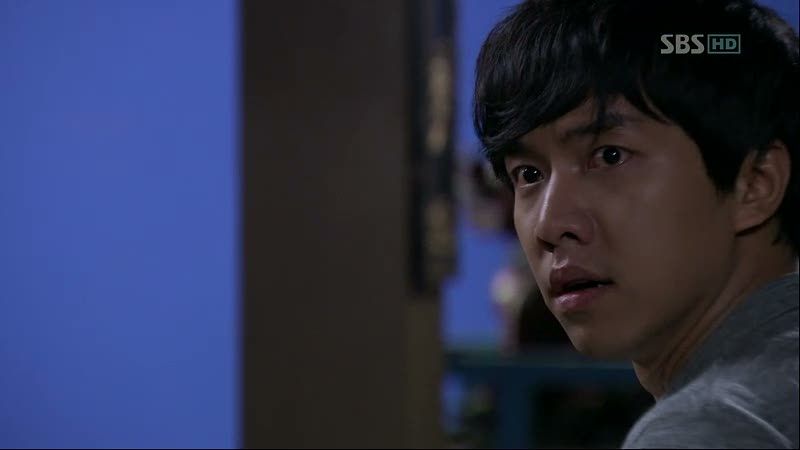 RELATED POSTS
Tags: featured, Lee Seung-gi, My Girlfriend Is a Gumiho, Shin Mina