My Girlfriend Is a Gumiho: Episode 14
Episode 13's game-changer was a tough act to follow for sure, and I was a little worried that we'd sap all the dramatic tension out of the story once all the rules went out the window. Thankfully, the dramatic tension still abounds, but sadly, it means that the old rules just get replaced with new ones. As it turns out though, it doesn't much matter what the macguffin is, since these characters, without fail, make me laugh out loud and clutch my heart as they race toward the finish line. Get ready for the angst, people. It's a-comin'.

EPISODE 14 RECAP
After the epic tears-falling, fox-bead-exchanging kiss, they check on each other in relief, thinking they've beat the odds. Dae-woong smiles as he says they're fine…and then slumps unconscious in Mi-ho's arms.
Byung-soo helps rush him to the hospital, where he and Mi-ho watch helplessly as Dae-woong gets carted into the emergency room. Dong-joo the Lovejoy Killer shows up just to point out that her choice was a stupid one. Yeah, that's not helping right now.
Mi-ho gets called to Dae-woong's room, and she walks cautiously with each step. She sees Dae-woong lying there, almost dead, and decides she's got to give the fox bead back. Dong-joo stops her, saying that it's too late, and there's nothing she can do. He holds her firmly by the hand.
Just then, Dae-woong stirs awake. The first thing he says? "Let go of that hand." HA. Nothing like jealousy to bring a guy back from the brink of death.
He tells Dong-joo to let go of Mi-ho's hand because he's perfectly fine, and that fortune tellers have always told his grandfather that Dae-woong would live till 120. He figures he's still got 50 good years left in the aftermath of the ki-halving. Heh.
Dong-joo walks away defeated for now, wondering to himself if his course has now been changed by one human being's decision. "One person's decision…for another person." He thinks back to Dae-woong's declaration at the airport and the choices they made for love, which are earth-shattering to Dong-joo's worldview. I do adore the idea that their love is something that changes a thousand-year-old being's view of love and sacrifice.
Mi-ho worries, but Dae-woong insists he's fine. He checks on her, but the fox bead's keeping her safe. She wonders if it'll end up re-growing the four tails she's lost. Dae-woong pulls her close (Swoon.) and says that he was cool with her being a gumiho, so he's fine with an oh-miho (oh = five). God, how cute are you?
They worry that traveling to China will be hard on them, so they decide to use the hospital visit as an excuse to earn some time from Director Ban. Mi-ho pats her tummy, telling the fox bead to be safe in there…
Which is of course right when Grandpa, Aunt Min-sook, and Byung-soo arrive on the other side of the curtain. Grandpa demands to know what "bead" they're talking about. Dae-woong freaks out at first, not knowing how to explain his way out of this one…until Grandpa finishes the sentence for him. "How can you not tell me about my great-grandchild?"
HAHAHAHA. The look on Dae-woong's face goes from scared to WTF, as he realizes that Grandpa thinks they're talking in cutesy terms about their unborn child. He tries to convince them that she's not pregnant, but nobody believes him. When Grandpa insists they go get Mi-ho examined by a doctor right away to be sure, Dae-woong steps in front of her, and announces, "It's true. She's…carrying my bead." Hahaha. Oh my god, this gag coming out of nowhere cracks me up.
Grandpa shoves Dae-woong aside to hug Mi-ho in delight, while Byung-soo claps and Aunt Min-sook silently judges.
Dong-joo and Hye-in commiserate on the state of affairs. Hye-in can't believe that Dae-woong would risk his life that way—that's not the Dae-woong she knows. Dong-joo says that he must've changed because he met someone who was willing to give all of herself…and so he became that kind of person too. Yeah, thanks for that. Steal a recapper's thunder, why don't you. That's MY job, the commentary, thank you very much.
He does add one tidbit of gloom and doom: he doesn't know what will happen, since Mi-ho still has his blood in her system. Good to know all the dramatic tension hasn't vanished with the kiss.
Grandpa declares that Mi-ho is to stay at the house from now on, what with the "bead" to take care of. Dae-woong will stay for a few days and then head to China, and Grandpa plans to look after Mi-ho while he's gone. They head upstairs to Dae-woong's room, and Mi-ho looks up at him expectantly, "Are we…staying together…in one room?"
He perks up at the implication of sex, but Mi-ho starts to shake her head. She's already taken half of his ki—she can't take any more. Dae-woong reasons that she's taken half and he's fine, so he thinks it'll be okay to take some more. She shakes her head no. Too dangerous. Dae-woong and I both sigh.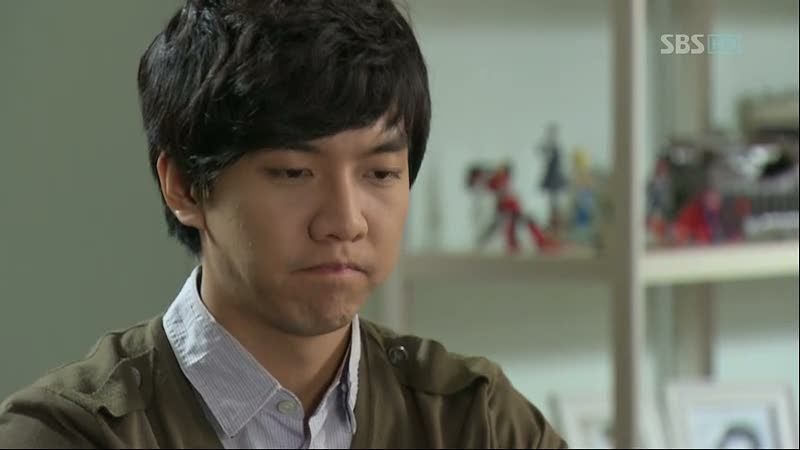 Dae-woong: "I wasn't even thinking about that." Mi-ho: "I think about it…a lot." Pwahaha. I love her. He starts to pout, and Mi-ho says they'll have to wait out the hundred days to be sure that it's safe.
She tells him he has to be patient, and he counters that she'll be the one who has to be patient, since she's the one always jumping him. Heh. Even she can't argue with that. In order to keep her mind off of mating, she kicks him out of his own room.
Aunt Min-sook calls Director Ban to thank him for giving Dae-woong some time off, and I don't even know what else they're saying because I'm laughing so hard at him wearing his Kill Bill tracksuit. It turns out that Min-sook's true source of angst isn't in judging Mi-ho, but in becoming a grandmother before ever becoming someone's wife or mother.
Hye-in drowns her sorrows in beer, and then makes a rash decision to send Aunt Min-sook the picture of Mi-ho's tail, telling her to keep an eye on her. It does make me laugh how ineffectual this second lead is.
Mi-ho starts to feel feverish in the middle of the night, and Dong-joo notes in the presence of his visual aid, the half/half mystical sandglass of ki, that if the fox bead and human essence can mix safely within her…she might end up half-human like him.
She wakes up, eyes glowing blue and possessed by the fox bead's voracious hunger for human ki. She steals into Dae-woong's room, getting handsy till he stirs awake. She gets on top of him and leans in close, "Let's share our ki." Whoa. Hubba-hubba. Startled, Dae-woong scoots back and reminds her that they have to be patient. But he sees her blue eyes and realizes that she's under the influence of the fox bead.
She ends up chasing him around the room, wanting to mate. (Seriously, how hilarious and awesome is it that I get to write that sentence?) Dae-woong hears his aunt looking for them, so he tries to get Mi-ho to calm down. She starts getting angry about losing four of her tails, so Dae-woong thinks quickly and grabs one of his aunt's fur coats (made of fox tails, of course) and that's enough to calm Mi-ho down and put her to sleep.
He carries her back into his room, now that she's asleep and back to her normal self. As he puts her down, she wakes up, and seeing Dae-woong above her, she jumps up and pushes him off the bed. Hahaha. She yells at him, thinking he couldn't even wait one night, and chastises him for letting a gumiho beat him in the waiting game.
Dae-woong sets her straight, reminding her that she's the one who came to his room wanting to share her ki. She doesn't remember, but Dae-woong brushes it off as a side effect of getting her bead back, and says that he'll look after her.
And then he sits by her bedside, watching her sleep.
Mi-ho: Woong-ah, what if I change like that, every single day?
Dae-woong: Then every single day…I'll watch over you.
Aw. Seriously. AW. He holds her hand and tells her everything's going to be okay.
The next morning, there's no meat at the breakfast table, and Mi-ho's eyes turn blue, as she starts zombie-chanting for meat. Dae-woong sees it in time and leads her away, covering her eyes.
He asks if she's okay, but then she looks down at Ddoong-ja, chanting, "Meat, meat…" NO! Don't eat the dog! Seriously, move her out of there before she eats your dog in a fit of fox-bead-induced hunger! Aunt Min-sook comes by so he holds her close, pretending to play games with her, which of course makes his aunt want to vomit from the cute.
Dae-woong decides that they'll have to tell Grandpa the truth and move back into the loft, and goes to see Dong-joo to ask about Mi-ho's condition. He doesn't like that he has to be there, but he knows that Dong-joo will know more about her state, and tells him that he doesn't care if she goes back to the way she was, as long as she can live.
Dong-joo says he doesn't know anymore either. What he does know is that she's got half human ki and half gumiho ki inside her, while the blood of a half-human that could kill both, runs through her veins. Well that's a whole lot of mystical mumbo jumbo mixing around a girl's insides.
Dong-joo tells him that if the two kis can mix properly, then she'll become a half-human, like him, and his blood will stop killing her. If they don't, then she'll die. Aw, man. I KNEW IT, Show. I knew you were going to throw away one road for her to die and just put another one back in its place.
Dae-woong asks for a way to be sure. Dong-joo tells him that on the 55th day, the fifth death will come. If she doesn't lose a tail, then his blood will have stopped killing her. If she does, then by the end of the hundred days, she'll surely die.
After taking a family picture, Dae-woong tells Grandpa the truth, leaving him devastated. In getting back to their loft, they leave a wake of disappointed people, making Mi-ho feel guilty that she's made everyone in Dae-woong's life mad at him. He assures her that it's not because of her, but she isn't convinced.
Byung-soo wonders why Dae-woong made up such a backwards lie (because most people would lie that they weren't pregnant), and asks if he's really going to marry Mi-ho within the year. He reminds him of his dream to live like Brad Pitt (haha), but Dae-woong responds that he's got to live twice the life in half the time, so he's got none to waste. What a great distance you've traveled since your days as a lifelong serial slacker.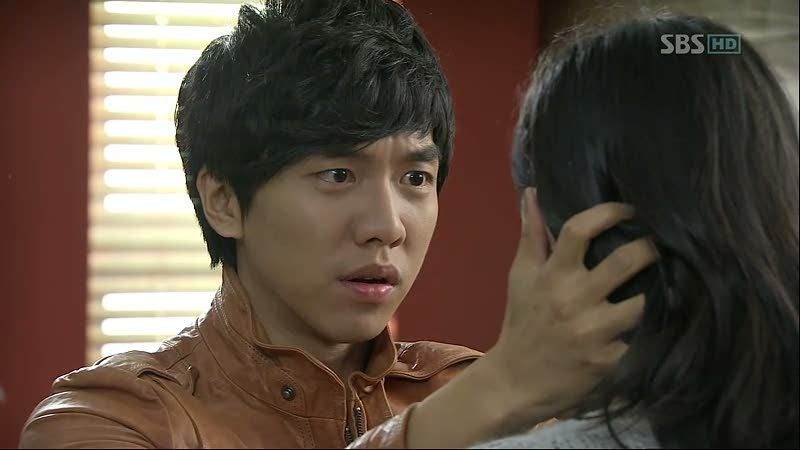 Dong-joo comes by on the 55th day, to remind Dae-woong of the stakes. Dae-woong shoots back that he knows what day it is, without Dong-joo having to come here to point it out. This pair being at odds is so great because it's not just jealousy and bravado, but those things infuse all the life-and-death talk with lots of character nuance.
Dae-woong comes home and frets over Mi-ho, declaring that "they" have to mix well so "it" stops. Mi-ho doesn't understand what he's saying, so she thinks he means that she has to stop changing into her gumiho form. He just begs her to hold on till the hundred days are over, and to stay an oh-miho.
That night, he watches over her from his balcony as she sleeps. She darts awake in the middle of the night and runs to the bathroom. He runs over to the door to see if she's okay, but she comes out smiling…she's lost another tail. She beams, thinking this means that she's still on her way to becoming human, but Dae-woong's heart drops a thousand feet.
He sits outside, processing the truth—she's dying.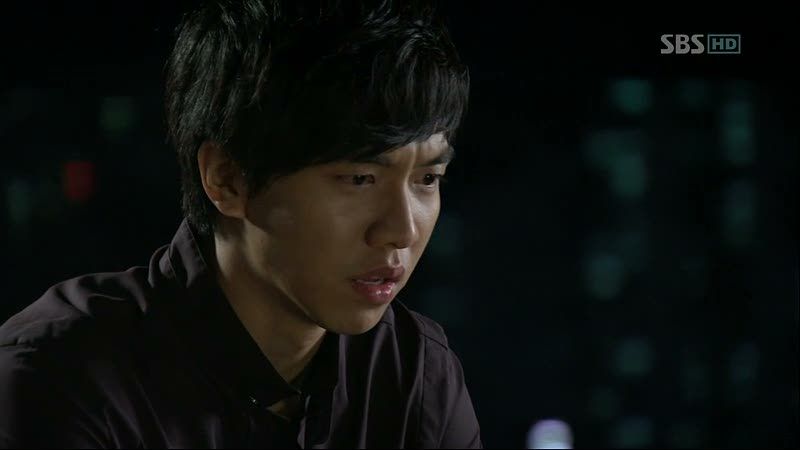 Mi-ho wonders if she's made him worry, but he can't tell her anything, (Gah, WHY?) so he rushes off to meet Dong-joo. They meet on a rooftop…to battle it out for her heart? No, just a pretty place to meet. Dae-woong asks for a way to stop it, to keep her from dying.
Dong-joo tells him the one way that she can be saved: Dae-woong has to leave her side. What? WHAT, now? Show…we were doing so well. So. Well. Don't turn into Cancer on me now. Don't do it. Don't turn into Noble Cancer Death, complete with Forced Separation For Your Own Damn Good I Swear.
Dong-joo tells him that the two kis are having a hard time mixing because Mi-ho is still holding on to her hope of becoming human. Oh, really? You sure do know a lot about her new condition all of a sudden, Emo Boy. He says that the only way for her to live through this is to give up that dream and the life she was planning with Dae-woong. Should we be trusting this guy? Where's the exposition goblin when you need him?
Dae-woong declares that he doesn't care what Mi-ho is, gumiho or whatever else, and she knows it too. He can't believe that they've gone from only-one-survives, to separate-to-survive. Yeah, me neither, buddy. He can't accept that the only way for them both to live…is to be apart.
Dong-joo points out that this is his own doing, since Dae-woong is the one who made the decision, universe be damned, to find a way for both of them to survive. This is the consequence. Damn it, Dae-woong! You messed with the Universe! Now look what you did. But the sharing of the kis, the meeting halfway—it was so poetic, so perfect. This can't be the consequence!
Dong-joo tells him to weigh his decision carefully. He adds that if Dae-woong leaves, he'll take his place by Mi-ho's side and teach her how to live in this world, as someone like him. Oh. No. You. Di'n't, Dog Teacher.
Dae-woong heads home to find Mi-ho waiting for him, and she continues to be excited at the prospect of losing all her tails and becoming human. Dae-woong tries to tell her that he's happy the way they are now. "Can't you just stay like this, by my side?" But she tells him not to give up on her becoming human. Which is why you should TELL HER. If it's just a state of mind, then wouldn't knowing that human = death compel her to want the other thing?
He tells her that she'll grow old and die, but she wants to do all those things, with him. He realizes that with him by her side, she'll never give those things up, and he could never ask her to.
Dae-woong stays up watching her sleep that night, knowing what he has to do. He comes down and takes her hand, holding it lovingly, tears forming in his eyes. He kisses it ever so sweetly as he holds back his tears. Gah. Okay, I will concede. The plot shift is not my favorite, but for a bout of angst from Dae-woong? It might be worth it.
The next morning he takes Mi-ho for a drive, and she asks brightly if they're taking a trip. Don't go to the ocean! Nope, not a trip. Oh, whew. To Grandpa's house, then? Nope, not there either. Then where? To Dong-joo…oh crap.
Mi-ho asks why they're going there, which is when Dae-woong starts his rehearsed breakup speech. With tears welling up, he tells her that he's not okay with it anymore—the changing, the following him around, the having to lie to everyone in his life. He uses her gumiho-possessions as an excuse to say that it scares him, and that he can't do it anymore.
Mi-ho immediately says that she'll stop all of it; she'll do anything. Ack! Someone, make the bleeding heart stop.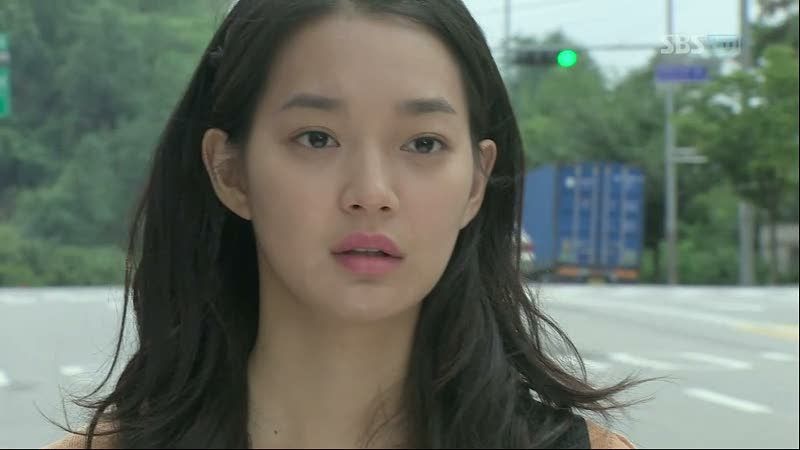 He pulls over and tells her to get out. He grits his teeth and deals the final blow: he's grown attached to her, but now there's no guarantee that she'll ever be human, and he can't go on like this. He asked her to leave once and she did; he asks her to leave quietly again, because he can't stand to see her anymore. I really don't know who to be more heartbroken over right now.
Mi-ho stands there in the street, shell-shocked as Dae-woong drives off. Once inside the car, he starts to cry as he leaves her behind, her reflection growing smaller in his rearview mirror.
Mi-ho tries to convince herself that Dae-woong is just having a hard time, and that it'll all be better if she tries harder. Oh my god, you're breaking my heart pieces into even smaller pieces right now.
Dae-woong starts pounding soju, and Byung-soo tries to stop him. He grabs the bottle back, saying:
Dae-woong: I have to lose my mind. There's no way she'll leave in one go. She'll come back, and when she does, I have to completely lose it, and act like a crazy bastard.
Gaaaah, I mostly hate Noble Idiots, but you're starting to win me over, Angsty Dae-woong. Your motives are pure and you wear your heart on your sleeve, so I can't help but be all melty.
Mi-ho runs into Hye-in who doesn't say anything new, but lays it on thick about her being a monster, kicking her while she's down. When she gets home, Dae-woong is already there, passed out. Byung-soo tells her that he drank because he's having a hard time over something, and tells her to take good care of him.
When he wakes up in the morning, Mi-ho greets him eagerly. He tries to be gruff with her, but she's her adorable self, reminding him that she's like super glue—did he really think he'd get rid of her that easily? But he can't chicken out now. He declares that if she isn't going to leave then he will, and walks out.
She stops him, asking to go with him, pleading to just be angry if he's angry, and do whatever he likes, just as long as she can stay by his side. He falters for a second at her words, but regains his composure, and tells her that he doesn't see her the same way anymore, because he knows her true nature.
Mi-ho: "Then what do you see me as?" His lips quiver and angry tears form, hating himself as the words come out: "A monster."
Ooof. That was a sucker punch, Show. That hurt. But I appreciate that you went to the dark place—if we're gonna go, let's go all the way.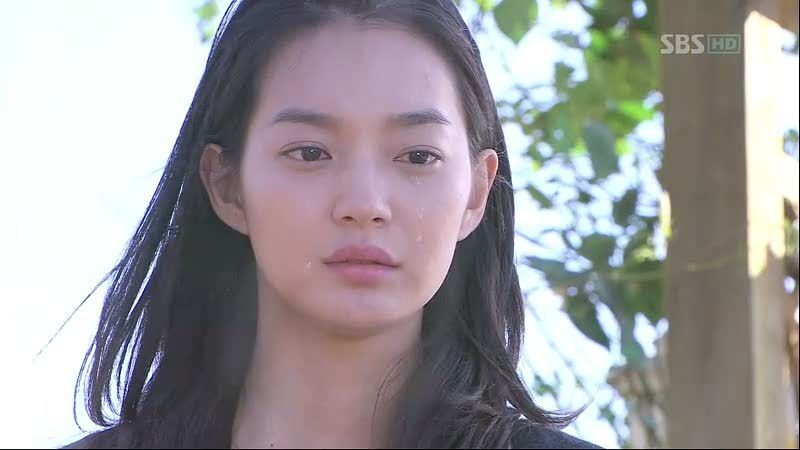 Dae-woong runs as fast as his legs will carry him, as Mi-ho watches from the rooftop. She starts to cry as she watches him leave her, and rain comes pouring down. Dae-woong stops in his tracks when it starts to rain, and he stands there soaking wet, crying as he feels her tears fall from the sky.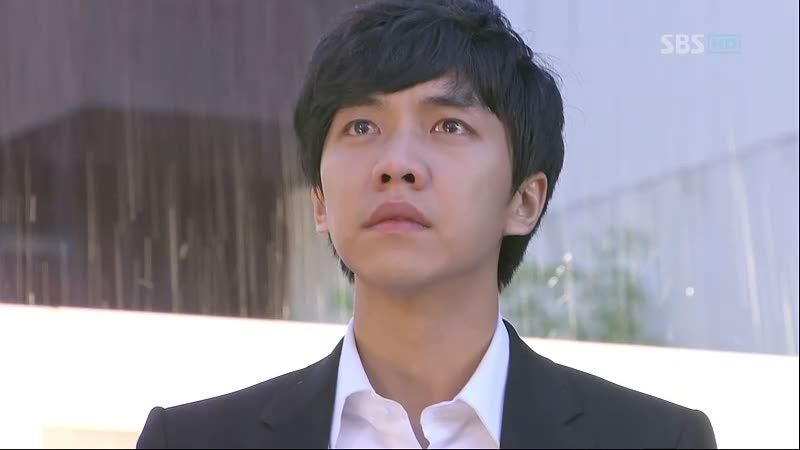 One month later, Dae-woong returns from China with the rest of the cast and crew, having completed the overseas shoot. He arrives home at Grandpa's house and unpacks, sighing as he takes out his couple ring, now kept in a box. His heart sinks as he says it's already the 88th day. Aw, he's kept count.
He goes to Dong-joo's vet office, but finds that it's been closed for a while now. He muses that they really must've picked up and moved somewhere far.
Mi-ho gets stopped by someone in the street, and we see that she isn't wearing her ring either. When asked her name, she turns and says, "Park Sun-joo," with a smile.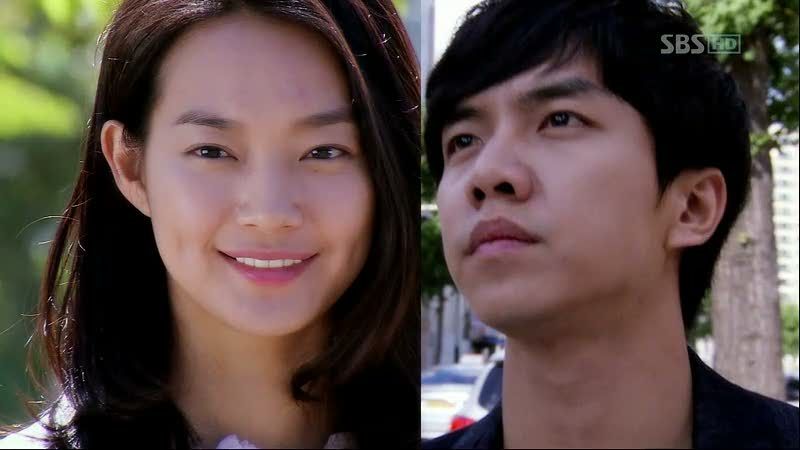 COMMENTS
I don't usually fall for the mega-angst. Mostly because I traded my heart once for a mystical bead and when I wanted it back, the gypsy said no. But MY GOD, I'm so riveted by the angst, and I'm not even entirely sure why. I usually hate the noble idiot, and the forced separation. Okay, I still hate the forced separation, but I'm willing it go with it because it makes for some great moments of heightened drama, and we've already fast-forwarded past the separation period. And perhaps it helps that this noble idiot is played by Lee Seung-gi. But I don't think that's it. (Or all of it.)
Granted that the supernatural rule-changing is more than a little clumsy (such a crutch that Dong-joo just knows everything), but within this world, the rules are the fabric of the story. They're not artificial conflicts, because the heightened premise allows for these do-or-die scenarios. But more importantly, the emotions are organic to the characters. They're swept along by this larger-than-life dilemma, and Destiny is no longer an abstract idea—it's an actual obstacle for the couple, to battle the universe and to make their own fate. And that? Is gripping, and heartbreaking, and beautiful.
What I hate is when characters do this sort of thing without sufficient reason to do so, just for the sake of angst. In those cases, Angst is the driver and the characters get taken for the ride. But here, the reason is still life-and-death. It's not as compelling a dynamic as one-must-die-for-the-other-to-live, but it's still high-stakes, which is what matters, narratively. Here the characters and their organic emotions are the driver, and Angst is along for the ride. And so am I.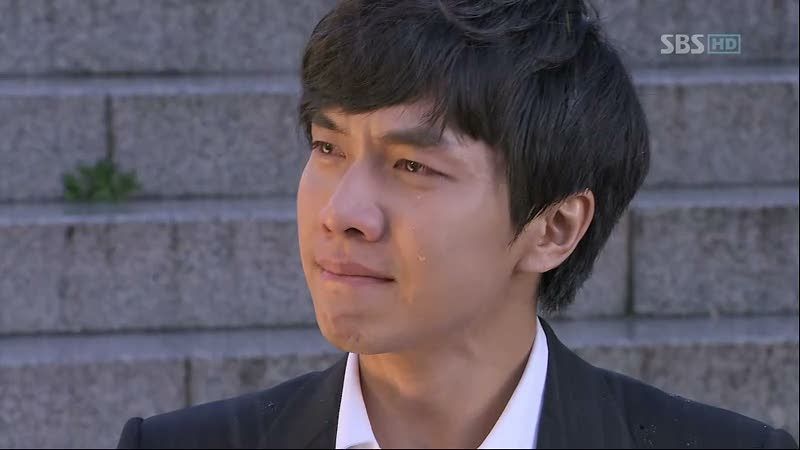 RELATED POSTS
Tags: featured, Lee Seung-gi, My Girlfriend Is a Gumiho, Shin Mina