Playful Kiss: Episode 7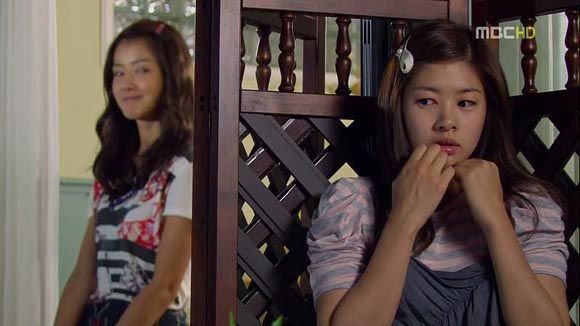 This episode had more than one plotline going on, but there was a general arc to the emotional progressions, so overall I was happy with it. I'm liking the characters more and more, and although He-ra is in the role of the hateful romance-spoiler, Lee Shi-young is playing her with this interesting mix of confidence, softness, and bitchery that makes me like her. Well, like to hate her.
SONG OF THE DAY
IU – "Rain Drop" [ Download ]
Audio clip: Adobe Flash Player (version 9 or above) is required to play this audio clip. Download the latest version here. You also need to have JavaScript enabled in your browser.

EPISODE 7 RECAP
Curiosity piqued by the sophisticated Yoon He-ra, Ha-ni asks Seung-jo about her. She's surprised to hear that He-ra is their age, and furthermore, she's at the top of their class, like him. Ha-ni tries not to feel intimidated, and stammers a denial when Seung-jo asks if she's jealous.
But Seung-jo can read Ha-ni like an open book and decides to have a little fun. He says a little jealousy isn't out of the question, given that they did kiss. He leans in close, making Ha-ni close her eyes and wonder if this is going to be Kiss No. 2… until he laughs at her gullibility. You bastid!
Ha-ni realizes he was messing with her, discouraged at this indication that the kiss meant nothing to him. Her friends commiserate, but are unable to stick around for their planned lunch date — Ju-ri got a job at a beauty salon, while Min-ah has to eat lunch with her department.
That leaves Ha-ni to eat alone. Although she can't bring herself to ask Seung-jo to join her, it's a pleasant surprise to run into him anyway.
Another surprise: The guy behind the counter — who gives Seung-jo an especially small serving of rice — is Joon-gu. He's taken a job working here, in order to keep tabs on Ha-ni.
Ha-ni finds a table for them, but to her disappointment, Seung-jo joins friends at another table without so much as a word. (To be fair, it looks like he initially intended to join her, but got called over. Still, dude, you can't even give a teeny explanation? I know, that's not your style. That would be — gasp! — polite.)
Later, she spies Seung-jo sitting at a bench, and eagerly makes her way to join him. But just as she does, he's joined by an older student, Kyung-soo, who tries to recruit him to his club. After some resistance, Seung-jo agrees.
Ha-ni is, naturally, curious to know which club it is. It's why Seung-jo purposely doesn't tell her, because he knows she'd follow him there.
Being called out on it doesn't stop her: When he heads to the club's meeting room, Ha-ni stealthily follows. He's on to her, and leads her astray, but she eventually finds the right room. This is Top Spin, the tennis club.
Spotting her arrival, Seung-jo doesn't even look surprised and mutters that she found him after all. To her surprise, there's another familiar face in the group: He-ra. Seung-jo and He-ra were both champs in the national high school tournament two years ago, explaining how they know each other.
By now He-ra has sized up Ha-ni as a rival, and although she maintains a pleasant tone of voice, her words border on bitchy — that Ha-ni shouldn't have come since she doesn't know how to play tennis. Ha-ni replies that she was told that all she needed was interest.
Seung-jo tells He-ra to let it rest, but he can't have us thinking he's doing it to be nice, can he? He has to tack on the comment, "She's a thoughtless girl anyway."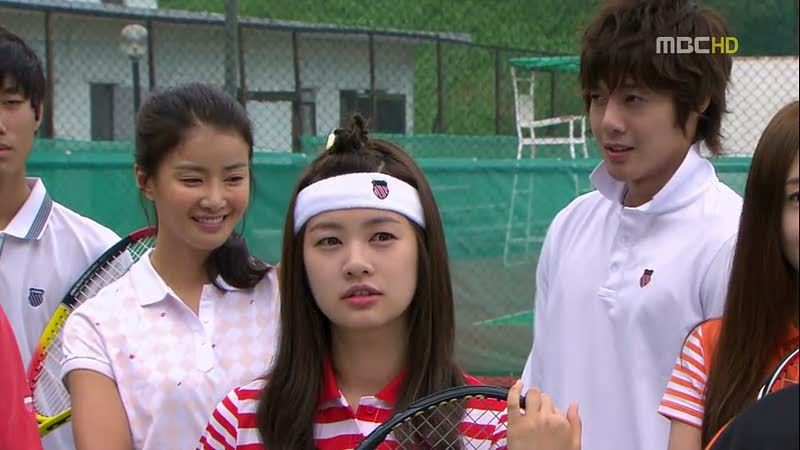 At the first practice, the gentle and welcoming Kyung-soo takes his place as their training coach. (Shockingly, he's only a second-year and 21 years old — his older appearance is a key gag with his character.) Ha-ni finds Kyung-soo very kind, but He-ra and Seung-jo trade smirks, because Ha-ni's about to find out the truth.
Which is? Kyung-soo transforms into a fearsome drill sergeant the moment he gets on the court. He tests the members' proficiency levels one by one, barking orders and delivering fierce serves that can't be returned.
Kyung-soo is nervous around He-ra, though (methinks it's a crush), and gives her an easy serve. She wants a proper one, and this gives her the chance to show off her prowess. Seung-jo is next, and he crushes Kyung-soo. This earns him the others' admiration but sends Kyung-soo's temper up another notch, with only one member left: Ha-ni.
Ha-ni's scared to go out after Seung-jo has pissed him off — particularly since this is her first time holding a racquet — but go she must. She dodges a few balls in fear, and then one flies at her face. She blocks it with the racquet, which recoils into her face and knocks her out.
Funny enough, this impresses Kyung-soo; he praises Ha-ni for her focus on hitting the ball, disregarding her own safety. This guy's a NUT.
Once he's off the court, though, he's back to his mild-mannered self. When the club goes out for drinks, he separates himself from the group, embarrassed of his behavior.
Everyone marvels at how perfect and talented He-ra and Seung-jo are, and speculate that both were very popular in high school. He-ra says she wasn't interested in dating, spouting off a bunch of Sartre about loving the self and the nature of human existence. Blah blah blahhhh.
And then, Seung-jo completes her sentence for her, continuing the pretentious display of pseudointellectual quotitis. (What? That's a thing. I sure saw plenty of it at my school.)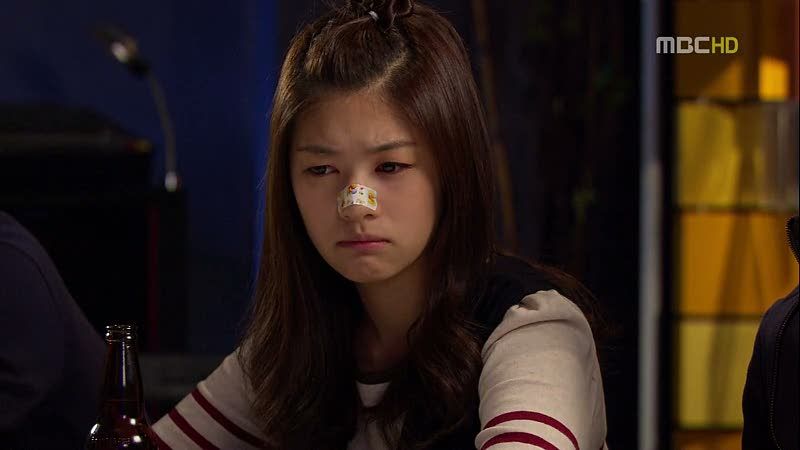 Everyone is lost in all this philosophical flim-flammery, particularly Ha-ni, feeling the gulf between her and them. (And this is when I realized why I love this dynamic so much — it's totally Bridget Jones and that stick insect lawyer bitch Natasha. I'm fine with He-ra running about with her nose in the air because despite painting herself as the Perfect Mate to the Perfect Man, she'll never beat the Lovable Everywoman because she's lacking something fundamental. Like a heart.)
The trio's next run-in takes place in English class, where they're joined by a fourth — Joon-gu. When the lecture starts, the instructor asks Ha-ni a question, but as she doesn't understand English, she turns to Seung-jo for help. He ignores her, so she makes a garbled apology in her broken English.
Joon-gu also attracts the teacher's notice, who asks if he's a student in this class. Joon-gu can communicate in English about as well as a monkey, so He-ra speaks up and explains to the teacher that Joon-gu's not a student, and that he's only here because he likes Ha-ni.
Then she turns to Joon-gu and, with her steely-sweet voice, calls him a public menace. She adds under her breath that she hates stupid guys, which are the same words Seung-jo used to describe Ha-ni.
Ha-ni glumly says to Seung-jo's mom that Seung-jo must like those pretty, smart, skinny girls — the kind that abound at school. Mom immediately understands that a third wheel has hitched herself along for the ride, and reassures Ha-ni that she and Seung-jo are the type who have to be together to be perfect, like a pot and lid. It's a cute way to show that they're complementary, not carbon copies of one another.
Ha-ni drops by Eun-jo's school to deliver some school materials, where she sees that he has a crush on a classmate. To help him along, Ha-ni approaches the girl and invites her home and, naturally, she and Mom spy. The playdate doesn't go very well — the girl's bored and petulant — until Seung-jo arrives.
Suddenly, she perks up, wowed at the handsome oppa. In fact, she's bold enough to ask at dinner whether Seung-jo believes in love at first sight. Seung-jo hasn't ever thought about it, but the little hussy says she believes in it now, then requests, "Oppa! Please just wait seven years!" (I presume she's 13 and means until she's of age at 20.)
POOR EUN-JO. Mom tries to give him a pep talk, but it just doesn't have much impact to hear mom tell you how cool you are. Ha-ni asks if Seung-jo even cares how Eun-jo feels, and calls him a player.
This gives her the chance to unload her frustrations about He-ra, and I love that she calls him out for playing around with her feelings — he smiles at her intentionally to confuse her and never is clear on whether he means something or is joking. She grumps, "Go ahead, you guys suit each other… you're both mean anyway."
Catching on to the source of her complaint, he asks if this is about He-ra instead of Eun-jo. Ha-ni says they're the same thing.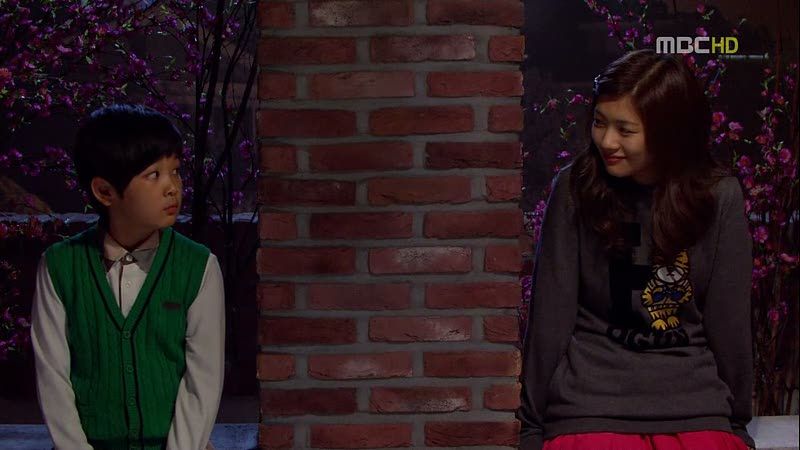 Eun-jo lashes out at Ha-ni when she comes to talk to him, saying this was all her fault for asking the girl over. Ha-ni agrees, apologizing for overstepping. Eun-jo is feeling raw and retorts, "What do you know?"
But one-sided love is something Ha-ni knows very well — she understands exactly what it feels like to be ignored by the one you like. She sighs, "Eun-jo, I think that for two people to like each other at the same time is nearly a miracle. One day, will that miracle happen for me?"
She says it wistfully, and Dad overhears from inside, perturbed. With that on his mind, he asks Joon-gu if he really likes Ha-ni that much. Joon-gu explains that when he was always getting into trouble and avoided by the other kids, Ha-ni was the only one who befriended him. There's a moment that's a bit sad when Joon-gu calls himself pathetic, working while all the other kids are off joining clubs in college. But he's intent on building himself up quickly so he can propose to Ha-ni. Oh, Duckie. My heart, it bleeds for you.
Seung-jo brings He-ra home to work on an assignment, and Ha-ni finds herself caught on the balcony outside the living room. She scurries behind the screen to avoid being seen, but alas, the two settle down to work there and she is forced to keep hiding.
The report is on cultural studies and leads to some more philosophical musings about the crux of Nietzsche's ideas. He-ra has the idea to make their project with a visual medium rather than a written report, and they get out the camera to create some homemade claymation.
Ha-ni sees Seung-jo's absorption in his project and finds it discouraging — she's never seen him look like that, and it further highlights the gap between them.
Mom arrives home and hears from Eun-jo that Seung-jo's friend is super pretty, and immediately her Momdar pings — this must be Ha-ni's rival, and this automatically means she must be discouraged. (Mom is awesome.) Thus she receives He-ra coolly, much as she once saw through the B.S. facade with Jang-mi. Go Mom!
I'm starting to love to hate He-ra, because she's so uppity that you can't help but root for her downfall. For instance, when He-ra finds that Ha-ni didn't know Seung-jo is only a special member of the club (i.e., he can skip practices), she laughs that they're not even that close — it means she finds Ha-ni utterly unthreatening: "It's no fun without any tension."
Yeah, she's that perfect bitch who likes to make things harder on herself because otherwise life is so boring, poor baby.
Bothered by Ha-ni's explanation of her one-sided crush, Dad decides that it's time to move. He makes this decision with a heavy heart, but feels that it would be best for Ha-ni — he doesn't like seeing her struggle.
Mom doesn't take this well. The parents had meant it when they said they wanted the Oh family to keep living with them. Ha-ni's father answers that this will help Ha-ni give up on Seung-jo faster — they all know that he's not interested in her.
I love that Mom insists that Seung-jo will come to like Ha-ni, and she clutches at straws by asking if it would be okay for them to stay if Ha-ni married into the family. She just really loves her and her bright energy.
Overhearing, Eun-jo tells his brother that Ha-ni's leaving, and while Eun-jo says this is good news, Seung-jo's reaction proves that he doesn't consider it as such.
Seung-jo heads to Ha-ni's room to confirm that it's true, at which point he says (completely unconvincingly, I might add), "Well, I can finally get back to life as normal."
In a sad voice, she says she hopes so. He leaves her with the words, "Have a nice life." Not exactly the most charming goodbye, is it?
But even if he can't say it in words, Seung-jo's disappointment is clear. I think the above images just about sum it up.
Soon, it's moving day. Ha-ni and her father ready to leave, and it's a sad day all around, particularly for Seung-jo's mother.
Ha-ni thanks Mom for everything she has done for her — from buying pizza for her classmates to inviting her friends to the family trip and just being an overall awesome mom.
Seung-jo studiously keeps his gaze averted — I wonder if he feels partially guilty, especially with his parents so heartbrokenly saying their goodbyes. He says a quick and casual "Bye."
After the Ohs drive off, Eun-jo exults in getting his room back. Seung-jo asks for lunch, and I love Mom's response: She whirls around and glares at her boys, saying it's all their fault. Yeah, I'm gonna bet there was no lunch that day.
I presume that Seung-jo's light send-off to Ha-ni was his way of overcompensating, since he can't be earnest for the life of him and he sure as hell isn't going to admit to any disappointment. But next he goes into Ha-ni's room, looking around at the empty space, and he finds her doll on the bed, the one he'd won for her in the machine — she has left it behind.
(Worst episode ending ever! Well, not really, but I just wanted more of Seung-jo's reaction before we cut out, and feel impatient for more.)

COMMENTS
Okay, so girlfriday's gonna make SO MUCH FUN of me (I DON'T CARE JUST BRING IT ON, WOMAN), but I have never, and I honestly mean never, found Kim Hyun-joong attractive before — yeah, he's beautiful, but I got no pull from him, no personal charisma — yet his messy perm is totally doing it for me. It's weird. I know it's weird. I can't help it! It's not that I like Seung-jo all of a sudden (he can still be an ass), but he's starting to seem like a human now. A human you can rumple and do naughty things with, as opposed to a robot where you can't. Or shouldn't. (Really, really shouldn't.)
It seems that messy hair in dramas (and not just Korean) has come to indicate a messy personality. I'm not saying that people think curly-haired people are messy; it's just become this narrative shorthand. Some people commented on this straight-curly relationship regarding Lee Seung-gi in Brilliant Legacy. Another one is Hong Gil Dong — in the beginning when he's a troublemaking wastrel, his hair is a bird's nest of messy curls, and it gradually straightens as he matures. Whether or not it's consciously meant to do this for Seung-jo, for me it evokes a loosening of his personality, and I like that.
Also, this episode (the ending, at least) brings us to one of my favorite points in any romantic kdrama — the reversal where the indifferent hero suddenly has to face the prospect of not being so indifferent after all.
Usually I'm dying for the heroine to take the hero down a notch or five after being underappreciated by him for so long — to just smack that smirk off his face and show him that you're strong and worthy. I'm pretty sure Seung-jo IS trying to be nice to Ha-ni sometimes, but he can't admit that to her or himself and tacks on rude comments to make it seem like he's indifferent. He has the luxury of doing that because he smugly believes Ha-ni's always going to be around, so he can tease and toy with her as much as he wants and never lose her affection.
But I understand that Ha-ni's not the kind of girl to lash out at him — her very appeal is in how open, sweet, and genuine she is. So if she can't knock him down a peg, how great for the circumstances to do that for her? She moves out, jolting him with the thought that maybe he can't just take her presence (and by extension, affection) for granted anymore.
Or at least I hope that's how the story progresses.
RELATED POSTS
Tags: featured, Jung So-min, Kim Hyun-joong, Playful Kiss