Playful Kiss ratings round two: 3.7%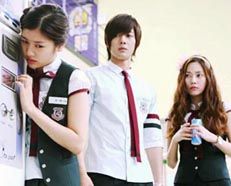 I know some viewers were holding out for a marked improvement in Playful Kiss's numbers given its surprisingly poor start yesterday, but alas, it was not to be. Episode 2 didn't fare much better, following Episode 1's 3.5% rating with a 3.7%.
Competitor drama Baker King Kim Tak-gu hit yet another series high at 45%, while My Girlfriend Is a Gumiho held firm with 12%.
Most of you probably don't care about ratings numbers, and I don't use them to gauge a show's quality. These days there are other ways to catch dramas, such as rebroadcasts and online, and no doubt younger audiences gravitate toward those alternative methods. Still, the ratings are important in determining ad revenues, and that, as we know, can be significant. Heck, the current union strike is happening because these companies have no money to pay their actors because they're spending more than they're making. There are other residual benefits as well, with high-rated hits bringing in more CF opportunities for its cast. (Expect to see a LOT of Baker King's Yoon Shi-yoon in the near future!)
For its own sake, I hope Playful Kiss can hang in there until Baker King wraps. True, its successor, Rain's Runaway, may also provide competition, but at least they'll be on more level playing ground. And there's always the export market.
Via Asiae
RELATED POSTS
Tags: drama ratings, Playful Kiss