Su Ae and Jung Woo-sung in bed together for Athena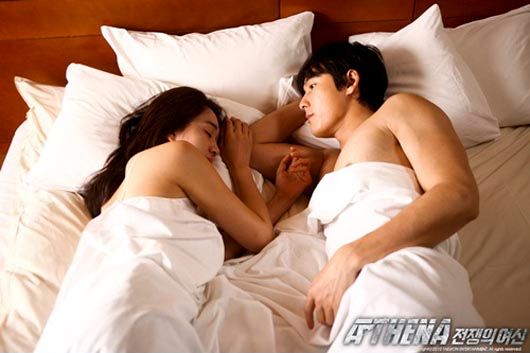 Literally. It's funny to compare Athena's promotional blitz with IRIS's, because there are so many similarities. On one hand, I do NOT want to spend all of Athena's run nitpicking every detail and comparison to IRIS, but on the other hand, it's sort of inevitable.
Example: Compare the above still with these from IRIS. In IRIS, the scene occurred on a memorable romantic getaway to Japan. In Athena, the scene happens on a romantic date in… Japan. Taewon Entertainment, your formula is showing.
(Not that it makes it any less interesting. Hot spies in bed together, rawr!)
The details of the scene: Spy Jung-woo (Jung Woo-sung) is suspended from work after taking responsibility for a case that went awry, and goes to Japan alone to do some solo investigating. There, he meets Hye-in (Su Ae), and they confirm their feelings for each other on this unexpected rendezvous.
Genuine question: Do all you Jung Woo-sung fans (and you know who you are) feel your insides shrivel up in envy to see him getting nekkid with another woman, or are you happy that he's getting some fictional lovin' from a lovely lady like Su Ae? Just curious.
Athena moved to Japan from its location shoots in Italy, and is still filming there. The production plans to film in a total of six different countries, and will premiere in December.
Via TV Daily
RELATED POSTS
Tags: Athena: Goddess of War, Jung Woo-sung, Su Ae