Sungkyunkwan Scandal: Episode 6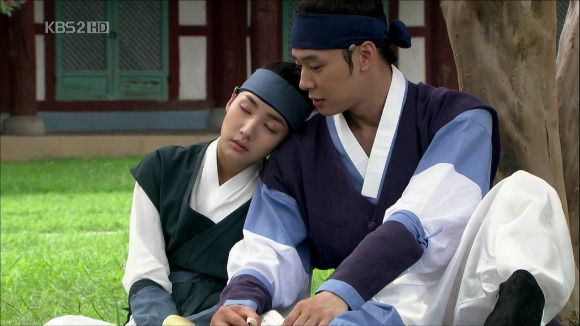 Dear Moony and Yummy Faction members,
Thank you for your peaceful and harmonious alliance. It is indeed near impossible to choose between two very attractive men, and no one should be forced into that situation (at least not in K-drama Land). I hope your relationship stays strong – as strong as the friendship between Gul-oh ("mad horse") and Yeo-rim ("forest of females"). Having said that, I'd like to propose you take interest in one more handsome man to create a triumvirate that would undoubtedly rule Joseon SKK: Ga-rang ("perfect husband"). He's an upstanding stickler for principles and will never let you down.
Yours truly,
red pill of the Smarty(-Pants) Faction
SONG OF THE DAY
Sungkyunkwan Scandal OST – "Too Love" [download]
Audio clip: Adobe Flash Player (version 9 or above) is required to play this audio clip. Download the latest version here. You also need to have JavaScript enabled in your browser.
LESSON 6 RECAP
"Please let me ask the world my questions. Allow me the opportunity to dream of a better tomorrow."
Thanks to Sun-joon's determination to create miracles – an act that impresses even Jae-shin – Yoon-hee is motivated to ask Professor Jung for the chance to make her own miracle. To save SKK from scandal and the king from ridicule, they strike a deal: if she comes out on top at the archery competition, he will allow her to stay. But if she fails, the punishment will be severe: her brother's name will be stricken from the SKK student register and Yoon-hee will be put to death. That'll teach her to be arrogant and assume that women and men are equals.
Professor Jung returns her silver knife and warns her that no one must know of her true identity. In fact, she must no longer be a woman; that's the only way to save her family as well as herself.
Almost on cue, the rain stops as she steps outside and the sky is bright and clean. Though her heart is not entirely light, she now has hope and that is enough for now.
She approaches Sun-joon to ask for his help. "A miracle… right now I need a miracle."
Guys like Do-hyun, Hae-won and Woo-tak are ready to give up on the competition, but Yoon-hee takes up the bow and arrow with determination. The problem is that though she's got the heart, her body is unfit for archery. Every arrow she attempts falls flat within a few feet; she can barely pull the string back far enough for a real shot. Her inability to even attempt the challenge frustrates her and she throws down the bow and storms out.
But In-soo won't let her give up; in fact, he wants to meet her and her team at the finals. He plans to crush them and prove to King Jeong-jo that he shouldn't use the excuse of equality to fill SKK with nobodies from poor families that have no political connections and are of insignificant ancestry. And he'll crush Sun-joon while he's at it because Sun-joon reminds him of the king.
Yoon-hee's eyes flash defiantly. "Will you wait for me at the finals? I believe it's my turn to respond to your guidance. Is placing first at the competition a good enough response? […] Did you call me a nobody from a poor family and of insignificant ancestry? [If I win] I want you to apologize for ridiculing my family and me, and acknowledge that I am a student of SKK, handpicked by the king himself."
But In-soo's not bluffing in that he's good enough to win the competition; he and his boys all hit the bull's-eye.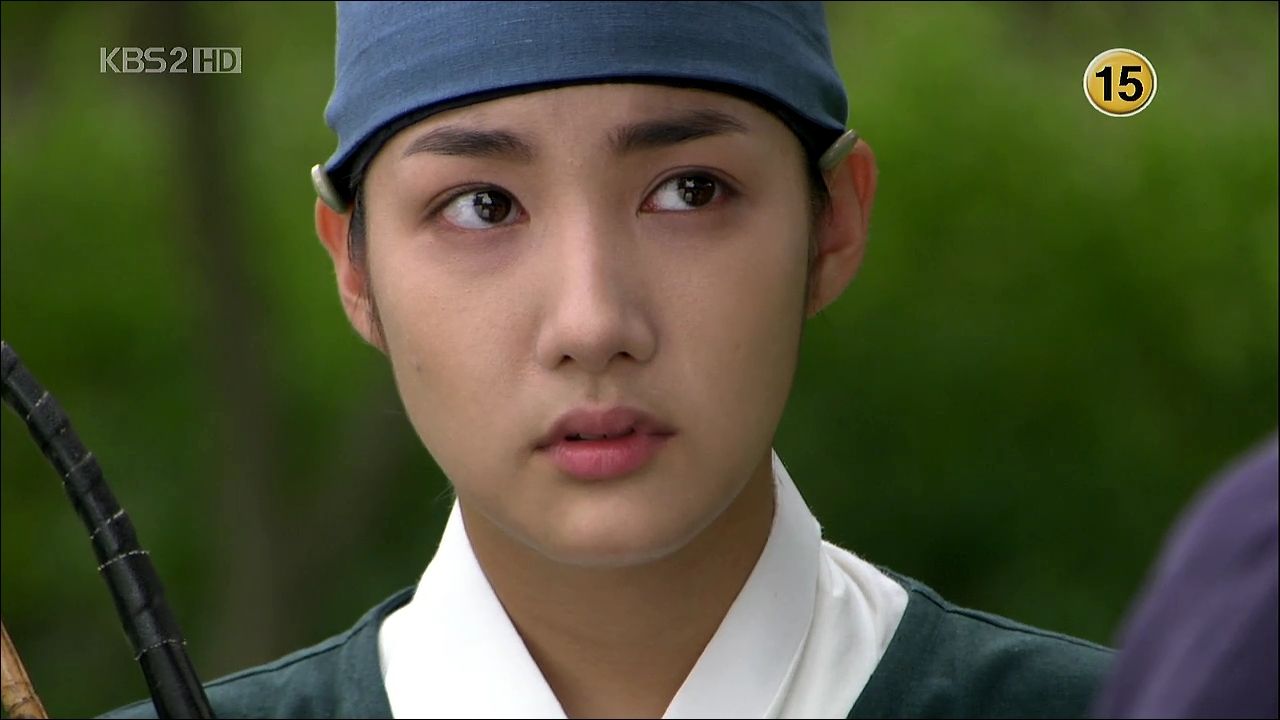 No one could possibly beat Yoon-hee when it comes to blind confidence. But when it's just Sun-joon and herself, she's anything but confident. It's true that she's lacking physically, but as Sun-joon points out, if a man decides on a goal and stakes his life on it, he'll find a way.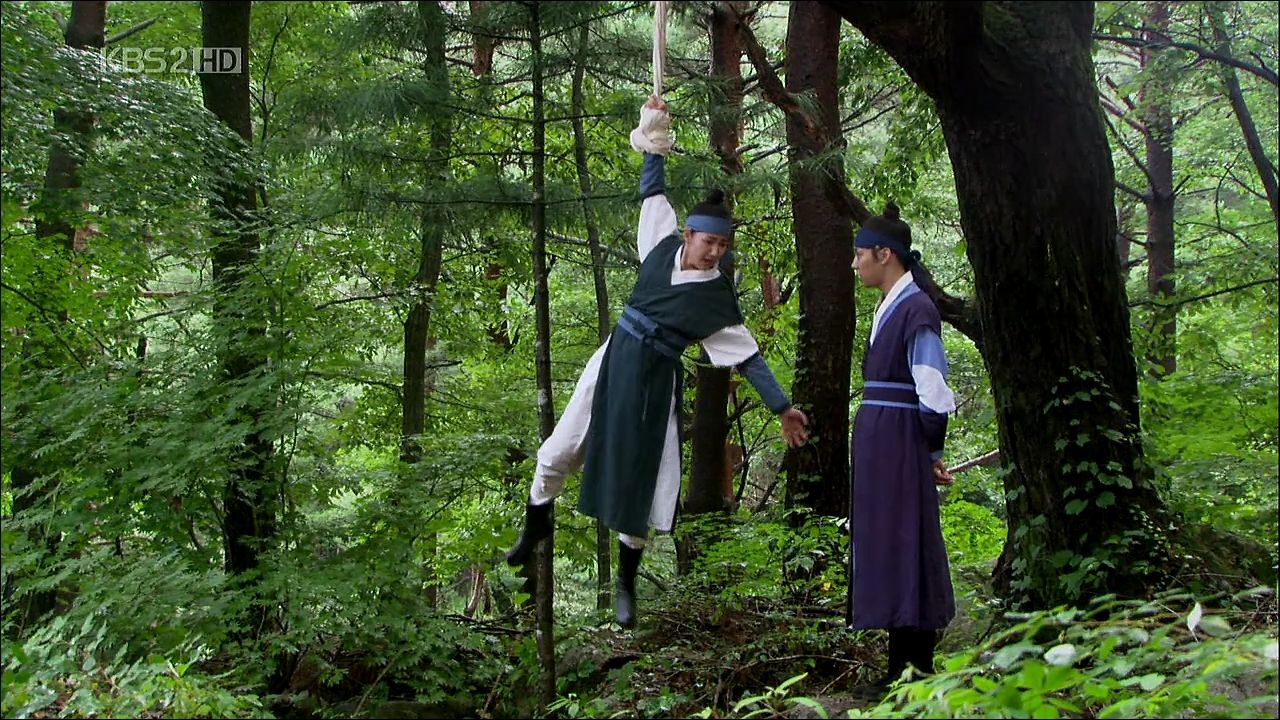 By which Sun-joon means she needs to undergo major Spartan training. Step one is to hang Yoon-hee from a tree and force her to do pull-ups in order to build up strength and stability in her arm muscles.
She protests wildly, to which he responds, "Just do thirty. Afterwards, even if you want to fly away, I'll keep you firmly planted to the ground."
(Swoon.)
As of yet she can't even do one.
She doesn't fare much better in the next courses, running up the mountain to build her leg muscles and controlling her breathing. She particularly feels that the breathing exercises are a waste of time. What she really needs to learn is how to shoot an arrow properly.
Sun-joon sets her straight, enlightening her that the person shoots the arrow, not the bow. If the person isn't ready in body and mind, then practicing techniques is a waste of time.
Yoon-hee is disgruntled because he's right yet again. She gives him a small shove and surprises herself by being stronger than she thought. Wax-on, wax-off.
Sun-joon tugs her hard towards him (oh, silly kids) to prove the point that she also needs to build up strength in her hand.
Jae-shin nonchalantly swings by the practice arena to check up on Yoon-hee but runs into In-soo instead. Seems In-soo is after Jae-shin as well; Jae-shin's a brilliant archer but never takes part in competitions so In-soo never had the chance to beat him.
In-soo calls him a thug who cowers away from direct competition and relies only on his fierce glare. Is he gonna be upstaged by the effeminate Yoon-hee who has the guts to challenge In-soo for the top prize?
With a smirk Jae-shin tells In-soo to practice. After all, he doesn't want to lose face by losing to that effeminate boy.
Rocky had it; the karate kid had it; and now Yoon-hee has it as well. A montage of her training as she goes from puny weakling to super Yoon-hee. She now does the pull-ups with ease (I LOVE that Sun-joon has a sun-dial) and races through the beautiful forest without losing her breath. In fact, she runs every chance she gets.
And her archery skills? Infinitely better. Sun-joon makes her aim at a makeshift mark, slowly increasing the distance. I love how at first Sun-joon makes sure to step FAR away in fear she'll kill him by accident, but the farther he moves the mark, the closer he stays as his confidence in her builds.
Yoon-hee's dedication leads to drastic improvement. She spends every waking moment practicing, and Sun-joon is there to help her every step of the way.
Now Jae-shin, he watches her from afar. In fact, he starts taking care of her in roundabout ways. For example, dropping an apple near her while she's eating. He thinks he's being inconspicuous, but we're all noticing, especially Yong-ha (finally an appearance from our Yeo-rim!). Yong-ha's taken aback since he has never seen his stoic friend act like this before.
Even while studying, Yoon-hee exercises her right arm by pulling on a strap attached to a tree limb. She falls asleep, however, and her head falls onto Sun-joon's shoulder. There's a feeling of something falling into place, and he shows a gentle smile.
Ah, young love.
I only hope he isn't as traumatized as Han-gyul was when he finds out the truth.
Yoon-hee is hitting the target every time now, though she's yet to hit the bull's-eye. Her tremendous improvement doesn't go unnoticed by Professor Jung and Professor Yoo.
Yoo Chang-ik: Student Kim Yoon-shik has a great talent for archery.
Jung Yak-yong: It took him five days to even shoot properly. He's a long way off from hitting the bull's-eye.
Yoo Chang-ik: But he knows that he's miles behind everyone else and deals with the fact that he's pathetic, incompetent and insignificant. He doesn't give up on himself. What greater talent is there to be wanted?
When Jae-shin sees Yoon-hee struggling to hit the bull's-eye, he finally gets involved. Fortunately for her, he has the perfect medicine. In a moment that undoubtedly made everyone of the Moony faction swoon and reach for their smelling salts, he sweeps Yoon-hee off her feet and carries her away.
His medicine is to cure her injured hand by dunking it in alcohol. He tells her of something called "the thrill of anticipation" (relishing the taut moment before release). Archery is about holding out until the right moment, when the feel of everything (bow, arrow, myself) is just right. That's the perfect time to release.
And she can't reach that moment with an injured hand; hence no bull's-eye.
So why does she want to place first? To advance her career or for the sake of her pride?
Neither. "I want to show myself that I can do it, that I can place trust in myself. After all, everyone needs at least one person who believes in them."
Jae-shin comments that she must've learned her eloquence from Sun-joon. Well, she learned how to make a fist from Jae-shin, and she holds it up to playfully threaten him into attending the competition. "I'll take care of the winning part. You just fill the head count."
She remembers to thank him for the thumb ring he made for her and sends a most beautiful smile his way.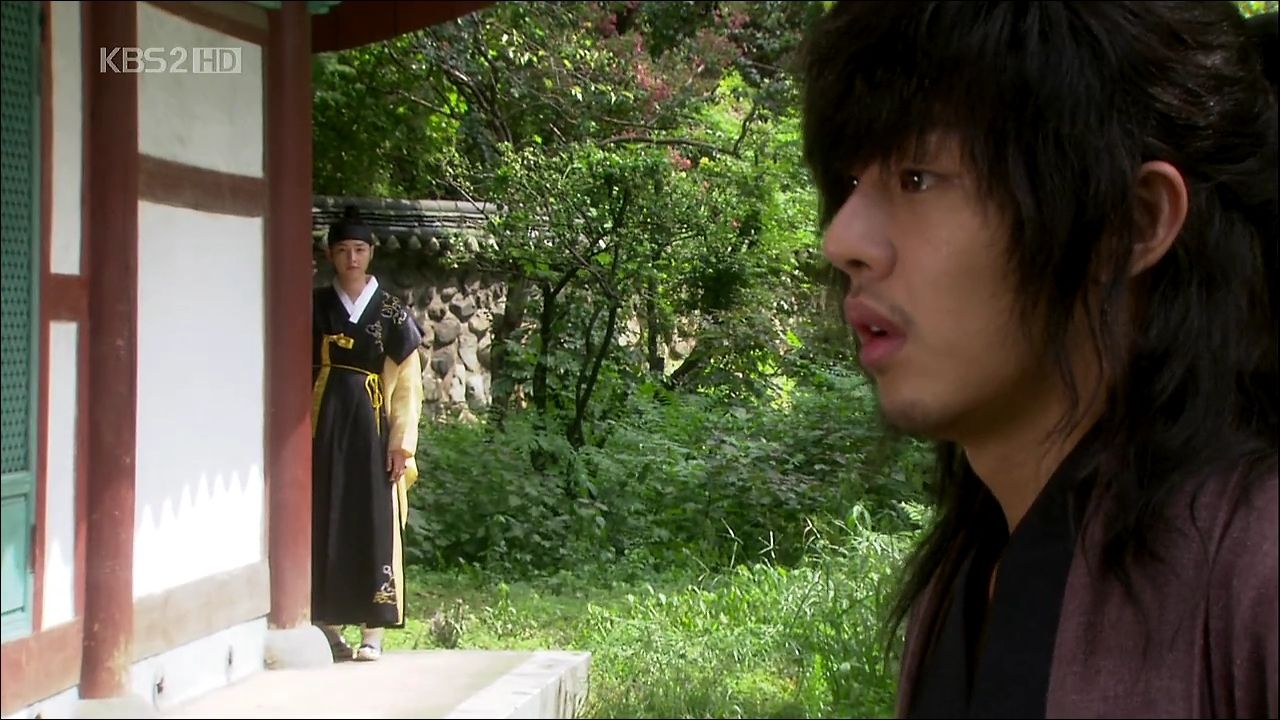 HICCUP!
(Squeal!)
Jae-shin recognizes something female in Yoon-hee at a subconscious level and starts hiccupping like mad. It's almost too adorable for words because he looks absolutely bewildered. Yong-ha witnesses this bout of hiccupping and confirms what he's been suspecting all along.
Facing off again are In-soo and Sun-joon, neither budging an inch as they exchange poorly veiled threats about knowing no sympathy and learning how to accept defeat.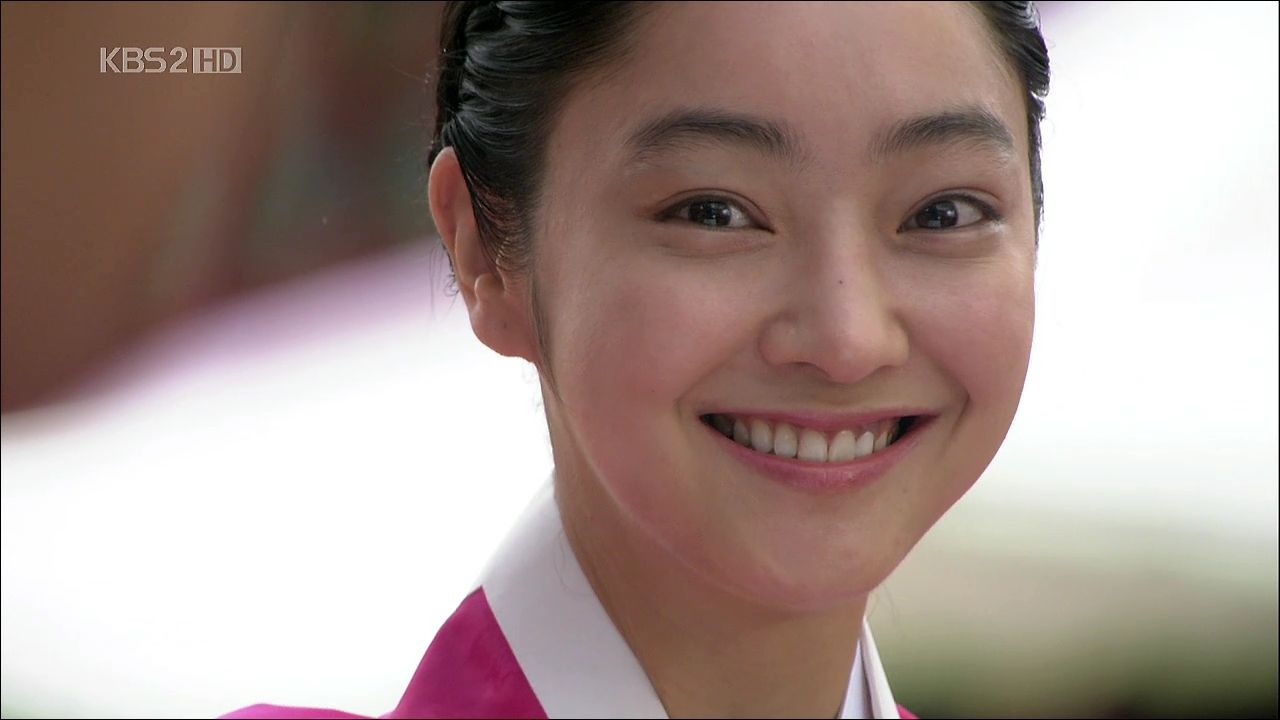 The tension is broken (or perhaps heightened) by Hyo-eun's appearance, who has come to provide meals for the SKK student body. She's a little too demure upon greeting Sun-joon, and In-soo begins to doubt Sun-joon's claim that he didn't figure out the mission the night he almost took a urine bath.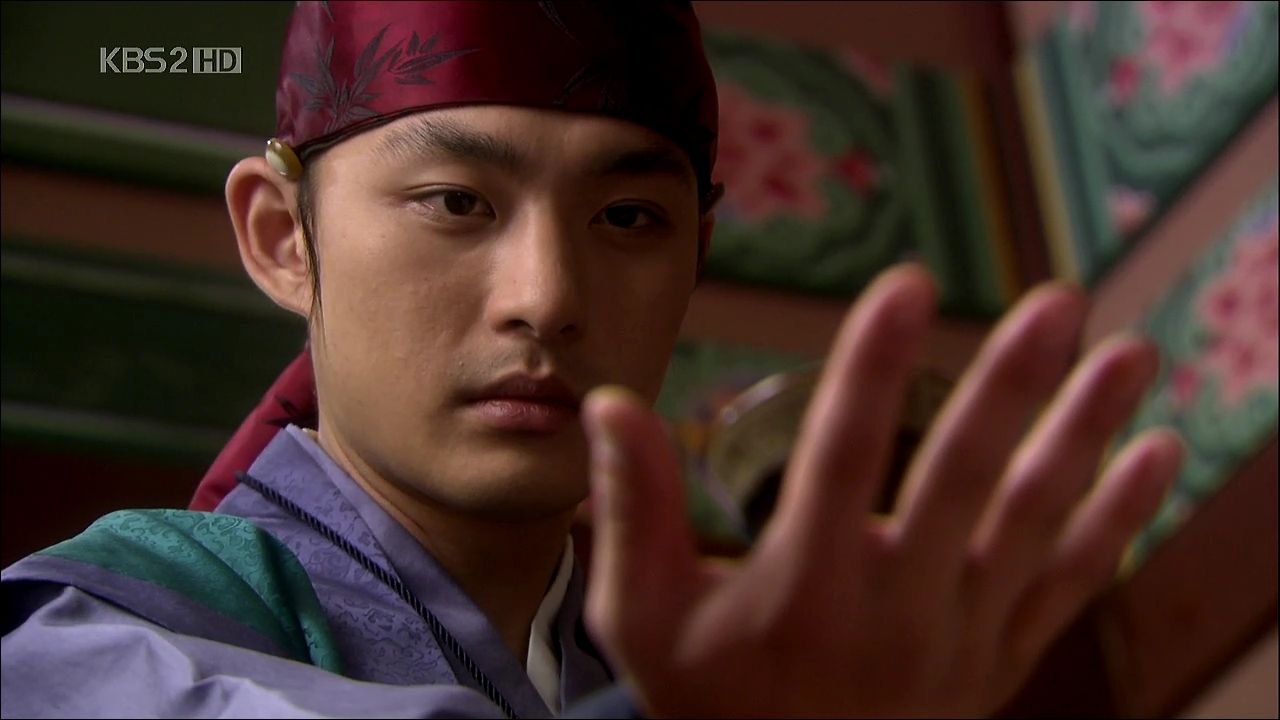 Upon hearing that his father is on campus, In-soo stops by the headmaster's room (and interrupts some major butt-kissing). Minister Ha dispenses (very shameless and sly) advice.
"When attacking an enemy, a surprise attack is the way to go. You have a better chance of winning if you don't give them time to defend themselves."
Good advice for war. Terrible advice in terms of sportsmanship.
Yoon-hee is in a good mood, plucking imaginary arrows and no doubt imagining "the thrill of anticipation" when she witnesses Sun-joon and Hyo-eun together. The look on her face is complicated as something registers inside. She's feeling upset (and jealous) but she has no idea yet as to why.
Meanwhile, Yong-ha is thrilled that his friend is hiccupping; this proves that Yoon-hee is a girl. His bubble is burst, however, when they spot Hyo-eun and company. Jae-shin mistakenly concludes that that's why his fem-dar is going off like crazy.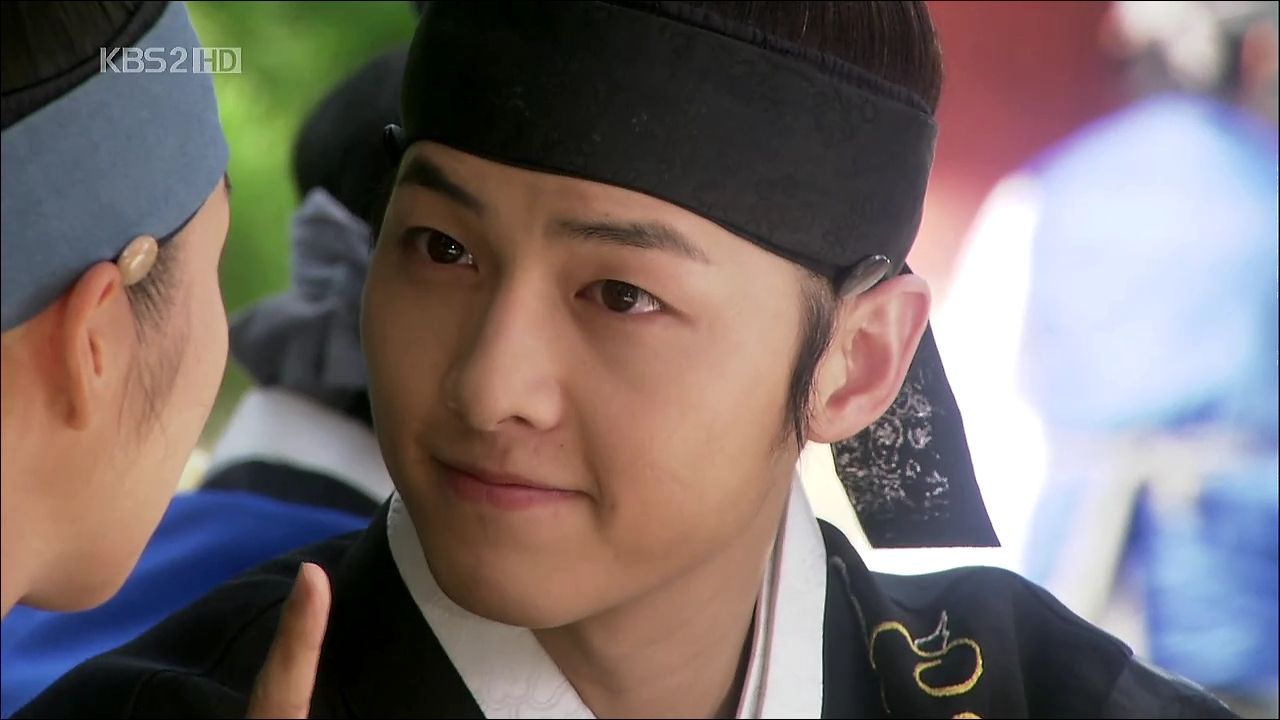 Yong-ha fills Yoon-hee in that Hyo-eun is the reason Sun-joon lied about his mission; Sun-joon wanted to protect her reputation from gossip. Yoon-hee recognizes Hyo-eun as the silly girl for whom she was hired to pen a love letter (to Sun-joon).
Yong-ha, the great creator of nicknames, comes up with the perfect nickname for Sun-joon: Ga-rang. "Ga" which means beautiful and "rang" meaning husband. In other words, the perfect husband.
"It fits him," Yoon-hee admits begrudgingly.
Oblivious about the strained relationship between Sun-joon and In-soo, Hyo-eun uses her brother as an excuse for her coming to SKK, claiming that In-soo was worried about Sun-joon's injury.
Sun-joon sees right through her lie and tells her not to come back. The law forbids women to come into SKK. If the daughter of a noble family breaks the law so easily, what kind of role model would she be to the people?
Hurt by his declaration, her eyes fill with tears. And in the first honest moment she has with another person (other than her servant), she tells him, "I won't ever come back to SKK. So next time, will you come to see me?"
This is the moment that I truly come to like Hyo-eun. For the first time she's vulnerable yet isn't afraid to be herself and show that vulnerability. After all, no matter what the time period, it's never easy for a girl to ask the guy out first.
King Jeong-jo is looking forward to the archery competition because he believes that the competition is when his most fervent wish will begin to come true. It's an earnest wish that he shared with his longtime friend, the late Professor Kim Seung-hun, and for which Professor Kim gave up his life. That's the reason the king feels indebted to Yoon-hee.
That night, Yoon-hee is on her way to practice when she runs into Professor Jung. He reminds her of their deal and advises her to back out now. If she does, he'll guarantee that her family will be spared.
But Yoon-hee's eyes are clear and strong as she responds, "I'm finally standing in front of the target of my life. Until I shoot all the arrows given to me, I will not give up."
If that was a test, she passed with flying colors.
Each shot Yoon-hee fires inches closer and closer to the center of the target. And when the final arrow pierces the bull's-eye, she is thrilled beyond belief. Behind her, Sun-joon stands witness to her achievement, a knowing look on his face.
He knew all along that she would succeed. After all, when has he ever set his mind to something and failed? He was the one who found the leading scholar (and cheat) of the town and made him into a SKK student, or did she already forget?
She's miffed at him for turning her achievement around to make it his, and she scoffs at his new nickname, Ga-rang. She's walking away when his voice reaches out to her.
"I'm proud of you, Kim Yoon-shik. Good job. You did well."
Between Yoon-hee and Sun-joon, there's a strong bond blossoming, the you-complete-me kind of friendship that helps them become better people through each other. I think that's the reason that though I often suffer the Second Male Lead Syndrome (Jae-shin…), this time I can't help leaning towards the main couple.
Minister Lee and Minister Ha arrive at Cho-sun's gisaeng house for a little rendezvous when the Red Messenger lets fly another arrow, showering more red leaflets. What follows is a crazy chase scene in which Red literally jumps along the rooftops. All is fine until he witnesses a conversation between Minister of Justic Moon (Jae-shin's father) and Minister Lee. Basically Minister Lee calls Moon incompetent; if he had done his job, Red wouldn't be running around wreaking havoc.
Red ends up being surrounded twice, getting away by fighting valiantly each time. In the process, part of his mask gets sliced off and he receives a wound to the side from an arrow. Thankfully, he escapes over the houses and slips into banchon where the guards can chase him no more.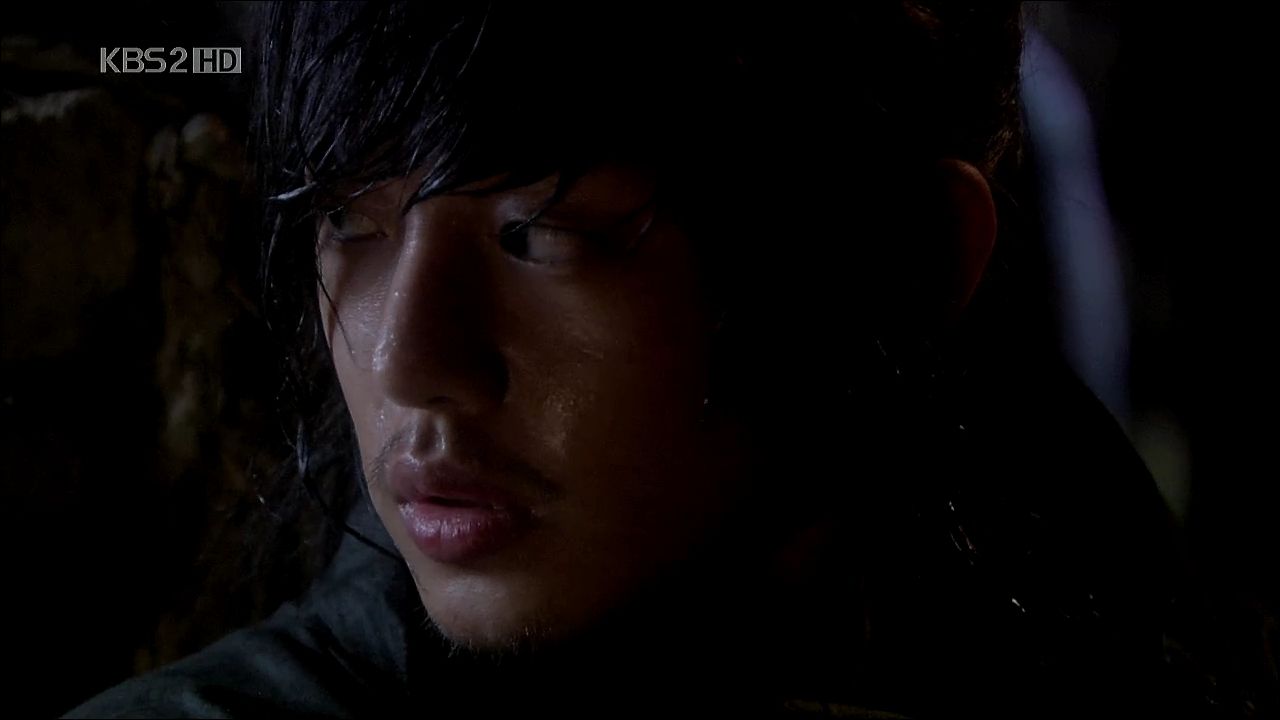 Red slips off his sliced mask and confirms what most of us already knew: it's Jae-shin. And he's severely injured.
The latest red leaflet reads: Right now Joseon belongs to the Noron. But the blood-stained Geumdeungjisa will reveal itself. Soon the Noron will no longer sit in power but be tied to the rack intended for criminals.
Minister Lee is certain that Red is an idealistic young man, naïve and childish in his beliefs that justice will prevail and that he can change the world with a single arrow. And with these literary skills? He has to be a SKK student. This means the competition may be the perfect opportunity to capture Red, and it will be Minister Ha's last chance to redeem himself.
Take note here of Minister of Justice Moon's uneasy face. He just might know the truth about his son's extracurricular activities.
Poor Jae-shin hangs over a low wall and watches the SKK staff and Professor Yoo discuss Red's escape into banchon. One of the staff members mentions that Red has an injury and is bleeding profusely.
That's when Jae-shin falls off the wall with a loud thud. The staff members perform a rather cursory search and talk about stray cats, turning a blind eye. It's nice to know that the SKK staff is on Red's side.
Yoon-hee and Sun-joon lie awake with worry.
Sun-joon attempts to reassure Yoon-hee. "The Gul-oh I know doesn't fit in at SKK. He doesn't care for rules and customs. But I also know that he's not the irresponsible type to let someone's hard work and hopes go to waste."
But that's exactly why Yoon-hee is worried. If Jae-shin hasn't shown up yet, he must be in real trouble.
And she's right because he's practically bleeding to death in the infirmary. He pulls out the arrow, and the pain is so great that he falls unconscious.
The following morning, preparations for the competition are well underway. The students are dressed according to their dorms: purple for east and teal for west. Joining the festivities are Cho-sun and her girls, which incites excited catcalls. Boys will be boys.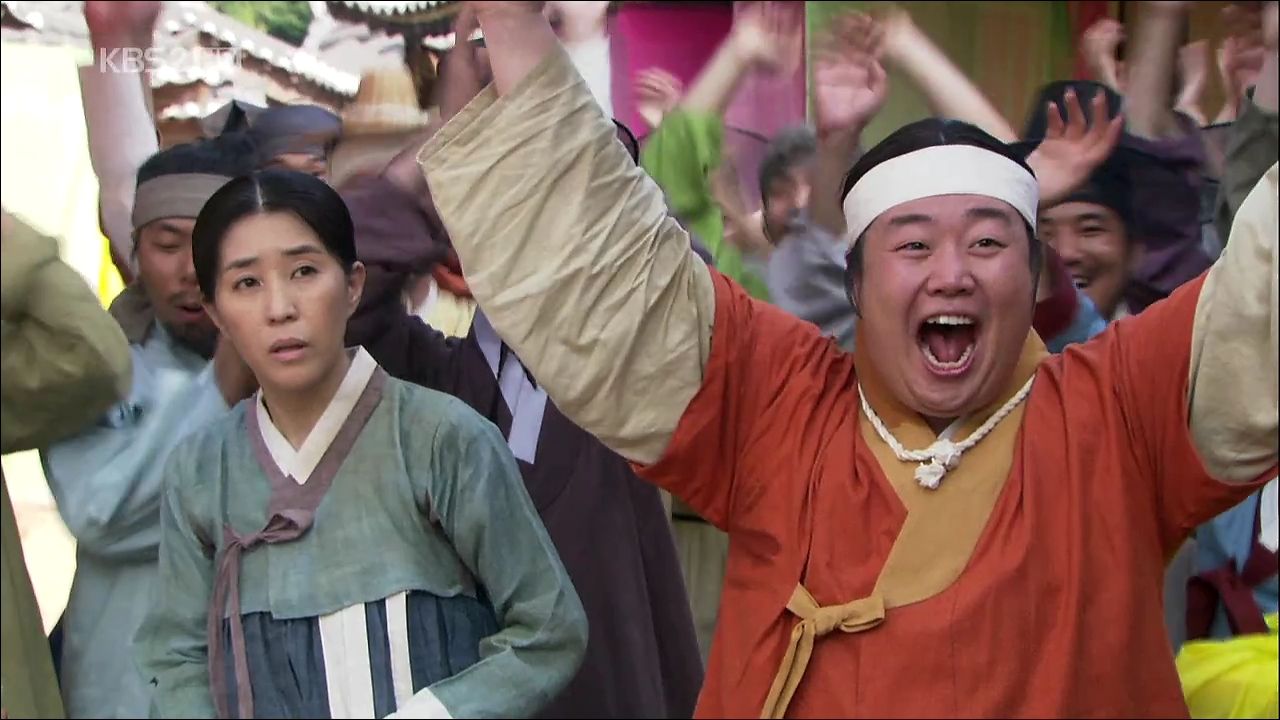 Outside of SKK, the regular folk are in as much a festive mood. Bookshop owner Hwang will be providing a live broadcast of the competition for anyone who pays three nyang. Yoon-hee's mother is in the crowd (next to Soon-dol, Sun-joon's servant) and shows interest upon hearing SKK news.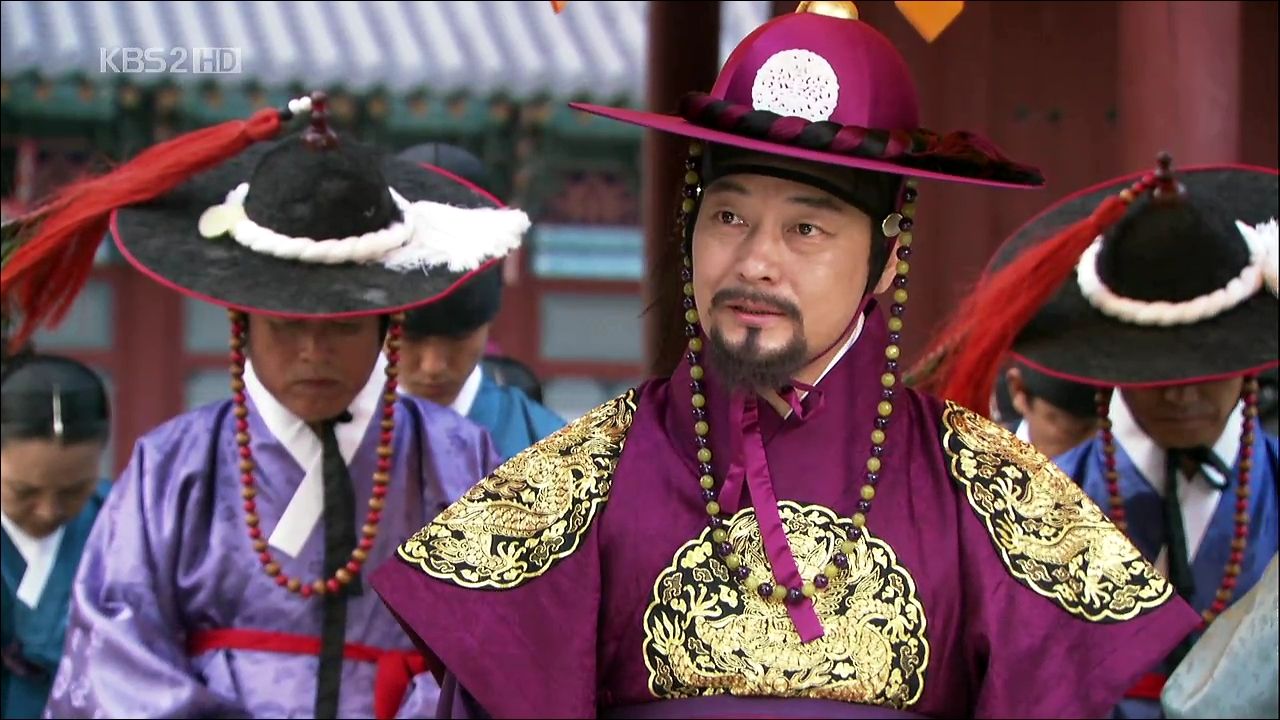 Meanwhile, the king has heard about Red's latest exploits. He orders that all efforts to capture Red be put aside for today. Today he wants to leave everything complicated behind in the palace and just enjoy the competition.
It's possible that the king knows that Red is a SKK student and wants to protect him. After all, he sent Professor Jung to SKK to find out about the Geumdeungjisa. But then again it's just as likely that he doesn't know. We'll have to wait to find out.
Jae-shin regains consciousness in the infirmary and concludes dejectedly that he won't make it to the competition.
Of course In-soo and his lackeys don't miss this chance to rub it in. They taunt Sun-joon and Yoon-hee for dreaming of equality and harmony between political factions when they can't even handle their roommate.
Though Yoon-hee tries to keep the faith, they're running out of time.
As the final roll call is being taken, Jae-shin is staunching the blood from his wound. He certainly looks to be in no condition to join the competition, let alone stand up. Yet he manages to clean himself up and sneak around the campus in order to make roll call.
Meanwhile undercover men under the orders of Minister Ha spread across the campus to perform their covert mission of capturing Red. Or killing him, whichever is more convenient.
Finally, it's Yoon-hee and Sun-joon's turn, and still no Jae-shin. As promised, Professor Jung disqualifies them from the competition and gives them no-passes.
Jae-shin is on his way and trying to jump a wall when he gets caught by Minister Ha's undercover men. The head henchman holds up the sketch of the Red Messenger, and it looks like Jae-shin is done for.
In-soo is disappointed that the trio is disqualified. It would've been the perfect chance to show the kingthat he was foolish for thinking there could be such a thing as equality as well as harmony among the factions. Almost too arrogant for words, In-soo claims that his goal was to beat King Jeong-jo, not Sun-joon or Yoon-hee.
"Talk of equality and harmony no more. You guys proved that such things are impossible."
"Who says they're impossible?"
Enter Jae-shin. (Get ready to fall in love with Moon Jae-shin if you haven't already.)
"Dae-mool, I came to fill the head count."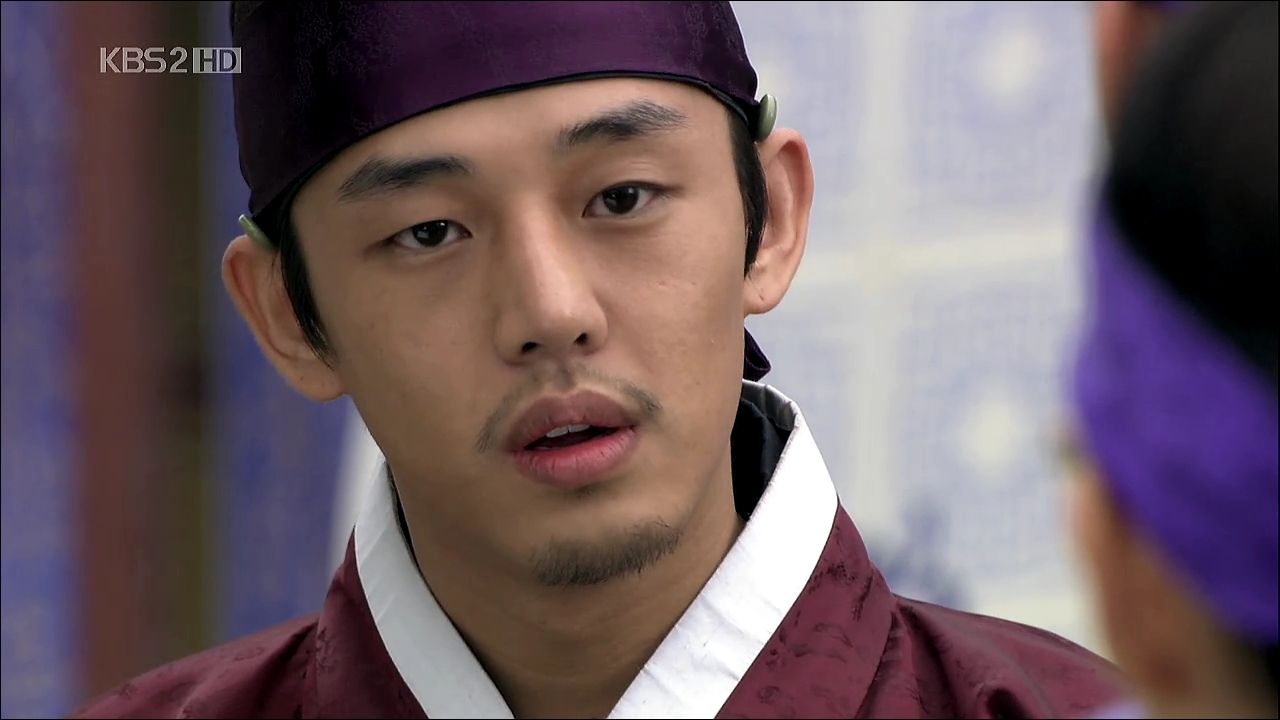 Smiles all around.
COMMENTS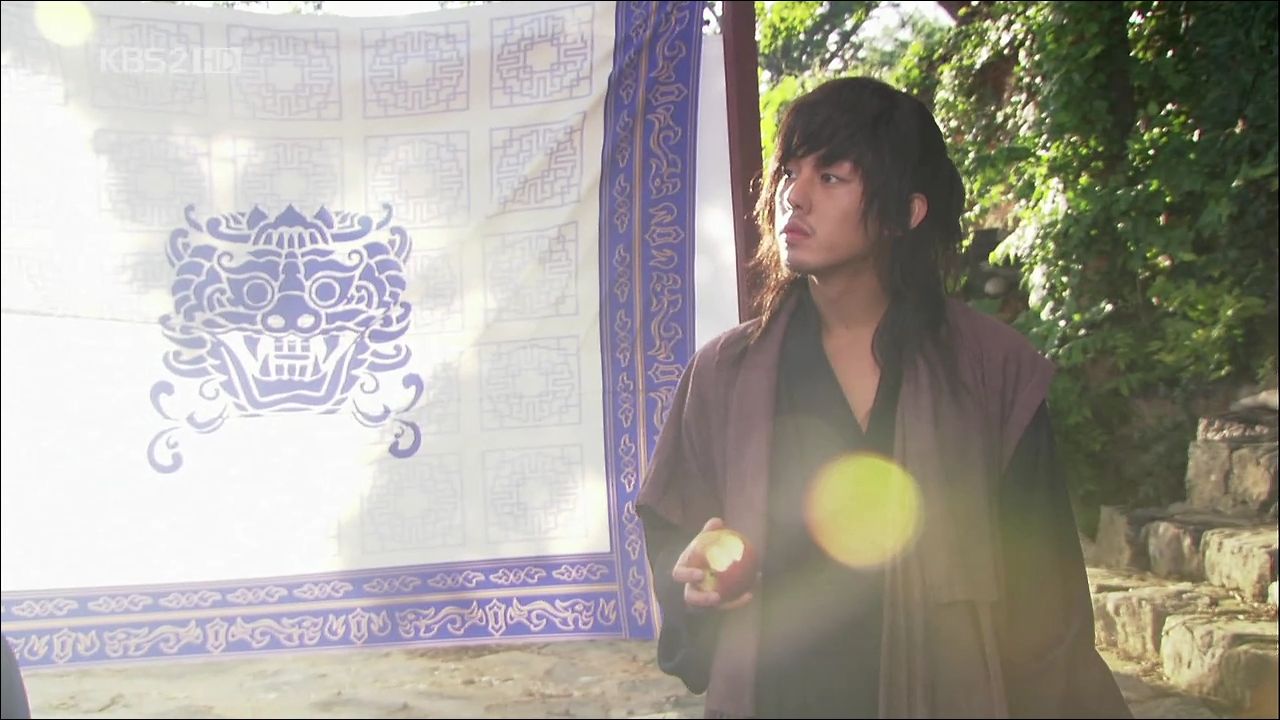 At first I was miffed that Professor Jung didn't cut Yoon-hee any slack, especially knowing that the late Professor Kim Seung-hun was his teacher. But then I realized that's lame and he would fail as a character if he was one-dimensional like that. So I decided to have faith in Professor Jung, and I was right to because he pulled her out of her "oh woe is me" and excuse-filled rut and gave her something to work towards. In fact, he killed two birds with one stone: he allowed her the chance to win and legitimize her spot at SKK AND become stronger along the way. Professor Jung, you deserve an apple.
And in terms of relationships, I'm most interested in Sun-joon and Jae-shin. They're starting to understand one another and really come together as a team. Jae-shin has newfound respect for Sun-joon after the latter succeeded in five bull's-eyes with his left arm, and Sun-joon acknowledges Jae-shin for his loyalty. I can't wait to see some bromance here.
This final shot is for swui who mentioned the little boys who steal the scene every time they appear.
RELATED POSTS
Tags: featured, Micky Yoochun, Park Min-young, Song Joong-ki, Sungkyunkwan Scandal, Yoo Ah-in