Sungkyunkwan Scandal NG cuts + cast interview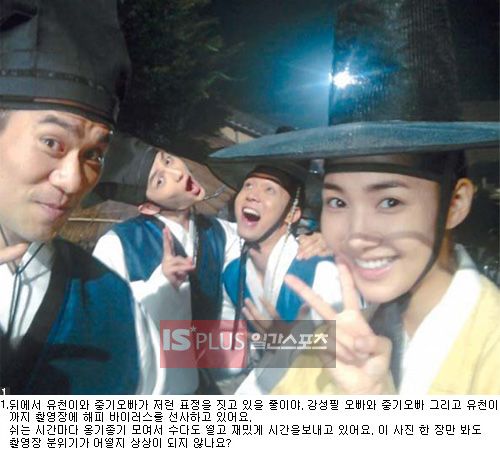 Greetings, SKKS junkies! Cassie here. I know you guys are probably like, "What are you doing here? Get on that Episode 7 recap!" No fear, it'll be out soon… but for the obsessed fans out there who can't wait for the next recap, or the next episode for that matter, I'm posting these NG cuts and Interviews to help cope with the wait.
The interview asks each cast member to name their favorite/most significant scene so far, and I was pleased to see that the ones they picked were some of my favorite scenes also.
Let me just give you fair warning, Team Moony especially, that our stars have shed their intense personas and there's a lot of smile-age to be had!! So, fangirls, ready yourselves for the adorable, funny, and quirky Joseon-F4!! I'm loving their on-screen/off-screen chemistry!! Kind of reminds me of the cast of 'You're Beautiful' and their off-screen friendship. (Oh, Micky you dork… this is the Micky I love and adore! Ha! And I love that I've finally found the smiling Yoo Ah-In I'm used to.)
Enjoy!
PS. Sorry there are no subs!! But I'm sure you can still appreciate the videos!
RELATED POSTS
Tags: Micky Yoochun, Park Min-young, Song Joong-ki, Sungkyunkwan Scandal, Yoo Ah-in