Uhm Tae-woong: Healing through Cyrano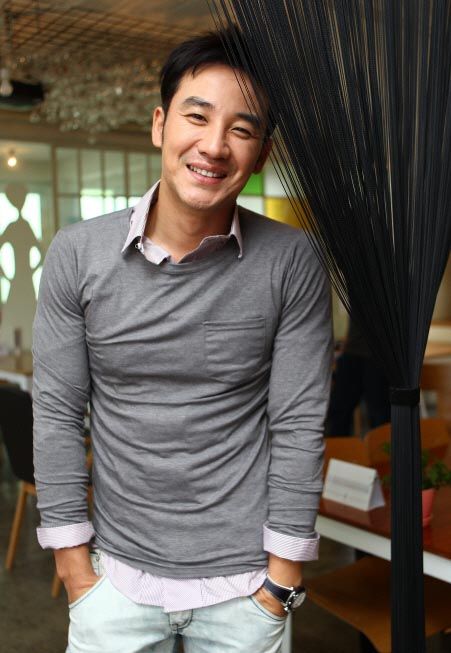 Uhm Tae-woong's new movie Cyrano Dating Agency comes out this week, and I am beyond sad that I can't see it. (Because, seriously? So. Cute.) It also means that he's in the news a lot these days, doing promo appearances and interviews such as the one below.
"The hurt I received from Seon-deok, I healed with Cyrano."

Uhm Tae-woong. Is it because the reverberations from Devil are so strong? He's often played strong characters. But the real Uhm Tae-woong looks more like a playboy. It could be because people saw his merit revealed in Birth of a Family.

That's the reason that Queen Seon-deok gave Uhm difficulty. With his toughness mixed with his hidden gentleness and his playboyish qualities, he was better suited for the role of Bi-dam than Kim Yu-shin.

Cyrano Dating Agency, which opens on September 16, is an ideal fit for Uhm Tae-woong. In the movie, he plays a man who must set up the woman he loves with another man. He's a bit of a snob and a bit playboyish, but also harbors his own pain. With Cyrano, it feels like Uhm has put on his own clothes again after a long time.

When did you get the offer for Cyrano?

I got the offer when I was filming Queen Seon-deok and met with director Kim Hyun-seok. I could really sympathize with the character.

You've acted a lot of strong characters, from Cell Phone to Chaw and Queen Seon-deok.

To be honest, I had difficulty with previous projects. It wasn't something I could experience personally, or draw out from myself, which was really tough. That's why I thought Cyrano would be fun, and there were a lot of parts that were like me. I've also had relationships broken up because I was at fault.

You say you're like the character in that you broke up because of your flaws. Since you were public about your girlfriend, it comes across as a meaningful statement.

Ah, I misspoke. [Laughs] Well, aren't relationships given up when things become difficult for yourself? In the end, the problem is whether I love myself or the other person more. If I break up with someone I love, isn't it because I'm immature? That's why I identified with a lot of the dialogue in this movie. It's not that you trust someone and therefore fall in love, but that you trust someone because you love them.
Before seeing the movie, I wondered about your story, but it turns out to be very sympathetic.

That's right. That's what the director said, that I have a playboy vibe, but that's where the subtle fun is. Plus, our movie has Daniel Choi as a safety net. [Laughs]

It feels like you're wearing clothes that fit right for the first time in a while.

It was comfortable and enjoyable. I realized the joy of communicating with the director and in working. As I acted, I felt like I was pretending, and had difficulty when doing Queen Seon-deok. Well, I was also sick and spoke a lot. I think that became like medicine — it was a slump, but after going through that period, I gained even more while doing Cyrano.

Were you envious?

Don't jealousy and pettiness feed on themselves? [Laughs] After acting calm, you really do become calm. When I was doing Cyrano, it would give me strength and I would wonder at how fun work was. I think I solved poison with poison.

You've acted in a lot of projects involving a lot of fighting with opposition. It seems you were free from that in this film.

It's true that I was tired from all that fighting. The best thing is that I wasn't able to enter those worlds themselves, but passed through them. That's what I mean by pretending. This time, as I talked and drank with everyone every day, I understood better what kind of story the director wanted to tell. The director drew me out naturally, and I felt like I entered the world more.

You've never had rumors pop up about you and a co-star. Perhaps that means that people felt some distance, but this time we're hearing that talk quite a bit. You must have been comfortable with Lee Min-jung and Park Shin-hye to talk about marriage* with them.
There was a bit of joking going around about how Uhm constantly suggested getting married to his co-stars. He even says it on camera in the behind-the-scenes video clip posted here.
Why? You never know. [Laughs] That's a joke. I think I know what you're saying. You'd think that because I have an older sister, I would be able to act comfortably with women, but actually that's not the case. I say pointless things and tend to get off-guard. On that point, I think this movie was well-suited for me.

Do you believe in fate, as we see in the movies?

In order to win over my first love, I wanted to show her my vision and enrolled in to the theater department. But she ended up leaving. I was wandering, wondering what to do, when I met the manager I work with now, and then I started acting in earnest. I went to that school to win her, but thinking about it now it's like I went to meet that friend. I think that's fate.

It was edited down, but there's a line of dialogue in the movie about never knowing what life will turn up. It didn't stick, and it ended up being changed to "blessing in disguise." Thinking about it now, that applies to me and the movie.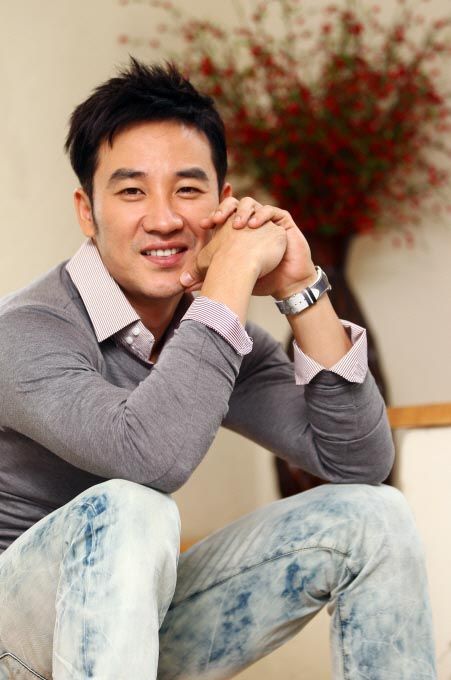 In the past, it seems that you have longed to be the kind of actor with very powerful acting, but you seem to have released that tension this time.

When I started working, I acted with Sol Kyung-gu sunbae. I'd worried a lot at one point, about whether I just didn't have it, or if it was being blocked and unable to come out. And then, instead of thinking of those burdens, I decided to act with what I had. It wasn't giving up, but recognizing the truth. I'll be able to do that kind of acting at some point, but for now I think I'll have to do what I can do well.

Like in the movies, do you think you have to give up something in order to gain something?

Yes. For instance, even if you want to marry, you have to give up something, which is too bad. In the past I thought I could marry, but now I feel bummed about what I'd have to give up.

Do you remember your first kiss scene?

Of course. I remember the first kiss scene in a music video, in a one-act drama, and in Resurrection. I tend to remember things like that, like what I was wearing when I met my first love. I even remember the scent of the wind on the first day of Cyrano. We were in Myeonmok-dong, and the wind smelled like acacias.

You seem to be riding on the wind of this project.

It has a lot of influence on a person. That also makes me feel uneasy. But the fact that I've been able to come this far means I've been fortunate, and also that I've met a lot of people who know me well.
Via Star News
RELATED POSTS
Tags: interviews, Uhm Tae-woong