With no competition, Playful Kiss improves its ratings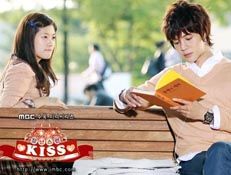 Playful Kiss finally rose out of the 3% range for its seventh episode today, upticking to 6.3%. In that it more than doubled its ratings from its last episode, 2.8%, that's good news. But a few caveats come therewith:
Perhaps it's a hollow victory because it had no scripted programming competition, with SBS and KBS both broadcasting Chuseok specials instead of new drama episodes. Filling in the slot recently vacated by Baker King Kim Tak-gu, KBS aired the Kang Dong-won/Song Kang-ho thriller movie Secret Reunion (a 12.5% rating). SBS aired the tsunami blockbuster Haeundae (13.6%) instead of My Girlfriend Is a Gumiho.
I was expecting a bigger increase from Playful Kiss, frankly, because no rival dramas meant that the combined 57% of viewership that watched the other two dramas last week were free to switch channels this week. Oh well, I thought Episode 7 was cute.
Via TV Daily
RELATED POSTS
Tags: drama ratings, Playful Kiss