47th Grand Bell Awards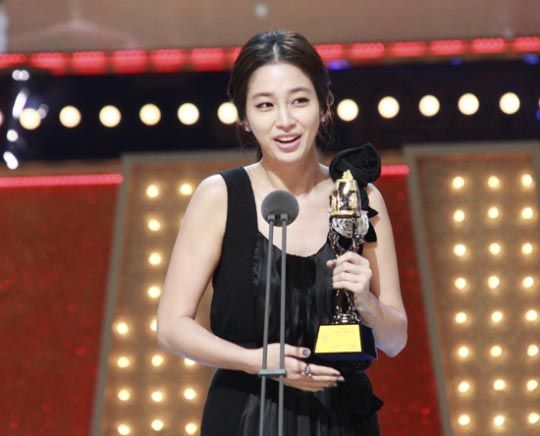 Aie, is it that time of year again? We're heading into the holiday months, which also means that awards season is about to descend upon us. (It's still early, but I bet you'll tire of them soon enough!) Here we have the 47th Grand Bell (Daejong) Awards, which were held on the evening of October 29, giving out awards to films in 22 categories.
The event was emceed by comedian Shin Dong-yub and actress Kim Jung-eun (I Am Legend), and big winners included Poetry, which notably won the best screenplay prize at Cannes; Moss, the dark thriller from the director of Silmido; Ajusshi, the dark thriller starring Won Bin, who picked up two awards; and Lee Min-jung, who likewise took home two trophies.
WINNERS LIST
Best Picture: Poetry
Director Award: Kang Woo-seok (Moss)
Actor Award: Won Bin (Ajusshi, aka The Man From Nowhere)
Actress Award: Yoon Jung-hee (Poetry)
Supporting Actor: Kim Hee-ra (Poetry), Song Sae-byuk (The Fixer)
Supporting Actress: Yoon Yeo-jung (Housemaid)
New Director: Jang Chul-soo (Bedevilled)
New Actor: Jung Woo (Wish)
New Actress: Lee Min-jung (Cyrano Dating Agency)
Planning: Kim Joon-jong (Barefoot Dreams)
Costuming: Jung Kyung-hee (Bang Ja Chronicles)
Art Direction: Jo Sung-won (Moss)
Visual Effects: Jung Do-ahn (Ajusshi)
Music: Kim Joon-seok (Barefoot Dreams)
Sound Effects: Oh Se-jin, Kim Seok-won (Moss)
Lighting: Oh Seung-chul (I Saw the Devil)
Hallyu Popularity Award: Choi Seung-hyun aka TOP (Into the Fire)
Popularity Award, Actor: Won Bin (Ajusshi)
Popularity Award, Actress: Lee Min-jung (Cyrano Dating Agency)
Film Advancement Lifetime Achievement Award: Choi Eun-hee
Special Foreign Film Award: Abdulhamid Juma
Special Award: Shin Young-kyun

As for the red carpet? Let's just call it The Night Of All-Black.
I love Lee Min-jung (Cyrano Dating Agency), and I love how she looks. Sure, it sort of looks like the bottom rosette is a dying version of the black ones above it, but overall she's elegant and fresh. Lee's pretty petite, but somehow looks almost statuesque here:

She and Won Bin were the only two actors who picked up multiple awards, thanks to the popularity category.
How cute is he, coming to the ceremony with his Ajusshi (The Man From Nowhere) co-star Kim Sae-ron? And while he is almost distractingly thin (eep!), my attention is pretty much monopolized by Kim's adorable pink confection of a dress, the stuff little girls' dreams are made of (and worn with ruffly lace socks!). Every girl should have a dress like that once in her life. Too bad it looks like Won Bin stole a power blazer from her mom's '80s-throwback stash, though.

Jeon Do-yeon (Housemaid) always has that glow about her:

TOP was not very good in IRIS — he looked awesome in the part, but couldn't deliver a line worth a damn — but it appears he has improved, because he picked up a newcomer award for war film Into the Fire. (I know he's got that badass image to keep up, but I think I like him better with the glasses.)

Song Sae-byuk was a winner for his role in The Fixer, but he's had a busy past year with multiple films, which include Bang Ja Chronicles, Mother, Cyrano Dating Agency, Bad Deal, and the upcoming Sector 7. Phew, talk about overworking!

Yoon Jung-hee and her Poetry director Lee Chang-dong had a big night, with their movie picking up multiple awards, including the big one, Best Picture:

Okay, I'm loving this dress:
Min Hyo-rin (Triple) goes for the full-on princess effect, but the black gives it a bit of an edge. In all pink or white, it would have been ridiculously princessy or bridal, but I'm in love with the dark, dramatic effect. Also, this girl is blessed with ridiculously young looks — I keep thinking of her as a sweet young teenager (thanks to her Triple role) rather than a 24-year-old.

What is it about boys who are ever so slightly awkward on the red carpet that endears me to them so? (Also refer to: Endearingly gangly Lee Min-ho and his red-carpet stumble.) Daniel Choi (Cyrano Dating Agency) is adorable:

Oh Ji-ho (Chuno), on the other hand, looks full of swagger. Rawr.

Kim Jung-eun wears a sleek black dress as the host for the night. Seeing her holding up her train does make me imagine that she's just seconds away from busting out the street-fighting moves and kicking some red-carpet ass, a la Jeon Seol-hee, her I Am Legend character…

Hwang Jung-eum (Giant) wears more black, more asymmetry:

I think I would have loved this look had there not been so much black on the red carpet. But Cha Ye-ryun (Dr. Champ) looks gorgeous and effortless, and lives up to her name as a fashionista:

I can't help it; I see Jung Jae-young (Moss) looking so comfy and casual here and I just want to run up to him and slap a bowtie on him. Okay, and do other things, while I'm at it. But! Also the bowtie!

Whoa, I think this is the most grown-up (and made-up) I've ever seen Shim Eun-kyung (Bad Guy)! For a while, she had a tendency to dress very young, and while she's still age-appropriate (at 16) and fresh-looking here, she's growing up nicely.

More black for Kim Yun-jin (Harmony), who will probably be getting more active with her film career in Korea now that Lost is over:

Jin Gu (Mother) goes for a safe, traditional look:

Lookin' good, Mr. Eom Ki-joon (The World They Live In). It's must really be the little details that count, because while he's dressed in the same basic outift as Jin Gu above, Eom looks sharper and more formal:

Here's Seo Young-hee (Queen Seon-deok). Like the dress, hate the hair.

I dunno, I don't have much to say about Chu Ja-hyun (Portrait of a Beauty) and her look. She's pretty, the dress fits, it's flattering. Ho-hum? Now on the other hand….

Okay, Kim Heung-soo. You may be a good-lookin' man. Some might even say you were a sexy bastard in, say, Invincible Lee Pyeong-gang. So why does it look like you've raided your dead granny's old closet (or, worse yet, Jang Geun–seok's?) and tailored the jacket to best show off your girlish figure?

Park Hee-soon (Barefoot Dream), yum.

Jo Yeo-jung's (2009 Hometown of Legends) gown wants to disco on top, and flow elegantly on the bottom. Who says you have to choose?

And here, Lee Ah-yi (Legend) demonstrates the dullest of the all-black looks of the night; the dress looks like it was meant for a much older matron than her own 26-year-old self. Well, if that matron were on her way to a high-society gala function with her coven-sisters and cast a spell to jazz up her everyday gown, only that spell went awry because the sleeves didn't know if they wanted to be slim or puffed and collapsed in the middle of an identity crisis.
Via Arts News
Tags: awards, Cha Ye-ryun, Chu Ja-hyun, Daniel Choi, Eom Ki-joon, Hwang Jung-eum, Jeon Do-yeon, Jin Gu, Jung Jae-young, Kim Heung-soo, Kim Jung-eun, Kim Sae-ron, Kim Yun-jin, Lee Min-jung, Min Hyo-rin, Oh Ji-ho, Park Hee-soon, Seo Young-hee, Shim Eun-kyung, Song Seung-heon, TOP, Won Bin, Yoon Yeo-jung