At the poster shoot for Mary Stayed Out All Night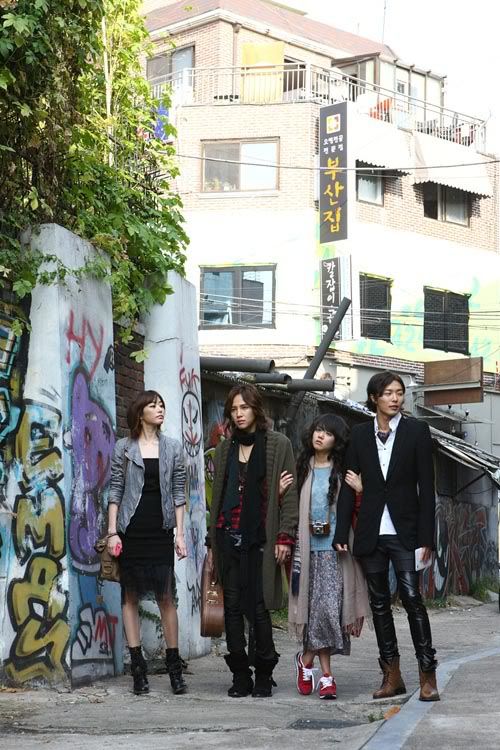 Here's our first look at the characters of Mary Stayed Out All Night! The four lead actors — Moo Geun-young, Jang Geun-seok, Kim Jae-wook, and Kim Hyo-jin — participated in the drama's title and poster shoot on October 6.
I'm not going to complain about Jang Geun-seok's look here, because I think he's actually quite pretty — but that's the thing. All four of these actors are basically on the same end of the feminine-masculine spectrum here. I know, it's based on a manhwa, and we know that shoujo manga/soonjung manhwas are all about the pretty, pretty boys. Oh well. I can always turn to Runaway to get my manly-men fix.
Jang plays indie-band singer Mu-gyul, who's characterized by a boho sense of style. Moon plays Mary, whose fashion sense doesn't seem too far off from Mu-gyul. Is that how we know they're meant to be? Not only will they engage in lots of comic shenanigans and fall in love, they can swap wardrobes! Meanwhile, the two Kims both sport a more chic, urban style as characters Jung-in and Seo-jun.
Following the poster shoot, Jang said, "I'm happy and excited. I want to stay this way through the end. The shooting atmosphere is wonderful." He said of the wave of fan-made posters for the drama, "I was amazed at the fans' interest, and I'd like to give them my gratitude. With the poster shoot being so enjoyable, I hope the poster comes out great and receives a good response."
Moon said, "The feel of Hongdae [a neighborhood of Seoul] goes well with the drama's concept, and shooting is fun. Since we're all the same age, it was comfortable and fun to shoot together. I look forward to the first shoot for the drama."
Kim Jae-wook said, "It feels like it went by so quickly. Us actors are still in the process of getting to know each other, but we get a long well and were able to shoot satisfactorily."
Kim Hyo-jin said, "This is the first shoot, and since the atmosphere was so great, I look forward to the drama. I'll study the character and give my own take on 'Seo-jun.'"
Mary Stayed Out All Night premieres on November 8.
And for a closer look: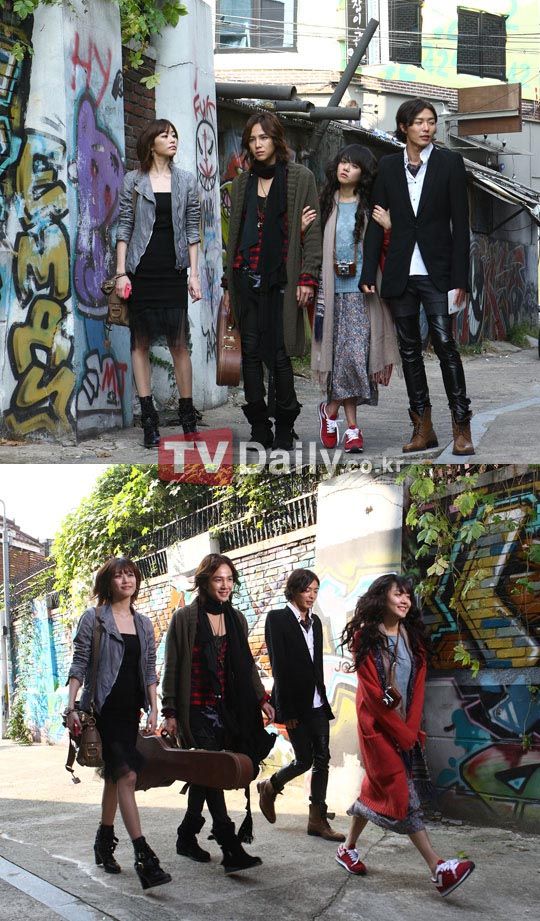 Via OSEN
RELATED POSTS
Tags: Jang Geun-seok, Kim Hyo-jin, Kim Jae-wook, Mary Stayed Out All Night, Moon Geun-young