Daemul replaces writer in its second week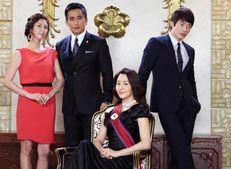 Already, SBS's Daemul is sitting pretty in first place in its second week — its latest, Episode 3, breezed past KBS's Runaway Plan B with a 26.4% rating to the latter's 15.1% — so it comes as a bit of a surprise to hear that the production has replaced its writer.
The first writer, Hwang Eun-kyung, penned MBC's hit medical drama New Heart. Replacement Yoo Dong-yoon is the writer of 2001-02's Ladies of the Palace, 2003-04's Age of Warriors, and 2007-08's King and I, all sageuk projects.
Naturally, this has given rise to a lot of questions as to why, particularly since the drama is poised to become a big ratings draw. On October 14, a source with SBS's drama department stated that writer Hwang had completed the scripts for episodes 1 through 4, "But in the process of writing 5 and 6, she couldn't come to an agreement about the direction of the drama, so we unfortunately had to bring in a replacement." That source added that they would make sure to make the transition smoothly, so as to keep the flow of the drama from being interrupted.
But the issue continues to be a buzz topic, and some are wondering whether this is the result of outside pressure from political circles (given the drama's focus on politics). SBS has come with a strong denial to those rumors, stating that the writer change was decided before the drama began airing, and that the only reason is because of a clear difference of opinion between writer and director. According to that source, both Hwang and Yoo had written scripts for Daemul at the outset, and the PD had chosen Hwang. When their views clashed, he decided to go with Yoo.
Will the direction shift hurt Daemul just when it's getting off to a great start, or will it propel the drama to greater heights? Well, considering how I disliked the first week's episodes, maybe I'll have to give it a second shot.
Via Star News, E Daily, Hankyung
RELATED POSTS
Tags: Daemul