Dr. Champ: Episode 1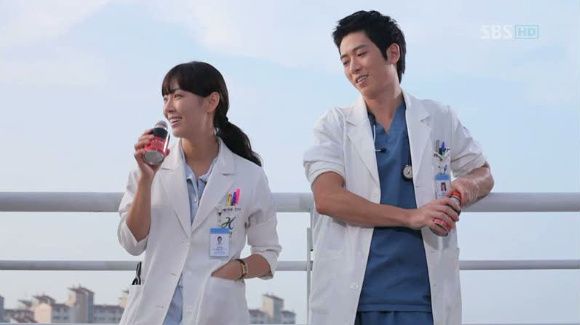 I'm baaaaaack! And you can either love it or hate it. Javabeans and Girlfriday have been kind enough to let me AND *wait for it* aberdeen_angus recap this series. (Heh – we have unintentionally become the "Kim So Yeon recappers.") I am going into this series with particularly low expectations because of two things: 1) there was very little hype going into this drama and 2) I am afraid it might have a disappointing run like I Am Legend where it starts off strong and falls kinda flat. BUT – episode 1 has definitely got me on my tiptoes with excitement.
By the way – I'm calling dibs on Uhm Tae Woong, since I'm sharing Park Shi Hoo with aberdeen_angus. I've never found him handsome before, but gosh, what a hot cripple…
SONG OF THE DAY
Dr. Champ OST – "Fall In Love With You" – Bobby Kim [download]
Audio clip: Adobe Flash Player (version 9 or above) is required to play this audio clip. Download the latest version here. You also need to have JavaScript enabled in your browser.
Zoom in on a lonely figure sitting on a bench in a locker room. It's Park Ji Heon (Jung Kyeo Woon), getting ready for the match of his life against a Japanese judo fighter. To the cheers of fans in the crowd, Ji Heon is flipped down on the floor but manages to regain control. With a sweep of his leg, he brings down his opponent in one move and wins the match.
Cheers fill the stadium, and Ji Heon lets out a manly "YAHHHH!" – until the crowd falls silent. The Japanese opponent looks up from the floor and covers his mouth. Ji Heon looks down. His pants have fallen down to his ankles.
Ji Heon quickly covers himself with his open robe, but the crowd's attention has turned…to the big Jumbo-Tron that's magnified his bare legs for the world to see.
Jumbo-Tron Ji Heon smiles mischievously back at Embarrassed Ji Heon, and slowly, ever so slowly, he opens up his robe wide…
And Ji Heon wakes up, screaming "NOOOOO!"
Best dream sequence opening ever.
The sun has yet to rise, but Ji Heon is in his tracksuit, carrying his gym bag, and running off to the gym. During his run, he lifts a heavy basket off an old grandmother's head and places it down on the bench for her; he notices a girl's skirt caught in her panties (the horror!), so he fixes it for her. Just in case she thinks he's trying to pinch her butt, he just runs away faster. Aw – Ji Heon, you're sweet.
Kim Yeon Woo (Kim So Yeon) is called into the ER of Hankook Medical Center, where she works. As the highly efficient, no-nonsense orthopedic doctor, she treats a patient whose broken leg has led to one of the bones rupturing his skin. Ew. One of the doctors on hand, Han Ki Young, suggests amputation, but Yeon Woo coldly replies, "Would you say that if it were your leg?" Another one rushes in with a pack of blood and hands it to Yeon Woo; her sharp reply is, "Did you bring that here to show it to me? Why are you just standing there?"
She has to reset the bone. Ki Young holds the patient down and Yeon Woo pulls at the leg. CRAACK*
In the elevator, Yeon Woo turns on the two doctors. As first and second year residents, do they not know how to reset a fracture? Both get a hard kick in the shins. And what is that she smells in the air – shampoo?! Did one of them just wash his hair? Did he have that much free time?
Pissed off, she returns to her office and is greeted with applause. Her colleagues congratulate her on passing the specialist exam for orthopedics – they even have a cake for her. But Yeon Woo isn't in the mood; instead of thanking them, she complains about the junior doctors making a mess of the ER and having to call her to take care of patients. She then outs one of the doctors for not being with his patient in the CT Scan room. The other doctors all quickly file out, realizing that sooner or later Yeon Woo is going to bark at them for one thing or another.
Once left alone, Yeon Woo looks at her computer and sees the test results: "Kim Yeon Woo – Pass." She smiles. So she's not that bad.
She meets Professor Seo (Jo Min Ki in a cameo role) and he congratulates her. With her track record of successes, she could become a Fellow, meaning she would be a doctor and a teacher at the esteemed Hankook University. This is a big thing for her, especially since she graduated from a local university, and those graduates rarely ever work at Hankook Medical Center, much less teach there.
She goes to the rooftop, where she waits for Ki Young. Turns out, he's also her boyfriend. He's already heard of her possible promotion to Fellow. Yeon Woo knows the other doctors are jealous and hate her. Ki Young agrees – she's way too mean because she's trying too hard to prove herself. But Yeon Woo doesn't care – she wants a congratulatory gift – in the form of a big kiss.
Ki Young resists, but Yeon Woo is insistent. I love how Ki Young refers to himself as the battered wife, since he does get beaten up by her and demanded kisses from. He reluctantly leans in, but is saved by her beeper going off. Ki Young also gets a text message – from a girl who says, "Have you told her yet?"
Bastard.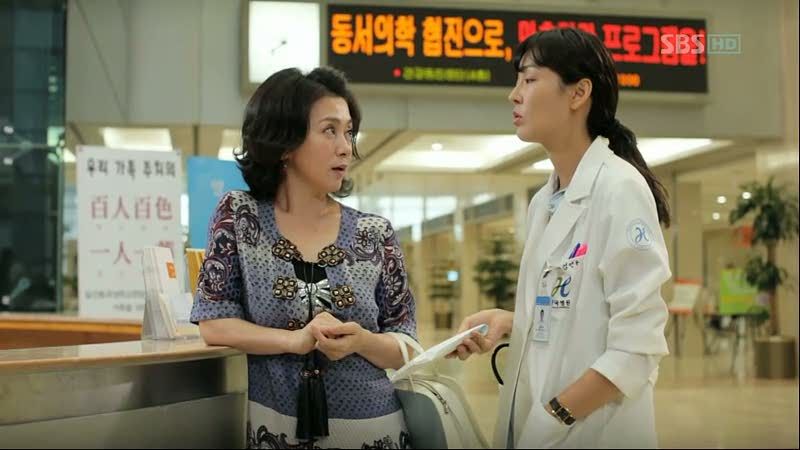 The person who rang for Yeon Woo is none other than her mother, who is waiting in the lobby. Go Mi Ja (Moon Hee Kyung) is a frivolous woman who cares more about her looks, money, and having a successful daughter than… her daughter. Yeon Woo meets her, prepared with a packet of money. Mi Ja gives her a close look – girl needs some make-up on! Yeon Woo couldn't care less about her mother's critiques and walks her out of the hospital.
As they stroll on the streets, Yeon Woo tells her mother about her chance at being a Fellow. Mi Ja is all excited – does this mean a raise? Not exactly…so Mi Ja says it's not worth it then. She asks Yeon Woo to pull another favor to get her a last minute appointment with the internal medicine department. Yeon Woo doesn't want to do this for her mother anymore, saying it's embarrassing to pull favors like this. All of a sudden, a thief grabs Mi Ja's purse and runs away.
Yeon Woo chases after him, screaming for help, just as Ji Heon comes by. Though he's running late for practice, he can't resist helping and chases after the thief, passing Yeon Woo when she trips and falls. Ji Heon catches the thief at a dead end, who tries to scare him by wielding a knife. But Ji Heon does his leg swipe and down the thief goes. Yep – don't mess with a judo athlete.
Ji Heon hands the bag to a panting Yeon Woo and advises her to exercise more. (Heh.) He goes off, and as she yells out a "Thanks!" Ji Heon is hit by a motorcycle. He falls, but gets up right away – nothing can knock down a burly man.
Apparently, today is a big deal because it's the last practice before an upcoming match that would determine whether Ji Heon makes the national team or not for the Asia Games. During this practice session, each athlete goes against the person next to them and tries to take him down in the allotted time. When the drum is beaten, they move on to the next adjacent person.
Ji Heon takes everyone down until he comes face to face with his nemesis, Yoo Sang Bong (Jung Seok Won). The time isn't enough for them to make any major headway, as both are about equal in talent. They all kneel at the sound of the drum, and Sang Bong tauntingly says, "You must have already quit your night club job…It's unexpected you started over at this age. It's an age where most people retire." Ji Heon retorts: "Retire? You should retire first. You popped so many gold medals – aren't you too full of them to have matches?"
Oooh – a rivalry between an old-timer (Ji Heon) and a smart-ass young'un (Sang Bong)? I like! Not to mention, Sang Bong is part of that national team Ji Heon so badly wants a place in.
Yeon Woo is pissed off – Ki Young hasn't prepped his patient, Jo Min Ji, for surgery yet. Instead he's holding up the operation room to watch rhythmic gymnast Song Ah Reum compete first. She yells at Ki Young in front of Min Ji, but Min Ji admits it's her fault – she had begged Ki Young to stay with her for three minutes during Song Ah Reum's performance. Min Ji wants to be a rhythmic gymnast too – as long as her spinal surgery goes well, and watching the competition would make her feel better. Feeling guilty, Yeon Woo acquiesces and sits silently by.
Song performs well until suddenly, she collapses on the floor. Min Ji freaks out and wonders if her surgery is going to go well. Yeon Woo reassures her that Professor Seo, who's in charge of her surgery, has done it many times so she'll be fine.
Professor Seo is cool as a cucumber at the surgery table, chit chatting about the possibility of Song becoming paralyzed, insisting on After School music (cue "Bang"), and complaining about a drunk night last night. Yeon Woo assists him and the two of them operate by looking into a high-powered microscope. Suddenly, Seo roughly hits something and he freezes. Yeon Woo's eyes widen.
After the surgery, Seo tells Yeon Woo that what she saw was an ischemia (a restriction in blood supply), caused by a blood clot preventing blood from circulating. He is telling her this because he wants her to maintain a clean surgical track record. Yeon Woo knows that Min Ji and her father will know something is wrong when she wakes up paralyzed, but Seo dismisses it. The father signed the consent forms; they knew it was a risk.
She stays up all night writing the surgical report, not knowing what to do. The next morning she hands off the report to Seo and wonders if they could just tell the truth. Seo growls, "Don't sass me!" If she wants to become a Fellow, she needs to shut up and do as he says.
She overhears the father of Jo Min Ji requesting someone to look into his daughter – Min Ji can't feel her toes. Stricken, Yeon Woo runs down the nearest staircase and bumps into Ki Young. She wails that she can't lie to the father knowing that it's all Professor Seo's fault. He had touched a nerve during surgery, paralyzing Min Ji for perhaps life. Ki Young advises her to keep her head down, but that just infuriates her even more. She's ready to go report it for malpractice…when she sees Mr. Jo standing there. He heard everything.
He drags Yeon Woo out and creates a ruckus, calling for Professor Seo. Seo gives Yeon Woo a piercing glare and then asks Mr. Jo who he's going to trust: a resident doctor who's barely had 5 years of experience, or him, who's been doing spinal surgeries for 20 years? If Mr. Jo doesn't trust him anymore, then it's fine – he'll have Min Ji discharged and sent to another hospital. That frightens Mr. Jo, and he backs off from his threats of suing for malpractice.
Yeon Woo finally types up the report and is called into the head of the hospital's office, where Seo is present too. Yeon Woo maintains her honesty and says that Professor Seo really did try to cover up his mistakes. She hands in her honest report to the hospital chief. The hospital chief doesn't take it; she asks what Yeon Woo is still doing at the hospital since she's already passed her exam.
Yeon Woo quietly admits that she'd been hoping to be a Fellow because Professor Seo had promised her. The hospital chief scoffs – only she can give permission on who can be a Fellow. On top of that, tradition states that Hankook Medical School will not support a non-graduate to become a professor. Yeon Woo can break that tradition – one day – if she had worked hard (read: listened to Seo). The chief hands the surgical report back to her.
Yeon Woo runs to the roof to cry, but stumbles upon two people having a private chat: Ki Young and his new girlfriend. He says that he's been trying to break up with Yeon Woo but can't find the words to. Now he's also embroiled in the whole malpractice mess too and wants to stay on Seo's good side. He turns to leave and sees Yeon Woo standing right there.
Yeon Woo gives him a good kick in the shins, but his girlfriend pushes her down. (Catty.) The girlfriend yells at her for trying to act more superior to them Hankook alum. If Yeon Woo beats Ki Young one more time, she won't stand for it.
Beaten down, Yeon Woo hands off the surgical record to Mr. Jo for his malpractice suit and leaves the hospital.
Ji Heon walks home late that night and is greeted by his young nephew. Yi Reum wants to go to a balloon festival where they can write their wishes on balloons and fly it. He wants to write that Ji Heon should win tomorrow's competition. The little kid is his only supporter, since his sister-in-law disapproves of his profession.
Yeon Woo saw the festival balloon as she was driving so she swings by. She's a few people behind Ji Heon on line, but by the time she reaches the table the festival has run out of balloons. Yeon Woo is frustrated and breaks down into tears: "Why are you treating me like this? What did I do wrong?" Clearly, girl's been having a bad day. She falls to the ground and starts sobbing, attracting the attention of everyone. Ji Heon and Yi Reum are shocked, and both feel like they should do something but don't know what.
Yi Reum approaches Yeon Woo – he'll share his balloon with her.
The three of them sit on a ledge and Ji Heon quips, "How embarrassing. A woman almost 30-years old cries like a baby because she couldn't get a balloon…is not what I'm thinking." He reminds her that even though something bad may have happened today, yesterday, someone saved a purse for her. Yeon Woo immediately recognizes him and wonders if his leg is OK. Ji Heon notes that they've bumped into each other twice – it's like fate. She counters, "It's just coincidence." Hehe. On the balloon she scribbles, "Everything will turn out OK."
They light the balloons in silence, and Yeon Woo looks on wistfully. Ji Heon can't help but feel intrigued and attracted to her.
Yeon Woo gives her number to Yi Reum so that she can treat him to lunch. Ji Heon asks about himself – he brought back her purse, so doesn't he get a meal too? She tells him to come with his son, and Yi Reum pipes up, "He's my uncle. He doesn't have a girlfriend!" Ji Heon: "Oh this brat. You don't have to say that!"
Hehehe. Once again – a cutie patootie being the matchmaker for the adults.
Yi Reum knows that Ji Heon is interested, but sternly tells his uncle that he's not allowed to date until he gets a gold medal. Yeesh.
They return home to a worried mother. Privately, she tells Ji Heon that she wants him out. He tries to get her to come watch his competition but she responds icily, "I definitely told you I would never support you." Even though she promised his brother/her husband that she would support Ji Heon's dream as a judo athlete, he's now dead, so she doesn't really have to honor this promise anymore. She may sound like a biatch, but the mother appears more like a beleaguered single mom, and Ji Heon is an additional burden she can't afford.
On the day of the match, his sister-in-law's words run through his head, but it only makes him more determined to win the gold medal for his brother. As he prepares, his coach Tae Yeon notices his bruised leg from the motorcycle. It looks bad, but Ji Heon doesn't really feel a thing.
Mi Ja is waiting in Yeon Woo's home – she just found out that her daughter was kicked out of the hospital. What are they going to do about their debt!? Yeon Woo spins around – debt? Did her older brother (Kyung Woo) get into bigger trouble? Mi Ja changes her tone and sweetly says it's not that big of a deal. She had been using the money Yeon Woo gave her, and they only have about $2000 left to pay off.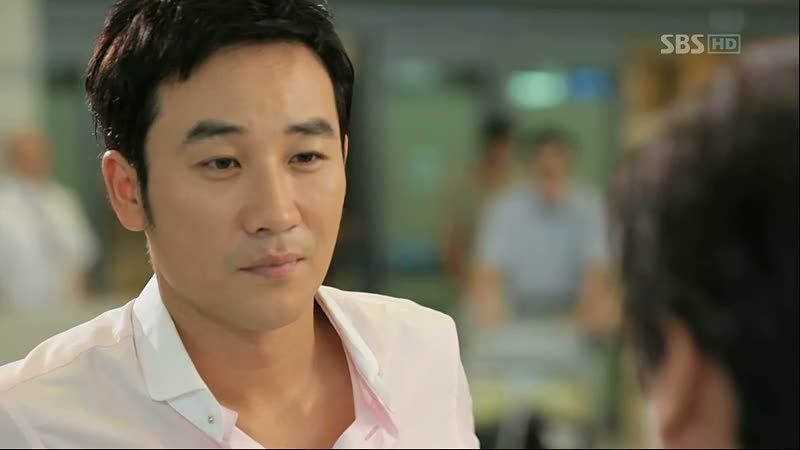 Now as for Song Ah Reum – the athlete has been declared brain dead and because of that, Taereung National Village has been getting a lot of flak for its inadequate care of athletes. The board decides to fire the medical chief as a scapegoat. As for his replacement, the provost already has someone in mind: Dr. Lee Do Wook from Johns Hopkins, who famously treated Park Ji Sung and Park Chan Ho.
Jeong Ho Chang, one of the board members, waits at the airport for the supposed Lee Do Wook with a cardboard sign. A suave man with shades, limping on a cane, approaches him. Jeong stares at the cane, and Do Wook says matter-of-factly, "Yes I limp. After 16 hours of flight my leg wouldn't even unbend properly."
Do Wook's got a very dry sense of humor.
Jeong is doubtful that Do Wook can do the job, but Do Wook points out that he did rehabilitate two famous athletes. He pulls out a bottle of pills and pops one in his mouth. Jeong thinks they're painkillers because that's what Dr. House eats but Do Wook is all, "Want some vitamins? They're chewable."
Yi Reum calls Yeon Woo for a special request – instead of treating him to a meal, can she take him out to Ji Heon's competition? His mother disapproves so she wouldn't take him, and his father is dead. Meanwhile, Ji Heon is beating every single one of his opponents. The national team's coach, Oh Jeong Dae, watches him carefully, and his assistant notes Ji Heon's great condition. Perhaps, Ji Heon might beat Sang Bong?
After a match, Ji Heon returns to the locker room; his leg is in immense pain. The bruise has gotten worse, and his coach Tae Yeon wants him to go to the hospital. But Ji Heon doesn't want to – yet. After the tournament ends, then he'll go; he can't give up the chance to be in the Asia Games.
Just as he's ready to go back into the ring, Yi Reum shows up with Yeon Woo in tow. Yeon Woo is uncomfortable and wants to ditch now that she's served her purpose, but Ji Heon is thrilled and tries to get Yeon Woo to stay. She isn't interested, but the moment she turns her back, Ji Heon falls on the floor.
She looks at his leg and realizes that the motorcycle injury is far more serious than any of them thought. A nurse brings a medical kit and Yeon Woo sterilizes Ji Heon's leg.
The whole time, Ji Heon is moony-eyed, impressed and happy that he's got her full attention.
Then she takes out a scalpel. Ji Heon freaks out – just what does she think she's going to do with that?!
She tells him she needs to make an incision or else his leg will rot away and they will have to amputate. Ji Heon angrily tells her to wait until after the final. He needs to compete and win against Sang Bong. After that, he'll do the surgery.
Yeon Woo cuts into his leg anyways.
Comments:
Oh yeah! She pissed him off! I'd say, strong ending for the first episode, even though it's nothing remarkable or cliff-hanger-y.
I'm quite impressed with Dr. Champ so far solely because based on the first episode, I know not to expect much story-wise, and to expect everything character-wise. Everyone is pretty much an underdog at the start of the series, with Yeon Woo in particular being beaten down at every single aspect of her life. From her colleagues to her mentor to her boyfriend to her mother – everyone turns their backs on her because they can't deal with her honest, upfront, tough nature. I love that Kim So Yeon pulls off the character with ease, as it is a good mix between her character in IRIS and Prosecutor Princess. She takes good command of her headstrong character, and outshines the other actors in the hospital. (So far, only Jung Gyu Woon seems to match her in onscreen charisma.)
As for Ji Heon, he's a lovable goof. He's a man with an ambition, haunted by his dying brother's last words, but he acts like a little kid as well who has set his sights on a lollipop and won't go anywhere without it. (The lollipop being Yeon Woo, not a gold medal.) He pulls off yellow clothes well (aside from Park Shi Hoo), and he has a cute nephew to boot. I'm sad that Lee Do Wook did not appear for much longer than he already did. There are definite House-references based on this first episode – and just because you replace Vicodin with Vitamins doesn't make it any better. Both pills still start with 'V'.
I think this drama has definite potential. It's already made me laugh in the first five minutes (with Jumbo-Tron Ji Heon's cheeky smile as he got ready to expose himself) and was oddly addicting as I wanted to know how low Yeon Woo would sink to the bottom. The drama is also filmed differently from others in that it uses a DSLR camera – Canon EOS 5D Mark II. There is a crisp HD-feel to it, with its vibrant colors and sharp focus, but the camera also softens everything beautifully in the background. I didn't check my expectations at the door, but Dr. Champ isn't exactly what I expected the drama to be. (I thought Yeon Woo was a crabby doctor at Taereung National Village, not a hotshot doctor who got fired from her cushy job.) So with no expectations at all, I plan on enjoying this ride.
And now, I pass the baton to aberdeen_angus, who will tell us if Ji Heon is going to give Yeon Woo a smack down for cutting his leg open. 🙂
RELATED POSTS
Tags: Cha Ye-ryun, Dr. Champ, featured, first episodes, Jung Kyeo-woon, Kim So-yeon, Uhm Tae-woong