Eric on for Poseidon, Kim Ok-bin still in consideration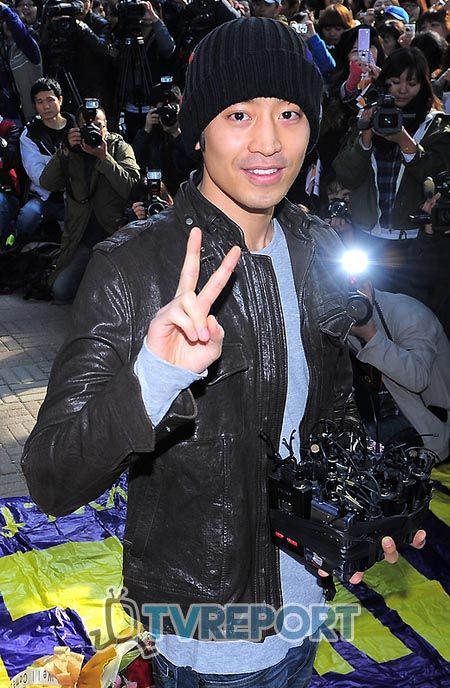 Looks like the news is finally confirmed: Eric is on for action drama Poseidon, which is set in the world of the maritime police and has already cast Kim Kang-woo as a lead. This news has been floating around for a few weeks, but only as unconfirmed rumor, as with a few other names like idol star U-Know Yunho. (Yunho's casting is still undecided.)
But Eric, the Shinhwa rapper turned actor who just completed his military obligation, told the press as he was discharged on October 30 (pictured above) that he will be acting in Poseidon. He has been serving out his mandatory army duty since October of 2008, and had been fielding offers for a comeback project in the months leading up to his discharge.

He last acted in the ri-diiiiiiiii-cu-lous goof of a drama Strongest Chil Woo, which was absurd and entertaining. My favorite of his roles remains 2007's intense Que Sera Sera; if you think he's yet another idol-turned-actor who can't act, you've gotta check that one out. Prior to that, he'd been working on an action drama, Wolf, but had to quit when he sustained an injury while filming a stunt; the drama production was discontinued and the injury would later lead to his being granted a desk job within the army.
Eric added that he'd like to show a masculine appeal similar to Jang Hyuk in Chuno (and, coincidentally, Jang Hyuk was another name who was rumored to be in contention for this series).
Meanwhile, Kim Ok-bin is still said to be considering the role; her rep stated this past week that nothing has been decided yet, but that the announcement would come soon. While she gained entree to the entertainment industry more for her looks than anything (she was one of the earliest examples of an uljjang who made the successful leap to an acting career, along with Gu Hye-sun and Nam Sang-mi), she has really kicked it up, acting- and career-wise, in recent years. In particular, she was praised for her role in Park Chan-wook's vampire thriller Thirst, which won a jury prize at Cannes in 2009.
Poseidon is set for 20 episodes, and is aiming to broadcast in the first half of next year.
RELATED POSTS
Tags: Eric, Kim Ok-bin, Poseidon