Home Sweet Home starts off with brisk story, slow ratings
It was a slowish beginning, ratings-wise, for MBC's new "Korean Desperate Housewives" series Home Sweet Home, which I'd previously called by its literal translation, My Happy Home. Wednesday's premiere improved upon its predecessor, Playful Kiss (which averaged 3.5% for its 16-episode run), but not by much, drawing a 6.4%.
On the other hand, initial evaluations of the first hour were positive for the strong acting skills of its cast, and it looks like it has carved out a niche with 30-something women viewers, among whom the rating share was 19%. Not bad, considering ajummas also love Go Hyun-jung, who headlines competitor drama Daemul. (On the same day, Daemul held its lead with a 25.5%, a few points lower than its high, while KBS's Runaway Plan B inched up a few points to 12.8%.)
I only managed to catch the first part of the episode so far, but based on my first impressions, I get the feeling that this show will definitely bring The Drama — loud voices, sexy scenes, catty rivalries, you name it. I'm not yet sure if it'll be in the realm of ridiculously cheesy or deliciously exaggerated, but I can see the potential for both.
The story has Kim Hye-soo playing a happily married psychiatrist whose sexy husband (Shin Sung-woo) seems to be very much in love with her, but still keeps in contact with his old girlfriend, the glamorous but shrewish Hwang Shin-hye. Episode 1 kicks right off with a domestic altercation between Hwang and her husband (Kim Gab-soo) that ends with her braining him over the head with a wine bottle in self-defense. He's injured but not yet dead when she calls her ex for help, but tells him that her husband has disappeared. The next morning, his death is declared the result of a car accident.
So the premise of the series is that Hwang Shin-hye will desperately try to keep this a secret, and Kim Hye-soo will try to uncover the mystery behind the death. I do think they missed an opportunity right off the bat by showing us how the husband died, because while the characters find themselves in a mystery, we don't. At least the U.S. Desperate Housewives introduced an element of intrigue, because we didn't know WHY the housewife committed suicide until the end of the season, which I think would have been a more exciting way to go here.
But then again, I've only seen part of the first episodes — maybe they'll throw in a few surprises along the way. What's key in this series is really the tone — the glittery, over-the-top, dramatic, faaaabulous tone. I mean, just take a look: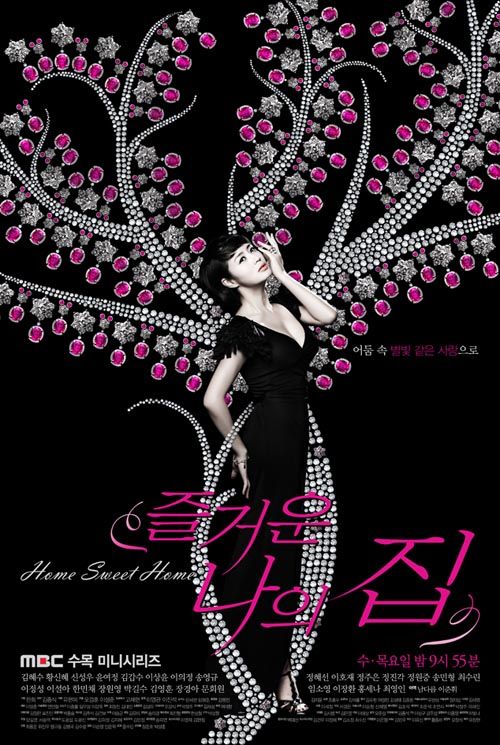 RELATED POSTS
Tags: Hwang Shin-hye, Kim Hye-soo