Jang Geun-seok rocks out for Mary
KBS drama Mary Stayed Out All Night, set to air next month, will be Jang Geun-seok's fifth time playing a musician. Most of those previous instances featured him as the leader in a band, and this time's no different: He plays Mu-gyul, the free-spirited lead singer of a Hongdae indie band.
(Those other roles were: a rock band singer in Do Re Mi Fa So La Ti Do, a rock band singer in The Happy Life, an idol band singer in You're Beautiful, and a talented trumpeter in Beethoven Virus. I might be more worried about Jang being typecast if he were a mediocre actor, but he's shown a good amount of range despite his still-tender years (he's 23), whether he's portraying youthful innocence, hauteur, boyishness, or criminal tendencies.)

The scene pictured here was filmed in the Seoul district of Hongdae, and in the drama takes place on November 8 — the show's actual premiere date. Pictured is the band that takes its name from its leader, Totally Mu-gyul (완전무결). I guess I can see why they'd take that name if he is the creative engine of the team (a la Dave Matthews Band or Jang Ki-ha and the Faces), but I wonder how the other dudes feel about that. The others are: Ri-no on second guitar (played by Kim Min-kyu), Yo-han on bass (Geum Ho-seok), and Reo (Leo?) on drums (Park Chul-hyun).
Jang said about performing in front of fans, "Opening up the filming set to the public before the drama premieres isn't an easy thing. But the producers discussed it in meetings and decided to film it with the fans in order to make the scene feel more vivid. Filming is going so well and the fans cheered us on so enthusiastically that I'm happy. I'm still worked up right now. I truly give my thanks to all the fans."
The songs sung by the Totally Mu-gyul band will be on the drama's OST; perhaps they'll rival the A.N.Jell fervor of You're Beautiful fame?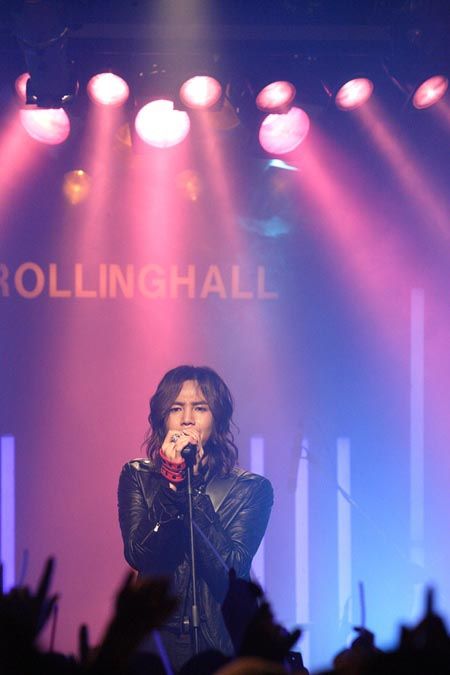 Via OSEN
RELATED POSTS