Life Is Beautiful cuts out gay vows, angers writer
SBS's weekend drama Life Is Beautiful is perhaps most notable for the gay couple at its center, played by Song Chang-eui and Lee Sang-woo. The October 23 broadcast, however, edited out a key moment for them that has brought on a flood of viewer complaints and has angered writer Kim Soo-hyun, who, by the way, is one of the most well-known and respected drama writers in the country.
The scene that should have been aired features the abovementioned couple, Tae-sub and Kyung-soo, speaking their commitment vows to each other in a church. The two had just attended the wedding of Ho-sub (Lee Sang-yoon) and Yeon-joo (Nam Sang-mi), and take a quiet moment to speak their devotion to each other.
Apparently the Jeju Island church where they filmed the scene voiced a complaint and requested that filming be halted. They asked for the producers to remove all dialogue from that part, after which filming proceeded wordlessly. Producers had intended to air the scene as filmed but the result hardly had the intended effect.
The 67-year-old Kim Soo-hyun spoke out her disappointment on Twitter, writing, "I had thought a church was a place where even a murderer could hide without being kicked out, but I suppose I must have read too many novels and watched too many movies." After the broadcast ended, she wrote, "It feels like my face has been wiped with a dirty rag. The flow and rhythm and timing were all a mess." She also uploaded the script to show how the scene was intended. (Translation below.)
Some viewers also voiced their anger, pointing out the hypocrisy of stations having no problem airing adultery and other makjang content, but balking at a positive portrayal of a gay couple vowing their love to each other.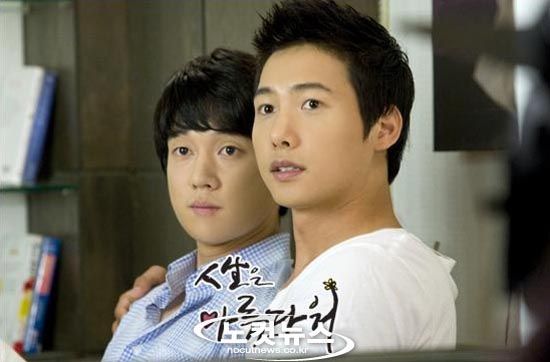 Here's the script excerpt as posted by Kim:
The doors of a church open, and Kyung-soo and Tae-sub enter holding hands. Looking at each other… still holding hands, Tae-sub leads Kyung-soo inside…

Kyung-soo – [Looking at Tae-sub, he quietly follows]
Tae-sub – [Stopping, looking ahead] "…It'll be okay [to go inside] even if I'm not religious, right?"
Kyung-soo – [Looking ahead with him] "I think so."
Tae-sub – "I was envious of Ho-sub."
Kyung-soo – [Looking at Tae-sub] …
Tae-sub – [Standing face to face, he holds out his hand wearing the ring]
Kyung-soo – [Takes the hand wearing the ring]
Tae-sub – [Two hands clasped] … [He looks at him]
Kyung-soo – [Looking back] …
Tae-sub – "…I… am praying." [Looking ahead, with hands held]
Kyung-soo – "Try it out loud. If you don't like it, I'll redo it for you…"
Tae-sub – [Opening his eyes, looking forward] "Until the day we die…"
Kyung-soo – [Looking back]
Tae-sub – "Let us be forever… That's my prayer."
Kyung-soo – [Looking at him] "Then I won't have to redo it… I feel the same way."
Both – [They embrace quietly]
RELATED POSTS
Tags: controversies, Life Is Beautiful