Melo-thriller My Happy Home premieres this week on MBC
My Happy Home, aka the "Korean Desperate Housewives," is MBC's new Wednesday-Thursday show that premieres this week in the former Playful Kiss timeslot.
The show stars Kim Hye-soo (Style) and Hwang Shin-hye (The Queen Returns) as leads and rivals. Kim's character is kind and intelligent, although deep down she harbors the stirrings of "an instinct for hatred." Hwang, on the other hand, sports an elegant outer appearance that covers an inferiority complex as the resident femme fatale harboring deep pain. Buckle up and get ready for the catfighting seems to be the message of the drama's promotions.
The two frenemies battle it out over a man (of course!), played by Shin Sung-woo (Secret of Keu Keu Island). He's Hwang's first love, but Kim's husband, and complicating matters is the death of Hwang's husband. Kim sets off to uncover the secret behind it, while Hwang tries to cover it up. Lee Sang-yoon (Life Is Beautiful) also stars.
Sounds like makjang heaven! It appears that My Happy Home is taking an aggressive approach to its story and genre, which means it may be deliciously watchable, or really cheesy.
It'll have an uphill battle in the ratings, but perhaps it'll be aided by the fact that it's a different genre from most midweek drama series, as it tackles the thriller-melodrama genre with its murder-mystery plot. It airs opposite SBS's big hitter Daemul, which is increasing its ratings with every episode despite all the hullaballoo surrounding its behind-the-scenes drama. If things continue in its current trajectory, Daemul is likely to break 30% in the coming week or two, as it is already resting comfortably in the mid- to upper-20% range. KBS's action-comedy Runaway Plan B may be less of a threat, but it has halted its ratings dive at 10%, and My Happy Home has a ways to climb if it wants to improve upon Playful Kiss, which wrapped last week with a 5.8%.
Will My Happy Home be able to crack the "MBC curse"? We'll see come October 27 when it airs its first episode.
The drama held its prayer ceremony last week, on October 18, at its Yangju set location. The following are from the ceremony: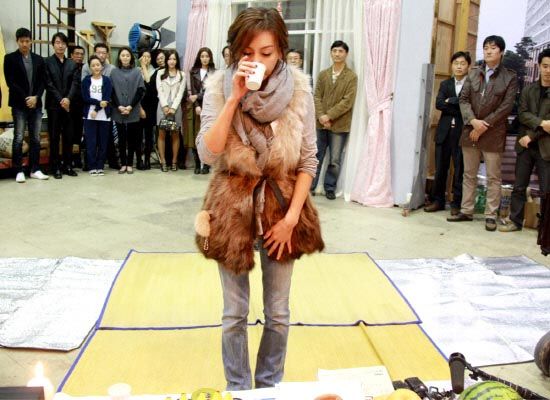 Via Sports Chosun
RELATED POSTS
Tags: Hwang Shin-hye, Kim Hye-soo