Movie posters for bubbly romance Finding Kim Jong-wook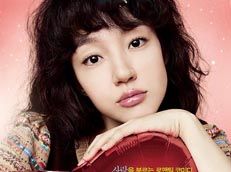 There can never be too many good frothy-cute romantic comedies out there, as far as I'm concerned (operative word being good), so I'm looking forward to the upcoming movie Finding Kim Jong-wook, which stars two very talented and charismatic actors, Im Soo-jung (I'm Sorry, I Love You) and Gong Yoo (Coffee Prince). The movie has released its first posters, pictured here.
The film is adapted from an original musical of the same name, which premiered in 2006 and became a hit with audiences. The plot kicks off when the heroine (Im Soo-jung), decides to find the first love for whom she still pines, and becomes a client of Gong Yoo, who runs a service dedicated to finding your first love.
(Such a service may rather seem curiously specific to the Western ear, but kdrama fans are probably well aware of that mystical pull of the elusive First Love that exists in Korean culture, and this idea isn't SO far-fetched. There was even a cable reality program dedicated to a similar premise, called Tracking Your Ex-Boyfriend, which was hosted by Jae Hee and Shin Dong-wook and dispatched its production team to finding erstwhile loves of its participants.)
Of course, Im Soo-jung falls for Gong Yoo in the process. While the film isn't exactly like the recent smash hit Cyrano Dating Agency, perhaps it'll ride the wave of its success in the bubbly-rom-com market.
Finding Kim Jong-wook opens in December. Below is a promotional video of clips from the musical on which the movie is based. Looks breezy and fun:

The following is one of the duets featured in the musical, and sung here by Eom Ki-joon (yup, the musical-turned-television actor of dramas The World They Live In and Hero) and Oh Na-ra:
Via E Daily
RELATED POSTS
Tags: Gong Yoo, Im Soo-jung