Now for the second leads of Queen of Reversals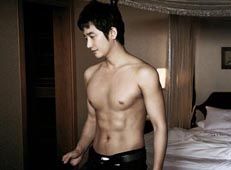 We've seen the previously released stills of the main leads of Queen of Reversals (that would be Kim Nam-joo and Jung Jun-ho). Now it's Park Shi-hoo and Chae Jung-ahn's turn for some attention.
Park's stills come from the first episode, which airs on October 18, and he reportedly worked out especially hard for a week to get his abs into tip-top shape. Though really, they were pretty much tip-top anyway. If you've seen his previous dramas the sight of his abs is probably familiar to you (Prosecutor Princess, Iljimae) — though I'm betting not unwelcome! In the drama, he plays Gu Yong-shik, the youngest son in a chaebol family.
Meanwhile, Chae Jung-ahn plays Baek Yeo-jin, the rival to Kim Nam-joo's lead character. You could call her a go-getter if you're being charitable, or a fox-like woman in the sense that she's crafty and determined.
Chae said, "Because Baek Yeo-jin in Queen of Reversals is such a different character than the ones I've played before, I'm really looking forward to it. I've played a lot of pure types before, the kind of characters who can't get what they want and end up stepping aside, but Yeo-jin is different. She's a woman who never gives up the things she wants, whether in love or work, and achieves her goals."
Queen of Reversals has been called the Season 2 of the hit drama Queen of Housewives, but given the entirely new story and characters, it's neither a true sequel nor spinoff. Consider it more of a variation on the theme. It airs on Mondays on Tuesdays on MBC, and premieres October 18.
RELATED POSTS