Petty Romance releases teaser and posters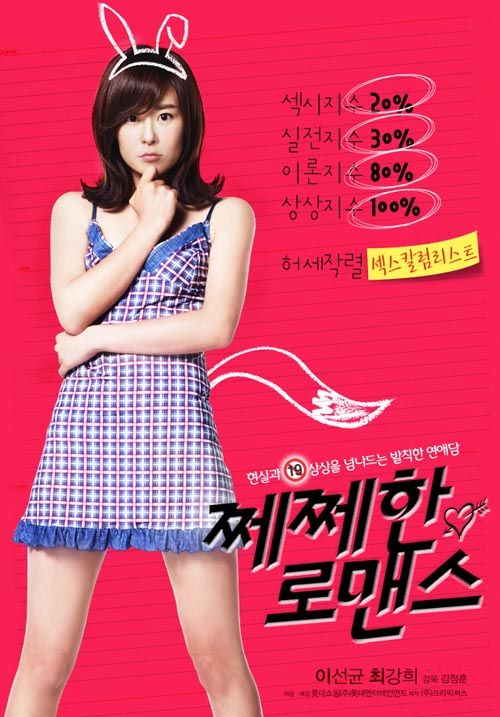 Petty Romance looks like a cute romantic comedy with a slightly suggestive premise — a hot-tempered male author of adult comics meets a woman faking her way as a sex columnist — and may as well have been called Our Slightly Risque Relationship, if only that title hadn't already been claimed by a different Lee Seon-kyun project.
Here are the main posters and teaser clip of the upcoming film, which pairs Lee Seon-kyun and Choi Kang-hee for the second time, after playing a couple in 2008's My Sweet Seoul. They were cute in that, but very restrained; this one looks a lot more fun. It appears her character is brought in to help with his writing process (story is his weak point), and then the sparks fly.
Choi Kang-hee's poster reads: "Sexy quotient: 20%, Actual practice quotient: 30%, Theory quotient: 80%, Imagination quotient: 100%." She wears bunny ears and a fox tail, both of which come with sexual implications. (The bunny is the playful side, while the fox characterizes the sly vixen.)
Lee Seon-kyun's numbers, on the other hand: "Sexy quotient: 60%, Actual practice quotient: 80%, Theory quotient: 40%, Imagination quotient: 100%." Nice porno you've got there, buddy.
The movie doesn't have a release date yet, but is aiming for the end of the year.
Via Chosun
RELATED POSTS
Tags: Choi Kang-hee, Lee Seon-kyun