Playful Kiss: Episode 16 (Final)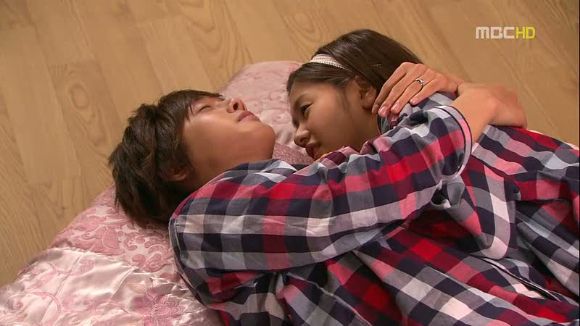 Show, I didn't expect you to take the snail's pace thing quite so literally. But here we are in the finale, and well, loose ends get tied, double-knotted, and bow-tied for good measure. It's an entire episode of getting everyone's ducks in a row, with not even a hint of conflict to drive us home. But then, if we're comparing it to Episode 15's idea of conflict, I should just thank my lucky stars that no Lee Da-hae Lite harlot showed up in this one. [I was thinking Song Ji-hyo, myself. -jb]
The end is nigh. Will Robot Boy get his heart? Will Ha-ni become a nurse? Will we end on a kiss to end all kisses? [Will javabeans fall asleep waiting for something to happen, already? -jb]

FINAL EPISODE RECAP
The newlyweds ride their couple bikes to school (how cute and totally ridiculous is that?) where they run into He-ra. She notes that Seung-jo isn't wearing his proof-of-takenness wedding ring, and he nonchalantly says he'll put it on when the marriage is certified.
At that, He-ra beams, taking the opportunity to goad Ha-ni about the fact that she technically still has a chance with Seung-jo, since legally, they're nothing. She rushes up to Seung-jo, linking her arm with his, and throws Ha-ni a neener-neener look for good measure. Haha. She makes me laugh (because this isn't mean-spirited), but it would probably annoy me less if it weren't for those infuriating good-for-nothing honeymooners who kept doing the same thing all last episode.
Seung-jo fills He-ra in on his plan to use the marriage certificate as motivation for Ha-ni to get into the nursing program, and she marvels at Ha-ni's single-minded pursuit of all things Baek Seung-jo. Yeah, you and me both, babe. [You two marvel, while I gnash teeth. -jb]
Seung-jo says that it's a given that a planet will orbit a star…making me and He-ra gag. She seems surprised to discover that he's quite the narcissistic macho guy. I know. You were blinded by all the Sartre. But college boys do that sort of thing. That's why guys learned all the major philosophers at my school. You think you've seen the upper limits of nerdiness until you see a boy using Nietzsche to land a girl in bed.
Duckie continues to get his noodles stalked by the new girl. She seems quite smitten with him (who wouldn't?) but Duckie wants nothing to do with her. He says that he's got someone in his heart already and dismisses her soundly. Open your eyes, dear Duckie! Living breathing girl, totally into you, and not in love with Baek Seung-jo!
Looks like Juri's got a budding love interest as well, in a guy who comes by regularly to get his hair trimmed just a teensy bit each time. Dude, you should probably ask her out before you end up with an army crew cut. Min-ah laments being left out of the dating loop. It's okay. You'll be gettin' busy with In-soo in your own sitcom soon enough.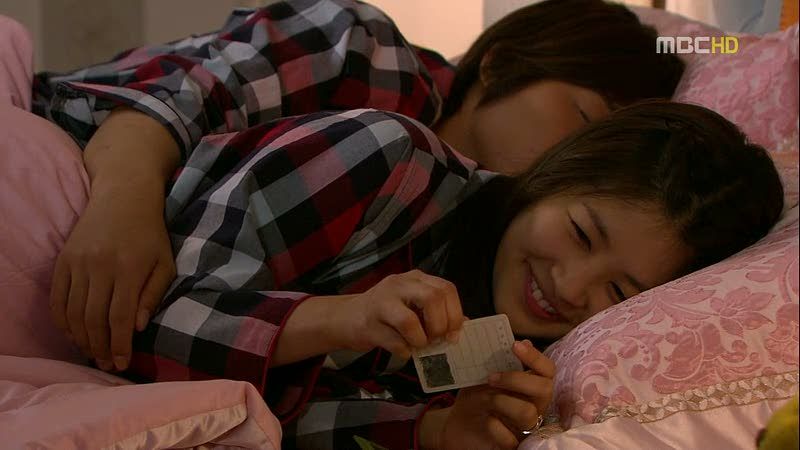 Ha-ni sighs that her marriage certificate will never see the light of day at this rate, because a spot has to open up in the nursing program for her to even take the test, let alone pass it. Mom decides to take matters into her own hands, and just go register the marriage themselves, without Seung-jo. Sheesh. I know everybody loves Mom, but her level of controlling is downright scary. She makes most Korean moms seem like docile kittens in comparison. And that's saying a LOT. [It's funny that she's endearing because she's always on Ha-ni's side… but objectively speaking, yes. Scary. -jb]
Ha-ni has to do some maneuvering to get Seung-jo's ID card out from under his pillow, and when she and Mom head down to the registrar, it turns out that Seung-jo already had it done. At home, he cops to using it as motivation for Ha-ni to get into the nursing program, and adds that messing with Ha-ni is his greatest joy in life. Hahaha. Points for that, Robot Boy. Ha-ni swears she'll work her hardest. [I hate that she's so worried about "disappointing" Seung-jo, when he's the one who dicked around to use their marriage status as manipulation. Really, Seung-jo? You have a right to "disappointment" here? -jb]
Duckie's girl-to-be Chris comes to see Ha-ni at school, and tells her that Joon-gu is her dreamboat. Ha-ni wonders if maybe she's mistaken because his food is so good (HA) but finds that she's really smitten. [I adore that Chris' appellation of choice is an affectionate "Mr. Bong." It's like they're a cute married couple already. -jb] When asked about the girl he likes, Ha-ni quickly says that there's no such person, and agrees to help her win Duckie's heart. Aw.
Duckie is busy making strides of his own, opening up a lunchbox branch of Dad's noodle shop. Ha-ni brings Chris to the grand opening, who publicly asks Duckie to ask her to stay in Korea, but Duckie, idiot that he is, blurts out that there's no one for him but Ha-ni. Uh, AWK-ward.
It's enough to send Chris crying, and me wishing the floor would open up and swallow Duckie whole. It also raises Seung-jo's jealousy meter, which is awesome, especially in light of his assy blindness in that arena during their honeymoon.
Duckie finds himself looking for Chris when she stops stalking him, and curious about her. Ha-ni calls him out on it, but he insists that it's like he said—Ha-ni is everything to him. He reiterates his I-am-your-home sentiment, making me die a little inside. She heartbreakingly tells him that she's married now—Seung-jo is her home. Wow, so simple, and yet soul-crushing for Duckie.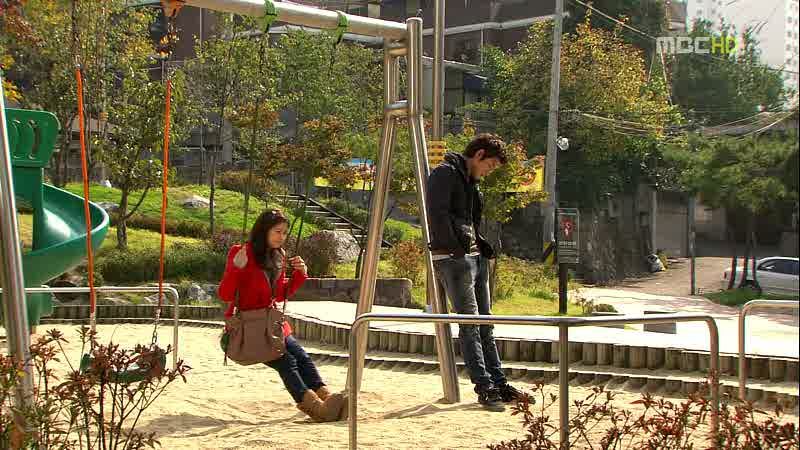 Ha-ni thanks him for always being there for her and listening to her all these years, and she asks him to listen to her one last time. She tells him to stop insisting that he knows himself and knows his heart, and to just sit for a while and really ask himself what his feelings might be, where the wind might take him. It's a really sweet moment, not just for these two characters, but for the kinds of questions that 20-year olds really ought to ask.
Kyung-soo gets drafted, and he shyly asks He-ra to write him letters if she's ever bored. She is her trademark curt and haughty self, refusing to throw the guy a bone. He finally asks her not to cry alone anymore, and she calls after him, saying that maybe if she's really bored, she'll go visit him in the army.
He gets a warmer response from Ha-ni, who is sad to see him go. Kyung-soo thanks her for teaching him a lot in the ways of love, especially changing his mindset that it's okay to make mistakes and be rejected, and that it's worth risking those things to love. Cute. He leaves Ha-ni with a farewell present—he's going to take his roommate with him to the army, opening up a spot in the nursing program. Now it's just up to her to pass the entrance exam.
Looks like Juri's silent sweetheart is headed to the army as well. Heh, I was joking about the crew cut, but it turns out he really needs one. He shows up for one last haircut, finally breaking through to her. She backhugs him, saying that she'll wait. I'm just going to assume that those aren't the first words you've exchanged besides "Trim a little off the top."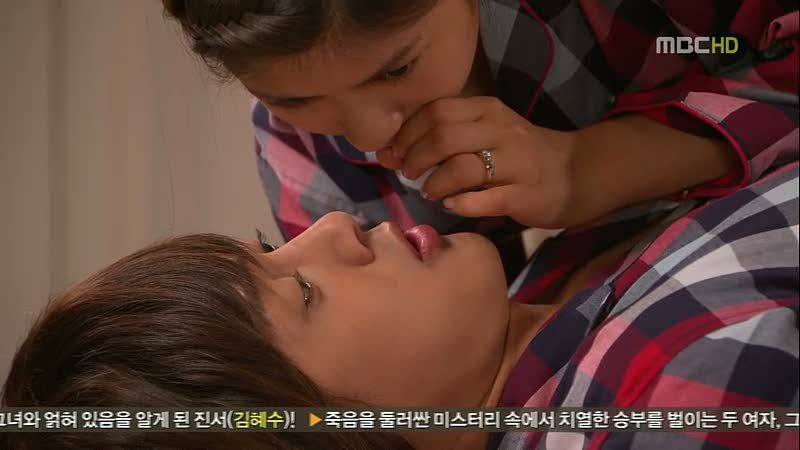 Ha-ni asks Seung-jo to help her study like the old days, leading to CPR practice and much cuteness. He smiles adorably as he drops her off for the test, proud that she's come so far.
She aces the written part, amazed that Seung-jo pretty much knew exactly what would be on the exam. But the oral exam is a giant mess, compounded by the fact that the main interviewer is the same cranky lady from her university entrance interview. She calls Ha-ni a dummy-killer (yeesh, you need a vacation, lady) and Ha-ni announces to her family that she must've been reaching for the stars, and that she'll find some other major.
Seung-jo sighs that he really wanted to take Ha-ni on a date [per their deal to go on a date if she passes], but a promise is a promise. He suggests that maybe going out for dinner doesn't count. Ha-ni perks up immediately. It's so funny how she's still amazed that her husband likes her. Haha.
On her way to meet him for their date on Christmas Eve, she witnesses a motorcycle accident, and gets to use her CPR skills on a non-dummy. She fights past her fears and saves the woman's life.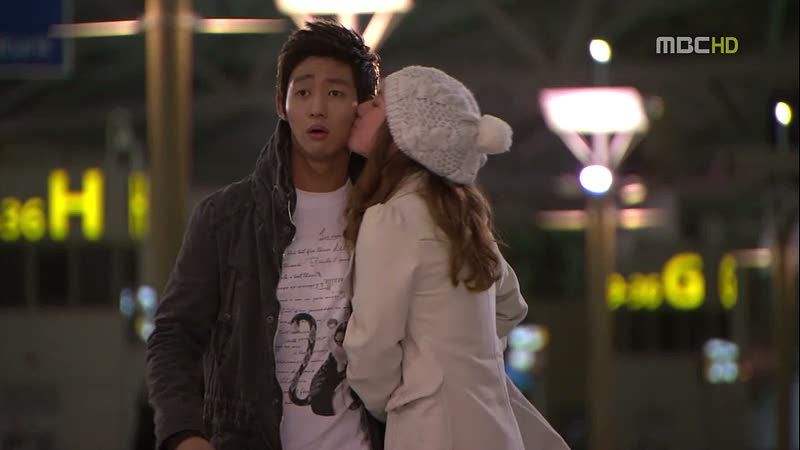 Duckie races to the airport, finally realizing that he probably shouldn't spend his youth pining away for a married woman. Chris is there waiting for him, having gotten off the plane already to keep her heart from breaking. Duckie gets a kiss on the cheek for coming to stop her (although he insists he's simply there to send her off), and thus begins a new and much healthier love for good ol' Duckie.
Dad has a quiet drink alone, sweetly caressing the bronzed hands and feet of his wife and daughter. I don't know what it is, but these Dad moments totally get to me. This is where this drama's strengths lie, and I really wish it had capitalized on more of this tone. [It helps that Kang Nam-gil is SO good at the poignant fatherly love angle. Seriously — see Who Are You? for exactly this kind of heart-tugging relationship, except with way more momentum and emotional impact. -jb]
Ha-ni waits in the emergency room to make sure the patient is okay, and the doctor praises Ha-ni for saving the woman's life. She breathes a sigh of relief and rushes off to meet Seung-jo, thinking he must've left hours ago.
But she finds him there, waiting and worried. It's not the most dramatic moment, but it's a nice beat, showing that she doesn't have to worry that he'll run off at the first sign of trouble. He really is her home now, and he'll be waiting for her.
He sneaks them into a closed parking lot after hours, upping his cool factor in Ha-ni's eyes. Seung-jo: "Do you think there's only one or two cool things about me you didn't know? You're in trouble now." Haha. He announces that she's under his spell. Yeah, where've you been for the last four years, buddy?
Ha-ni says that she was originally planning to become a nurse because of Seung-jo, but she felt something different today, in saving a life. She feels a purpose and a calling, and plans to start from the beginning, applying to college all over again so that she can get into the nursing program.
I like that they went this route, which is far more realistic than Ha-ni threading a needle and making it in on her first try. Moreover I like that she feels a sense of purpose now, separate from and greater than her desire to follow in hubby's shadow. [It's also particularly sweet that Seung-jo gives her a little credit, too, calling her his sunbae in the professional realm, since she's already saved a life — and killed one mannequin, lol — while he has yet to meet a patient. -jb]
Seung-jo tells her that every day is like Christmas when he's with her (aw) and then they kiss, with Seung-jo teasing her for being so forward.
As the end credits roll, we see: Duckie and Chris together, Min-ah making it big-time with her web-toon in book form, Juri's boyfriend returning from the army, He-ra visiting Kyung-soo, parents on vacation, and Eun-jo with a new crush (birth of Seung-jo 2.0, gah). [I know! The setup is obviously an echo of Ha-ni and Seung-jo, but I like to think that younger bro learned a little something from watching his hyung. Plus Eun-jo always had a little more EQ than Seung-jo anyway. -jb]
We come back to Seung-jo and Ha-ni in the car, where Seung-jo finally declares out loud: "I love you."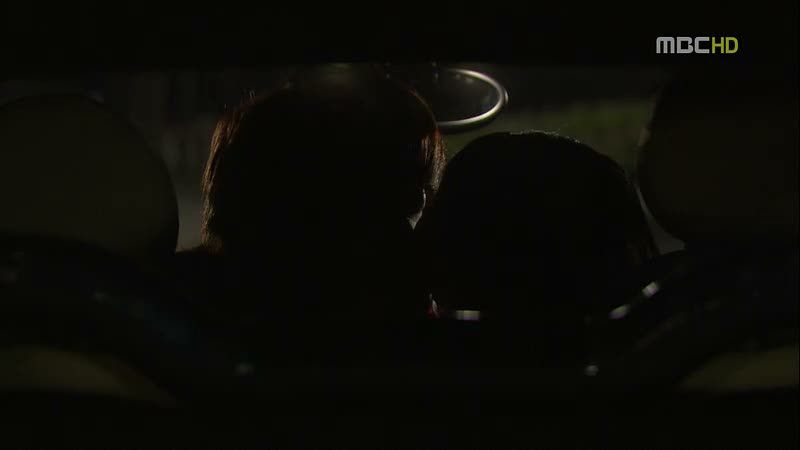 GIRLFRIDAY'S COMMENTS
It's pretty funny if you think about it, how marriage came before the "I love you," but I suppose it's something that he said it of his own accord, without any prodding. Not all the growth that I wanted to see from Robot Boy (just thinking about the wedding prep and honeymoon raises my blood pressure), but it's not like I expected him to mature overnight.
Ha-ni showed some forward movement, even in her tiny snail way, and even though the emergency rescue was so obviously shoehorned in, at least she admits to having chosen nursing for Seung-jo, and now feels a new sense of purpose in pursuing it for the right reasons.
What I wanted to see more of was a change or a growth in their relationship post-wedding, which we only really got in glimpses. Would it have killed you, Show, to put in a real-life conflict, no matter how small, that indicates a significant change?
Overall this series never went past tepid for me, because the conflicts never dug deep enough to really grip me. I enjoyed the setup and the characters, and particularly loved Jung So-min's portrayal of perpetual underdog Oh Ha-ni. Kim Hyun-joong's Baek Seung-jo was a little touch-and-go for me, though objectively he has shown improvement in his acting chops. I'd be lying if I said he was good, but he's…better. What I did enjoy more than anything was their cuteness as a couple, because they brought out adorably surprising things in each other.
I know the drama's tone was always meant to be light and follow a slice-of-life format, but I wish it had dug just a little deeper emotionally, in its storylines. Ha-ni's relationship with her dad, for example, wasn't overly dramatic or overly hammy, but played just right in terms of depth. Whenever the drama showed those types of connections, it made me want to see more, and I would've gladly traded many of the superfluous moments of side business for some more emotional beats between characters.
In the end, I do like the drama for what it is—playful and light, but then it also keeps me from loving it, because it never ventured out of that safe zone. Show should've taken a note from Ha-ni: it's worth the risk, even if you fall flat on your face.
JAVABEANS' COMMENTS
What a weird drama. I don't quite know what to say at the end of it. Barring the genuinely horrendous first episode, I had a lot of fun watching these characters bumble their way through courtship and young-adulthood in a low-key, histrionics-free way. But on the other hand, despite a tone that suggests slice-of-life realism, the drama isn't very realistic at all, so you have something that's not quite compelling on the drama front, but also not quite compelling on a reality front, either.
I can't deny that there was something very watchable and cute about the slow (slow, slow) relationship build-up, but ultimately this drama sorta feels like a big ol' empty shell to me. There's just so little beneath the surface, and what there WAS in the way of true heart was often overshadowed by silliness (witness Episode 15's Honeymoon Hell). It was promising until the last few weeks, when it became apparent that things were just happening because they were happening, not because they were driven by actual narrative purpose. Even slice-of-life stories are propelled by conflict, escalation, and resolution — the cornerstones of all stories since the beginning of time — but in so many episodes, I just felt like Playful Kiss was pushing chess pieces around the board without any strategy. No attacking, no advancing, just pawns being moved around.
I understand that this show is based on a previously existing story, and I understand that there's a burden by the makers to stay true to the spirit of the original. Even though I have mentioned several times my reason for not wanting to compare this to prior versions, I understand why fans continue to do so — you can't have a remake and expect the fans to ignore what is being remade. That said, quite frankly I don't really care about the previous versions; I'm watching THIS drama. I want this drama to make sense, and have narrative substance, and tell a fully fleshed-out story, and show growth and progression, and be entertaining. If, in the course of "being true to the original," this drama sacrificed its opportunity to tell a good story, well, then I think that's a failing of the show. What good is it to be a purist if it just weakens the end product?
I'm being a little harsher on this drama than I had intended to be, considering I got many hours of smiles and cuteness out of this show. I don't regret watching it, and at times I felt warm and giddy for the characters, particularly Ha-ni, who made me think back to my own adolescence with fond nostalgia, a little bit of horror, and a lot of relief to be beyond that now. However, I don't think entertainment and critical thinking are mutually exclusive, and if I have to shut off one for the sake of the other, then what's the point? I'd rather have both.
So, what's the bottom line? This was a cute show. I liked it. Sometimes quite a lot, but most of the time with a sense of detachment. I think I would have evaluated it much higher if we'd ended on a stronger note, though, because the last few episodes really dragged it down. There was easier-to-watch, better-paced material in the middle stretch, but the last couple killed the last of my patience.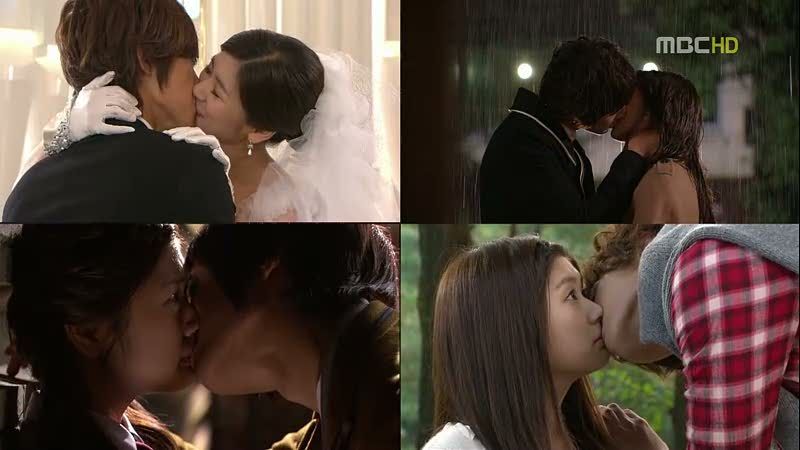 RELATED POSTS
Tags: featured, Jung So-min, Kim Hyun-joong, Playful Kiss