Secret Garden's badass Ha Ji-won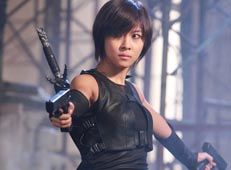 Ha Ji-won has been doing a lot of action lately, what with her blockbuster film Haeundae and the upcoming sci-fi movie Sector 7. Add new drama Secret Garden to the list, the upcoming fantasy-romance series that has just released its first stills.
In the drama, Ha plays a stuntwoman who aspires to be a martial arts director. She meets our hero, played by Hyun Bin, and they get off to a bickering start — only to end up trading souls/bodies.
In my opinion, Ha Ji-won is one of the sexiest actresses in the biz — and I don't mean strictly in looks but in overall aura — so it's no surprise to see her looking mighty badass here. (I'll admit the stills look kinda cheesy, but she does not.) It makes you wonder what would've happened if she'd taken the lead in Athena; no disrespect to Su Ae, whom I like a lot, but Ha would OWN that role.
Secret Garden is a weekend drama replacing SBS's Life Is Beautiful beginning November 13.
Via BNT News
RELATED POSTS
Tags: Ha Ji-won, Secret Garden