Sungkyunkwan, Playful Kiss supporting actors lead new sitcom
You may currently know these two actors, Jeon Tae-soo and Yoon Seung-ah, better by their characters' names in their current dramas — which would be the devious school president Ha In-soo of Sungkyunkwan Scandal and Ha-ni's best friend Dokko Min-ah of Playful Kiss. (You probably recognize them better in character, above, than dressed as their normal selves, below.) Now both will be acting in an upcoming MBC sitcom, titled All My Love [몽땅 내 사랑].
They'll be joining several idol stars making their cross-overs into acting (why??), such as Jo Kwon of 2AM fame, Ga-in of Brown Eyed Girls, and Yoon Doo-joon of Beast. Let's just hope Jeon and Yoon get some quality screen time, since they've proven they have some acting talent.
(Both are a little raw, particularly Jeon, but both show promise, I think. Jeon's villainy in SKKS has very occasionally tipped into excessive — such as when he laughs maniacally — but for the most part he has the furious glower down pat and he's taken to the role with gusto. He has totally committed to the role, which is something new actors don't always manage to do. Yoon, on the other hand, is understated but quite natural, so I have a good feeling about her.)
Jo Kwon and Ga-in go from playing a married couple on We Got Married to bickering twin siblings in this sitcom. The show centers around the intertwining relationships between two families: "a poor but kind Kong-ji family" and a "wealthy but selfish Pat-ji family." Kong-ji and Pat-ji (or Patzzi), you may know, refers to the the two sisters in the traditional Korean Cinderella folktale.
The daily sitcom also features Kim Gab-soo (always a treat!) and will premiere on November 8, airing daily.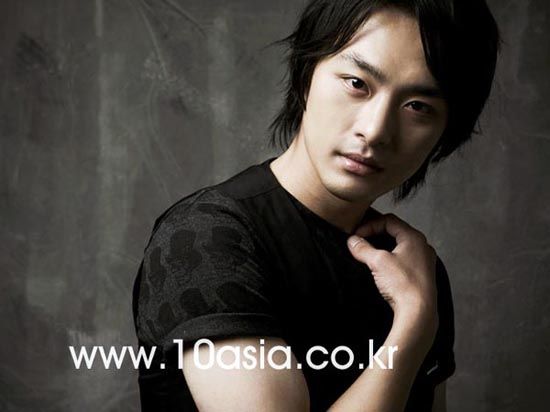 Jeon Tae-soo, aka Ha Ji-won's brother

Yoon Seung-ah

Jo Kwon and Ga-in
RELATED POSTS
Tags: Jeon Tae-soo, Yoon Seung-ah