Sungkyunkwan Scandal: Episode 11
Dear beloved readers,
Please do not be confused. I am not Cassie sheathed in red pill clothing. We readjusted the recap schedule this week and you're in for a surprise for the recap of episode 12. Anyway, our beloved Cassie will be back for episode 13 (which airs today, and I'm already doing a river dance of thanks to the drama gods). I never thought I'd say this, but thank goodness it's Monday.
Love, red pill
SONG OF THE DAY
성시경 (Sung Shi-kyung) & IU – 그대네요 (It's You) [download]
Audio clip: Adobe Flash Player (version 9 or above) is required to play this audio clip. Download the latest version here. You also need to have JavaScript enabled in your browser.
LESSON 11 RECAP
Sun-joon claims the true thieves are in the ledger, and he's not just talking about the theft at SKK – he's talking about countless other thefts occurring around the nation. With prices skyrocketing, the people have no choice but to go against the geumnanjungkwon, the law that permits only licensed merchants the right to business, and turn to illegal means. Therefore, the true thieves are the law that favors only the haves, the officials who serve money rather than the people, and the politicians who stand behind this all.
In-soo objects. This case is about Kim Yoon-shik's guilt, nothing more, nothing less. He advises the king to punish both Yoon-hee and Sun-joon for failing the test and misinformation, respectively, and set right his authority as king.
They're interrupted by a rough voice: "So how do I go about doing this? Being a witness or providing evidence or whatever." It's Bok-soo, come to turn himself in. He drops to his knees and confesses that he is the thief.
The king asks why Bok-soo chose to come forward now. Isn't he afraid of the consequences?
Bok-soo: I came because those guys there did something irreversible to me. I am a ban-in from banchon. We're called halflings because we're poor and helpless. And I had planned to live no better than those expectations, to live however I wanted. But… but… darn it. […] They treated me like a person, like an equal, and made me want to live like a decent human being. That way, the kid who follows me from behind will also lead a decent life.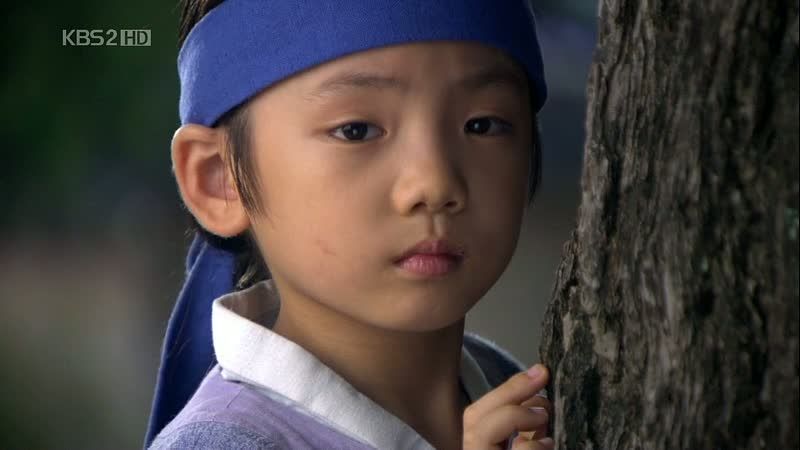 The king fails In-soo and the other students, not simply because Yoon-hee was proven innocent, but because they didn't question Yoon-hee's guilt, not even once. Particularly In-soo, as student body president, should've considered the possibility that Yoon-hee could be innocent. King Jeong-jo declares that he doesn't need officials who don't care for the people. This is how he plans to set right his authority as king.
King Jeong-jo gives Yoon-hee the responsibility to decide Bok-soo's punishment. She declares that there's no way for him to pay for his crime. The only way he can try is to work for SKK and make sure that nothing like this ever happens again. Essentially, she's letting Bok-soo off the hook while giving him a job. Yoon-hee, I'm impressed more than ever.
The king counters that her sentence is too light. The king kicks it up a notch and tells Bok-soo to keep an eye on the quartet and make sure they always maintain their good intentions.
The king affirms to Sun-joon that the true thieves are in the ledger. With a smile, he says that it's now his turn to do something about it.
Needless to say, our lovely Jal-geum Quartet passes the exam with flying colors.
In-soo gets called in by Professor Jung, who proceeds to point out a strange occurrence. The medicine that Yoon-hee supposedly needed and the medicine that was stolen and sold don't match up. There's one ingredient in particular that has a physical twin – an amateur wouldn't be able to tell the difference easily. Therefore, whoever stole the medicine (Byung-choon) grabbed the wrong kind, unintentionally proving that Yoon-hee didn't steal and that there is another thief aside from Bok-soo.
Professor Jung didn't reveal this in front of the king in order to give In-soo the chance to repent and confess. Yet In-soo remains remorseless, drawing Professor Jung's criticism that the ban-in boy In-soo considers inferior is actually superior to the SKK student body president.
So it's really no surprise that In-soo cuts Byung-choon loose (and therefore also stops providing money for Byung-choon's sick mother).
Yoon-hee thanks Bok-soo for his courageous confession, but Bok-soo says Jae-shin BEGGED him to come. Jae-shin basically acknowledges it by strongly denying it.
With the first genuine smile we see from him, Bok-soo warns: "Lead honest lives. I'll be following you from behind." That wins a smile from Jae-shin.
Jae-shin denies doing what he did for Yoon-hee's sake, but as Yong-ha shrewdly points out, he sure didn't do it for his grade (not a three-time failed student like himself). That earns Yong-ha a hard jab in the ribs.
Meanwhile our Ga-rang has a confrontation with In-soo, who asks him if it's denial or blind faith. Sun-joon should know that the merchants paid for the slush funds of the Noron faction. And who else is behind all this but the head of the Norons, Sun-joon's father?
But Sun-joon has faith that his father has not done anything to disappoint him. And his actions were done in order not to disappoint his father.
In-soo doesn't think the ledger will change anything. If the king attempts to make changes, Minister Lee will do anything to stop him. And Sun-joon will find out the true face of the father he so trusts.
Yoon-hee has witnessed the whole thing and she meets eyes with Sun-joon, causing her to drop the books she's holding. She apologizes for burdening him with such a huge responsibility and says she regrets swiping the ledger in the first place.
Sun-joon claims that they both did what they had to do, and so there's nothing to be sorry about. In fact, In-soo may very well be right that they'll accomplish nothing.
"Even so, good job, Lee Sun-joon." (Parallel to when Yoon-hee first hit the bull's-eye. I love these parallel dialogues.)
Yoon-hee: You did well. Whatever comes of it, what you did was great. […] I'm going to remember this moment for a very long time. Someday when we leave SKK, we won't be able to stay together. But I will remember us in this moment, the worries, the fear, the happiness. And all our classmates. I think that'll help me live as a better person. So if you ever have to make another difficult decision like today, please remember that there was once someone who believed in you more than himself.
Sun-joon: No. Stay by my side like this indefinitely. Watch me and make sure I'm going the right path. That way I'll be able to look at you and remember this day. So Kim Yoon-shik, stay with me.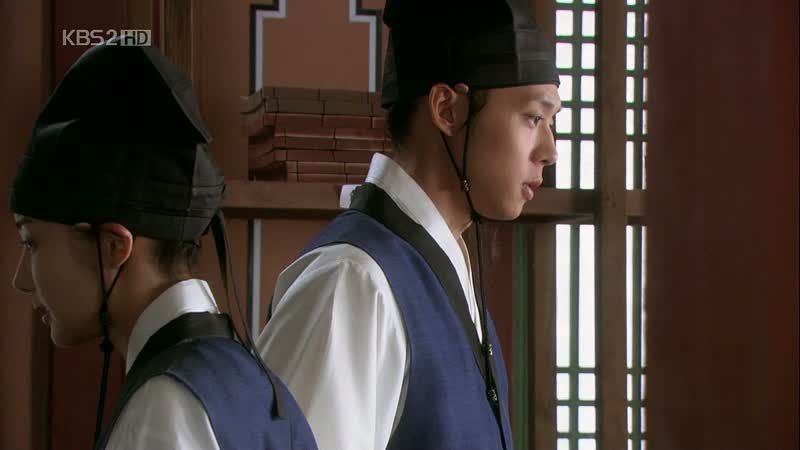 The waffy moment is ruined by Sun-joon looking at Yoon-hee's lips. He practically forbids her to ever wear women's clothing again. It's a terrible moment for Yoon-hee; in essence, he just told her to never be her real self.
If only she knew it was because he'd probably have a heart attack the next time. Sun-joon resorts to chanting, "He's just a roommate, he's just a roommate," in a pointless attempt to brainwash himself into denying his feelings.
Minister Lee and Minister Ha discuss using one of their men in the palace to destroy the ledger. And to keep the king silent, Minister Lee will remind him that he's on the throne thanks to the Norons, and there are plenty of other princes around to replace him.
Oh, Sun-joon, how terribly and utterly your faith will shatter.
Cho-sun interrupts the sinister meeting to tell them that the Red Messenger is wreaking havoc outside.
Jae-shin (aka. Red) shoots an arrow with a red leaflet attached: "Who speaks of Joseon as lacking? The only ones who lack are the powerless people. You government dogs that protect the foul riches of the merchants, how does it feel to get fat off the rice they throw to you? Under the geumnanjungkwon, the people starve and the Noron grow richer. The secret of the geumdeungjisa will soon punish the corrupt Noron. How about realizing who your master is and serving them accordingly?"
The professors and the headmaster study the leaflet, finding it hard to believe that it was written by one of their students. Professor Jung takes a closer look, noting the brush style and attitude, and claims that it was written by a real man.
A real man who is busy covering his clothes with the alcohol stash underneath the porch to take on his drunkard persona once more. He overhears Sun-joon and Yoon-hee discussing the Red Messenger inside the room. They surmise that it might be someone close to them (oh, finger touch!).
Jae-shin comes in and lies down between the two. When Yoon-hee asks if he's been drinking, he answers in the positive and kicks her to the side, telling her to sleep as far away from him as possible since he reeks.
But Sun-joon wants to talk about their new sleeping arrangement and why Jae-shin insists on sleeping in the middle. He doesn't understand it and offers to move if Jae-shin prefers sleeping towards the wall. But Jae-shin's unwilling to go into detail. So Sun-joon turns to Yoon-hee for her opinion. It's a strange "Do you want to sleep next to HIM or ME" moment, and we viewers would've had a field day with her answer. Only Sun-joon becomes distracted (again!) by her lips and hurriedly ends the discussion, saying they should go to bed.
Oh, you adorable boys.
The king proclaims the abolishment of the geumnanjungkwon and the establishment of free commerce. When the court officials cry against it, he reaches for the ledger, planning to use it as leverage to get his way. Only he doesn't end up using it because Minister Lee agrees to the abolishment of the law, stunning Norons and non-Norons alike. He takes it a step further and says that the officials who received bribes should be arrested.
Minister Ha doesn't understand, but this is politics. You've got to be able to play both fields, whichever suits your needs. And it's way more necessary to appeal to the masses and win over their support (as tonggong, the new law, will certainly do). That's how the Norons have stayed in power for a hundred years.
What they should focus on is stopping the brushfire that Jae-shin's latest leaflet threatens to light before it gets out of hand.
The news spreads throughout SKK, worrying some (Professor Jung) and angering others (yeah, that's In-soo eating his words). And through it all, our Jal-geum Quartet has become closer than ever.
Turns out Professor Jung is worried because the king plans to use the Quartet to fulfill his longtime dream to find the geumdeungjisa, use it to gain control over the Noron faction and build a new Joseon. That was the true motive behind the test: to find those worthy of this noble cause.
Professor Jung is particularly worried for Yoon-hee and Jae-shin who lost a father and brother, respectively, due to the geumdeungjisa crusade. And Professor Jung himself lost a teacher who was also a good friend. He doesn't want to lose his students as well.
But the king is unwilling to watch his people suffer any longer under the rule of the Norons.
By order of the king, the Jal-geum Quartet is called into the palace. They don the official uniform required within the palace, and to separate himself from the other lemmings, Yong-ha wore very flashy clothes underneath. No way he'd give up his individuality, not even for the king.
The king confides that abolishing the geumnanjungkwon has been a long-cherished wish of his, and he was finally able to do it through them. In thanks, he gives them each a gift.
Yong-ha receives back the mini golden replica of the Imperial Palace.
Jae-shin receives the poem his brother wrote in the state exam (the one where Yoon-hee declared herself a cheat, only a different year); the king kept it because it was so well-written. Turns out, his brother was a brilliant writer as well as student body president of SKK.
Sun-joon receives a compass. The king questions him whether he ever doubted his father; Sun-joon is unable to answer. So the king tells him of an Islamic saying: As long as the needle of the compass wavers, it is never wrong. "Your eyes are wavering now. Don't ever forget this feeling, the one that stands vigilant against your family and even yourself."
Yoon-hee receives the block puzzle that King Jeong-jo played with in a previous episode; it belonged to her father, the late Professor Kim Seung-hun. This is when Yoon-hee first finds out that her father was a professor at SKK, a fact that her mother hid from her. She had grown up thinking that her father was just a scholar who lost his life at the hand of bandits.
Gathering her courage, Yoon-hee asks, "Do I really resemble my father?" She asks because she no longer remembers his face.
The king gives her the best gift of all: "Your kind eyes, your determined mouth. You look exactly like my good friend."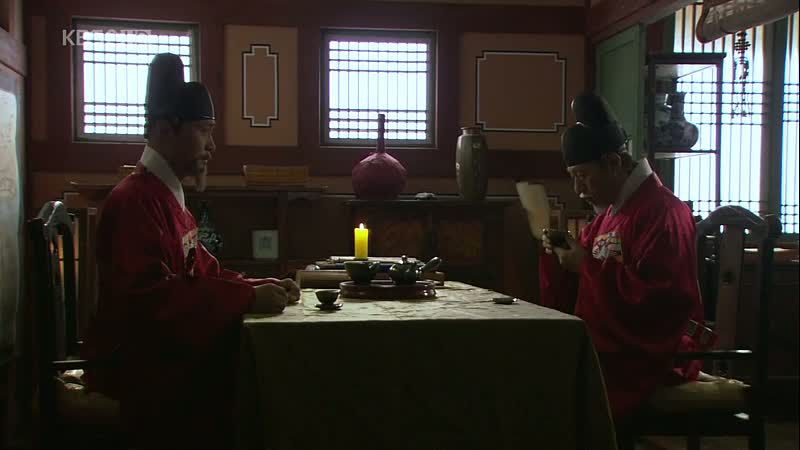 Minister Ha is sure that the king intends to use Sun-joon against his father, but Minister Lee doesn't believe it possible for father and son to become enemies and go against the moral laws regarding family. But this doesn't sit well with Minister Ha because back when they pushed for Crown Prince Sado's death, they claimed that the moral laws could be overlooked for the sake of what is right.
Wait, that was a confession, right? Where's a voice recorder when you need one?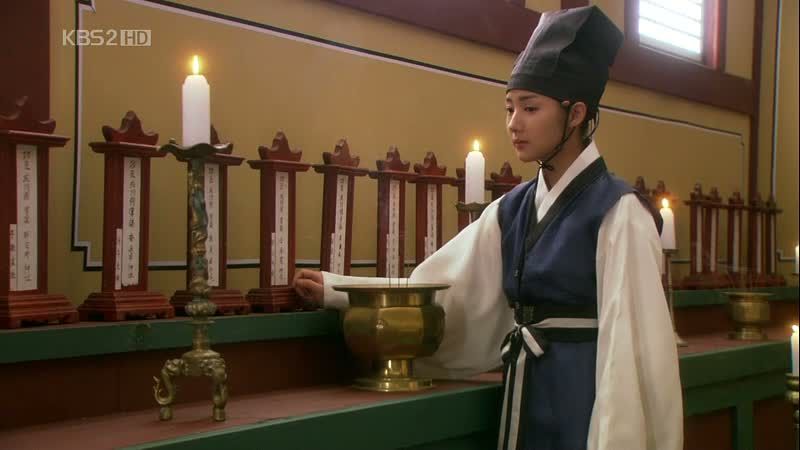 Yoon-hee visits the hall of deceased SKK professors, and finds the wooden tablet with her father's name. There, face to face with her father, she asks him, "I wonder about the world you hoped to protect with your life. What is it like? And why is that I didn't know you were here until now?"
Sun-joon thanks his father for helping to establish the new law of free commerce. Oblivious to the inner workings of the Noron faction, he took it at face value and is happy that his father didn't let him down. In fact, he is reassured that he can continue to follow in his father's footsteps.
Minister Lee's hand falters for just a moment at Sun-joon's declaration of faith. He quickly changes the subject to Sun-joon's engagement; it is to be hurried.
Sun-joon tries to explain that he and Hyo-eun don't have that kind of relationship, but Minister Lee cuts him off. She doesn't look the type to bother her man, and that's good enough for a wife.
I'm thinking Minister Lee isn't a good judge of a character because Hyo-eun looks like she can be a great bother to Sun-joon, as proven by how she pesters Hwang, the bookshop owner, for a book that'll teach her how to make Sun-joon hers.
Buh-deul, her hilarious maid, has a better idea. Using Hwang as a dummy, she shows Hyo-eun how to literally knock down a man (implied to be followed by, well, having her way with him). But what Hyo-eun wants is a book that'll teach her how to make Sun-joon fall deeply in love with her. (Hyo-eun, I've got a book recommendation: He's Just Not That Into You.)
Hwang pulls out a red book (the title literally translates to: "Do This on the First Night and You, Too, can be Hwang Jini." [info]). Yong-ha shows up with impeccable timing to scold Hwang for trying to sell a book that was written in the Dark Ages.
Yong-ha warns Hyo-eun against being too eager to undress for Sun-joon. It might work on Yong-ha, but not Sun-joon. And in a moment she might come to regret, she asks him for help.
The plan is take him to a deserted island, an unfamiliar place to help him relax. And the mood has to be just right, because both men and women are easily swayed by the right mood, mistaking that feeling for fate. The decorations are chosen, the food is bought, the boat is booked, and the stage is set.
The problem is Sun-joon would never go alone with Hyo-eun. So they'll have to make it a group meeting for now, and Yong-ha will work it out so that the two are left alone on the island.
They agree to meet the following day around 5:30PM at the Mapo dock.
Still emotional about her father, Yoon-hee discusses the matter with Jae-shin. He guesses that her mother didn't tell her because she thought that was best for her. Yoon-hee wonders aloud what her father was like.
Jae-shin notes that her pants bottom is untied and he squats to tie it for her. (SQUEAL.) "Why bother asking? I'm sure he was a good person. Like father, like son, right?"
She says aloud what we've all been thinking, that his "mad horse" nickname Guh-ro doesn't really fit him since he's actually a teddy bear. He's always been there whenever she needed help. Another grateful smile from her kickstarts Guh-ro's hiccups.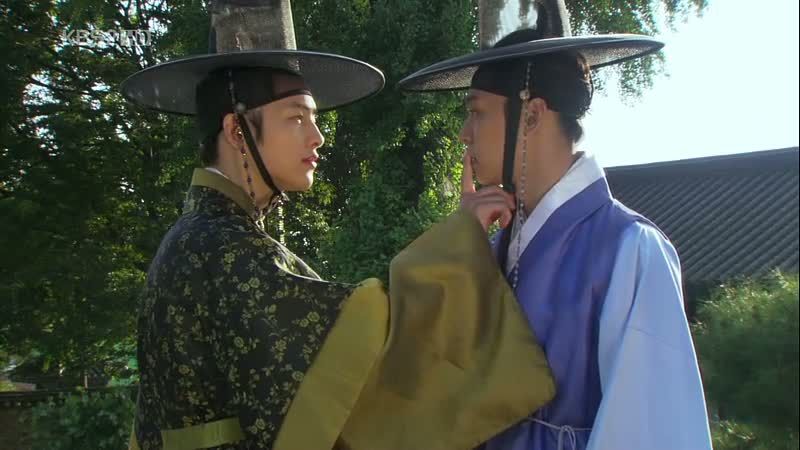 The king has awarded the Quartet a holiday for their achievement, and Yong-ha suggests to Sun-joon that they spend it on a boat ride with some lovely ladies. Of course Sun-joon turns him down, to which Yong-ha playfully asks if he doesn't like lovely ladies. Or does he actually like men?
That hits a sore spot for Sun-joon, who walks off in a huff. Yong-ha watches him go and remarks that Sun-joon's indignant response only heightens the suspicion.
Meanwhile, Yoon-hee and Jae-shin are looking at a wanted poster of the Red Messenger tacked onto the bulletin board. She asks if he knows who Red is, and he feigns disinterest (still hiccupping). Yoon-hee claims she knows and makes Jae-shin nervous.
"You're the Red Messenger, aren't you?" Yoon-hee's words shock Jae-shin so much that he stops hiccupping, and Yoon-hee points this out triumphantly. She was just joking to cure him of his hiccups.
Their playful moment is witnessed by Sun-joon, whose face hardens as he walks away. "Kim Yoon-shik is just a roommate. Just a roommate."
Sun-joon isn't fooling anyone, not even himself. In his disturbed state, he starts imagining Yoon-hee everywhere in the room. There's a Yoon-hee by the clothes hangers, a Yoon-hee studying at her desk, a Yoon-hee lying on the floor. And they're all smiling so cutely.
Yong-ha comes in and starts fussing over Sun-joon, saying that he looks pale and sick. He's come to convince Sun-joon to go on the boat ride. When Sun-joon refuses again, Yong-ha lies down on the floor, planning to lie there until Sun-joon agrees.
Yoon-hee and Jae-shin come in, still talking about the hiccups, and Sun-joon is so upset that he doesn't even notice he's holding his book upside down (but Yong-ha does).
Yong-ha is very interested to hear that Jae-shin has stopped hiccupping. He reveals that he once suspected Yoon-hee of being a girl, but that no longer interests him. He's found something else he's more curious about.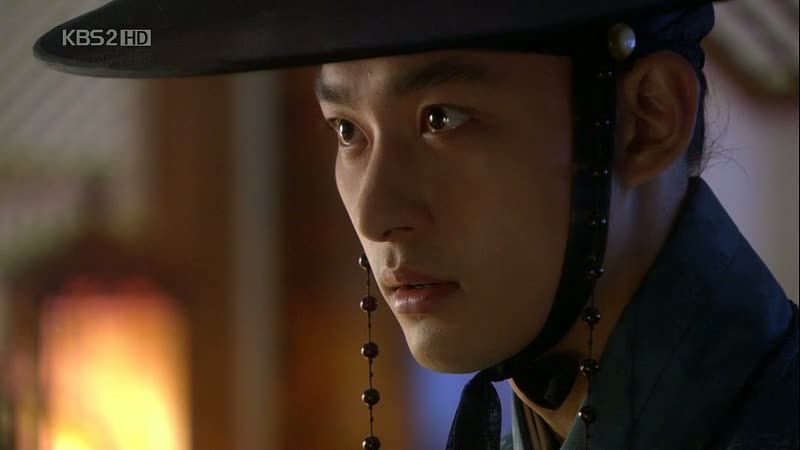 In-soo tells his father that one of the Jal-geum Quartet is definitely the Red Messenger. He's to keep a close eye on them while Minister Ha sets a trap.
Sun-joon can't get a hold of his confused feelings, and in a desperate moment, he agrees to the boat ride. Yong-ha tells him to come out to the dock at 5:30PM, then curiously changes the time to 3:30PM. And he's to bring Yoon-hee and board the boat with her.
Oh Yeo-rim, what are you up to now?
Sun-joon invites Yoon-hee out without giving her specifics of what they'll be doing, but it doesn't matter to her. She's beyond giddy. At the arranged time, she and Sun-joon board the boat and set off for the deserted island.
Yong-ha confesses to Jae-shin that he sent the two away to have a little QT. Jae-shin shoots off like a bullet, and Yong-ha reveals part of the reason he set up this trick: he wanted to get Jae-shin back for trying to hide his feelings from him.
At the dock, Jae-shin discovers that due to the darkening clouds, there are no more boats willing to cross the river. Hyo-eun also shows up at the dock, asking about the boat she booked.
Meanwhile, Sun-joon and Yoon-hee arrive at the island to find a little pastel tent set up with food and cushions and everything. This is Hyo-eun's work, and she also set it up so that the boat won't return until the following day.
Sun-joon tells Yoon-hee that they're at the island for a group date, and understandably she's angry – well, understandable to us but not him. She's actually angrier at herself for having certain expectations; she should've known better since he thinks she's a guy.
Sun-joon explains that Yong-ha said that no man can deny women, and he assumed Yoon-shik would agree since he's a guy. She tells him to have fun he wants with girls and goes running to catch the boatman, who's already leaving. Sun-joon tries to stop her, and she clocks him.
At the same time, Jae-shin clocks Yong-ha, yelling, "What the hell did you do, you jerk!"
Back on the island, Sun-joon catches Yoon-hee from falling, and she pushes Sun-joon away. He slowly falls back towards the water.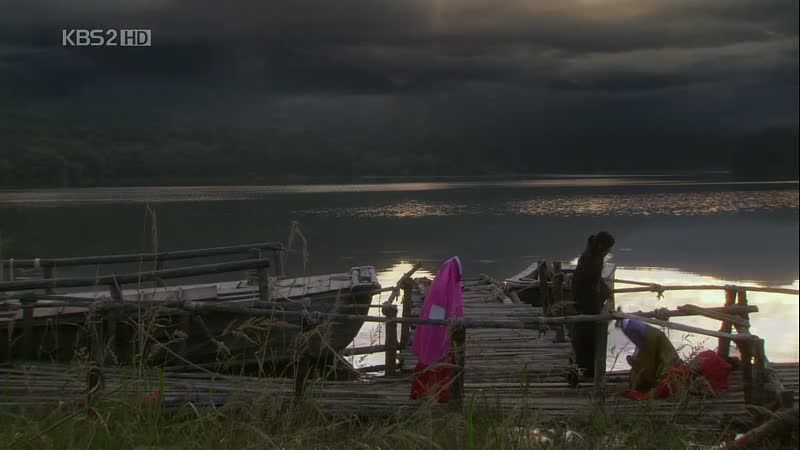 COMMENTS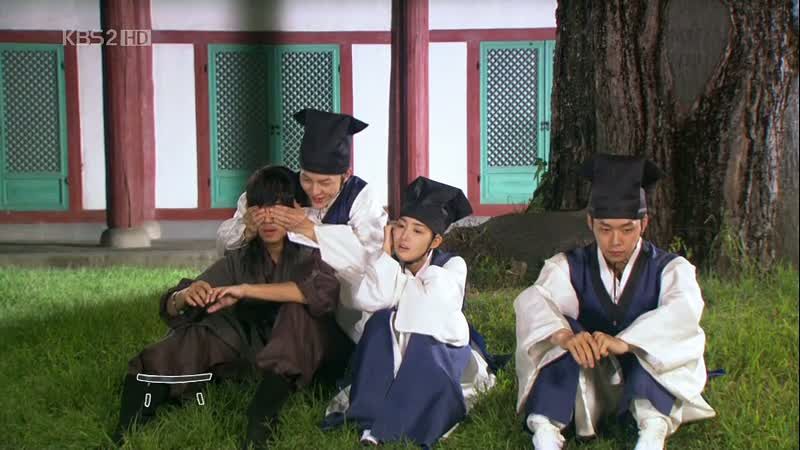 Time after time, I find myself talking about Sun-joon the most, but I feel it's sort of inevitable since he's the character that's changing the most. And if episode 10 was about him discovering his blossoming feelings for Yoon-hee, we see the beginnings of an inner struggle in episode 11. We've finally hit that gray area, where his moral code and principles aren't so clear anymore in the battle against his feelings. I'm interested to see how this will develop, if he will grow anguished or if he will decide that love is love, regardless of gender, and be a man ahead of his time (I know he'll eventually accept her, but I'm talking about the process here). I read a comment somewhere that if he were to stay in character, he wouldn't be able to accept Yoon-hee once he discovers she's a girl and tricked him. But I actually think that's a pretty narrow view on his character. If he were still the same guy he was in, say, episode 2, or even episode 6 right now, I might agree because that means he's unchanging and unbending. But as we've witnessed, he's a lot more pliable than we give him credit for. He follows his principles because he believes them to be right; if he discovers one of them was wrong, I have no doubt he would throw it away in a heartbeat.
As a side note, Hyo-eun and Yong-ha, is this a possibility? I thought I saw a look back when Hyo-eun first visited SKK and Yong-ha looked at her from afar, but it was so fleeting that I thought I imagined it. But episode 11 has me thinking that there just might be something up the writer's sleeve. On one hand, I'm against this possible pairing because it's too convenient: Hyo-eun can't have Sun-joon, and ends up with his buddy Yong-ha? Come on. But then I see them together, and I see chemistry, and I remember that Yong-ha doesn't want a boring woman, and I think, hey, Hyo-eun is anything but boring.
RELATED POSTS
Tags: featured, Micky Yoochun, Park Min-young, Song Joong-ki, Sungkyunkwan Scandal, Yoo Ah-in