2010 Blue Dragon Film Awards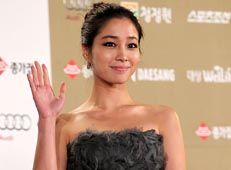 More awards!
The Blue Dragon Film Awards took place on November 26, and the many of the same films that have been winning lately were rewarded once again: Some of the big winners were for films such as crime drama Moss, dark thriller I Saw the Devil, romantic comedy Cyrano Dating Agency, stark action movie Ajusshi, and the much-lauded Poetry.
Kang Dong-won and Song Kang-ho's Secret Reunion prevailed to win best picture over nominees Ajusshi, The Housemaid, Moss, and Jeon Woo Chi.
WINNERS LIST
Best Picture: Secret Reunion
Actor Award: Jung Jae-young (Moss)
Actress Award: Yoon Jung-hee (Poetry), Su Ae (Midnight FM)
Supporting Actor: Yoo Hae-jin (Moss)
Supporting Actress: Yoon Yeo-jung (Housemaid)
Director Award: Kang Woo-seok (Moss)
Screenplay: Kim Hyun-seok (Cyrano Dating Agency)
New Actor: Choi Seung-hyun, aka TOP (Into the Fire)
New Actress: Lee Min-jung (Cyrano Dating Agency)
New Director: Kim Gwang-shik (My Gangster Boyfriend)
Cinematography: Lee Mo-gae (I Saw the Devil)
Lighting: Oh Seung-chul (I Saw the Devil)
Music: Mowg (I Saw the Devil)
Art Direction: Lee Ha-joon (Housemaid)
Technical Effects: Park Jung-ryul (Ajusshi)
Popularity Award: Won Bin, Choi Seung-hyun (TOP), Jo Yeo-jung, Sohn Ye-jin
Box Office Award: Ajusshi
But now for the part we really care about: the pretty pictures!
Kim Sae-ron's mother must be the HAPPIEST mom in the history of Korean film awards ceremonies, ever. (And yes, she even beats out Wang Seok-hyun's mother.) I mean, there's no way in hell the girl's coming up with her elaborate, amazingly assembled ensembles herself, right? In my mind, Mom has spent the past three months in a fog of bliss and exhaustion, stocking up the wardrobe with the stuff of girls' fantasies, all coordinated under different themes. Like, the first one was "Princess in a Candy Store," and the second was "Chic 'n Sassy Party Girl," and now it's "Cruella, The Happier, Pre-Dalmation Years: A Night Out At the Opera."
And sure, maybe Mom's getting a little frazzled trying to nail down every last perfect detail — like matching the marabou trim on the wee heels to her delicate shrug, or getting the ideal twee white lace hat to coordinate with the adorable over-the-top-ness of the gown, which is itself adorned with flowery swirls and trimmed in white tulle — but she's telling herself to pull it together, woman, you can sleep when the season's over, except at the last minute she realizes with horror that in all the event planning, she's forgotten to get herself something to wear and has to greet Won Bin, who's arriving at their doorstop to pick up his Ajusshi co-star and partner for the evening, wearing a worn old housedress and mismatching slippers. Horrors!
I cannot WAIT to see what Kim Sae-ron turns up in at the Baeksangs.

Jung Jae-young won one of the big awards of the night for acting in Moss, which has gotten so much good buzz that I keep meaning to see it. He opts for a more casual tie, but spiffs it up with a white… pocket square? Decorative sticker? Nametag?

Su Ae, winner for her thriller movie Midnight FM, is statuesque in her draped brown gown. Normally I wouldn't think brown would be the most elegant color for an awards show, but this one is sophisticated and perfect for Su Ae, who accents it nicely with gold jewelry. In just another month, we'll be seeing her kicking some ass in spy drama Athena…

I almost always love Sohn Ye-jin (Personal Taste) at awards, and this time's no different. Granted, the front flappy bit of material gives her a mildly pregnant look from a few angles, but on the whole the gown looks like it moves beautifully.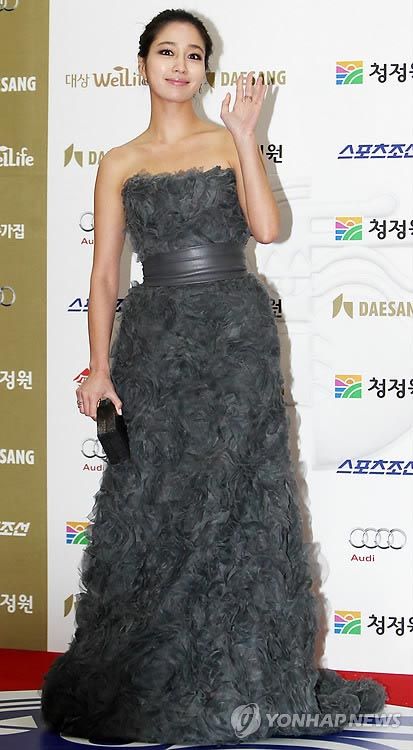 There was a lot of black at the event, but unlike, say, the Korea Film Awards where there were no punchy, show-stopping numbers to counter all the safe, conservative black gowns, thankfully the Blue Dragon Awards have Lee Min-jung. GORGEOUS. Swoon.
Let's overlook the minor fact that her face makeup is just a shade too white for the rest of her body and admire the lush texturing on the gown, the sassy silvery strappy heels, the perfect accent of the sash that accentuates her figure, and the clean, sophisticated bare neckline. Girl won an award this night (for new actress) and the night was HERS.

Lee Byung-heon hardly ever looks bad, which is why I'm disappointed with his slightly disheveled coif here. It's not a horrible look on him… just unkempt. And I like him better kempt.

I like men in three-piece tuxes, and Daniel Choi (Cyrano Dating Agency) is adorable. It almost makes you forget what a punkass jerk he was in The World They Live In, since he's doing so well with the awkward, shy manboy thing.

I haven't seen Kim Hye-soo out of black for a formal awards show for a while now, it seems. The Home Sweet Home star looks like she might just spill out of her dress with an awkward step, which may explain why she's hanging on to Lee Beom-soo's arm.

I love Park Bo-young (Speed Scandal), and she usually looks fantastic at awards shows — fresh, flirty, and adorable. Tonight, however, it appears she threw on an old bedsheet, wrapped it in some crazy knot around the middle, and bedazzled the front to disguise its origins. Okay, maybe that's an exaggeration. It's probably a new bedsheet.

I can't decide how I feel about the dress Park Jin-hee (Giant) is wearing. It's black (so: boring), a bit shapeless, and safe. The gap in the front doesn't seem like a slit so much as it seems like the dress got lined up wrong and found out at the last minute that there wasn't enough fabric to finish off the look. Or maybe the dress got hungry and ate itself, which might explain what happened to that sash that disappears into nowhere. On the other hand, the drapey elegance of the dress is meant to be simple, and Park is a gorgeous lady. And in case she should forget that, she can always refer to her purse to remind her, since it doubles as a mirror.

Okay, Choi Kang-hee, I don't know why you look so surly and smirky in all the photos. You've got a busy career, a nickname built around how very young you always look, and you totally get to run your hands all over Lee Seon-kyun in your new movie, My Petty Romance. Then again, you ARE wearing… that… so maybe you have a right to be cranky. Did your stylist lie and tell you you were headed to a Muppets tea party instead of an awards show?

Park Hee-soon, yum. His small movie A Barefoot Dream — a heart-warmer in which his character coaches poor Timorese children in soccer — has been met with a lot of praise, and was one of the nominees for Best Picture. Now that Park has done the uplifting human drama, can we have him back to playing deliciously twisted sexy villains?

Singer-turned-actress Nam Gyu-ri (Life Is Beautiful) always reminds me of a porcelain doll. Neck up, she looks beautiful. Below that, though… ho-hum. Simple black dress, a little dull with its empire waistline and simple cut.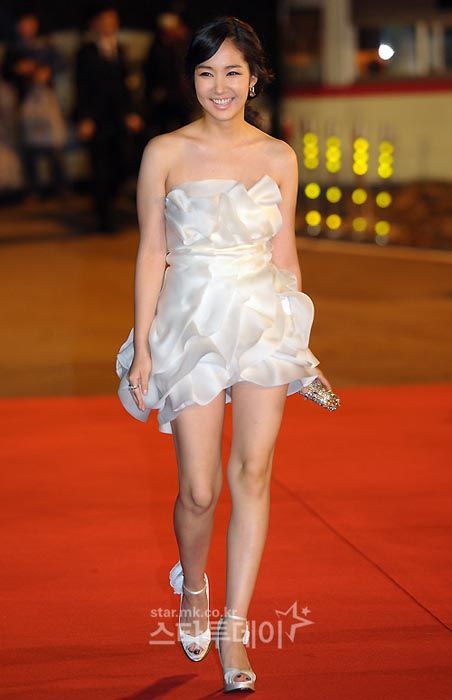 We've seen this same dress a number of times before, such as on Park Bo-young (twice, apparently?) and Yoon Eun-hye. But it IS an adorably sweet dress, so I can see the appeal.
And hey, if I were Park Min-young and I'd just spent the past few months playing a dude swathed in voluminous layers of old-fashioned robes, I'd go all-out in frothy, frilly minidresses too.

Her Sungkyunkwan Scandal co-star Song Joong-ki is looking mighty pretty himself. I'm not sure what's going on with his bowtie, but I like it — it's a little quirky.

Song Sae-byuk has picked up a number of awards so far for his role in Bang-ja Chronicle, and he'll soon be seen in Ha Ji-won's maritime creature feature Sector 7.

Oh. My. What to say about Choi Seung-hyun, better known as Big Bang's TOP? The thing is, you almost CAN'T even snark, because he's obviously going for ridiculous and wacky and eyebrow-raising. And in that he succeeds, 'cause my eyebrows are plenty raised at the mo'. On one hand, my scalp tingles for him — the amount of bleaching required to get that exact shade of David Bowie white? Owww — but not TOO much because he apparently skinned a purple lizard for his jacket. He looks mighty proud of himself in that second photo…

…which might be because his plan to sartorially coordinate with Best Actress winner Yoon Jung-hee has apparently succeeded! Yoon has been much praised for her performance in Poetry, which brought her the win.

Han Hye-jin (Terroir) looks flawless. Her dress fits her to a tee. The fabric, on the other hand, reminds me of nothing more than Frankenstein's bride, interrupting the impact of the black with garish streaks of silver.

Yoo Hae-jin has also been winning a lot of awards for his supporting role in Moss, as he did here.

Yoo Sun (Sons of Sol Pharmacy) wears some more black, which might have been boring but is saved by the back.

Kim Sung-soo, where've you been all year? The More Charming By the Day actor shows up looking sharp.

Jung Soo-young! The funnywoman who stole scenes in Fantasy Couple, Queen of Housewives, and City Hall (though not as much in Coffee House) came to the awards despite being pregnant; she ought to be due sometime at the end of the year or in early 2011.

I almost mistook Moss''s Yoo Joon-sang for Ryu Seung-beom in some shots, which I suppose is not a bad guy to be compared to.

Speaking of familiar faces, Jo Yoon-hee (Hot-Blooded Salesman) bears a bit of a resemblance to a certain pop diva. I'm meh on the sparkly black gown, but no real complaints.

Jin Gu has a few movies coming up, including Moby Dick — an action thriller with no apparent relation to the classic whale-hunt story — and Bloody Fight. I think his suit is a little casual for the Blue Dragons, but it's not like he was a winner, so he can slide.

Jo Yeo-jung (Bang-ja Chroncle) has been looking great at these awards. She went sparkly and pink at the Korea Film Awards, while her approach here is sleek and sophisticated. I'm just glad the dress isn't black.

Ji Sung-won, on the other hand… It's okay, I guess. Although, if you were wearing a structured black satin gown to a formal event, wouldn't you pick a bra that wasn't white?

Consider Jeon Se-hong (Flames of Desire), by contrast, who looks like she just made it to the awards after narrowly escaping a freak encounter with a shredder. Or mabye she ran out of options and fashioned a dress out of the drying flaps at a drive-thru car wash. Is her dress long and black? Yes, sure. But is it boring? Not bloody likely.

Yoon Shi-yoon (Baker King Kim Tak-gu)… I don't even know what to say to you. On one hand, it's like he forgot it was awards night and hopped on over after a day of assistant-teaching ancient history classes at the local university. At least he thought to match his shoes to his coat?
Via Newsen
RELATED POSTS
Tags: awards, Choi Kang-hee, Daniel Choi, Han Hye-jin, Jin Gu, Jo Yeo-jung, Jo Yoon-hee, Jung Jae-young, Jung Soo-young, Kim Hye-soo, Kim Sae-ron, Kim Sung-soo, Lee Beom-soo, Lee Min-jung, Nam Gyuri, Park Bo-young, Park Hee-soon, Park Jin-hee, Park Min-young, Sohn Ye-jin, Song Joong-ki, Won Bin, Yoo Joon-sang, Yoo Sun, Yoon Shi-yoon