8th Korea Film Awards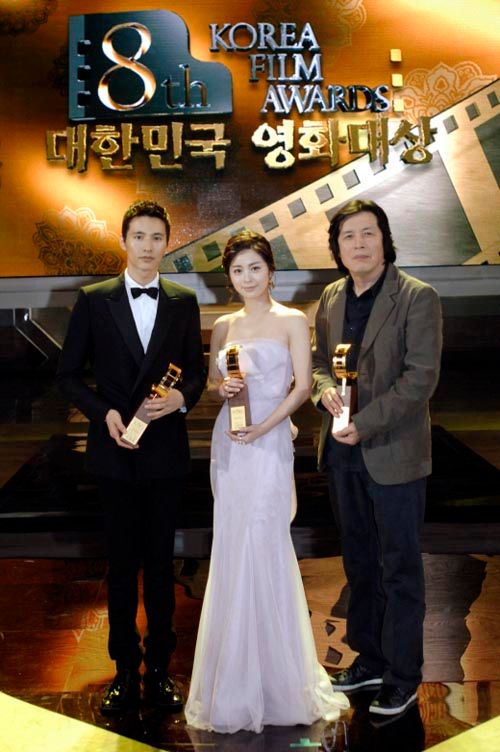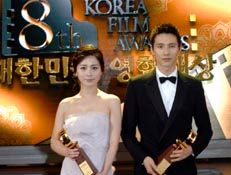 The 8th Korea Film Awards was a big night for the folks affiliated with dark thriller Ajusshi (aka The Man From Nowhere) and the Cannes winner (for screenplay) Poetry, both of which took home multiple awards.
To wit: Ajusshi was nominated in 11 categories and won in seven, including acting awards for both its leads, Won Bin and Kim Sae-ron. Meanwhile, Poetry won three, two of which were the top honors of the night, Best Picture and Director.
The event was emceed by Song Yoon-ah, who has been the solo host for this event three times. (The ceremony appears to have skipped a year, since the 7th Korea Film Awards were back in 2008.)
And now, I guess we can look forward to a busy awards season in the months to come! From here on out, we'll be seeing a lot of them, and no doubt a lot of repeat names, including the nominees that didn't happen to win on this day. (Those include movies I Saw the Devil, Barefoot Dream, Oki's Movie, Secret Reunion, and Ha Ha Ha, and actors Choi Min-shik, Park Hee-soon, Jung Jae-young, Yoon Jung-hee, Jeon Do-yeon, and Moon So-ri, to name a few.)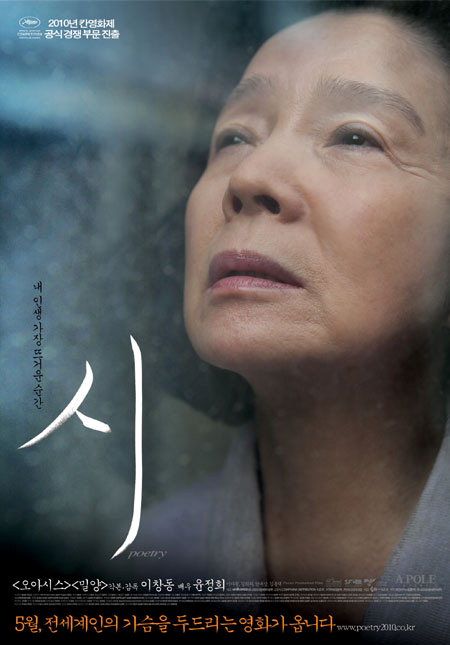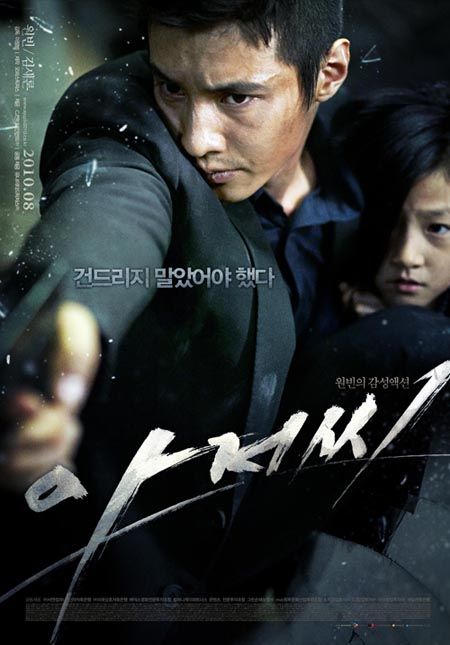 Big winners Poetry and Ajusshi

WINNERS LIST
Best Picture: Poetry
Director Award: Lee Chang-dong (Poetry)
Actor Award: Won Bin (Ajusshi)
Actress Award: Seo Young-hee (Bedevilled)
Supporting Actor Award: Yoo Hae-jin (Moss)
Supporting Actress Award: Yoon Yeo-jung (Housemaid)
New Actor Award: Song Sae-byuk (Bang-ja Chronicle)
New Actress Award: Kim Sae-ron (Ajusshi)
New Director Award: Jang Chul-soo (Bedevilled)
Screenplay Award: Lee Chang-dong (Poetry)
Art Direction: Park Il-hyun (Bang-ja Chronicle)
Cinematography: Lee Tae-yoon (Ajusshi)
Lighting: Lee Chul-oh (Ajusshi)
Editing: Kim Sang-beom, Kim Jae-beom (Ajusshi)
Visual Effects: Park Jung-ryul (Ajusshi)
Sound: Gong Tae-won, Jo Min-ho (Midnight FM)
Music: Shim Hyun-jung (Ajusshi)
Lifetime Achievement: Shin Sung-il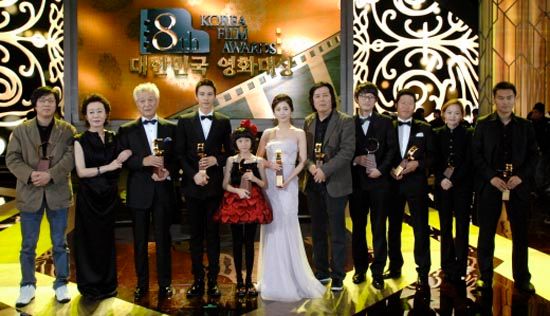 Won Bin, the big winner in the lead actor category, may not act often, but he always manages to leave an impression when he does. I love that he's coming to awards shows this season with Kim Sae-ron, his Ajusshi co-star — which means you can expect to see a lot more of these adorable party dresses from her in the near future. The last one was all girlish pink and sweet ruffles; this one has ♥!HEARTS!♥ in the skirt! My inner 7-year-old is awash in glee.

Seo Young-hee won for her role in the horror-thriller Bedevilled (whose Korean title is translated literally The Whole Story of Kim Bok-nam's Murder Case). Although at first glance it may look like a standard entry into the "Asian horror" genre, this film has earned buzz for its suspenseful plot and topic of domestic violence, and was a box-office success.
Song Yoon-ah (Wedding Dress) gave birth to her first child this year, and seems like she's about ready to get back to work, starting with acting as MC for the awards ceremony. She favors black at formal events, doesn't she? The first one looks like it's trying to choke her with all the glitter, but second is elegant and simple.
I bet Song Sae-byuk will be a familiar face at awards this year, with films like The Fixer and Bad Deal, as well as the one that garnered him an award here, Bang-ja Chronicle. (Is it just me, or could he be Tablo's brother in some of these shots?)
Lee Chang-dong's mantel overfloweth with directing (and writing) awards, such as for his much-acclaimed 2007 film Secret Sunshine, and now Poetry. Yoo Hae-jin, meanwhile, won for his work in the crime drama Moss.
Veteran actress Yoon Yeo-jung has already picked up four awards for her darkly funny role in ero-suspense thriller The Housemaid, and joked that she feels like (Olympic gold-medalist swimmer) Park Tae-hwan. Why do I have the feeling she's far from done collecting trophies this year? (Her other awards have come from the Icheon Chunsa Film Festival, Bu-il Film Awards, and the Grand Bell Awards.)
In my mind, Park Joong-hoon is like the sweet, friendly guy everyone loves to hang around, like an Everyman who happens to be a movie star. Or an Everyoppa. His film My Gangster Boyfriend didn't win anything tonight, but he was nominated for his performance in the offbeat romantic comedy.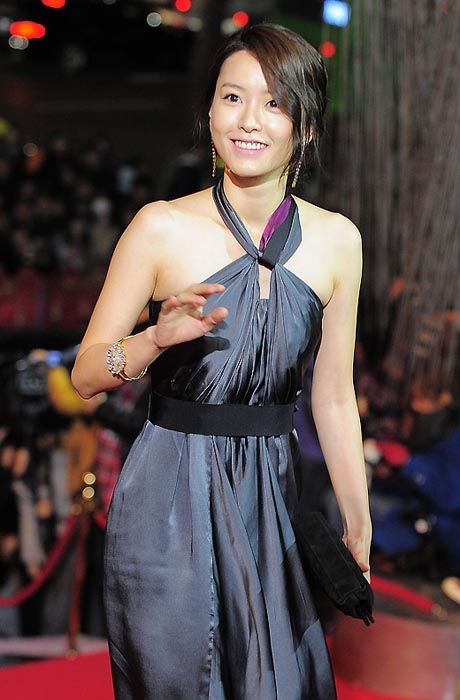 Jung Yumi! This was my favorite look of the night, even if it's short and therefore a little casual, but I admit I may be biased by my love for Jung Yumi (who was also nominated in the acting category along with her co-star Park Joong-hoon in My Gangster Boyfriend).
Then again, truth be told, she didn't have much competition from the other dresses in terms of glamour or wow factor, because there weren't any stunning red-carpet looks. And she looks luminous and gorgeous. So she wins!
Lee Seon-kyun is another of Jung Yumi's co-stars — in the low-key film Oki's Movie, which was nominated in the Best Picture category. I totally want to yell at him, "Mr. Voice! Take a shower!" — but admittedly that sentence ends with "…with me!" So I suppose that means the scruffy look is working?
Gong Hyo-jin (Pasta) wears clothes that would be drab on anyone else and somehow manages to be stylin' and chic. If we break down the look, it's basically a top that looks half-tucked into a shapeless skirt (and tucked pooly, at that, with the back flapping in the breeze)… but she looks great.
You know me and my aversion to bridalwear on red carpets, but Lee Yo-won (Queen Seon-deok) looks so happy to be there that you just want to let her have that moment. Even though I'm picturing her atop a big white cake.
I'll admit to preferring Park Shin-hye (Cyrano Dating Agency) in flirty young dresses — this one looks a little… mature? Sorta like a repurposed bridesmaid's gown dyed black to suit a more sophisticated night out. Alas, you can't dye out ruffly. But she looks pretty.
With that smile, Eom Ki-joon (Hero) looks like a little boy. Adorable.
Oy, Seo Woo (Flames of Desire). It's like she ran down a checklist of all the things that suit her body the least and crammed them into one, floofy, feathery design. She's adorable, but that long skirt looks like it was meant for supermodel giantess, and she's so very wee. Plus it looks like she strapped on a breastplate instead of a bodice. Who else wants to knock on that fabric expecting to hear a wooden *clunk clunk* sound?
Park Hee-soon (Barefoot Dream), who does gravelly-voiced villains so well (swoon), is favoring a vaguely Victorian look this awards season. No complaints here.
Seo Ji-hye (Kim Suro) and Song Chang-eui (Life Is Beautiful) make a good-looking pair. They play a married couple in a movie up for release next month, Tree that Sleeps Standing, which is no doubt why they're here together. I could do without her furry vest (or sheer midriff), but I'm a sucker for monochromatic black suits. Also, for Song Chang-eui.
What a huge year for Daniel Choi, who was nominated in the New Actor category for Cyrano Dating Agency. Again the all-black, and again I like it.
At first you see Yoon So-yi (Hero) and you think, "Okay, her boobs are a little fluttery, but whatever…" Then she walks and eeee, that slit is Up To There and you think, "Wow, I almost knew more about you now than I cared to, thanks. Psst! Take smaller steps."
Choi Min-shik was nominated for best actor, and his film, I Saw the Devil, also picked up several nominations (art direction, cinematography, lighting, sound, editing). Alas, no wins.
Moon So-ri arrived with her director husband Jang Joon-hwan. She looks so cute with her husband that I can't snark on how bland her safe bridal gown is, with its tired asymmetrical neckline (when will those go out of style?). Oh wait, that was easier than I thought. Moon was nominated for Ha Ha Ha, which picked up a prize at Cannes this year in the Un Certain Regard competition.
And… prize for Most Improved goes to Lee Ah-yi (Korea 1%)! She just last month showed up to the Grand Bell Awards wearing an unfortunate black number that I compared to a mature witch on gala night. Yet here, she's fresh! and adorable! and youthful! (And also possibly reminding anyone else of Michelle Williams?)
Jo Yeo-jung picked up some notice for her role as Chun-hyang in the ero-sageuk film Bang-ja Chronicle (in which she falls for Mong-ryong's servant Bang-ja, in a reverse-Story of Hyang Dan). Don't love the dress, but don't hate it either. Now, if only us mere mortals could have the grand moments in our everyday lives punctuated with moody backlighting.
I can't figure out how I feel about Ji Sung-won's (Bedevilled) gown. It's made of velvet and, from the hips-up, is all sleek sophistication. And yet, it also comes with ruffly white underskirt, like she really wanted to come as a bawdy pirate wench, or maybe fancy saloon girl, but got talked out of it by a concerned manager and settled for pirate/wench/saloon-inspired instead.
Via Arts News
RELATED POSTS
Tags: awards, Daniel Choi, Eom Ki-joon, Jung Yumi, Kim Sae-ron, Lee Seon-kyun, Lee Yo-won, Park Hee-soon, Park Joong-hoon, Park Shin-hye, Seo Ji-hye, Seo Woo, Seo Young-hee, Song Chang-eui, Song Sae-byuk, Won Bin, Yoon So-yi, Yoon Yeo-jung